2023 is so 2022. The coolest travelers are already looking and booking for 2024.
OK, so that's not completely accurate. There are still some amazing deals out there for a trip in 2023, including some unbelievably cheap fares for later this summer. But even if you're still booking (or rebooking…) your summer flights, it's time to get ahead on your 2024 travel plans.
Most airlines let you book 11 months or more in advance, meaning you can currently book as far out as June 2024. Plus, flight prices are 19% lower than they were at this time last year, and the lowest we've seen since February 2021, on average. We've seen that for ourselves, with some stellar fares we've found for Thrifty Traveler Premium members throughout next winter, spring, and even early summer.
But if you're aiming to use your points and miles instead, you really need to start fine-tuning your 2024 plans – especially if you want to fly first or business class. Planning far ahead is critical when redeeming miles: The best seats often get snapped up early … and when they're gone, they're gone. Economy can be easier to find available awards later on but the very best opportunity is many months in advance, too.
With 2024 still five-plus months away, it's OK to wonder if there are even good deals out there yet. Well there are…
Cheap Winter 2024 Flights
If you're hoping for a winter escape in January or February, the time to start looking is now. 
Too many travelers wait until fall, when the air turns chilly and the kids are back in school, to plan their winter trips. But your best bet for getting a low rate locked down is long before you pull your sweater out of the closet.
Let's say, for instance, that you want to fly to Cabo (SJD) for a winter escape. You can book one of these nonstop fares from your home airport right now while everyone else you know settles for bad connections on lesser airlines for more money to make their Cabo dreams come true.
These sub-$400 fares we recently sent to Thrifty Traveler Premium are just the latest example of cheap winter deals we've found in the last few weeks.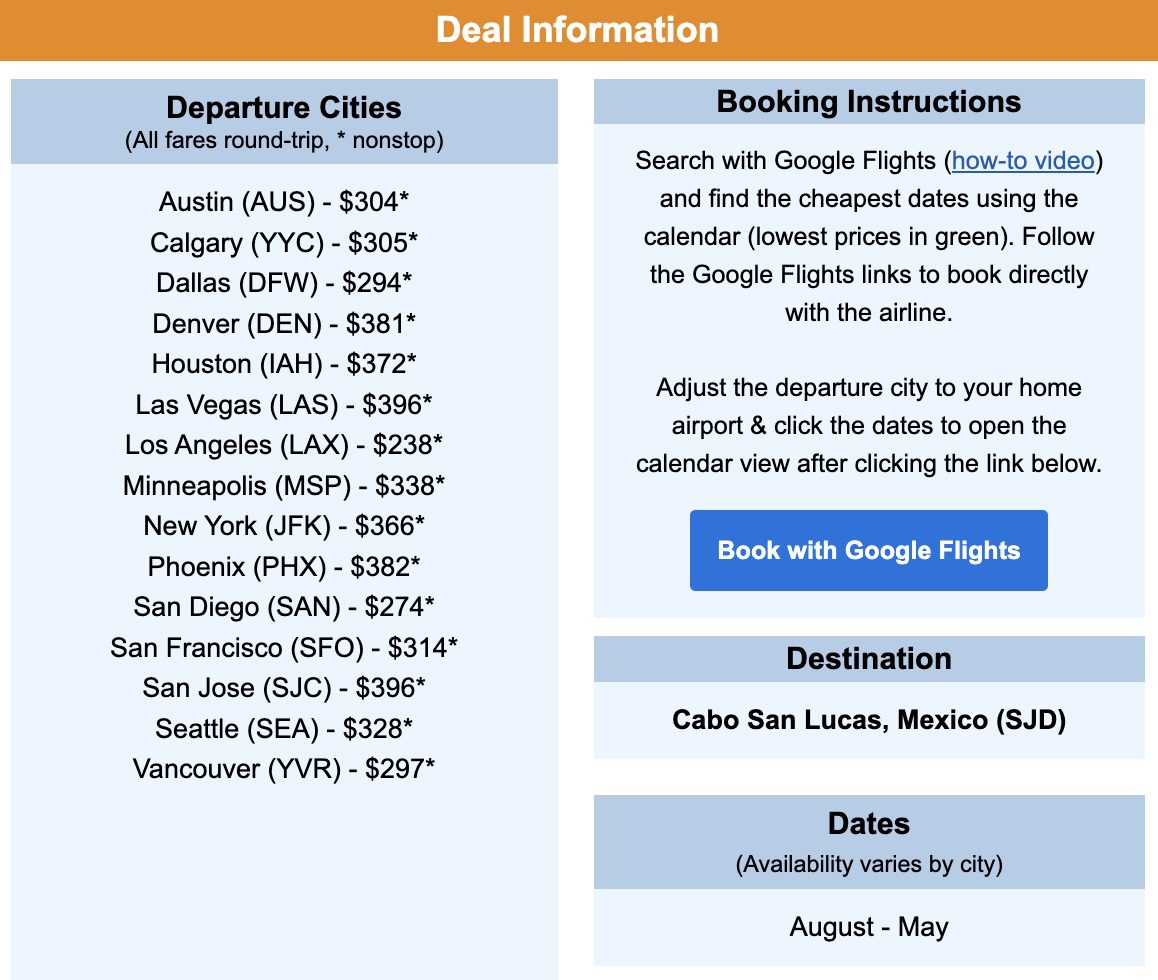 And if you want to use Delta SkyMiles to book instead of cash this winter, right now may be the best time to look and book, too. It could get you to Cabo or Puerto Vallarta (PVR) for under 20,000 SkyMiles roundtrip.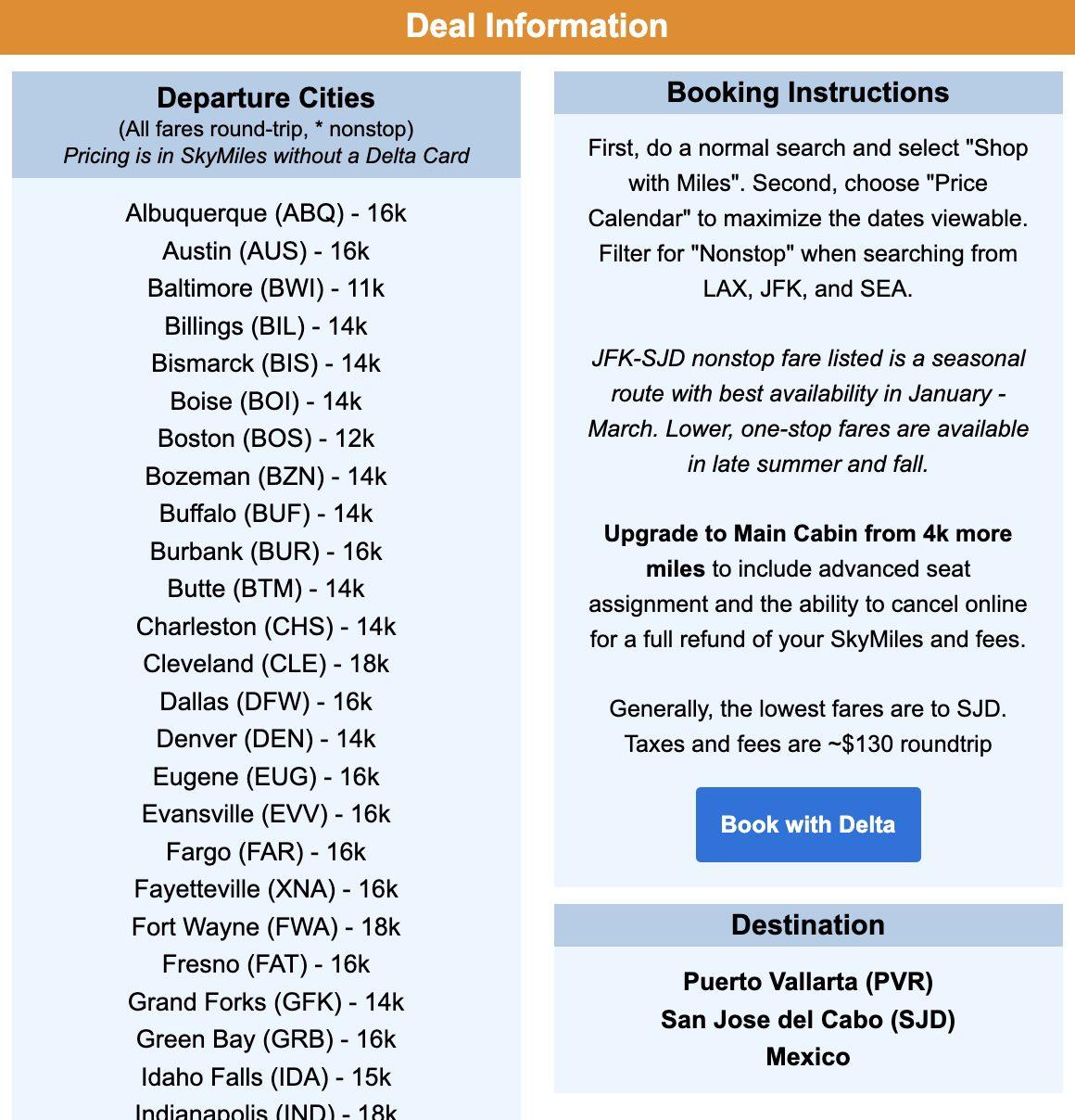 Only Thrifty Traveler Premium+ members get award alerts to use their points and miles!
All of those fares – both in SkyMiles and cash – are half-off the usual cost for peak winter travel. The same goes for this insane deal we found on Delta's brand-new route to Maui (OGG) from Minneapolis-St. Paul (MSP) last month: Just $500, $700 cheaper than what you'll find today!


These dirt-cheap rates are long gone now – get the next deal with Thrifty Traveler Premium!
Aguadilla (BQN) in Puerto Rico is also a lovely retreat for American travelers looking for a passport-free escape to warmer weather in 2024, and this deal flying directly to the unspoiled west coast of Puerto Rico is a fantastic option. Yet again, it pays to plan ahead when you can book flights like this for $246 … instead of $600 or more.

But let's dig into some points and miles options that are still available for this winter. Why not start where winter isn't winter at all: South America? Our winter is South America's peak summer, and planning far ahead could have gotten you Delta nonstop flights to Argentina, Brazil, or Chile for just 50,000 points roundtrip!

How, you ask? Using Virgin Atlantic points to book nonstop Delta flights is one of our favorite travel hacks out there. In this case, it'll cost you roughly a third of the miles as what Delta itself is charging in SkyMiles – and these are main cabin economy flights, too.
And then there's business class – one of the most comfortable way to fly to Europe or anywhere in the world. If you want a trip to Austria during peak ski season, a lie-flat seat like this one will do you good!

Another amazing winter ski destination is Japan. Skiing near Nagano (a.k.a. the Japanese Alps) or on the northern island of Hokkaido (one of the snowiest places on the planet) is worth the trip alone. And this Japan Airlines business class deal is one of the most comfortable ways to get there in January 2024.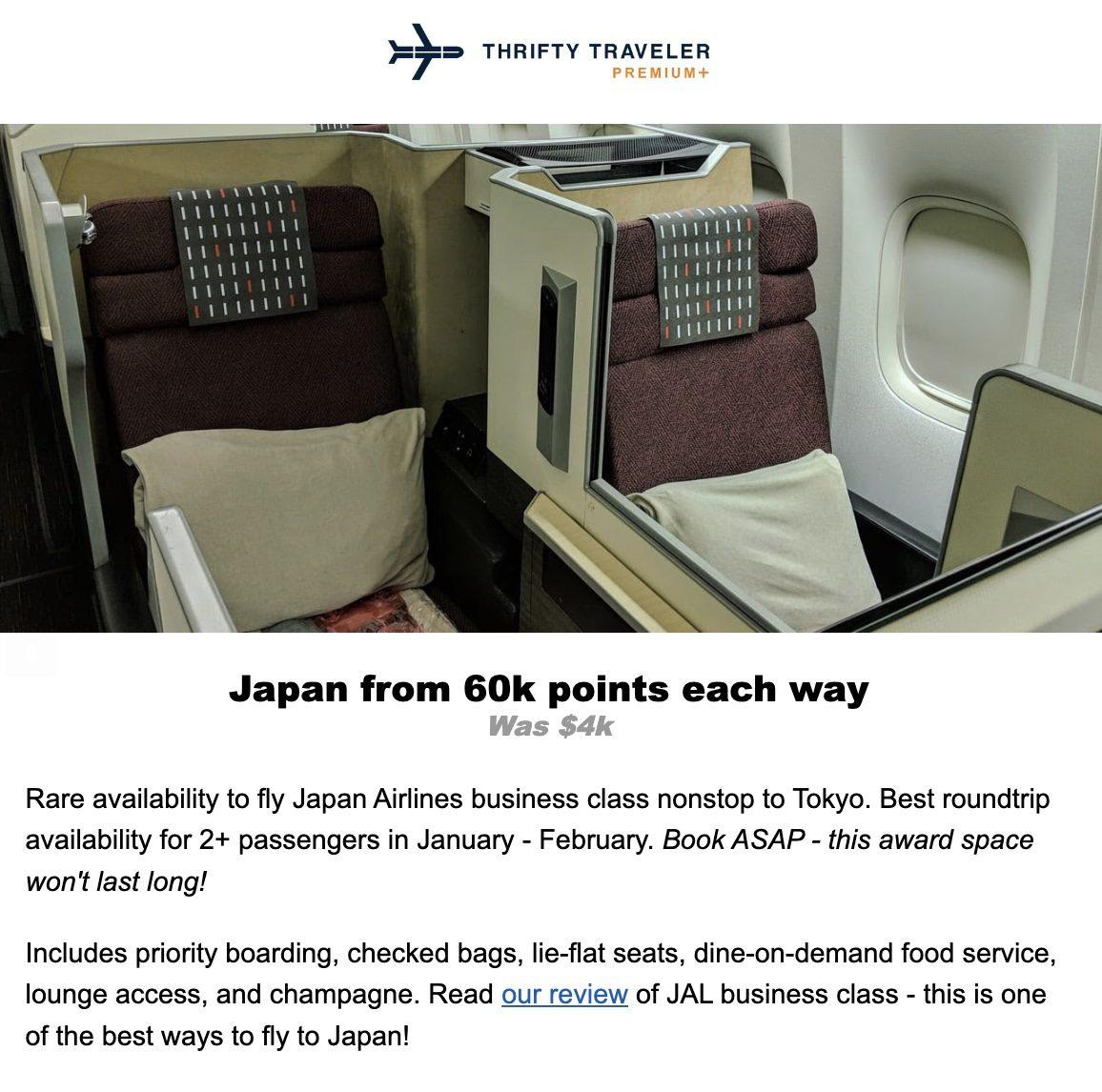 Get the next business class points deal with Thrifty Traveler Premium+!
Cheap Spring 2024 Flights
You can also currently find some cheap and easy flight deals into spring 2024 – even spring break, if you're tied to the school calendar.
Perhaps no destination in Europe outdoes Ireland in March. St. Paddy's Day is calling!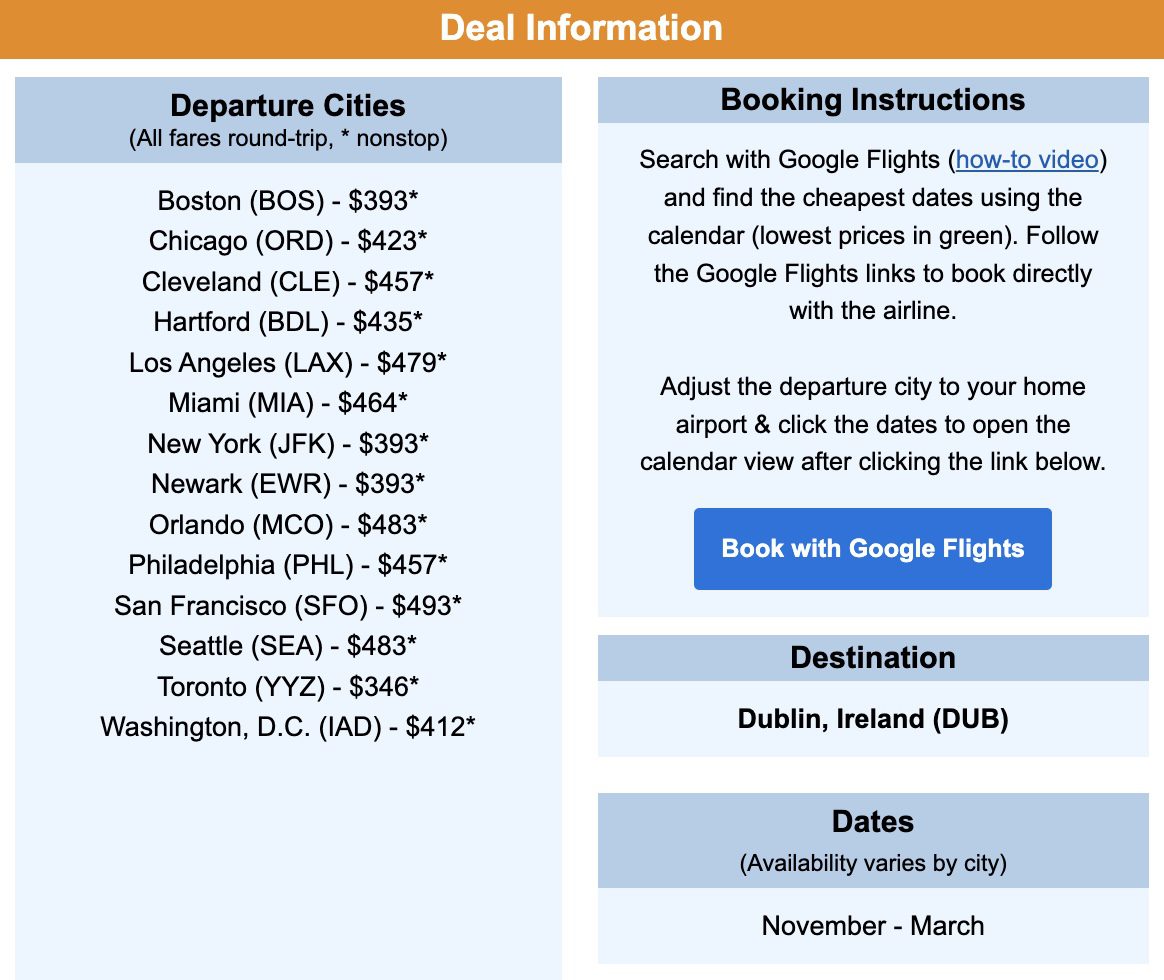 These nonstop fares on Aer Lingus from 15 U.S. and Canadian airports could have been your spring break ticket to Dublin (DUB). You won't see prices these low if you don't start looking until the calendar turns to 2024. Order me a pint of Guinness and I'll meet you there.
If a little springtime charm in one of the prettiest cities in the world floats your boat, a trip to Copenhagen (CPH) is also sure to make your spring perfect. While this deal had the best availability through winter, there were ample dates in March and April to fuel your 2024 trip if you booked a few weeks back.

On the other side of the globe in Southeast Asia, a trip in March, April, or May sounds pretty sweet. But these flights from New York (JFK) and Newark (EWR) to all the way Singapore (SIN) and beyond are crazy long. In fact, flying nonstop to Singapore are the two of the longest flights in the world … at more than 17 hours. Ouch!
So, what's the solution? Premium Economy, where you can spread out and enjoy some fine dining, champagne, and extra legroom and recline on your way down to Bali (DPS), Manila (MNL) or Singapore itself. And if you time it right with a cheap flight, you can do it at standard economy prices.

If there's one 2024 even that has everyone buzzing, it's the total solar eclipse scheduled for April 8, 2024. We've put together a full guide to traveling for the total solar eclipse in April, including recommendations for how to get there.
Many eclipse chasers are going to target Texas this year because much of the state is in the path of totality and the weather should be great. Thrifty Traveler Premium members got an alert to get there on the cheap.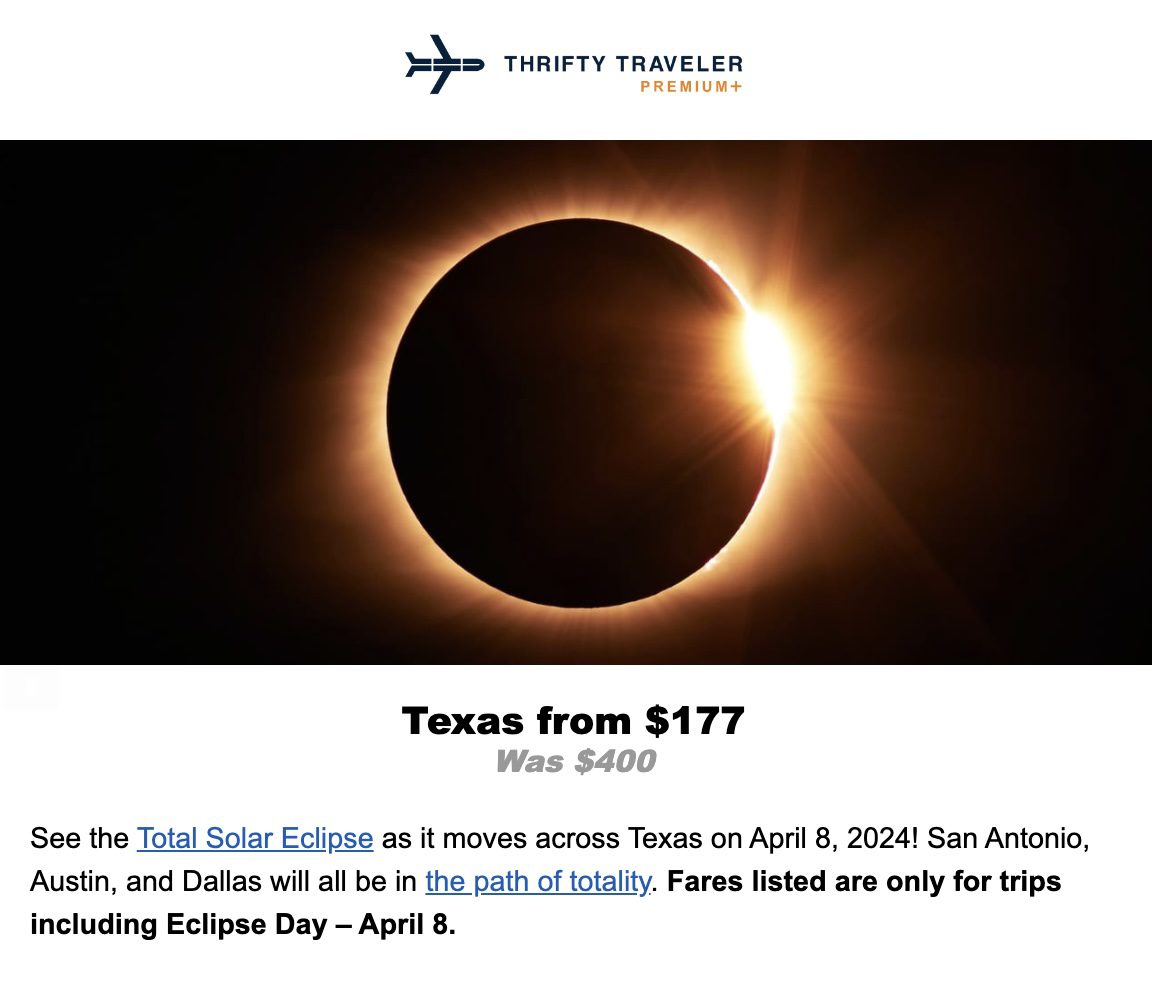 San Antonio (SAT), Austin (AUS), and Dallas-Fort Worth (DFW) will all be great vantage points to see totality on April 8. Now you just have to book your spring trip to see it for yourself.
Cheap Summer 2024 Flights
Finally, let's look all the way out into summer 2024. I know, I know, this summer isn't even over yet … but if you want the sweetest deal on business class seats, it's time to get booking.
We'll start with the best value in business class flying to Europe: Iberia business class.

That's right: Thanks to a 30% transfer bonus from American Express to Iberia and partner British Airways, you can book these lie-flat seats even in June 2024 for just 27,000 points each way. That's at least half-off the peak season rate and one of the best deals in the world of points and miles.
And if you're looking for the very best business class in the world, look no further than Qatar Airways Qsuites. But if you want to book these suites, it's imperative to look as far in advance as you can.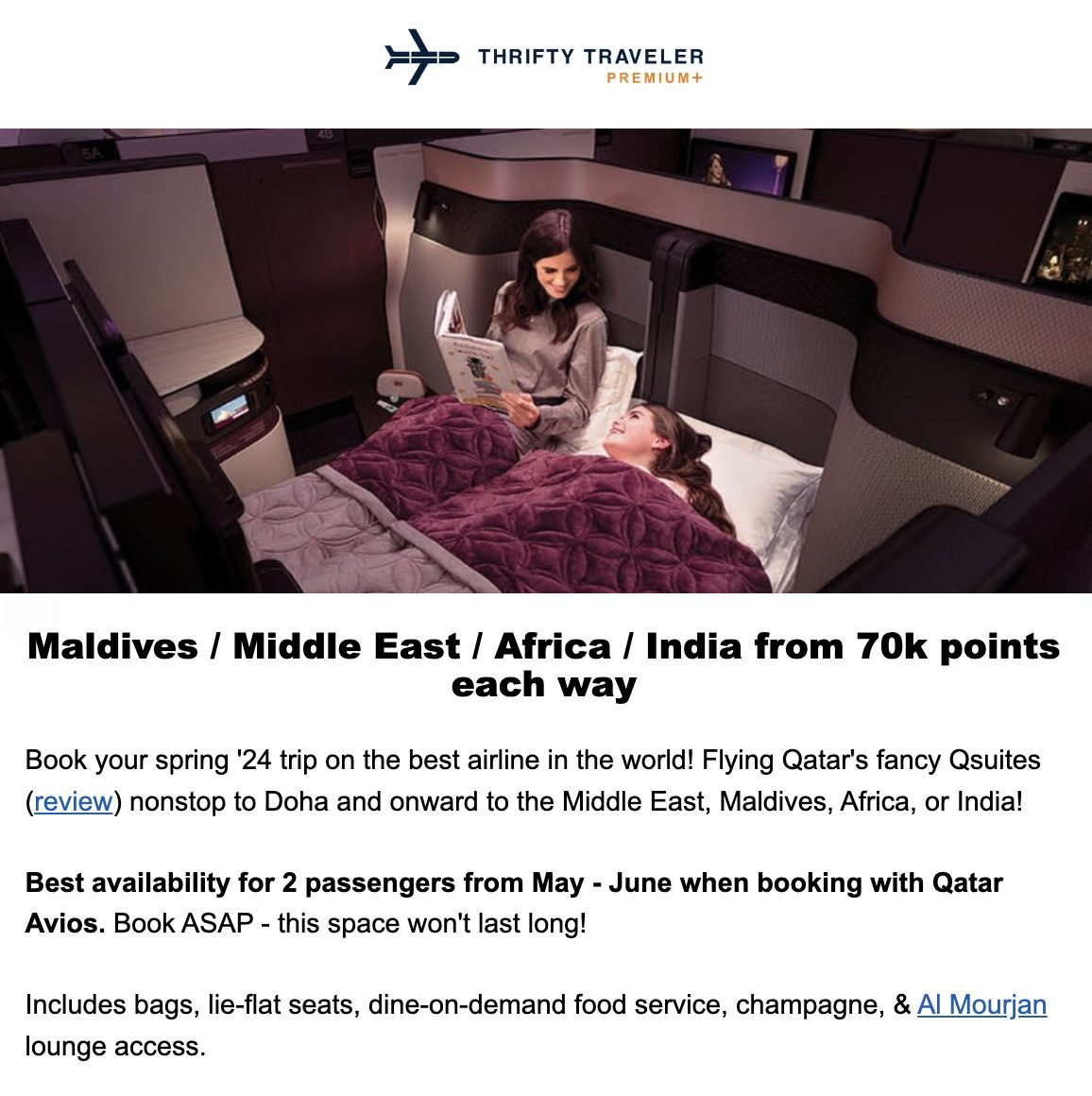 Starting at 70,000 points each way, you can book the best business class in the world in May and June 2024. This is actually the only reliable way to book QSuites – looking 10 or 11 months ahead of time. That's because they're that good. Trust us!
Bottom Line
Some travelers are still piecing together 2023 travel, and that's OK. But the savviest travelers are already thinking long and hard about their 2024 trips. And lucky for them, the flight deals for 2024 travel are already coming in hot.
From booking business class in summer 2024, to a spring break trip, or just a winter getaway, 2024 flights are open for business!