If you're gearing up to travel again in 2022, you aren't alone.
Domestic travel is back to pre-pandemic levels and interest in international travel is having a resurgence, too. The airlines have been ramping up new routes and staffing up for a return to normal in the travel world – or at least something close to it. Once we're past the current scare with Omicron, it's clear travelers are itching to get back out there.
And you're in luck, as we're already seeing great fares to get you somewhere in 2022. Thrifty Traveler Premium subscribers get all of these best deals sent straight to their inboxes the minute we find them. Many of the fares featured below are gone now, but the next great deal is just around the corner.
If you need a few ideas for where to visit and when, we've got you. Check out our roundup of some of the best fares we're currently seeing for 2022 travel, broken down month by month.
January in Hawaii
A trip to Hawaii practically sells itself. For many Americans, all you need to do is look out the window this time of year and it's easy to dream about Hawaii.
There's a reason the PGA Tour spends the entire month there playing tournaments. So this year, instead of turning on the Golf Channel to bask in the ambiance of the islands, just head there yourself!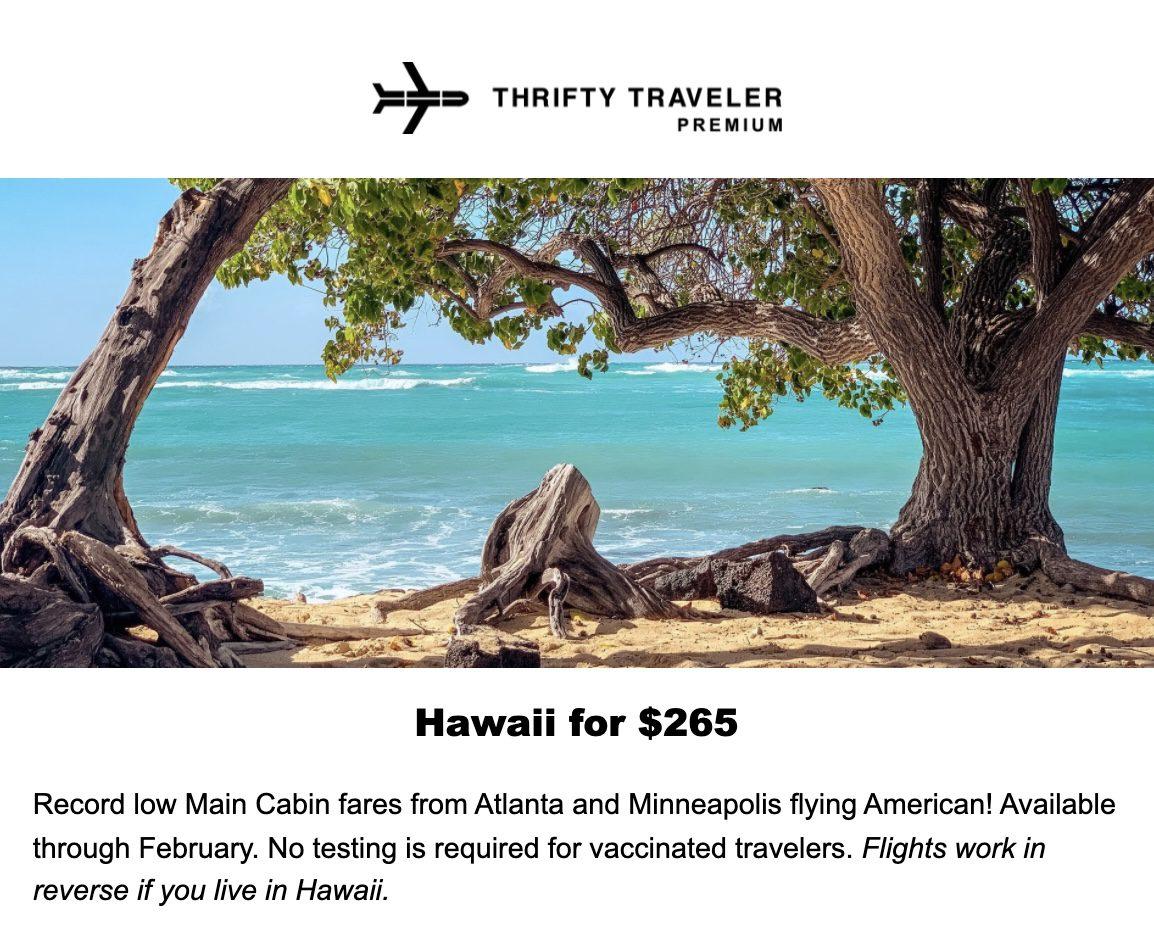 We've sent out cheap flights to Hawaii from as low just $123 roundtrip from the West Coast, but this deal we sent to subscribers included Minneapolis-St. Paul (MSP), Atlanta (ATL), and more!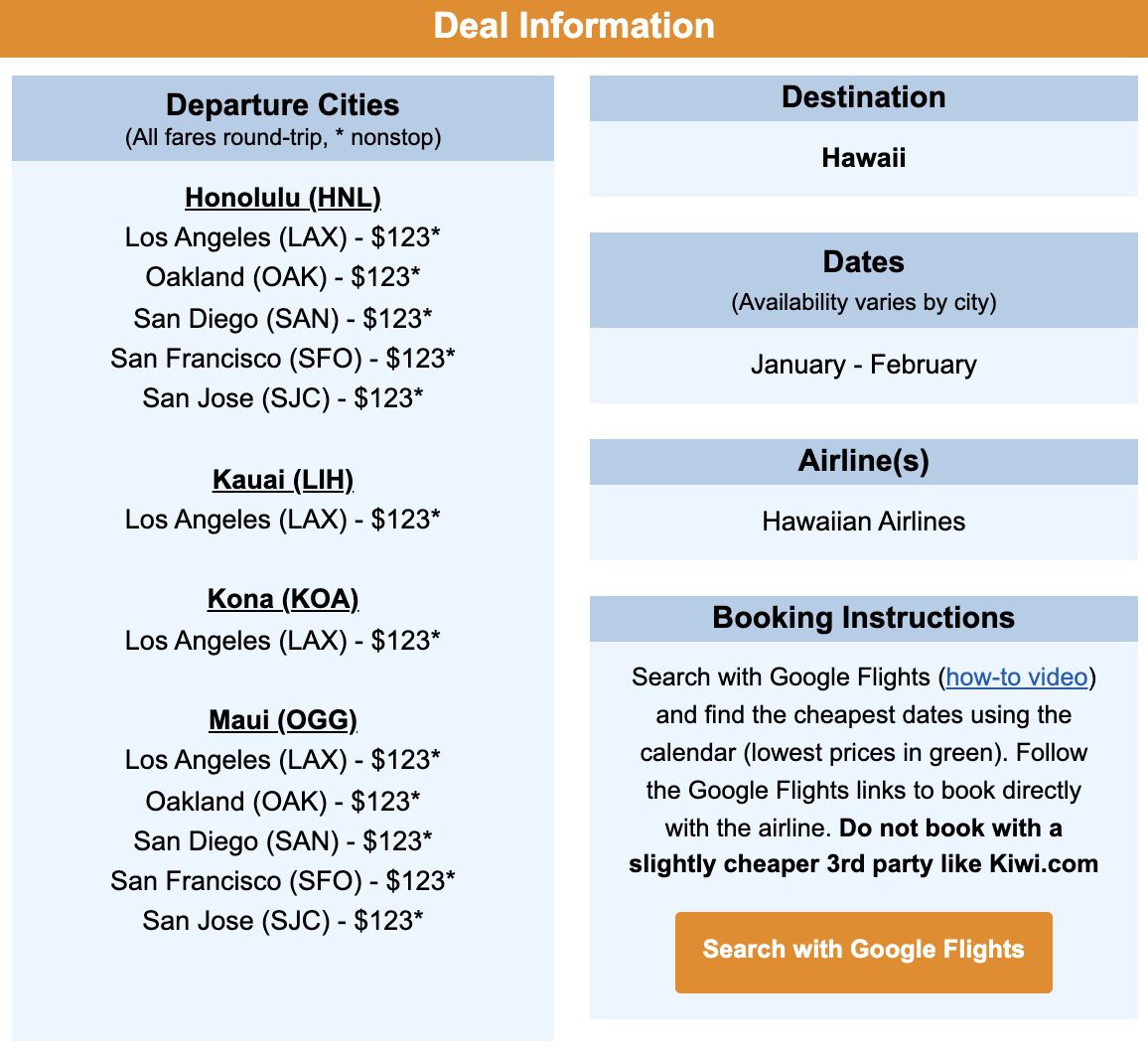 These dirt-cheap prices are gone now – get the next deal straight to your inbox with Thrifty Traveler Premium!
February in Belize
Recently, Delta unveiled a brand new route from the Midwestern winter mecca of Minneapolis-St. Paul (MSP) to the beautiful central American nation of Belize, helping increase competition and driving down prices.
That means you could island-hop through the cayes of Belize and fulfill your snorkeling or scuba diving dreams in one of the hemisphere's best reefs for the price of a normal domestic flight … or less. Look at this:

February is a perfect time to visit this region. You'll find the weather to be nearly perfect – certainly a far cry from the frigid February temperatures up north!
March in Tampa
There's a reason why Florida is so popular in March. Cheap flights don't hurt.
It's spring break season and the weather is fantastic, so thousands of Americans migrate to the state for a visit. Still, we are finding incredibly cheap flight deals to Florida for the month of March.

Let the spring breakers go wild on the Atlantic Coast while you fly to the Gulf Coast. Tampa is a beautiful hub for your beach getaway, your golf trip, or a visit to see your favorite baseball team in spring training.
April in the Dominican Republic
As the U.S. begins to thaw out from a long winter, the Dominican Republic is in peak form during the month of April.
Cheap flight deals to this beautiful island nation don't come around too often – but when they do, we are all over them. Forget paying $500 or more roundtrip to paradise: How about $187 roundtrip?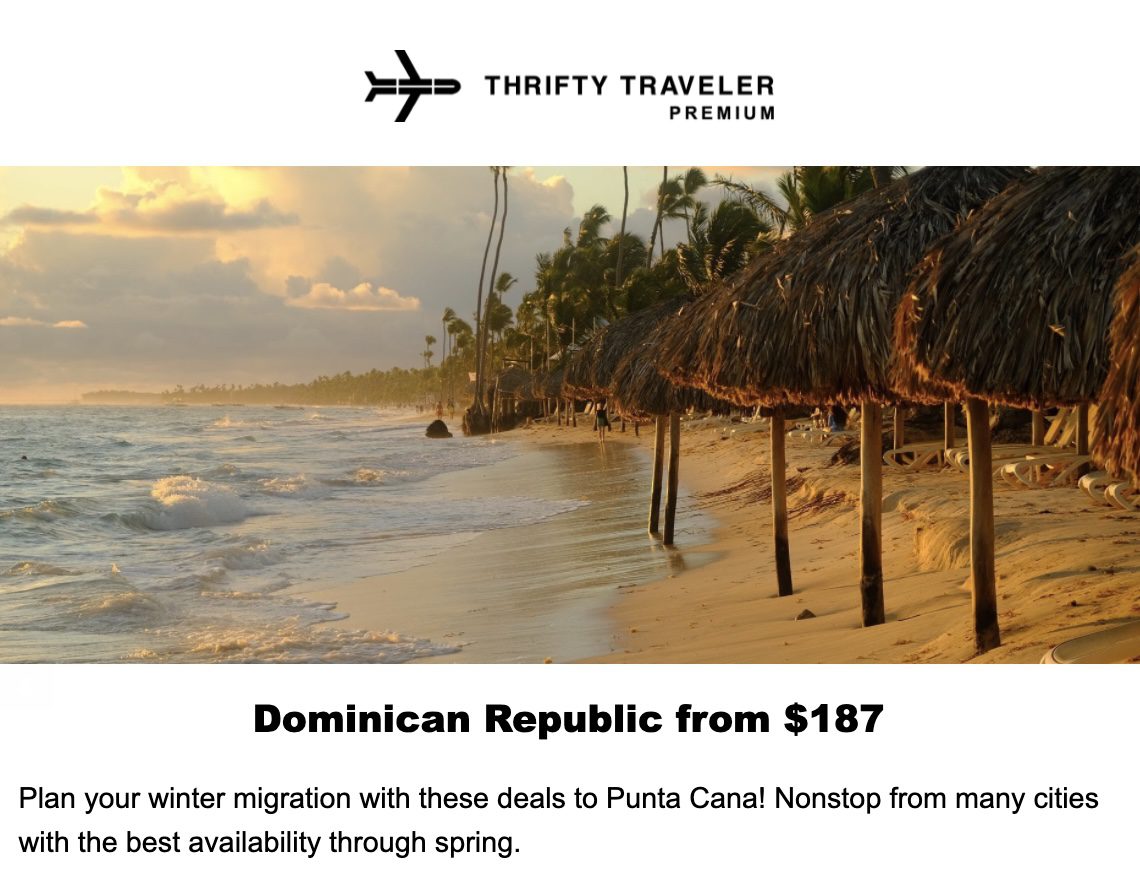 Punta Cana (PUJ) is home to some unbelievable beaches and pristine weather, so get a jump start on your tan with a Dominican Republic getaway in April.
May in Las Vegas
Before that peak summer heat grips the desert, you should take your spring trip to Las Vegas (LAS).
Cheap domestic flights are plentiful throughout 2022, but this deal we sent to Premium subscribers a few weeks ago featured flights to Sin City as low as $76 roundtrip! In fact, a handful of cities featured fares below $100.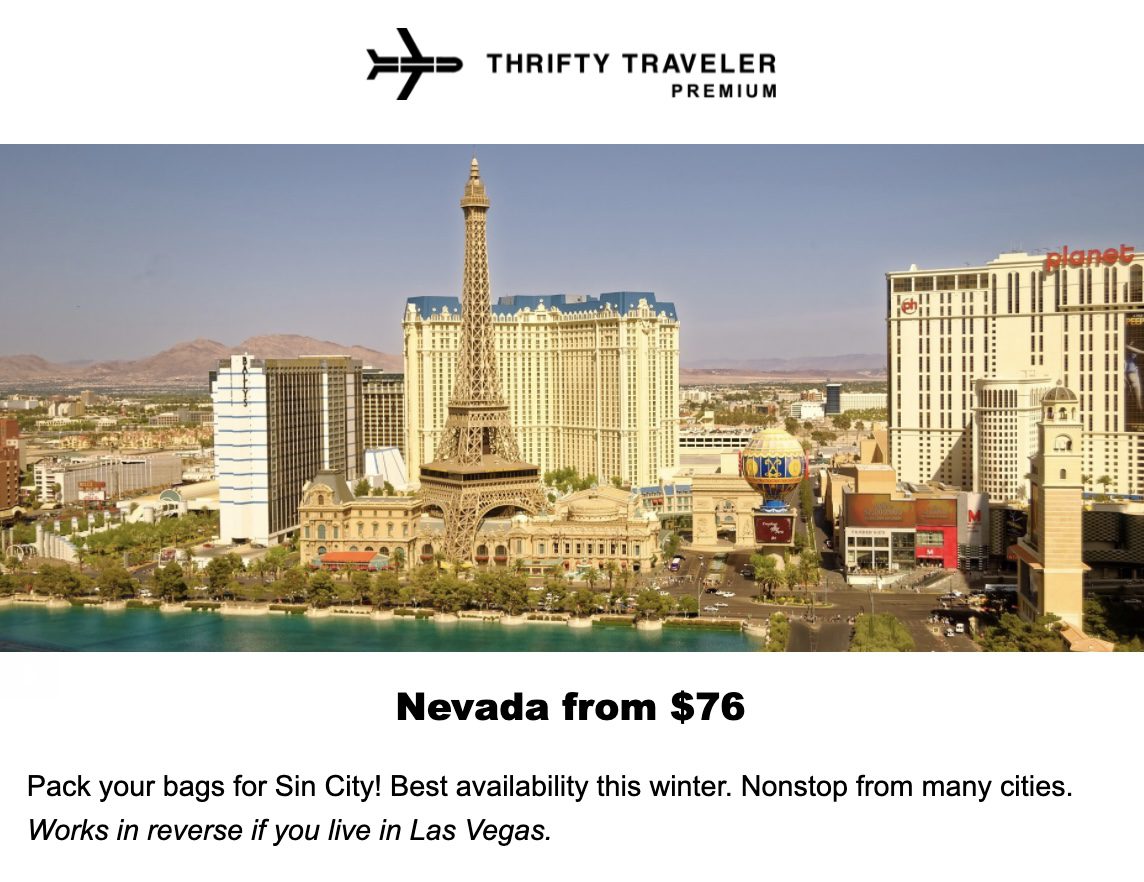 It doesn't matter if you love hiking, gambling, watching the playoffs from a sportsbook seat, or sipping drinks poolside, Las Vegas has something for you in arguably the best month to be there.
June in Maine
When summer returns to the Eastern seaboard, the Atlantic Coast becomes the place to be.
This flight deal we found to Portland, Maine (PWM) – including tons of great nonstop options – is the perfect gateway for a maritime excursion up the Maine Coast.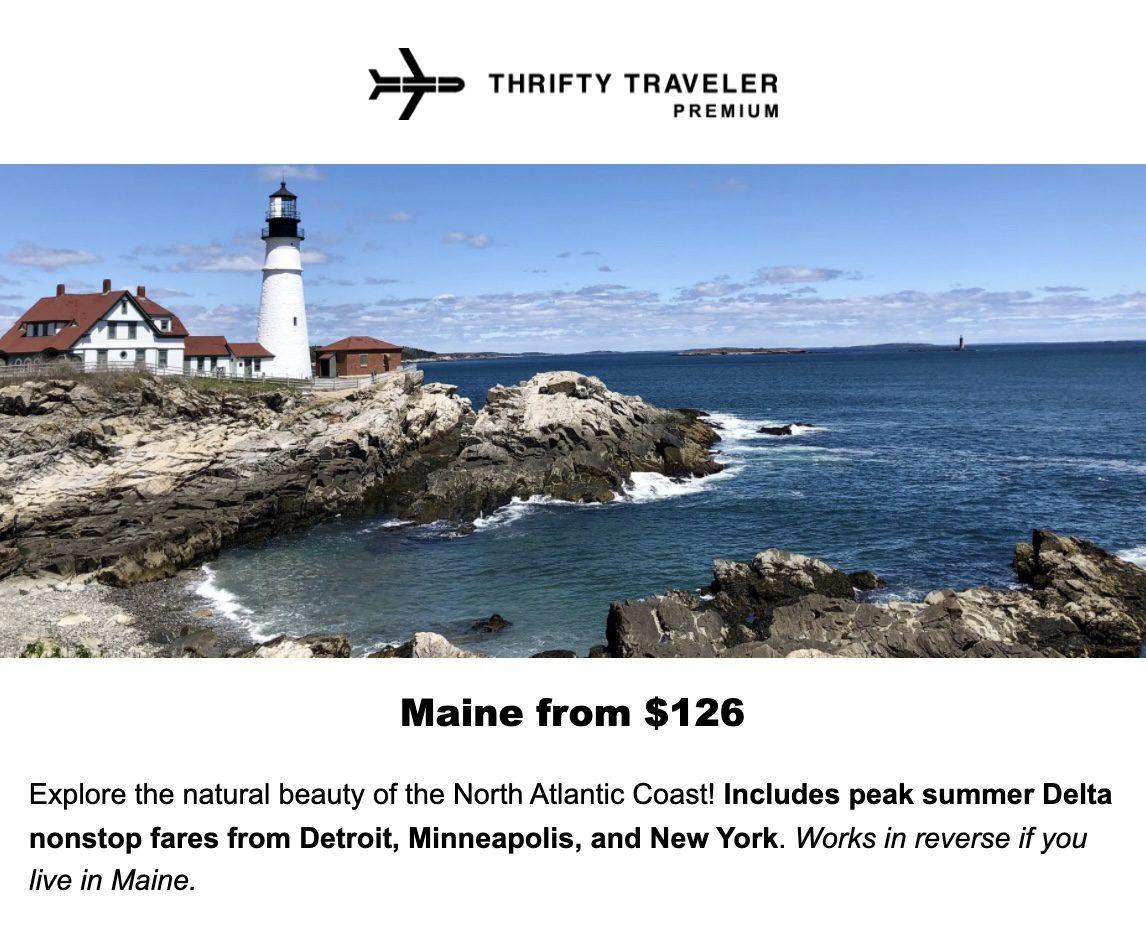 I implore you to visit Acadia National Park, which boasts incredible views of the ocean and has miles and miles of the best hiking in the east.
July in Chile
This one is a little different.
July may not be the best time on paper to visit Chile – it's the coldest, snowiest season in the southern hemisphere. But that's exactly why you should go there in the summer.
Bear with me.

For one, July will offer few crowds and all the same stunning views of places like Patagonia and the Andes Mountains.
Plus, if you're a skier or snowboarder, it's peak ski season at some incredible destinations like Ski Portillo and Valle Nevado. Both are world class skiing destinations that have their own unique vibe from the resorts you know and love in North America.
August in the U.S. Virgin Islands
Could I interest you in crazy low fares to St. Thomas this August? We found this gem a few months ago and sent it to our Thrifty Traveler Premium subscribers right away.
St. Thomas (STT) is the kind of destination that's almost always perfect. So before everyone goes back to school in September, take your loved ones on a memorable getaway. It won't break the bank when fares tumble below $200 roundtrip.


If you jumped on these St. Thomas fares when we sent them, have fun in paradise next year!
September in the Azores
This new route from the U.S. to the straight to the Portugese Azores is one of our favorite finds for September.
United will be running the nonstop from Newark (EWR) to Ponta Delgada (PDL) and they put the flight on a steep sale after it was announced this winter.

This six-day getaway was the perfect September getaway. A nonstop flight to an exotic European destination doesn't get much cheaper than this. Get yourself to the Azores for some sweeping landscape view and lovely Atlantic weather.
October in the Great Smoky Mountains
The Great Smoky Mountains are our pick for a fun, different October getaway. And it's cheap to get there in fall 2022.
It's the perfect place to soak in the fall colors, and it all starts with a cheap flight to Asheville (AVL) in North Carolina.

Asheville is a great jumping-off point to explore the region – but don't sleep on the city of Asheville itself, either. It has a vibrant food and beer scene that will keep you entertained no matter how long you're there.
November in Mexico
Before the holiday crush, go escape to an off-the-beaten path Mexican destination.
La Paz, on the Baja California peninsula, is the little brother to the better-known Cabo San Lucas. But this spot has so much to offer vacationers – including a great deal on flights in 2022.

These fares we found to La Paz extended all the way through November from some locations, so you could have booked your fall trip to Mexico before the New Year!
Where Will You Go in December?
Google Flights and most airlines won't start listing December 2022 fares for another month or so … but you better believe we'll be all over figuring out your December destinations once they do.
The best thing you can do in the meantime is to make sure you are getting Thrifty Traveler Premium emails sent to your inbox so you can jump on these deals the minute we find them.
Bottom Line
These deals are just the tip of the iceberg for cheap flights in 2022. We've found deals to almost any destination you can dream of for 2022 travel, but this scintillating sample of deals have us eager to start planning trips on the cheap for 2022.
Once you're ready to get booking, make sure you're getting Thrifty Traveler Premium emails so you don't miss the next great deal.