Seeing sticker shock everywhere you look for flights? Struggling to use your airline miles for a trip this year or next? Trust us: Amazing flight deals are still out there – and we've got receipts to prove it.
We search all day, every day for cheap flights and points deals for our Thrifty Traveler Premium+ members – and we're finding more bargains than ever this year. We're talking about roundtrip flights to Hawaii for under $150, nonstop Delta Flights to Europe and back in the $400s, and even deeply discounted fares down to Australia. Got miles to burn? We're still finding plenty of business class award availability to Japan, Australia, Africa, and the Middle East, too.
The flight deals are out there, and it's our mission to help you find them. Here's a look at the best flight deals we've found so far for your trips this year and next.
Start getting alerts for deals like these straight to inbox with Thrifty Traveler Premium+!

Cheap Flights Near Home & Abroad
Sometimes, simple is best … and nothing beats a cheap flight.
Those cheap flights have been in steady supply all year long – especially domestically, where sub-$100 airfare has roared back a year after most travelers only saw eye-popping prices. But in 2023, deals like this stunner to Las Vegas (LAS) have made a comeback.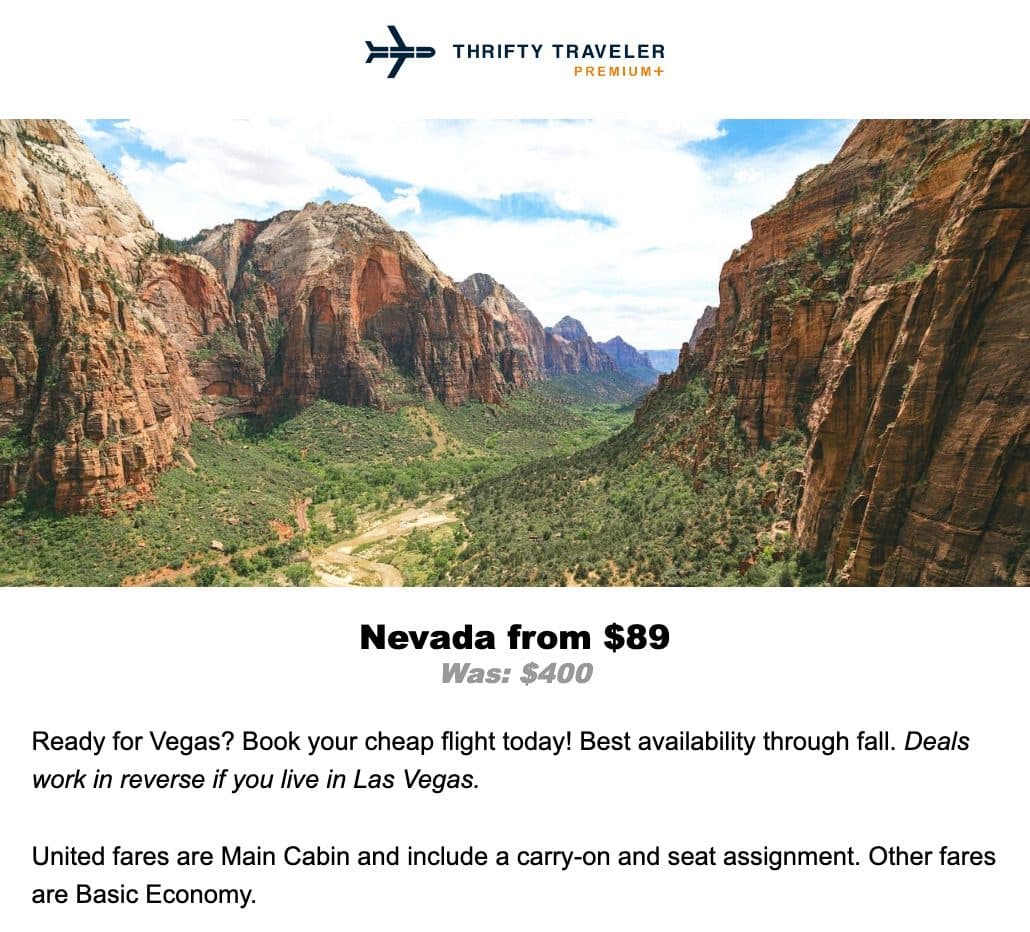 That's right: Flights to Sin City as low as $89 roundtrip – and not just from nearby cities in California, but from Minneapolis-St. Paul (MSP) for $117, Seattle (SEA) for $157, and 100-plus cities from coast to coast for a bargain. You could use a cheap deal like this to hit the Strip for less or head out for some amazing hiking in Utah.
Hawaii is the ultimate domestic travel destination, and it seems more popular than ever. Yet we continue finding some of the cheapest fares to the island – none better than these Southwest fares starting at $149 total.

Don't miss a single deal with Thrifty Traveler Premium+!
But cheap deals can get you even further … even overseas. After creeping up earlier this year, we're finding deal after deal to Europe for a trip later this year or in 2024. And they don't get much cheaper than this nonstop fare to Dublin (DUB).

We find flight deals from more than 200 airports in the U.S. and Canada, t0o!
Dublin is one of the best cities in Europe for finding a cheap fare across the Atlantic. In this case, travelers from many U.S. cities coast to coast could get to Ireland this year or next for under $500 roundtrip – with many pricing under $400!

But the deals this year have gone beyond Dublin … even when flying notoriously pricy Delta. They cost $1,000 or more now, but a few months back we found nonstop Delta fares from Minneapolis-St. Paul (MSP), Detroit (DTW), and other Delta hubs to both Paris-Charles de Gaulle (CDG) and Amsterdam (AMS) for under $600 roundtrip!

Discounted Business Class Fares?!
Let's be honest: Booking business class ain't cheap … at least not always.
Airlines regularly charge $5,000 or more for a lie-flat seat at the front of the plane. And they'd much rather those seats go out empty than offload them at a steep discount. But deals on business class using your cash are out there.
We've sent Thrifty Traveler Premium+ members a dozen or more deeply discounted business class fares this year, often bookable at 50% of the usual price – if not cheaper. One of the best so far in 2023 was this stellar American Airlines business class ticket to Paris for just $1,300 and change – including over this summer!

JetBlue Mint is one of the newest (and best!) ways to fly to Europe in lie-flat seats. So when the airline added nonstop flights to Amsterdam (AMS) with business class seats initially available at a steep discount, we immediately let our Thrifty Traveler Premium+ members know.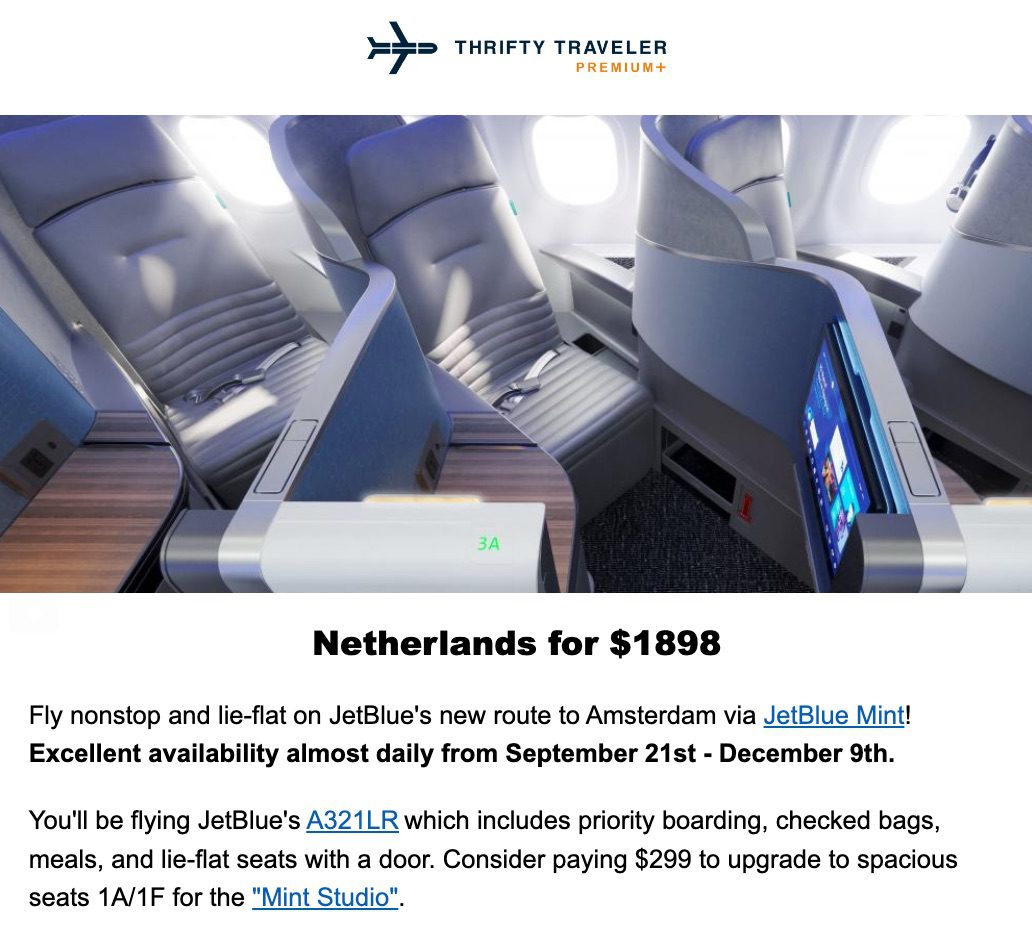 Nothing beats cheap fares like these, right? Well, there might be one thing…
More Mistake Fares!
Mistake fares are the holy grail of flight deals.
Want to save hundreds, if not thousands, on your plane ticket? Looking to fly business class without paying a fortune? It's a mistake fare you're looking for, the ridiculously cheap fares that pop up when – you guessed it – the airline mistakenly sells a fare for cheap.
But they're incredibly rare – especially lately, as airlines have tightened up their systems to catch these errors before travelers can snap them up. So color us shocked that we've found not one but two mistake fares for our Thrifty Traveler Premium+ members so far in 2023.
It started just last month, with this jaw-dropping nonstop fare to Paris-Charles de Gaulle (CDG) for a trip to the City of Light this fall through spring 2024 … for just $230 … roundtrip.

This mistake fare is long gone – get an instant alert for the next one with Thrifty Traveler Premium+!
It wasn't a one-and-done, either. Just a few weeks ago we found a second mistake fare … this time flying business class to London-Heathrow (LHR)!

Flying United Polaris business class to London typically costs $5,000 or more. So when you can book those tickets for as low as $900, you know someone messed up.
Airlines don't always honor their mistakes like these, but it sure seems like our Thrifty Traveler Premium+ members lucked out this year: Both of these crazy deals are good to go for deeply, deeply discounted trips later this year!
Award Alerts to Use Your Points, Too!
We're searching all day every day for the best flight deals … and not just for those cheap cash fares: We also send Thrifty Traveler Premium+ award alerts to use their credit card points and airline miles.
Want discounted Delta SkyMiles flash sales for a fraction of the miles flights typically cost? We got you. Want to use your American AAdvantage miles to fly American or its five-star partner airlines somewhere fun? We got you. Hoping to book some hard-to-find business class seats abroad using as few miles as possible? Yes, we got you.
This is just a small sample – check out all the best award alerts we've found!
Cheap Award Tickets to Hawaii, Europe & New Zealand
Finding the best deals to use your Delta SkyMiles has been our bread and butter for years. But many of those stellar deals disappeared over the last year or so, leading us to wonder whether SkyMiles had become … well, worthless.
Worry not: SkyMiles sales have made a comeback in 2023! Here's exhibit A.

Consider this: Most U.S. airlines charge 30,000 to 40,000 miles or more for roundtrip flights to Hawaii. With this SkyMiles sale, you could get there and back for just 9,000 SkyMiles total. Yeah, we'd say that's a deal.
And yet the deals have somehow gotten even better with Delta throughout the year. We've sent Thrifty Traveler Premium+ more than a dozen SkyMiles alerts in recent months, including deeply discounted fares to Tokyo-Haneda (HND), Santiago (SCL) in Chile, and even Tahiti (PPT). But this one was our favorite: New Zealand for under 40,000 SkyMiles!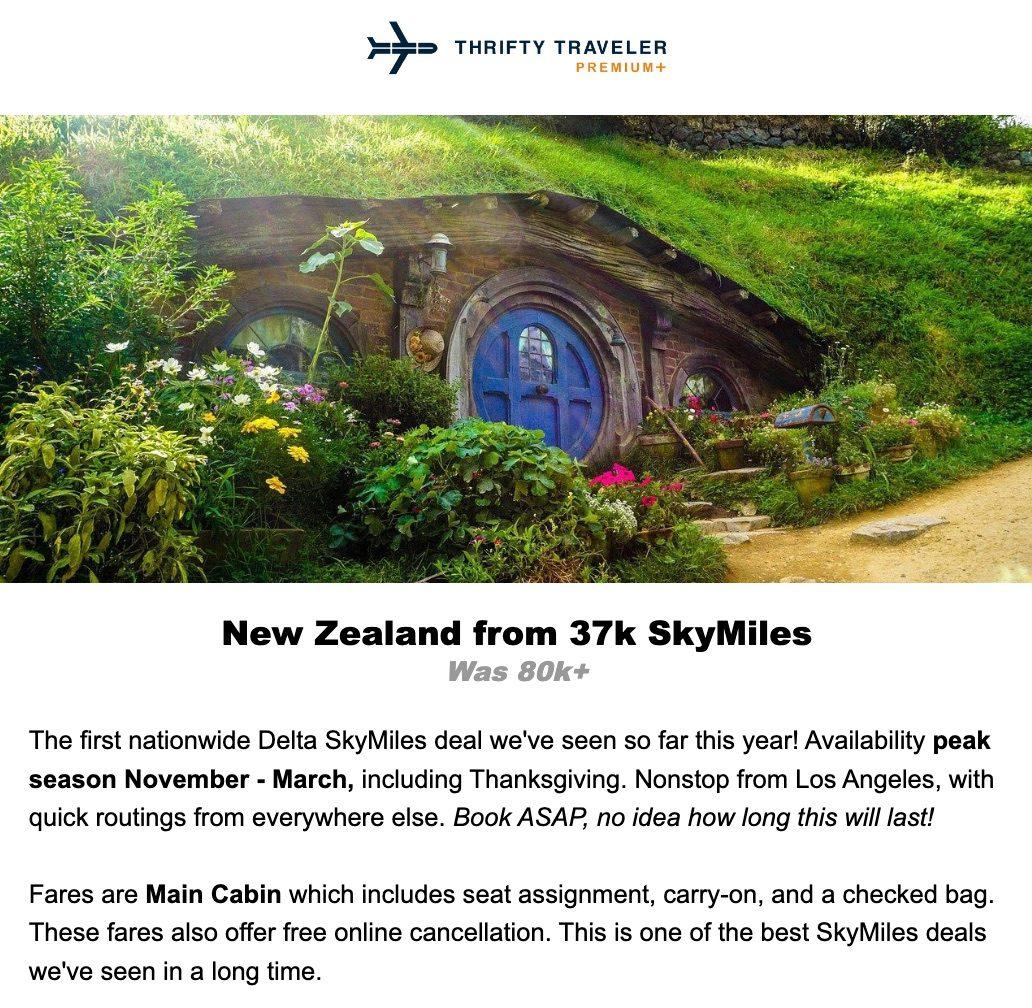 You can't blame us for loving it so much, can you? And considering these same fares are now going for 100,000 SkyMiles or more, we know our Thrifty Traveler Premium+ loved it, too.
But Delta isn't the only airline getting discounted mileage deals like these. Just last month, we unearthed an incredible deal to get to Europe in 2024: Just 34,000 American AAdvantage miles roundtrip! From Albuquerque (ABQ) and Boston (BOS) to Seattle (SEA) and tiny Wilmington (ILM) in North Carolina, this deal was available from airports nationwide.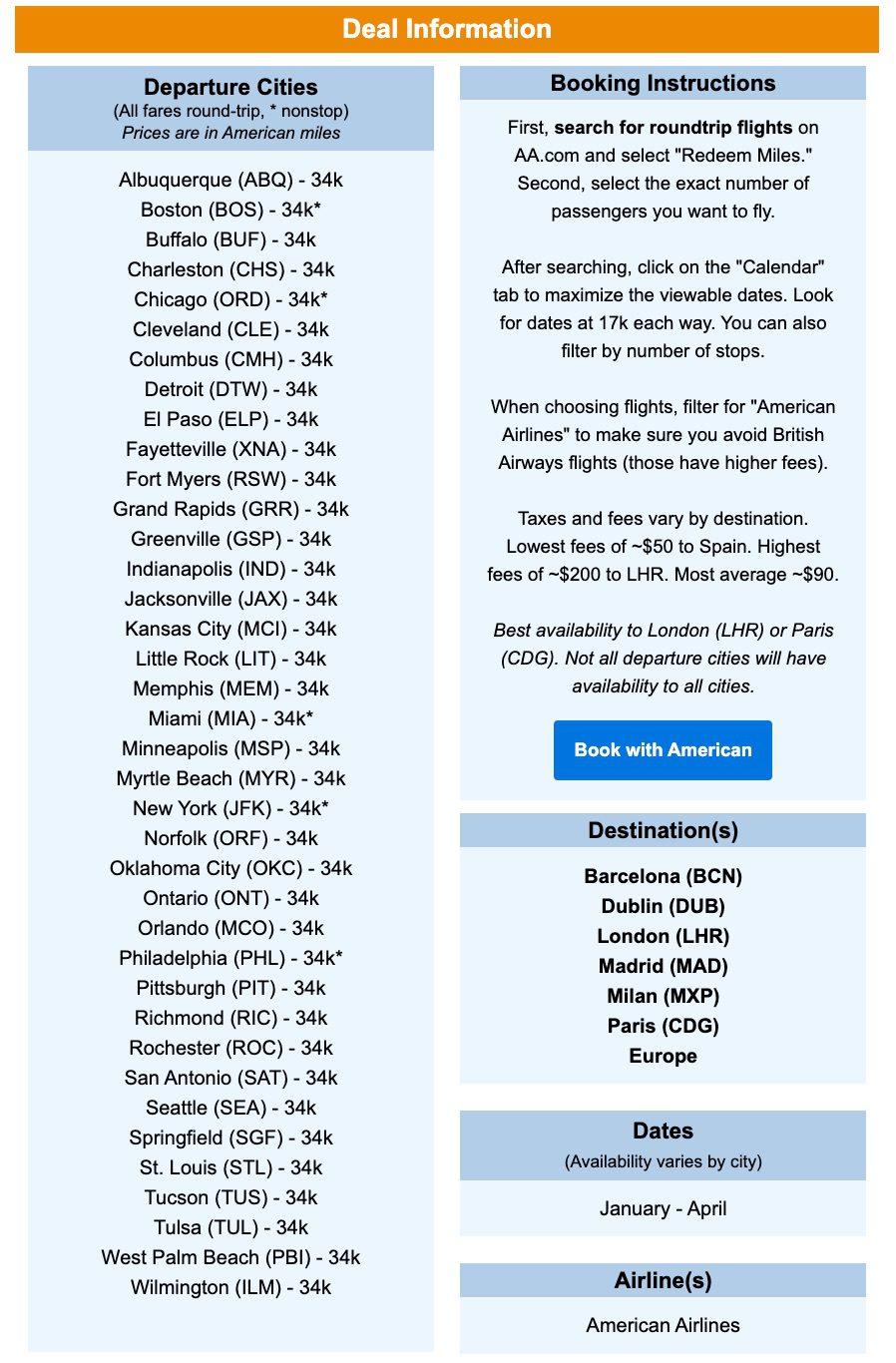 Fly Business & First Class on Points
The best way to book business class is using your points and miles, but finding the award availability to actually book those lie-flat seats with your miles can be a chore. We do the legwork for you.
In fact, we have been all year: We've sent Thrifty Traveler Premium+ more than 100 award alerts to book business or first class seats so far in 2023. Picking just a few to highlight felt like choosing a favorite child.
But this was an obvious candidate: Earlier this year, almost all of United's international business class routes were made available all at the same time. It was a complete bonanza, a free for all … and all bookable for just 60,000 or 70,000 United MileagePlus miles.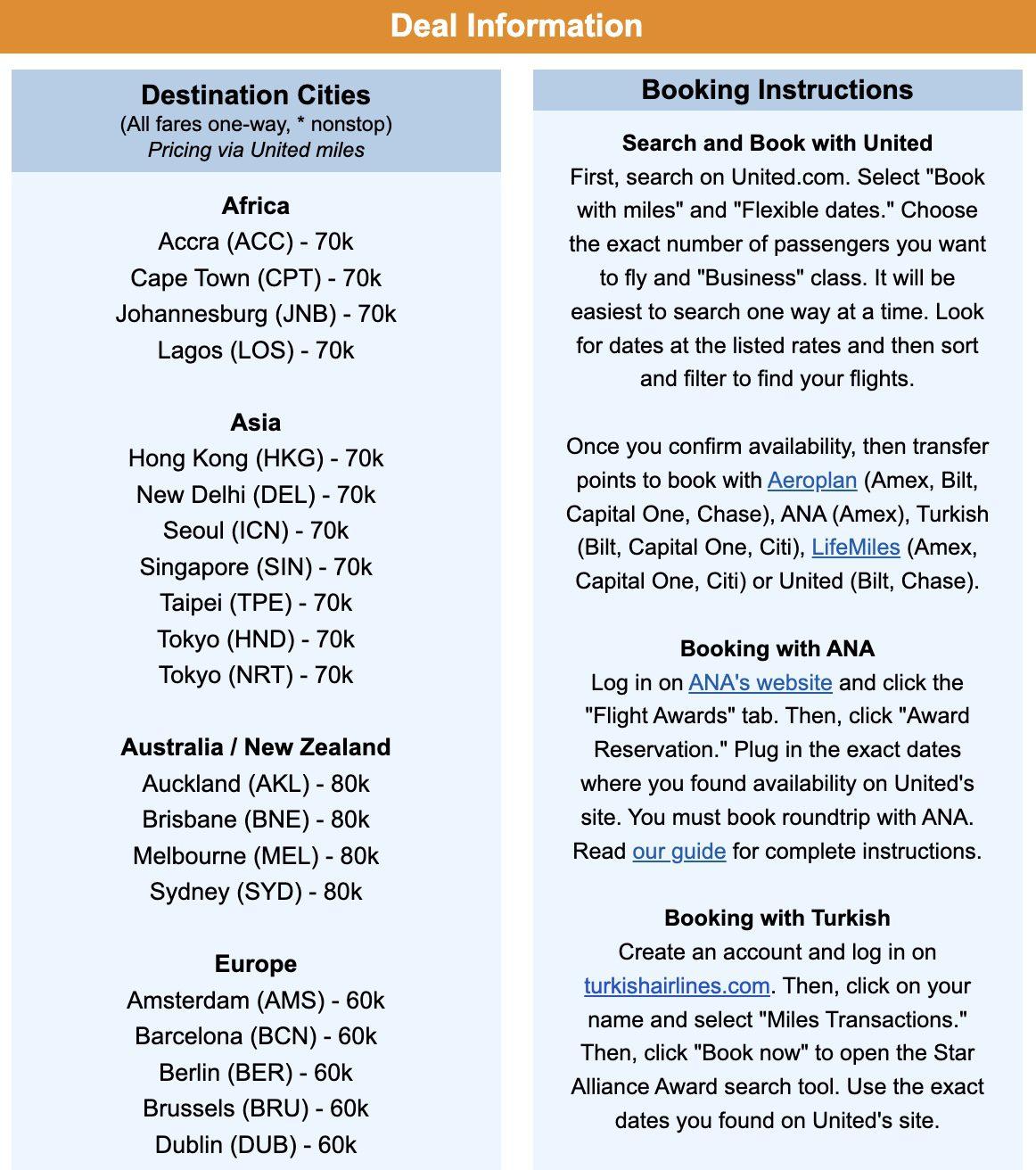 This was unprecedented, helping travelers use their points and miles to fly United Polaris business class to almost any corner of the globe in March 2024. And that was just the latest example of business class award availability we've highlighted for our members.
Delta may shine for cheap SkyMiles deals flying economy, but flying Delta business class with miles? Not so much … until we found this gem: Flying Delta One Suites down to Santiago (SCL) and back for 140,000 SkyMiles.

Deals like this may be rare, but whenever Delta discounts its business class seats abroad, we find it.
But booking ANA first class with points is the ultimate unicorn fare – a "drop everything and book it ASAP" kind of deal. A few months back, we sent this alert to Thrifty Traveler Premium+ to lock in a once-in-a-lifetime trip to Tokyo this summer or fall for just 55,000 points each way.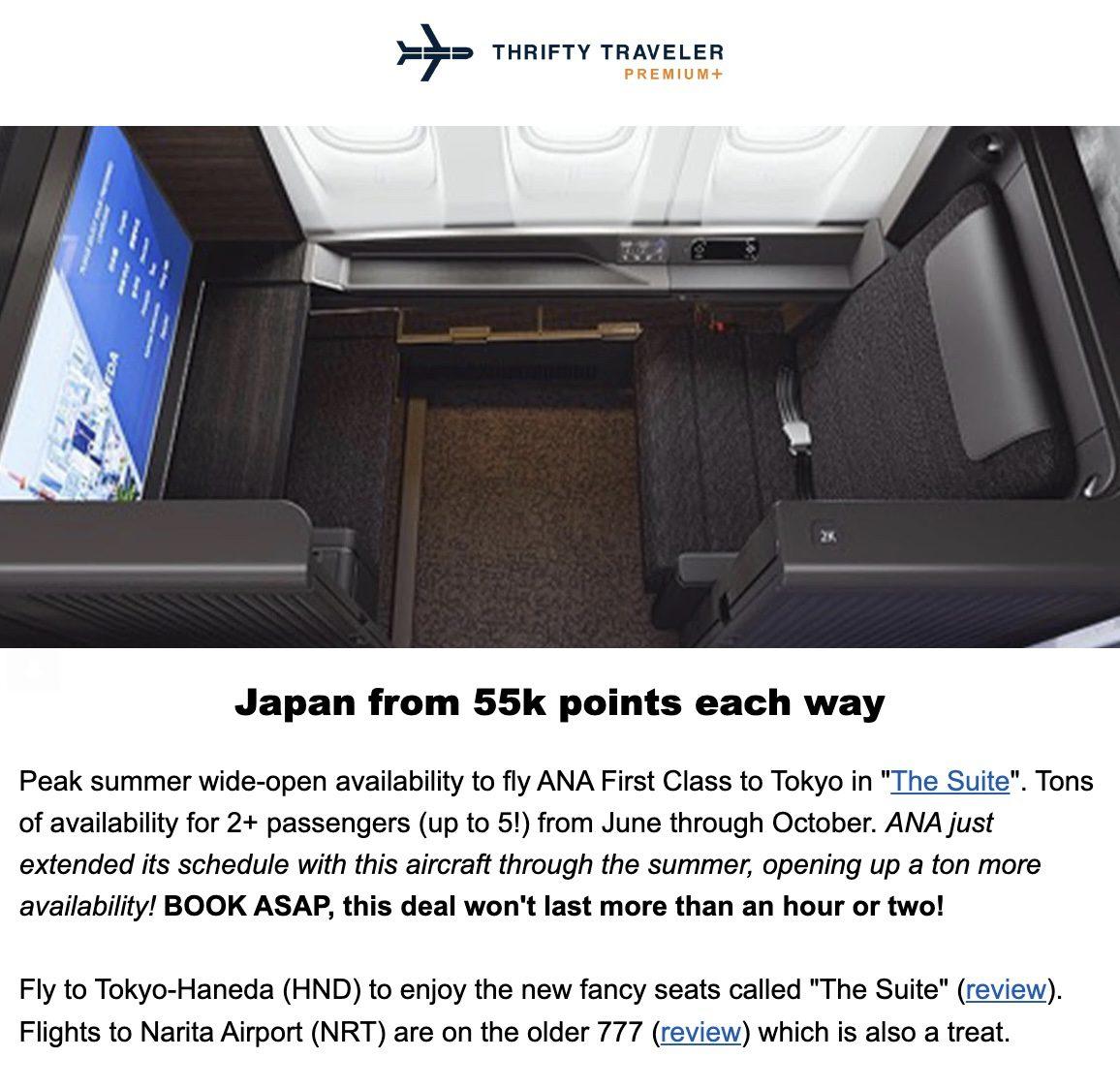 From the best deal in the world of points and miles to Japan Airlines business class availability, we've sent members plenty of options to get to Japan this year or next. Getting to Australia in business class, though, is no sure thing.
Luckily, this award space popped up for Qantas business class on its route from Dallas-Fort Worth (DFW) to Sydney (SYD) for 2023 travel. Naturally, we sent it out to our members the second we saw it. Just 55,000 miles and $50 is all it would take you to live this life of luxury on a 17-hour flight down under.

And finally, there's the best business class seat in the whole world: Qatar Airways Qsuites. We're always searching for availability to book these suites with miles – and always finding it, like this recent deal that could get you to the Middle East, India, or the Maldives next year for just 70,000 miles each way.

All these seats got booked up fast! Get the next cheap flight (or award alert) with Thrifty Traveler Premium+!
Ultra-Special 'Nerd Alerts'
Some points and miles aficionados are just wired different. Cool booking a trip abroad just a few days in advance? Willing to fly anywhere if it means scoring a seat in Etihad Apartments – while you still can – with a shower onboard?
That's what's behind one of our newest features. We call them Nerd Alerts, helping travelers find some of the hardest-to-book seats in the world, whether it's a last-minute departure or a flight wholly outside the U.S.
It doesn't get much nerdier than this.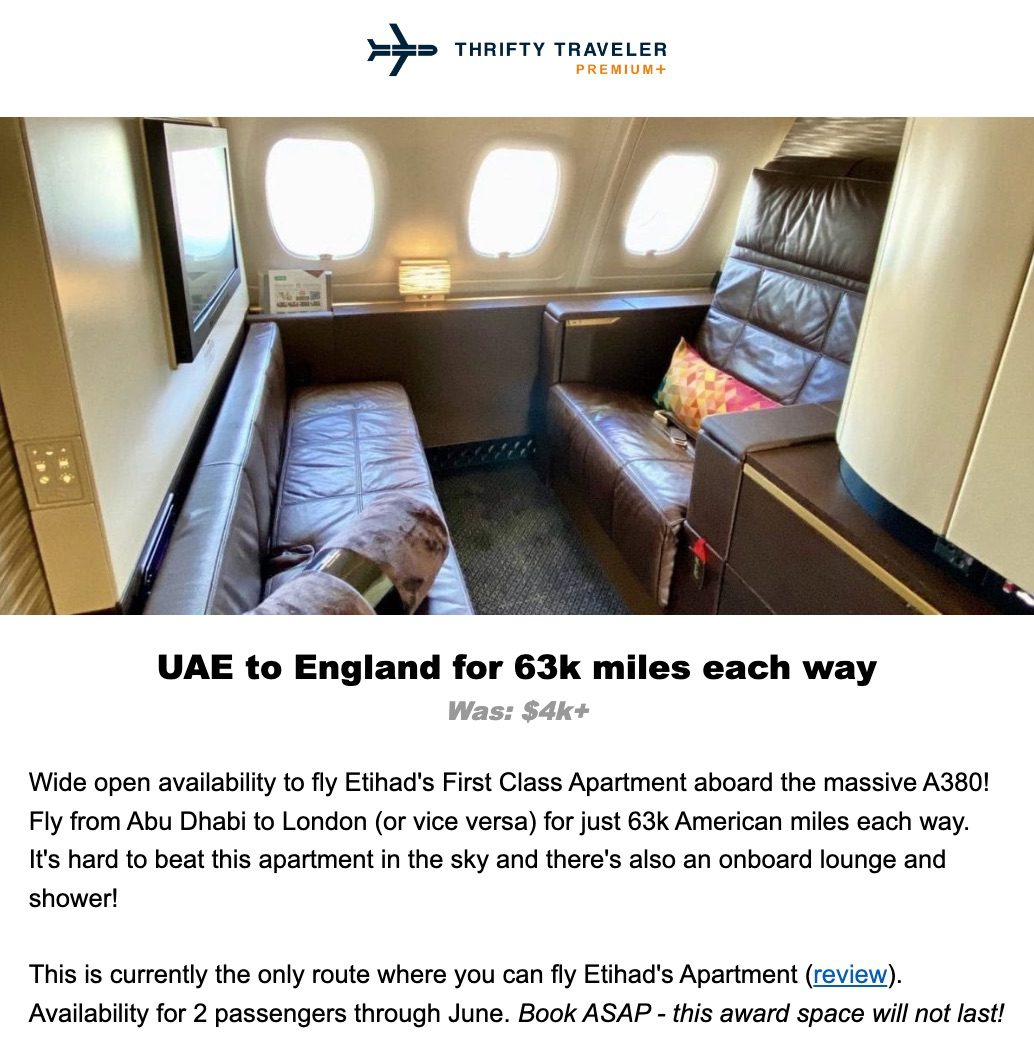 Thrifty Traveler Premium+ members can opt-in for Nerd Alerts – just log into your account and change your settings! 
With incredibly private and ridiculously spacious suites, Etihad Apartments is one of the coolest ways to fly. After the Middle Eastern carrier resumed flying its Airbus A380s earlier this year, we sent a Nerd Alert for some wide-open award space to book these vaunted first class suites between London-Heathrow (LHR) and Abu Dhabi (AUH).
With a Porsche ride on the tarmac to or from your plane, Lufthansa First Class is easily one of the best ways to get to Europe. But it's notoriously hard to book with points: Lufthansa won't let you book until just two weeks (and sometimes a few days) before departure. So this excellent award space bookable for as few as 75,000 points each way earlier this month was easily worth another Nerd Alert.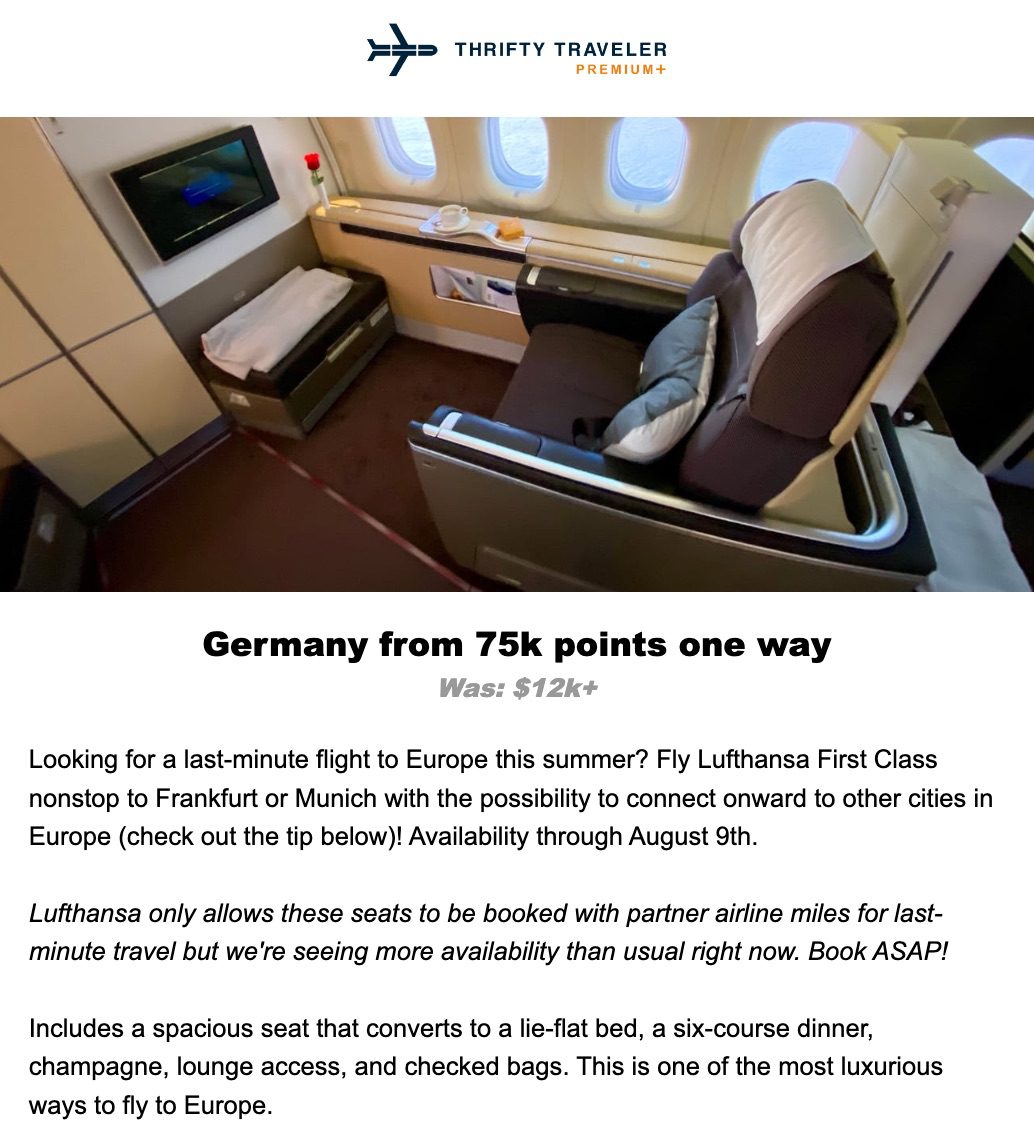 When only specific dates work to put your miles to use, our alerts will give you a thorough breakdown on when you need to look.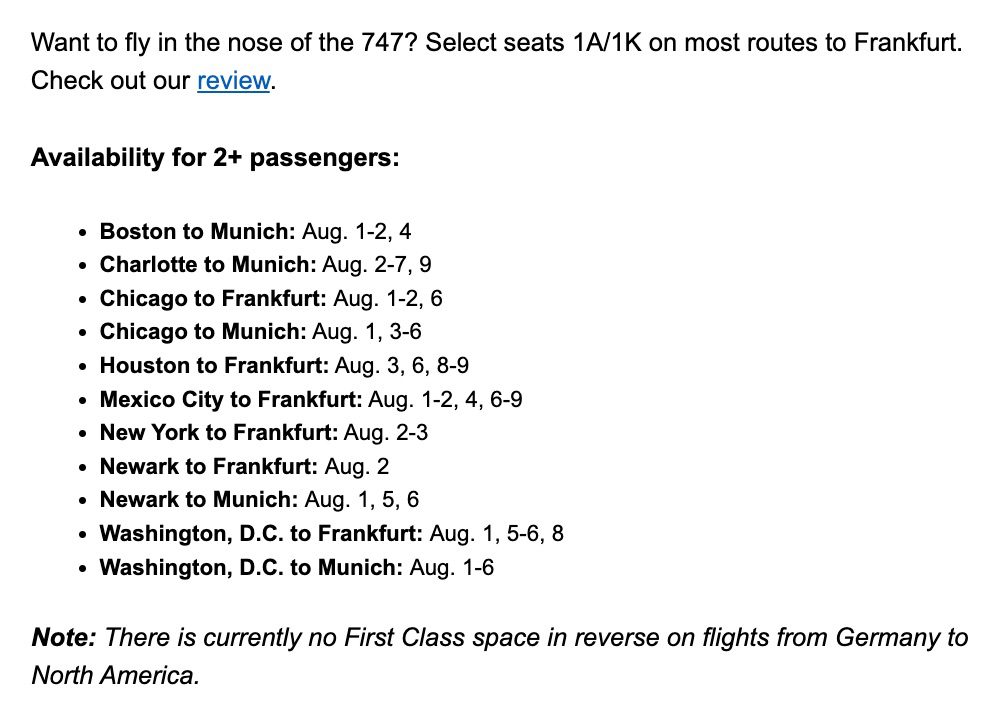 How Thrifty Traveler Flight Deal Alerts Work
Interested in getting flight deal alerts like these? Now's the time. Here's how our Thrifty Traveler Premium (and Premium+) service works:
Sign up for Thrifty Traveler Premium+!
Pick which airports you want deals from (we cover more than 200 in the U.S. and Canada – more than any other flight deal service) and our flight deal experts will search for the best deals
When we find a great flight deal from the airports you've selected, we'll send it immediately to your inbox!
Book your flights directly with the airline for huge savings!
Here's what one of our flight deal alerts looks like:

We're not a travel agency, so you get to skip the middle man and book the flights you want yourself! We include booking instructions on each Premium+ deal so you can find your way to the low fare (or points deal) quickly and easily.
Our service is getting better and better all the time, too. Thrifty Traveler Premium+ members can now quickly log in and scroll through all the deals we find in their online hub … whether they're from one of your departure airports or not! You can filter for cash or points and miles deals, set price limits, and even search for specific destinations.

All our members get a ton of other benefits that make it the best flight deal service on the market, including:
Immediate flight deal email alerts for 1-5 flight deals a day!
Only get deals from your preferred airport(s) – we cover 200+ airports, more than any other service!
Direct links to book with the airline
Access to our members-only Facebook group
100-Day Money Back Guarantee!
Whether it's an $87 flight to Phoenix, a nonstop flight to Europe for less than $350, or a low fare alert on lie-flat business class seats to a bucket list destination, Thrifty Traveler Premium+ members can get it all – including all the deals you see here, and more.
Bottom Line
The world is waiting for you, flight prices are dropping, and great deals to use your points are out there. We're ready to help you get back out there for less … with some of the best flight deals you can find.
Start getting deals like these and travel more for even less later this year, in 2024, and beyond!
Sign up for Thrifty Traveler Premium+ now and get these alerts straight to your inbox!