After two years of nonstop bargain airfare during the thick of the pandemic, travelers are suffering from sticker shock. From $500 domestic fares to $1,000-plus to Europe, many flights are more expensive than ever, it seems … but not for everyone.
There's no such thing as expensive flights for our Thrifty Traveler Premium members, who get the cheapest domestic and international flights sent straight to their inboxes every day.
Whether they hopped on a flight deal alert before prices increased or jumped on a recent alert to go somewhere that cheap flights are still available, here's a look at where our Thrifty Traveler Premium members are going this year … and what they would have paid booking today.
Wanna see how it's done? Read up on how Thrifty Traveler Premium works!

Half-Off Fares to Cancun & Biz Class to New Zealand
Consider yourself warned: Flying this summer is not going to be cheap.
Even in normal times, peak-summer flights are typically expensive. This summer, flight prices are out of control. Roundtrip flights on United's nonstop flight from Cleveland (CLE) to Cancún (CUN) are approaching $1,000. Ouch.
But just last month, we found fares from cities nationwide down to Cancún as low as just $250 all through 2022 and into 2023. And yes, that's roundtrip.
Thrifty Traveler Premium member Lori D. used that deal to lock in a trip to Cancún in July for just $427 per person – less than half of what United is charging for the same flights today!
But Lori didn't stop there. Thrifty Traveler Premium+ members get award alerts to use their points and miles, like deeply discounted Delta SkyMiles flash sales and rare award availability to fly business class around the world using their points. After hoarding points through the pandemic, now's the time to put those miles to use … especially on deals like this.
Scoring a lie-flat seat all the way to New Zealand is a chore – and even when you can, it typically costs 200,000 miles or more roundtrip. So when we discovered a pricing quirk using United miles to fly to Wellington (WLG) in New Zealand for just 60,000 miles each way … from almost every city in the country.
Get award alerts like this one plus cheap domestic and international cash fares with Thrifty Traveler Premium+!
Lori (and plenty of other Premium members) locked in a roundtrip in United Polaris business class for just 120,000 miles for 2023.
A Trip to Chile for $350
Before the pandemic, flights to get to South America were typically expensive – especially getting as far south as Buenos Aires (EZE) or Santiago de Chile (SCL).
Even as flight prices climb elsewhere, cheap flights to South America have been a major bright spot. Cheap fares put bucket list destinations like Patagonia or Machu Picchu within reach.
Thrifty Traveler Premium member Stephanie C. used one of our recent alerts to fly from Fort Lauderdale (FLL) all the way down to Santiago for just $356 roundtrip for a trip this fall. As she notes, a positioning flight from Minneapolis-St. Paul (MSP) to get down to Fort Lauderdale may well cost more than the 12-hour flight to Chile!
That's an incredible deal. But prices like these are fleeting. If Stephanie booked those same Delta flights today, she might wind up paying more than $1,200! She saved more than $900 thanks to a Thrifty Traveler Premium flight deal alert!

Don't pay prices like this! Sign up for Thrifty Traveler Premium to get better deals sent to your inbox!
Minneapolis to the U.S. Virgin Islands for $150 Each
Throughout much of the pandemic, finding a cheap flight to the U.S. Virgin Islands was easy as could be.
Those days are gone. Here's what a flight from Minneapolis-St. Paul (MSP) to St. Thomas (STT) looks like these days – as flight prices have gone up across the board, paying $500 or more roundtrip has become the norm.

But before the cheap flights disappeared, Thrifty Traveler Premium member Nadia Y. jumped on one of our cheap flight alerts back in November to lock in a trip for two to the Caribbean later this year … for just $158 apiece! 

It doesn't get much better than spending $300ish total for a trip to the beach for two … especially when those same flights would cost $1,200 or more today!
Biz Class Mistake Fare to London
Forget about prices going up lately. In good times and bad, a business-class flight to Europe will almost always cost an arm and a leg…
Unless if you use points and miles, of course – or hop on a mistake fare! Just last month, we sent Thrifty Traveler Premium+ members an insane mistake fare for roundtrip flights to London-Heathrow (LHR) in Virgin Altantic's swanky new Upper Class suites. It should have cost $3,000 or more … but for a few hours, the airline mistakenly sold these tickets for under $900 total!
Thrifty Traveler Premium+ members get every single mistake fare we find instantly!
Within hours, these fares disappeared and shot back up to their normal price. But Hal I. – along with hundreds of other Thrifty Traveler Premium+ members – booked a trip for May before they were done. And believe it or not, the airlines are honoring these unbelievable prices.

A Delta Flash Sale to Rome
While you can find cheap flights to some destinations, fares to Europe are looking expensive in 2022. Trying to get to Rome? Expect to fork over a sizable sum of cash or miles.
But in March, we unearthed one of many Delta SkyMiles flash sales to destinations across Europe for just 32,000 to 34,000 SkyMiles roundtrip – including Rome (FCO).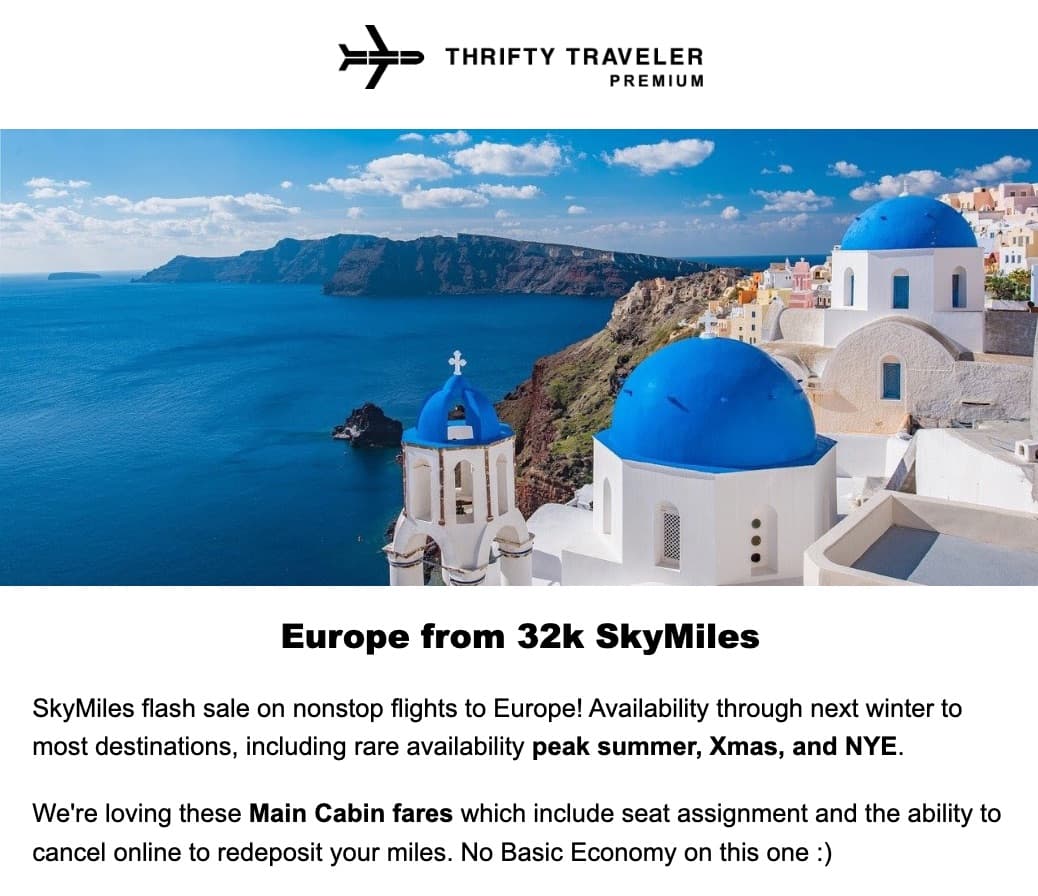 Thrifty Traveler Premium+ member Kaye L. used that alert to book a trip to Rome for the whole family this fall to celebrate her birthday.
Using just 34,000 SkyMiles and $61 is a steal for nonstop Delta flights to Europe. Consider this: Those exact same flights would cost almost $900 today … or a whopping 97,000 SkyMiles. Yikes.
But by getting our flight deal alerts and booking when the deals were hot, Kaye saved 315,000 SkyMiles for her family trip!
Bottom Line
Flight prices may seem sky-high, but plenty of travelers are packing their bags  for a trip later this year (or early next) with plenty of extra cash on hand thanks to Thrifty Traveler Premium flight deal alerts. And these examples are just a fraction of the huge savings travelers are benefitting from this year.
Lesson learned: When flight prices get high, it's more important than ever to wait for the great flight deals to come to you. Get them straight to your inbox with Thrifty Traveler Premium!