I recently stayed in Cancun at The Westin Lagunamar Ocean Resort Villas & Spa before leaving on my trip to Cuba. The hotel is located in the Zona Hotelera (Hotel Zone) and is a 20-minute taxi ride from the airport, which costs about $50 round-trip. Alternatively, the hotel can arrange private transportation to and from the airport for around $80.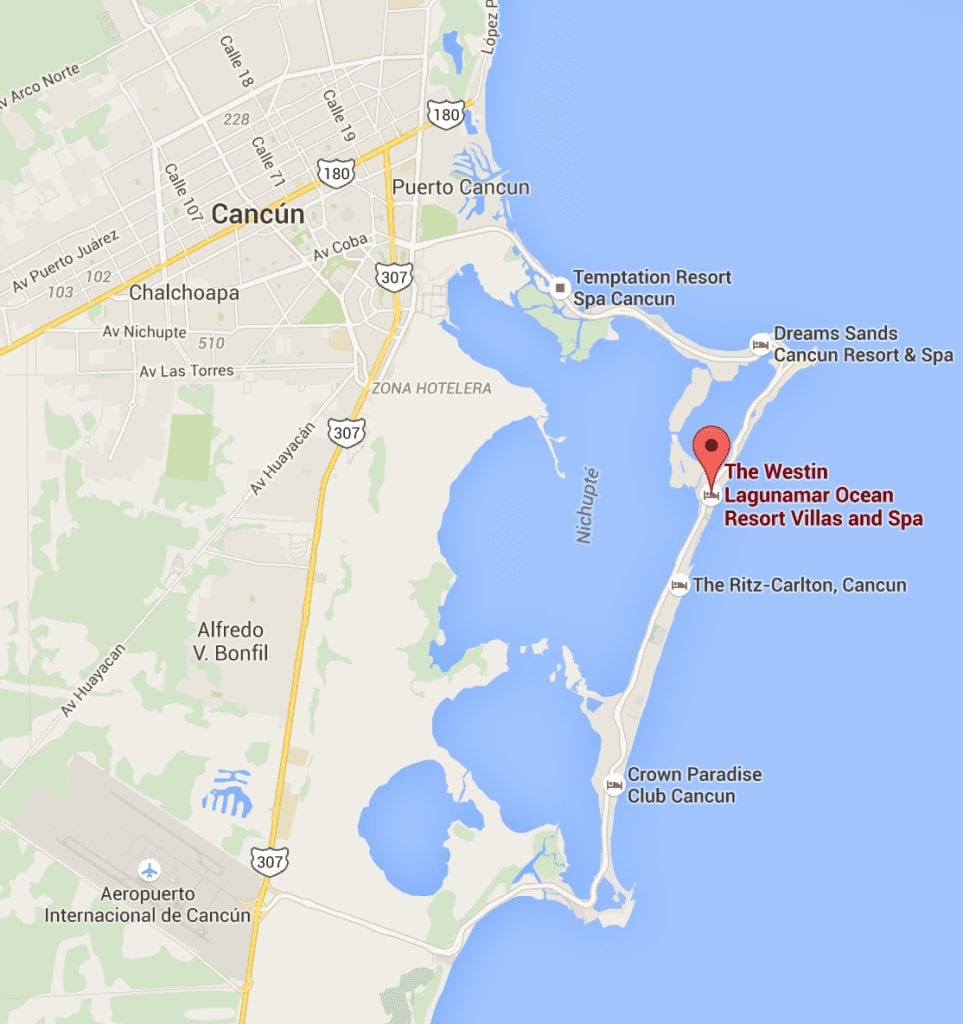 The Westin Lagunamar is definitely not your typical Cancun party crowd. First off it is not an all-inclusive hotel, but the hotel does feature a host of on-site restaurants and bars. During my stay, there was a mix of families and younger adults as well as older couples. If you are looking for a beautiful hotel with an amazing beach away from, but still close to the party scene, then this is the hotel for you. There is also the Isla Shopping Village right across the street from the hotel, which offers high-end shopping as well as your typical American chain restaurants.
Thrifty Tip #1: While some Cancun businesses do take US Dollars make sure to take Mexican Pesos out of an ATM at the airport or hotel as the front desk of the Westin will give you an unfavorable exchange rate.
The resort itself is split up between regular hotel rooms and timeshares. I won't wade too deep into this but I would strongly recommend you stay away from the Starwood Vacation Ownership (SVO), which is Starwood's timeshare program. They may offer you $150 or more to sit down and listen to a high pressure sales pitch, but it is not worth it. Mrs. TT and I wasted three hours of a prior vacation listening to the SVO sales pitch while on vacation at the Westin St. John Resort. Any way you try to add up the costs of SVO it ends up as a very bad deal. The world of points and miles is a far thriftier way to enjoy properties such as the Westin Lagunamar Cancun for a much cheaper price (FREE). I stayed for 12,000 Starpoints, which is a pretty good redemption value.
I did not receive an upgrade at check-in and was given the basic Studio Villa. I was located on the fifth floor and had a great view of the ocean and the resort. I honestly don't think there is a bad view in the house. My room was nicely appointed with a king sized bed, couch, a furnished balcony (see view in the lead photo).
The resort has great amenities I have not seen at other Starwood beach properties. All of the rooms have an ocean view, which is great as there is nothing worse than traveling all the way to Mexico only to stare out into a parking lot. All the rooms also include a kitchenette in addition to a washer and dryer. The food and drink service around the pool and on the beach is fast and friendly. The hotel also features multiple pools with swim up bars as well as hot tubs. The infinity pool, which is the large beachside pool, offers great views of the ocean and appeared to be the most popular.
Thrifty Tip #2: If you wanted to go into town and pick up groceries that is always an option as you have a full sized kitchenette with dishwasher.
Thrifty Tip #3: All hotel rooms at the Westin have washers/dryers and detergent. Another reason to pack light and avoid having to pay to check luggage!
Thrifty Tip #4: If you are planning to stay four or more nights on a point redemption your fifth night is always free at any SPG property! Mrs. TT and I always use this bonus on our winter beach vacations.
As a Platinum Starwood Preferred Guest (SPG) member I choose the free breakfast as my checkin amenity. Breakfast is served in the Oceano restaurant and included a great buffet spread. Everything on the buffet was fair game except the hot items. There are also three other restaurants on-site but I did not get a chance to try them out during my stay. I did use the on-site gym which features free weights up to 50 lbs, treadmills, elliptical, and various machines.
Overall, the Westin Lagunamar Cancun Studio Villa is another recommended SPG vacation property and is a great value for the points. If my travels take me back through Cancun I'll definitely stay here again!
Never miss another post! Like us on Facebook, follow us on Twitter, and subscribe to our newsletter! 
Check out our other hotel reviews: