It could be the least wonderful time of the year for Americans heading somewhere over the holidays, as a winter storm set to sweep across the much of the country later this week has forecasters and industry experts bracing for disruptions traveling by land or sky.
The forecast was still crystallizing Tuesday morning, but a major snow system is expected to stretch from the Midwest all the way into the Northeast beginning as soon as Wednesday. In the Midwest, the National Weather Service expects heavy snow to start Wednesday night, evolving into a blizzard by Friday as wind gusts of nearly 60 miles per hour lead to whiteout conditions amid dangerously low temperatures.
The message? Leave early to make it home for Christmas – today or early Wednesday, if you can.
Luckily, U.S. airlines across the board are helping to make that happen. Nearly all major U.S. airlines including American, Delta, United, and Southwest had issued weather waivers by Tuesday evening, allowing travelers scheduled to fly over the next several days to move flights up or back without paying change fees or otherwise hefty fare differences.
But you'll want to act fast: With flights regularly full to the brim these days, open seats on earlier or later flights may be scarce … and could disappear fast.
It's the latest test for airlines, which struggled with mass delays and cancellations all spring and into early summer after downsizing during the early days of the pandemic and struggling to get back up to 100%. With clear skies, U.S. carriers managed to fly smoothly through the hectic Thanksgiving travel holiday. This time, they may not be so lucky: A literal winter storm could cause a figurative snowball effect, resulting in days of disruptions as carriers struggle to get caught up.
It's terrible timing for Americans looking to rejoin family for the holidays – and many millions will be. The Transportation Security Administration (TSA) said it expects to handle more travelers than it's seen since 2019. And the American Automobile Association (AAA) says nearly 113 million people will travel 50-plus miles from home, making it one of the busiest holidays for travel since at least 2000.
Whether you get caught in the storm or just have to deal with crowds at the airport, here are some tips to make it through unscathed over the next week.
Keep Tabs on Weather Waivers
This is your chance to change your flights without paying extra, getting out sooner (or later) to avoid the bad weather altogether.
If your departure or arrival city makes the cut, these waivers generally allow you to switch to neighboring date without paying fees or fare differences … so long as your origin and destination don't change. But every airline handles these waivers a bit differently, and they change constantly as the forecast comes together. For example, American Airlines has issued separate weather waivers for the Northeast and Midwest, each with its own range of travel dates eligible for a free change.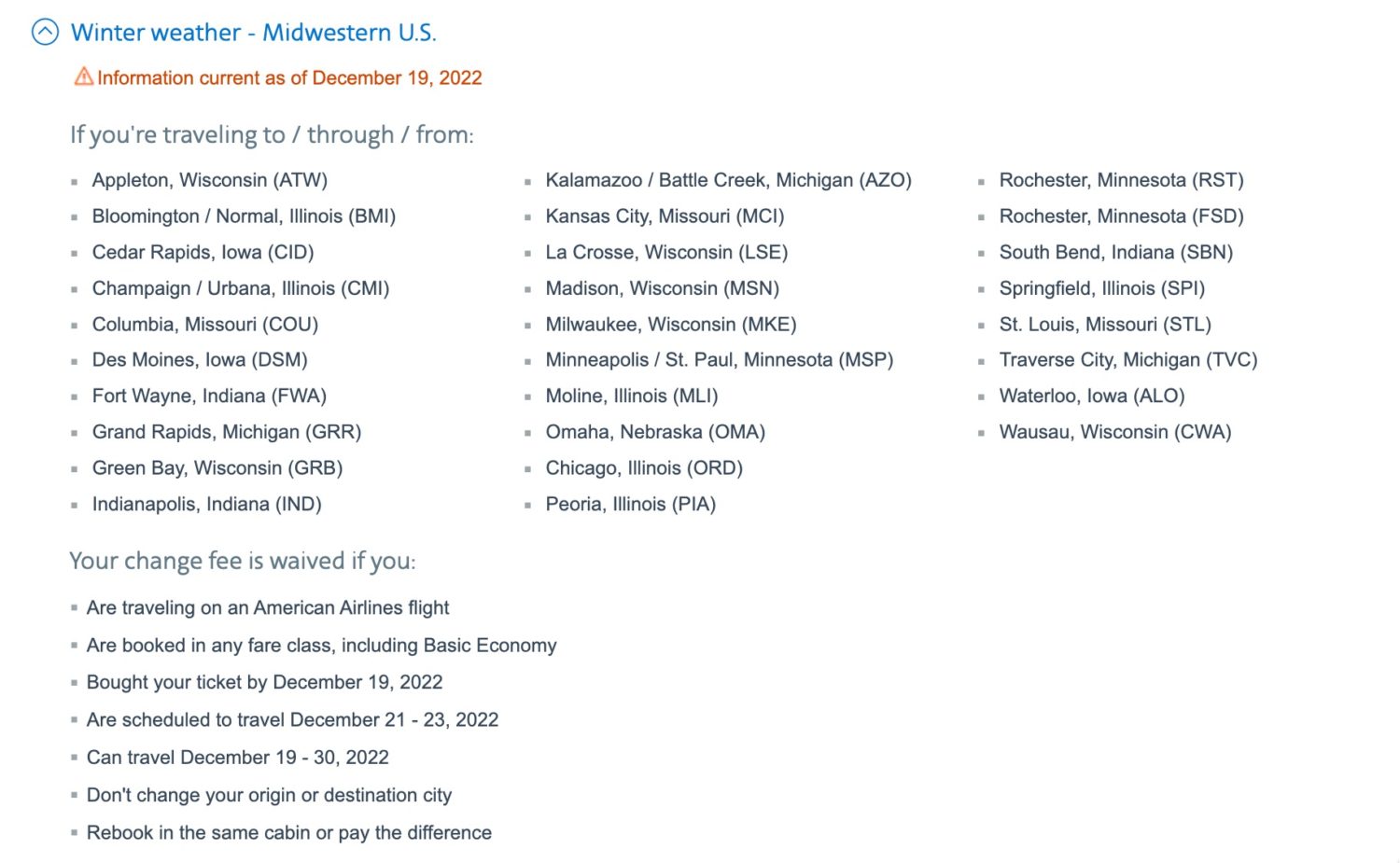 But you'll want to take advantage as soon as possible. Open seats are extremely limited these days – especially heading into the holidays – so your odds of finding a flight you can actually rebook decrease as the storm draws closer.
Here are some quick links to each major U.S. airlines' currently published travel waivers:
Tips to Ensure Smoother Travel Days
In good times and bad, there are some basics to booking flights to help you avoid disruptions. And while the U.S. airline industry is in a much better place than it was a few months ago, it still pays to be prepared.
Here are a few things you can do to minimize your chances of getting delayed or canceled – or what you can do if the worst happens.
Take the earlier flight: If there's one silver bullet, it's this. Data shows clearly: The later you depart, the greater your chances of getting delayed. Book the earliest departure you can or change your flight to an earlier flight to improve your odds.
Avoid connections if you can: It might be cheaper, but taking an extra stop on your way to your final destination also doubles the chances of something going wrong.
Monitor your reservation & your airline: Watch your flight like a hawk for possible last-minute changes or delays – or use an app like Flighty to do it for you. But it also pays to monitor whether your airline is canceling or delaying flights in the days leading up to your trip. If FlightAware shows your airline is struggling on Tuesday, it's safe to assume those issues may continue on Wednesday when you're scheduled to fly.
Know your rights: If an airline cancels (or significantly changes) your flight for any reason other than weather, they owe you a refund. You may need to ask for it, but the airline can't simply saddle you with a voucher for future travel. Use that money to rebook a last-minute flight to get where you need to go or try again another time.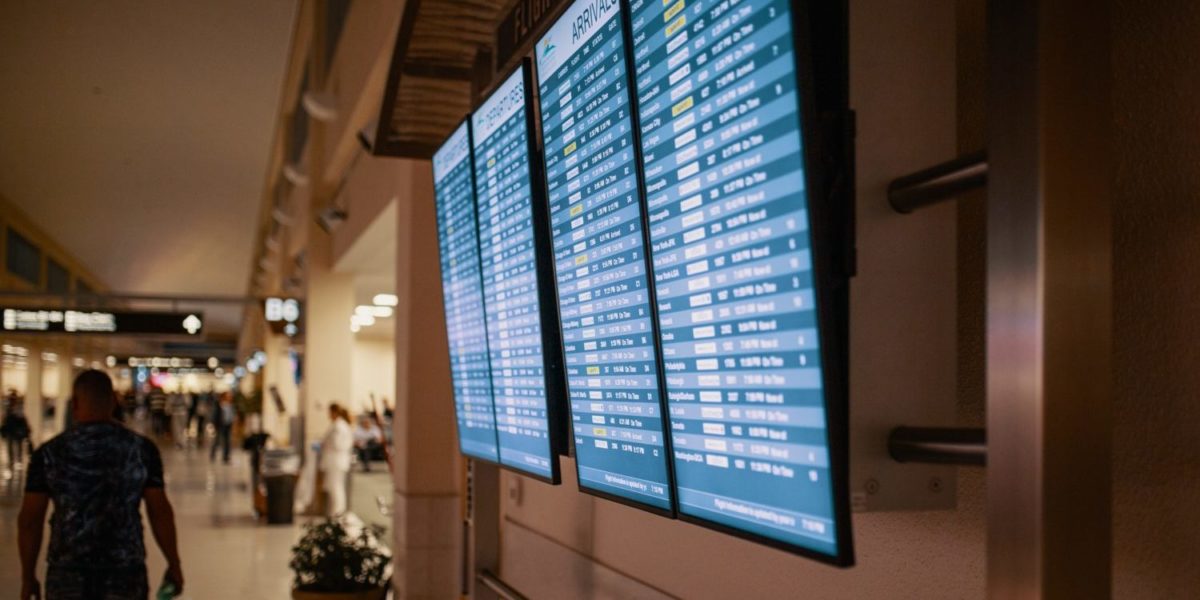 Read more: How to Survive (Or Avoid) Flight Cancellations & Delays This Summer
Exhaust Your Options to Contact Your Airline
When things go wrong, don't just stand in a long line to speak with a gate agent or employees at check-in. It's time to throw everything at the wall and see what sticks. Airlines are staffed by thousands of people who could help you – and not just those at the airport.
So…
Read up on other ways to reach Delta amid hours-long call wait times!
When an airline is in the midst of a meltdown, reaching an employee to help you can be the most stressful part of the situation. Getting as many irons in the fire as you can is crucial. You never know which negotiation method will pay off.
Pack in Just a Carry-On Bag
Getting to the airport early is one of the necessary evils of air travel. It only gets worse during the holidays.
Skip the lines to check a bag or grab it from the baggage claim. Pack in just a carry-on. We encourage all readers to travel with only carry-on luggage, no matter the season. It's cheaper, faster, and frees you of the mental weight of keeping track of more things – or the possibility of the airline losing your bag.
But there's no time it pays off more than when you can walk from the curb directly to the TSA security checkpoint as holiday travelers line up to check a bag. Travel with a carry-on, and there's one less line you need to wait in.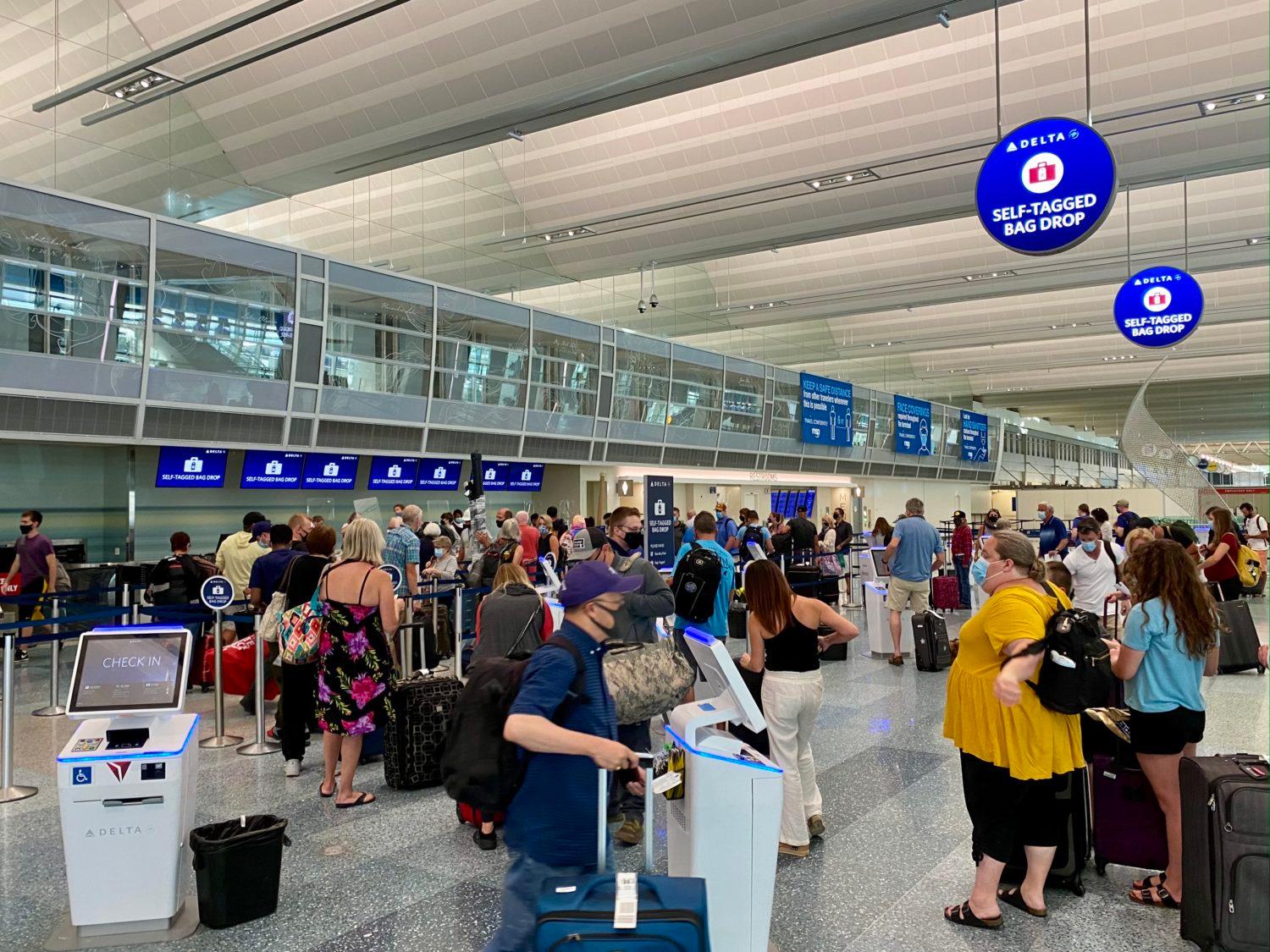 In fact, that's one of our biggest tips for traveling during the pandemic. As business travelers stay home and leisure travelers check a bag or two, bag drops and baggage carousels are where you'll see some of the largest lines throughout the entire airport.
Need a new carry-on bag? Read up on five of our favorite bags out there.
Have TSA PreCheck or CLEAR Ready
Getting through airport security can be a headache even on a slow day. Mix in holiday crowds, and it can be a nightmare. It doesn't have to be.
With Christmas crowds expected to set yet another pandemic travel record, the TSA is bracing for some longer-than-usual lines at security checkpoints.
"We are prepared for the increased volume and expect to meet our wait time standards of 30 minutes or less in standard lanes and 10 minutes or less in TSA PreCheck lanes. However, there may be some situations where the capacity of a checkpoint is exceeded," TSA Administrator David Pekoske said in a statement.
A pair of trusted traveler programs can help you skip the lines at security. The first and most popular option is TSA PreCheck, a government-run security program that gets you in a shorter, dedicated queue at the airport. You get to keep your shoes, belt and a light jacket on. No need to take your laptop or carry-on approved liquids out of your bag, either. It makes the entire process far less stressful. After your first trip through security with PreCheck, you'll wonder why you didn't get it sooner.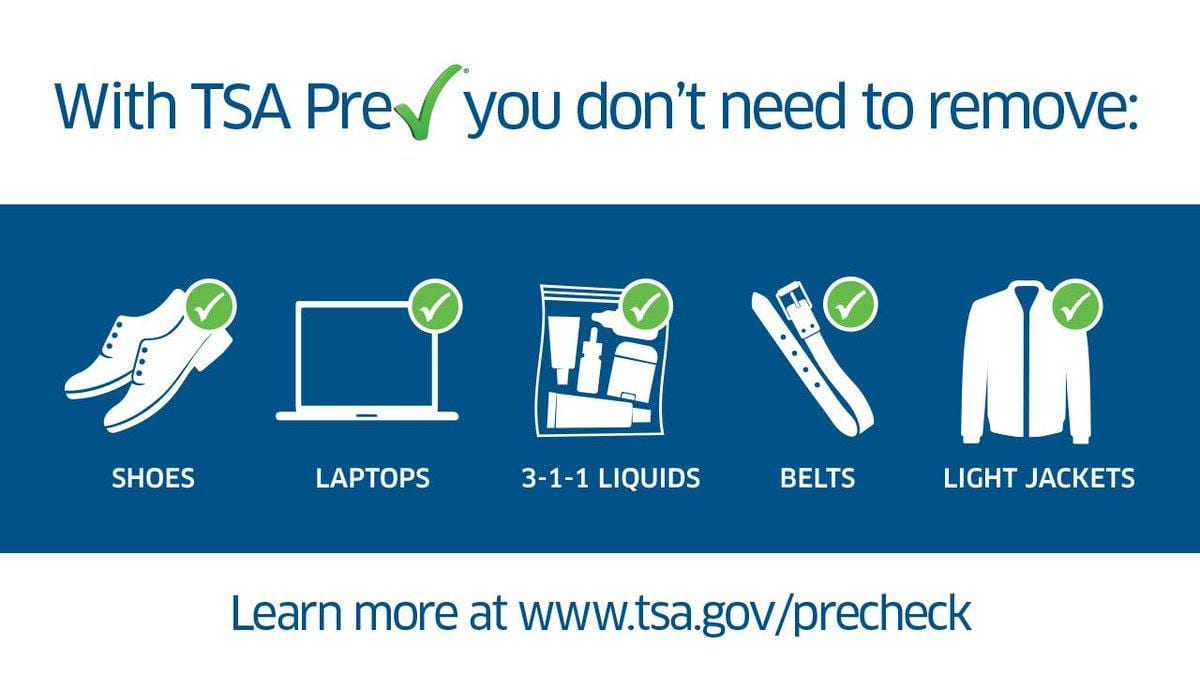 After a recent decrease, PreCheck costs $78 for a five-year membership. But you might want to consider a different program: You get PreCheck with Global Entry, the trusted traveler program that helps you get through immigration faster when returning to the United States. At $100 for five years of both programs, it makes Global Entry a two-for-one and a no-brainer. Just keep in mind it may take a while to get signed up for Global Entry.
Even better: You can get it for free. A handful of popular travel credit cards cover the fees for either Global Entry or PreCheck. Just pay for your application with one of these cards and voila: The credit kicks in automatically to cover the entire cost.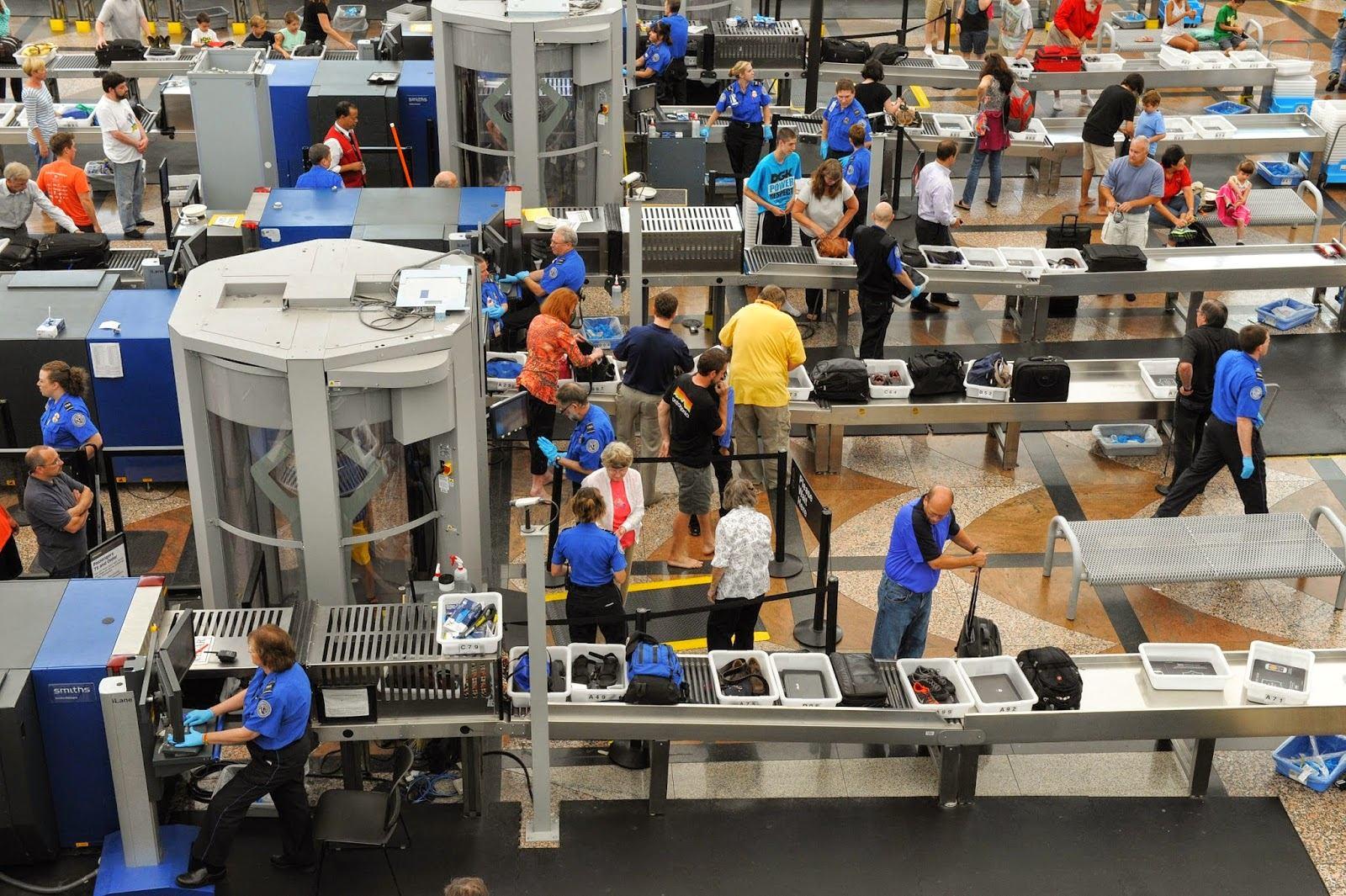 Another option is CLEAR, an independent trusted traveler program involving both fingerprints and a retinal scan. You can enroll online and finalize your membership at the airport. If you frequently depart from a Delta hub city – like Minneapolis-St. Paul (MSP), Detroit (DTW) or Atlanta (ATL) – or United hubs of Denver (DEN), Newark (EWR), or Washington, D.C.-Dulles (IAD), CLEAR is easily worth a look.
Read our CLEAR review and see if it's worth it for you!
But CLEAR and TSA PreCheck aren't synonymous. CLEAR cuts you to the front of the security lines, while PreCheck gets you into the designated lane. That makes CLEAR and PreCheck a powerful combo to get through the line as fast as possible.
The one hitch is that CLEAR isn't available everywhere: It's currently running at more than 40 U.S. airports and counting, plus a handful of professional sports stadiums. Expect that number to continue to grow.
And unlike the five-year membership for PreCheck, CLEAR has a steep annual fee: $189 per year. But Delta flyers can get some big savings. It costs $119 for a general SkyMiles member, and only $109 per year if you hold one of Delta's co-branded American Express cards or have Delta Medallion status. Same goes for United MileagePlus members, elites, and cardholders.
CLEAR is free for top-tier Delta Diamond Medallion and United 1K status members. And The Platinum Card® from American Express now offers a $189 annual credit to cover the entire cost of CLEAR membership, too.
Relax Inside a Lounge
With a few million travelers on the move, your airport terminal could be full in the next few weeks. Need an escape (and maybe a drink)? You're looking for an airport lounge.
At a minimum, you'll get free drinks and snacks, a place to recharge your devices, and far better seating than the stiff chairs at your gate. In major hubs and overseas, you might find full buffets, a la carte dining, showers, and even private sleeping rooms.
Check out the app Loungebuddy for a rundown of what lounges are available at any airport. Loungebuddy will also tell you whether you can buy a single-visit day pass to a lounge.
But rather than paying upfront per visit, the best way to get into airport lounges is by holding the right premium travel credit card. One of our favorites is The Platinum Card® from American Express, which opens more lounge doors than any other credit card.
You'll get access to a growing number of posh Amex Centurion Lounges in the U.S. and abroad 1,200-plus Priority Pass lounges worldwide. If you're flying Delta that day, you can get into the Delta Sky Club. Finally, you can get into Plaza Premium Lounges and Escape Lounges, including our hometown favorite: The MSP Escape Lounge.
At $695 per year (see rates & fees), the Platinum Card isn't for everyone. But unbeatable lounge access plus all the other Amex Platinum benefits can easily make that price tag worth it for some travelers.
The Capital One Venture X Rewards Credit Card is another great option – especially if you're looking to pay less. It'll get you into Priority Pass lounges worldwide plus the outstanding new Capital One lounges, the first of which opened in Dallas-Fort Worth (DFW) this month. More locations are on the way, starting with Denver (DEN) and Washington, D.C.-Dulles (IAD) next year.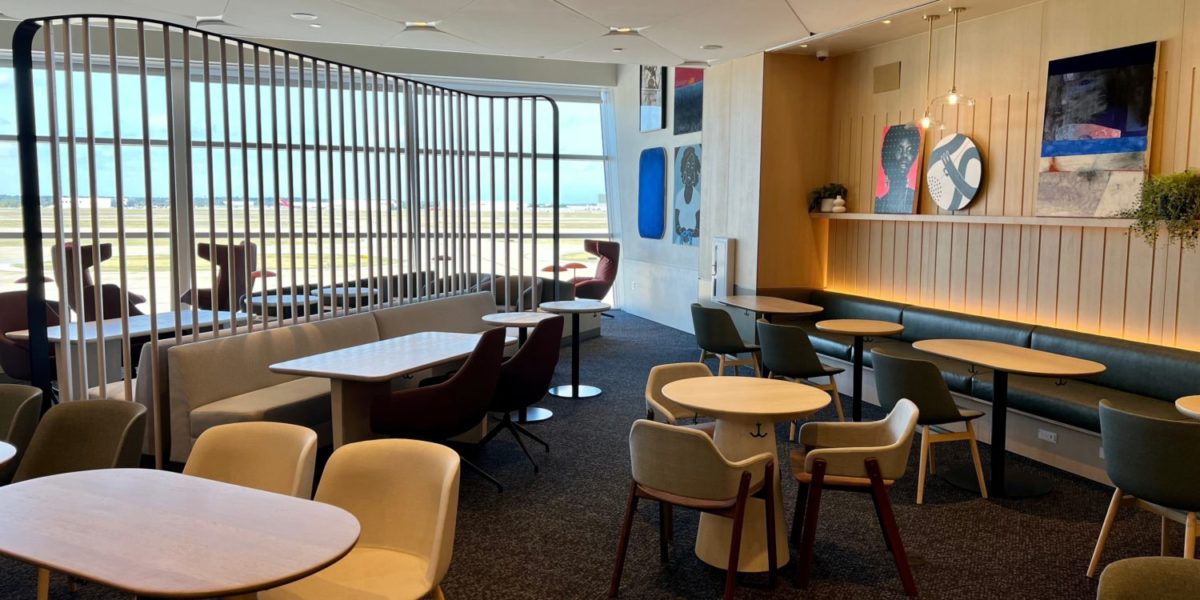 The Venture X Card hit the market last year targeting price-conscious travelers who still want perks: It has an annual fee of just $395 a year. But even that's deceiving, as an annual $300 credit towards any travel booked through the Capital One travel portal cuts the effective cost down to just $95 a year right off the bat.
Read more: Why the Capital One Venture X Annual Fee Shouldn't Scare You Off
Bottom Line
A brutal winter storm is barreling down on the Midwest and Northeast. After escaping a Thanksgiving repeat of the problems from earlier this year, travelers set to hit the skies (or road) this week for the holidays may not be so lucky.
Above all else, try to get out sooner rather than later by taking advantage of weather waivers. And whether you succeed or not, follow these tips to travel safely and smoothly over the holidays.
Lead photo courtesy of Chris Lundberg via Flickr