This time last year, borders across Europe were closed. Long-planned trips to Europe were abandoned as Americans stopped traveling – or looked inward at domestic travel.
Oh, how that's changed. One by one, countries across Europe have thrown their borders back open to American travelers. And while international travel hasn't recovered, it's clear homebound travelers are itching to get back there sometime this year or next.
But what's it actually like flying to Europe – especially in economy – after COVID-19 upended travel? What should passengers expect from check-in kiosks to seating and rules onboard to the service, food, and drinks available? What's changed – and what hasn't?
We set out to show you on a recent trip from the U.S. to Madrid (MAD), flying economy on two different airlines. Take a look and see for yourself.
Read more: 6 Takeaways on What It's Like Traveling to Europe Right Now

Fewer Flights to Choose From
You may notice one of the biggest changes before you're anywhere near the airport. Your options for getting to Europe are far more limited than just a few years ago.
This graphic from the airline lobbying group Airlines for America tracking flight departure numbers throughout the pandemic says it all. Follow the green line to track where transatlantic flights to Europe are at.

While flights within the U.S. and to Mexico or Latin America have returned (or even exceeded) their pre-pandemic levels, the amount of departures heading for Europe remains way, way down. Transatlantic flights are down by more than 60% compared to 2019 levels.
So what does that mean if you're planning to fly to Europe? You've simply got fewer options to pick from.
Routes to major hubs like Madrid (MAD), Paris-Charles de Gaulle (CDG), or Amsterdam (AMS) that once flew several times a day now may just have one time to pick from … or maybe just three to four departures each week. Trying to dig deeper in Europe? From Edinburgh (EDI) to Glasgow (GLA) to Prague (PRG) or Budapest (BUD), cities that once had nonstop flights may require a connection for the foreseeable future.
But it may not always seem that way. In many cases, airlines are still selling flights as if nothing has changed since 2019 – they're only fixing their schedules to the new realities of international travel during a pandemic just a month or two in advance.
So be warned: The flight you book today for late this summer, this fall, or beyond could get changed or canceled.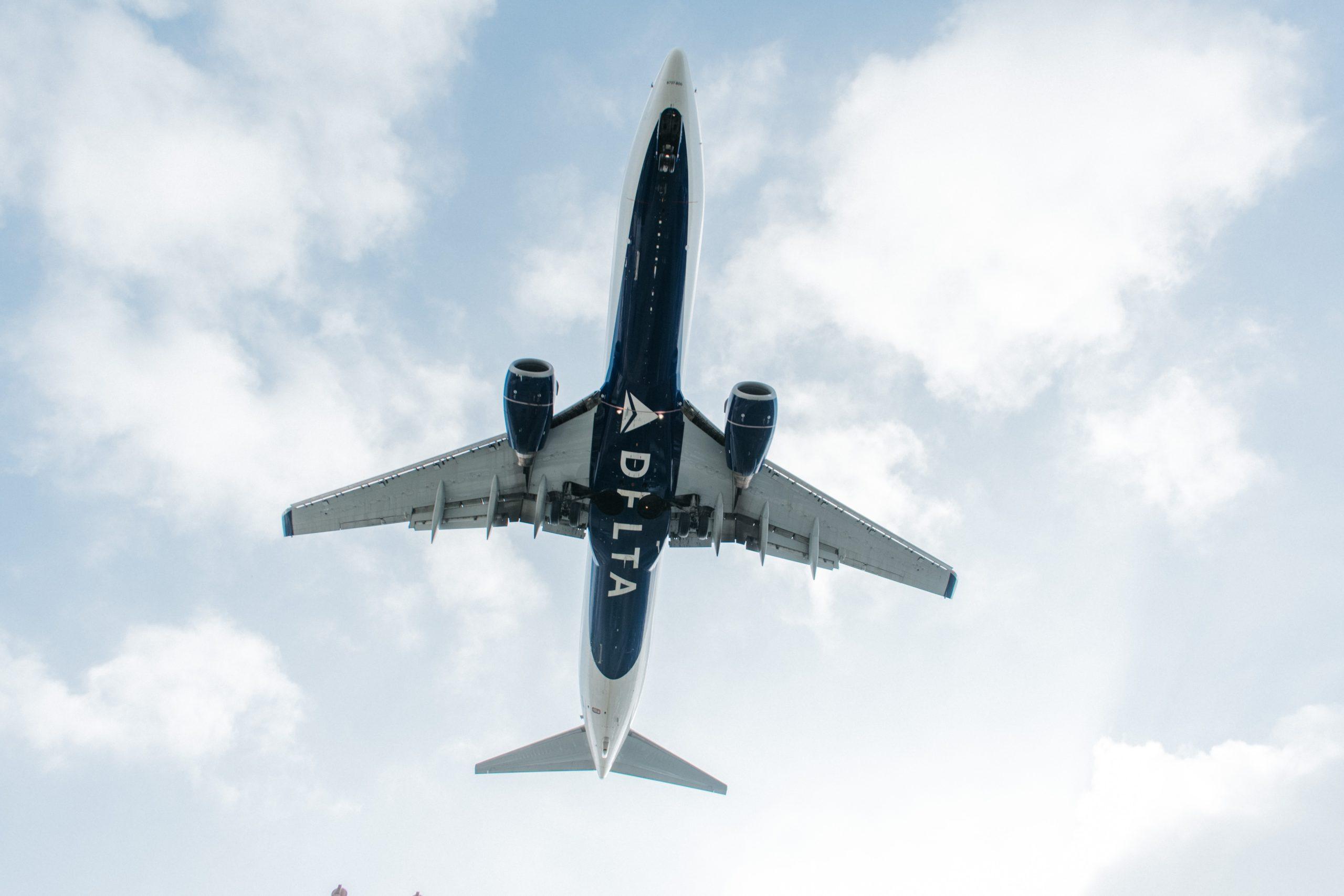 The driving force behind what flights are truly available these days comes down to one simple question: What is open? As countries across Europe have opened their borders one by one, airlines have resumed more flights to Paris, Rome, Venice, Madrid, and Reykjavik within weeks of each country announcing their plans to reopen – if not days.
After Iceland became the first in Europe to reopen in March, Delta quickly brought back its flights from New York City (JFK) and Minneapolis-St. Paul (MSP) to Reykjavik (KEF) and even added new service out of Boston (BOS). As Spain and France prepared to welcome back travelers, United resumed service to both Barcelona (BCN) and Madrid (MAD) while increasing flights into Paris-Charles de Gaulle (CDG).
That pattern has played out again and again and again.
Checking In is More Time Consuming
More and more countries across Europe are reopening their borders to Americans. But that doesn't mean getting in is easy – and the headaches start long before you land.
Europe travel restrictions are a patchwork of constantly changing entry requirements to get in and ongoing restrictions on daily life once you're on the ground. Iceland requires proof of full vaccination while Greece, Croatia, France, and Italy also allow travelers with proof of a recent negative COVID-19 test. Spain only requires Americans to fill out a digital Spain Travel Health form before departure, while you need only fill out a quick form upon departure for the Netherlands.
Read more on the current Europe travel restrictions for Americans, country-by-country!
It's up to the airlines to make sure all the passengers boarding for Europe have the necessary documentation to get into the country. That means extra document checks at the airport when you check in for that flight to Europe.
And that means check-in lines may look like this.

This one-to-two-hour line for Delta international check-ins at Terminal 4 at New York City (JFK) has become the norm when flying to Europe. Online check-in for international flights has disappeared, as agents need to manually check you've got proof of full vaccination, a negative COVID-19 test taken within the required window, a QR code for your destination, or anything else that may be required.
Navigating the restrictions on getting to Europe can add a lot of high-stakes stress to your first transatlantic trip. But it can also add some extra time to the check-in process.
Thrifty Tip: Cut your time in line by packing in just a carry-on bag. Since you won't need to drop off luggage, you may be able to skip these longer lines by checking in with an agent at a kiosk.
The complications remain when you're preparing to fly home: The U.S. still requires a negative COVID-19 test<./a> taken no more than three days prior to flying back to the states. And that's true even if you've been fully vaccinated.
So once again, your airline will need to check to make sure you've got a valid test in hand while checking in at the airport – and perhaps again at boarding, too.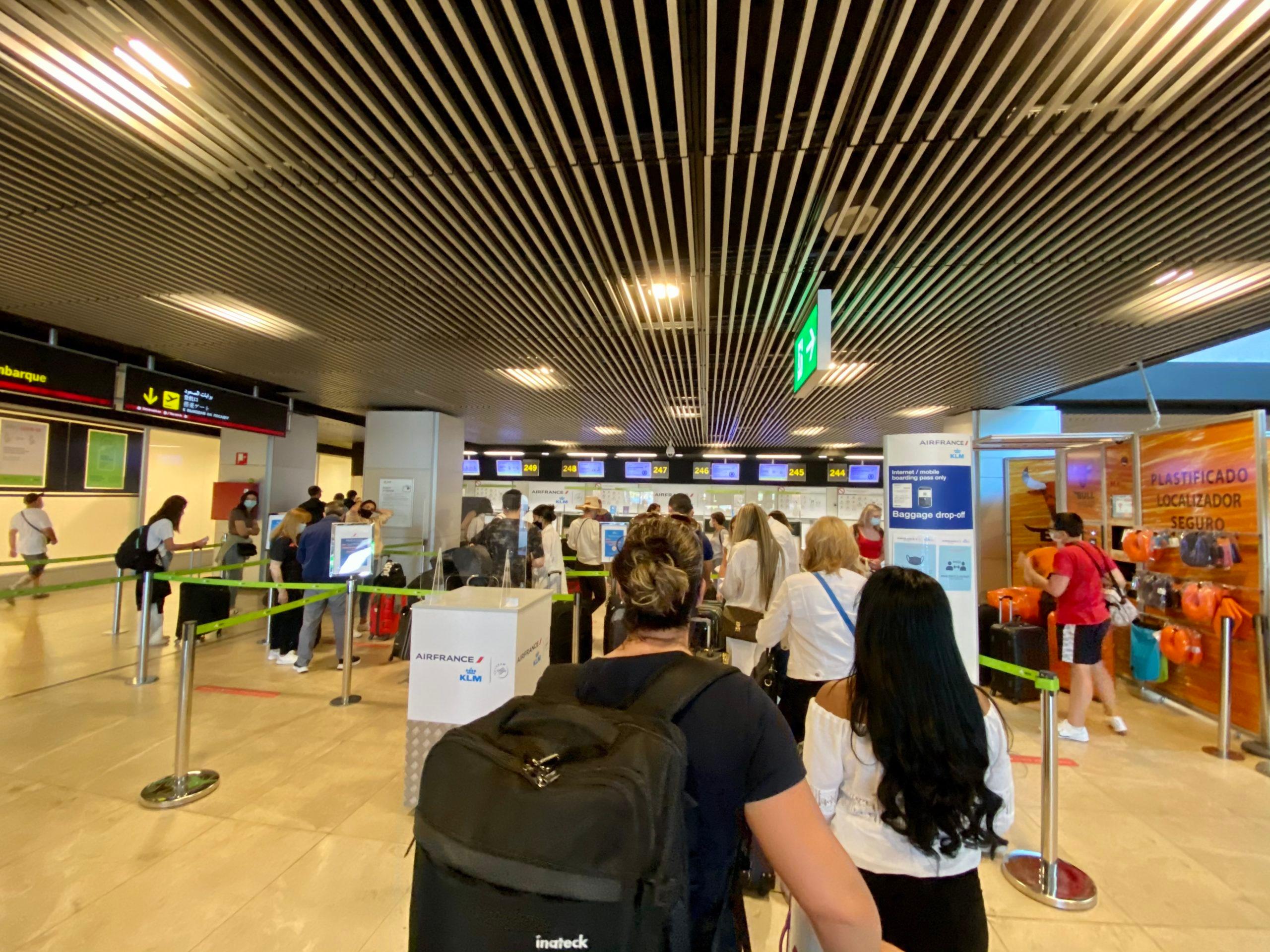 Flights to Europe May Be Full
As travel has rebounded, the days of empty flights within the U.S. are gone. And in our experience, the same is true when flying from the U.S. to Europe.
My recent Monday evening flight from New York City (JFK) to Madrid (MAD) was 95% full – at least. A final glance at the seatmap before departure showed that Delta One business class had just a few seats open, Delta Comfort Plus was booked solid, and there were just five or so seats open throughout the entire economy cabin.

That may be a small sample size, but we've heard the same from readers and seen it ourselves on other flights as Thrifty Traveler team members have made way to Iceland, Croatia, and beyond. And if you think about it, it makes sense that flights to Europe would be fairly full.
International travel demand may not be what it was in 2019, but it's growing fast as more and more countries reopen to American travelers. More travelers booking fewer flights available to Europe is a recipe for a lot of full seats.
You might not get your own row, but use Seatguru to make sure you get the best seat – or avoid the worst one!
Flights Back to the U.S.? Not So Much…
Flying the other way, the opposite was true.
While Americans have a green light to head for much of Europe, the U.S. still bans nearly all Europeans from entering the country. So while my flight to Spain was close to capacity, a flight with Air France from Paris-Charles de Gaulle (CDG) home to Minneapolis-St. Paul (MSP) was probably just over half full.
Only seats with an X were occupied on this flight. Those left blank were blocked by the airline, while seats in blue or green were still available to select.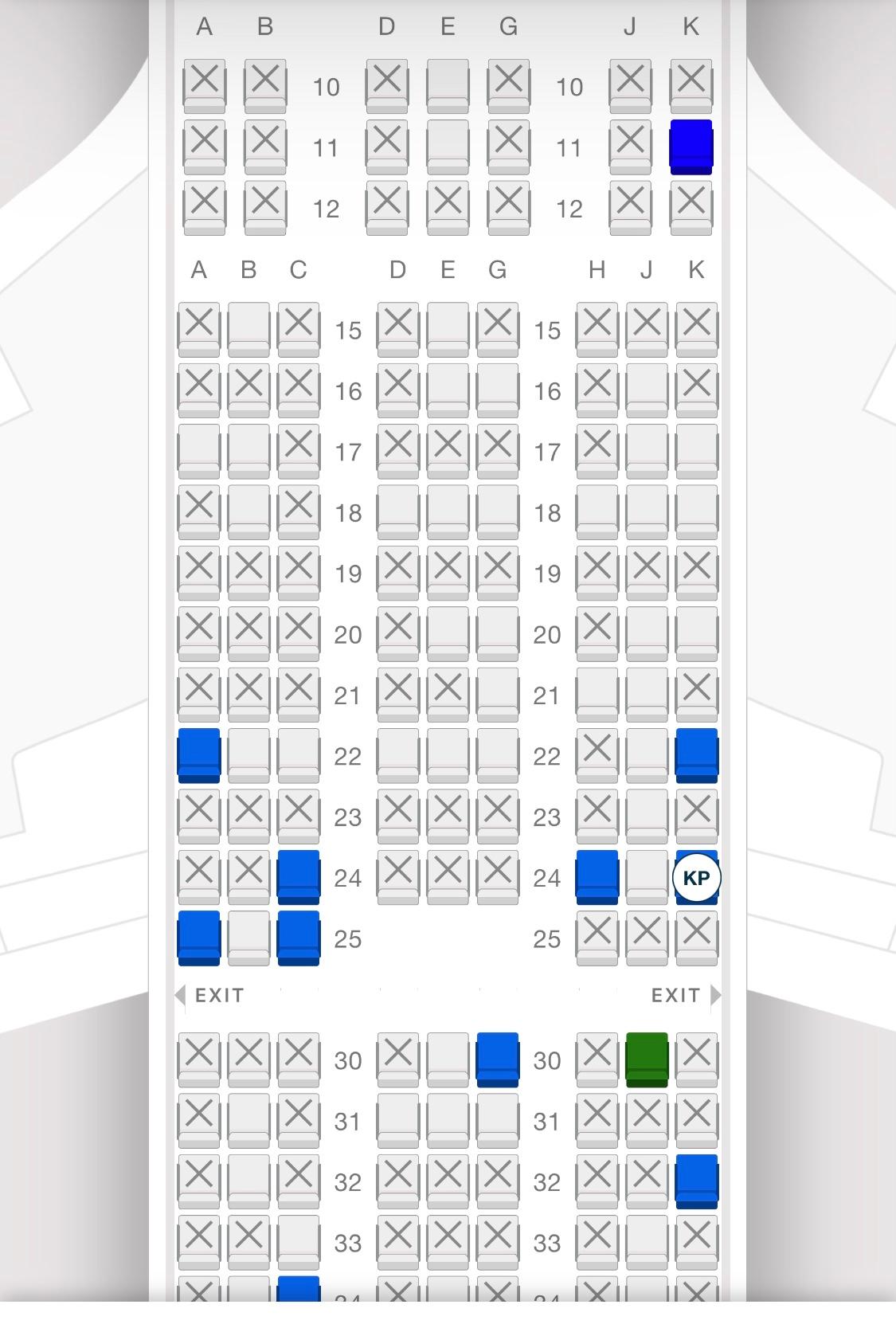 All those open seats onboard made it fairly easy for me to grab an entire row for myself. That certainly wasn't the case for the flight out over to Europe, but it made the nearly eight-hour flight much better.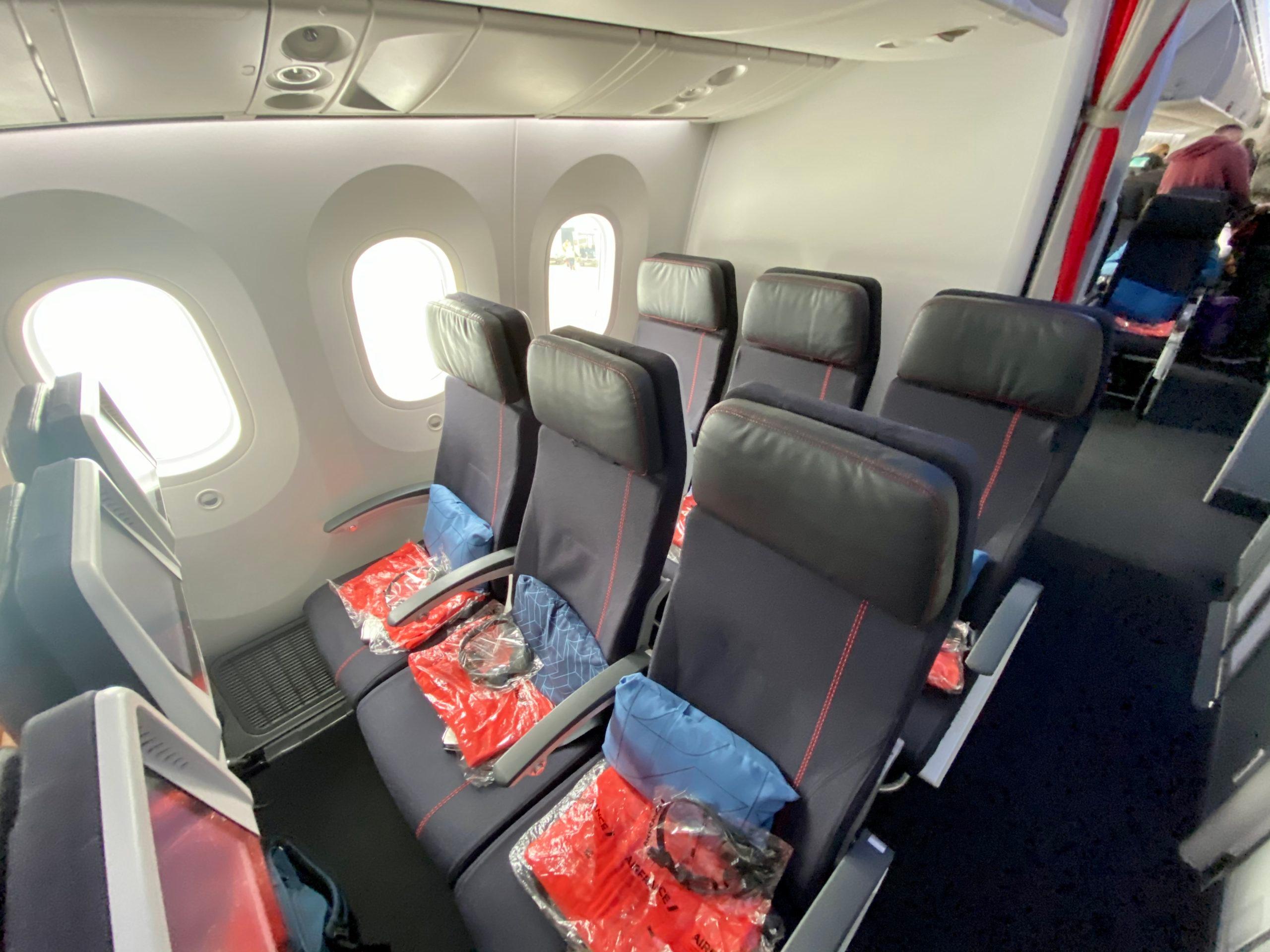 Masks Are Still Mandatory
Yes, you have to wear a mask even on these long-haul transatlantic flights.
That's a federal law in the U.S. through at least Sept. 13, when the current federal mask mandate on planes, in airports, and other forms of public transport is set to expire. And it doesn't just apply to domestic flights, but on all flights to or from the U.S. too.
That means you'll have to keep your mask on whether you're flying Delta to Europe…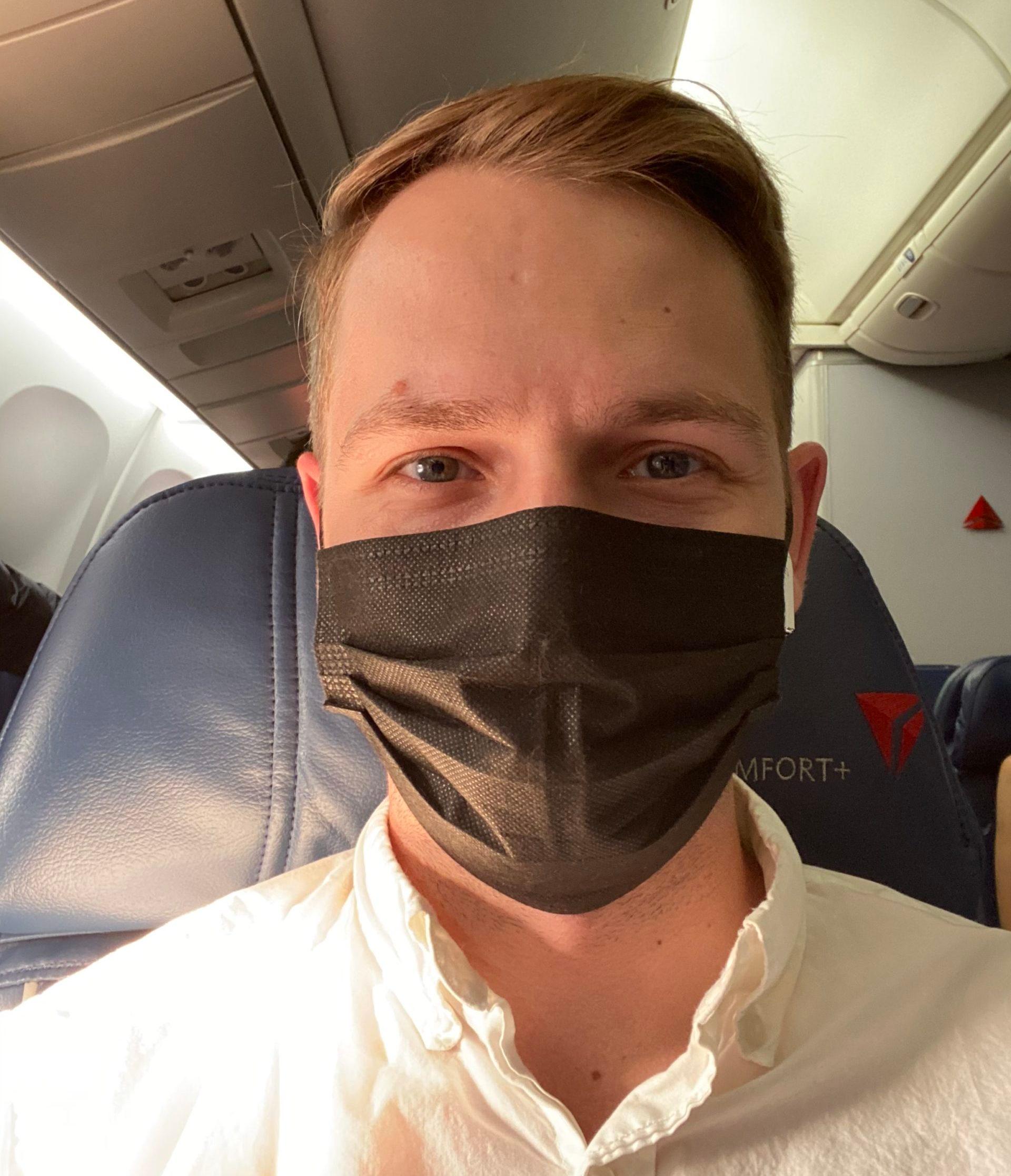 or even if you're flying a foreign carrier like Air France.

While masks have largely disappeared from much of daily life in the U.S. thanks to a successful vaccination campaign, that's not quite the case yet in Europe. And as a fast-spreading Delta variant threatens the globe, there's no ruling out President Joe Biden's administration extending the mask mandate beyond mid-September – or airlines simply decide to continue requiring them on their own.
In my experience, almost every passenger onboard these transatlantic flights was great about keeping their masks on throughout the journey. And in my view, Air France was far more vigilant than its domestic counterparts about making sure that was the case, with reminders overhead to slip masks back on between bites or sips or a friendly nudge from a flight attendant for a passenger who let a mask slip below his nose.
Service Hasn't Changed Much
In-flight service all but disappeared from domestic flights in the U.S. during the pandemic. Buying drinks or meals onboard disappeared, and drastic cuts were made even for first class passengers.
That's starting to come back in the U.S. But for these longer flights to Europe, very little has changed. In my experience, you get the same meal and drink service flying to Europe as before the pandemic – with only a few modifications.
On my Delta flight to Madrid, I had the usual choice of a beef, chicken, or vegetarian pasta entree. A flight attendant dropped off a tray with my surprisingly great four-cheese ravioli, a fresh vegetable salad, ice cream, and a small bottle of prosecco for dinner. Everything was wrapped or sealed, but it felt very familiar.

Pre-landing meals – snacks might be a better word for these relatively short transatlantic hops – are rarely impressive. That hasn't changed, either: Flight attendants came through the cabin about an hour before landing to drop off a small breakfast sandwich and drinks.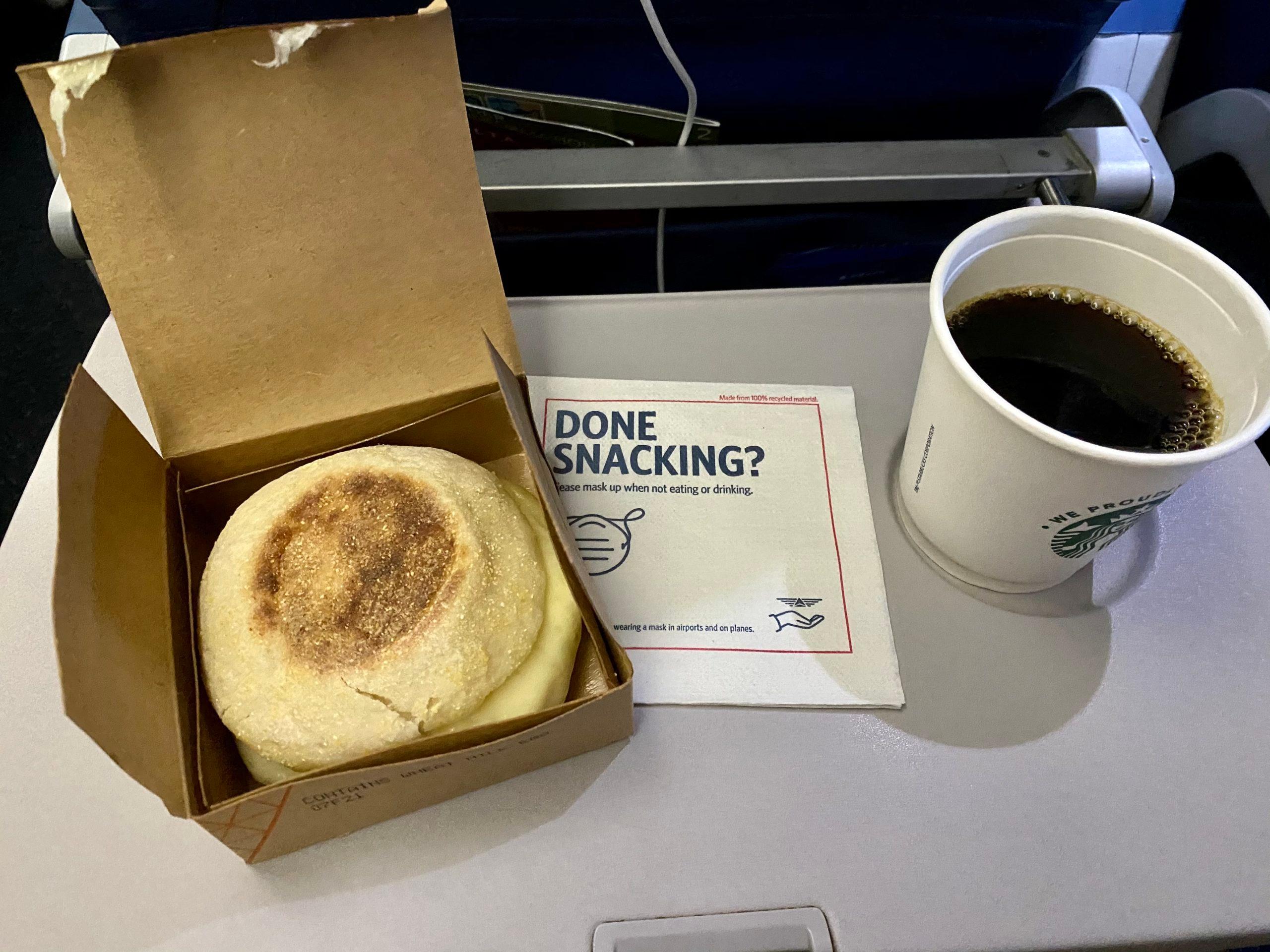 The service, food, and drinks were nearly identical flying economy on Air France home – though maybe even a tad better. Dinner after takeoff was a choice of chicken in a creamy sauce or an eggplant pasta dish.
Once again, everything came wrapped or packaged. The chicken tasted better than it looked with green beans and mashed potatoes, the side salad was fresh with crisp vegetables, and the bread with a small wheel of camembert cheese was an excellent touch.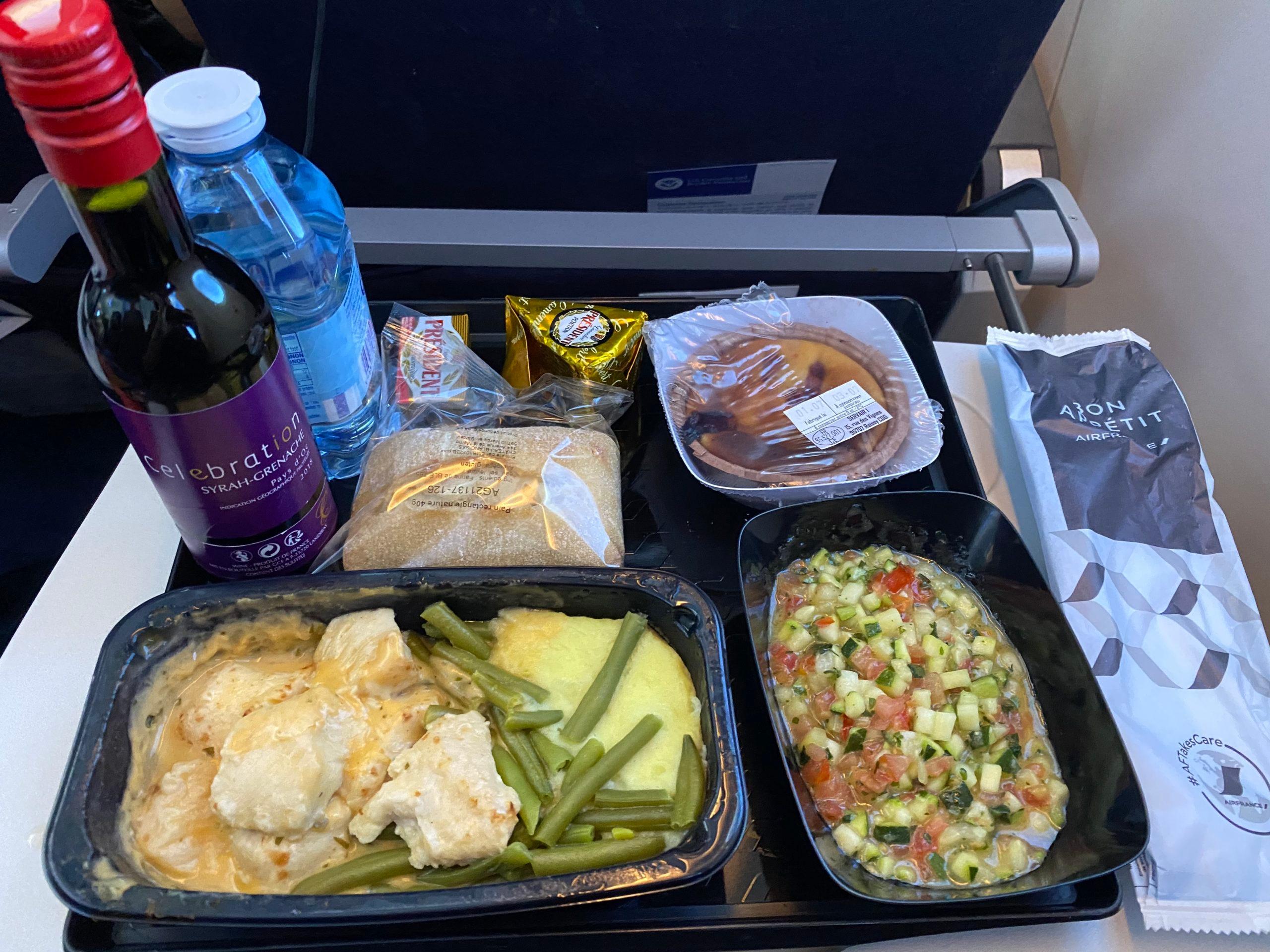 Before landing, flight attendants came through the cabin one last time pouring drinks and handing out small snack bags with a cheese sandwich, yogurt, and a cookie.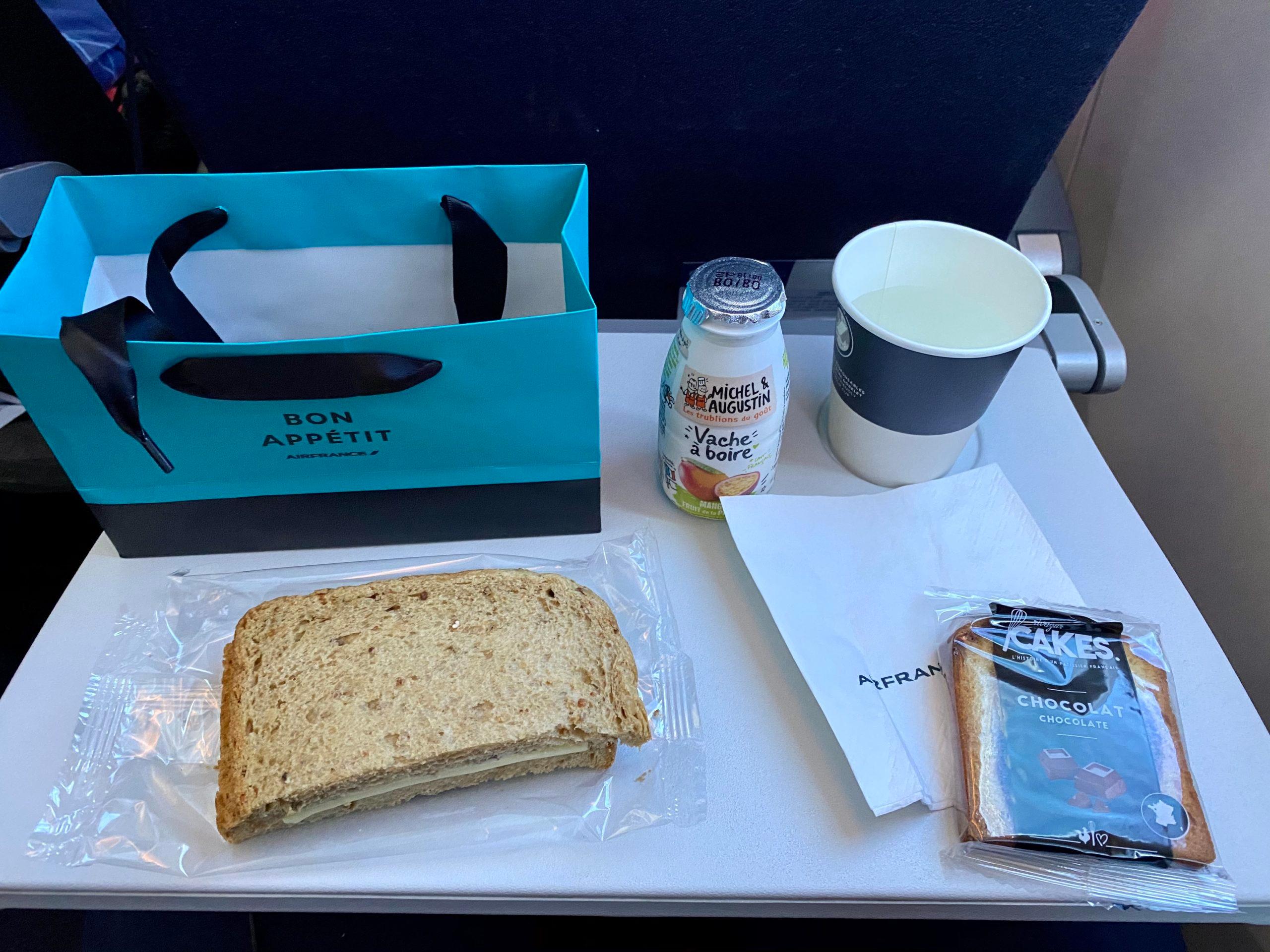 The service itself was friendly on the way to Europe and flying back home. There's no question that service is a bit faster and less personal given the times – airlines have tried to limit interactions and touchpoints with passengers, given the times.
But that didn't detract from the flight if you ask me. And aside from that, it felt like next to nothing had changed once I actually sat down on the plane.
Bottom Line
The COVID-19 pandemic has changed travel. So I was almost shocked at how … familiar it felt flying to Europe for the first time in more than 18 months.
Yes, you have to wear a mask. Sure, checking in for flights has gotten more time-consuming with all the travel restrictions. And there's no question it's strange spending seven-plus hours on a plane after a year without much travel.
But beyond that, it honestly felt like not much has changed flying to Europe in the last year. And that truly surprised me.