Uber is rolling out its own loyalty program, rewarding its most frequent riders with $5 in Uber credits and other perks.
It's called – go figure – Uber Rewards, and it will have a limited launch to start, kicking off in Atlanta, Washington, D.C., New York City, San Diego, Philadelphia, Miami, Denver, Tampa and the entire state of New Jersey. At some point, it will roll out nationwide.
If you're constantly hopping in Ubers, this new rewards program could be pretty lucrative. The program has a straight-forward earning and redemption structure which is a big plus.
Earning Points and Spending Points
Uber Rewards is about as simple as can be. You earn points based on what you spend through the app, with a great return on the most expensive rides. A ride in Uber Black and Uber Black SUV will net you 3x points for every dollar. A standard UberX, UberXL or Uber Select ride gets you 2x points. And your Uber Eats bill will earn 1x points, as well an Uber Pool ride.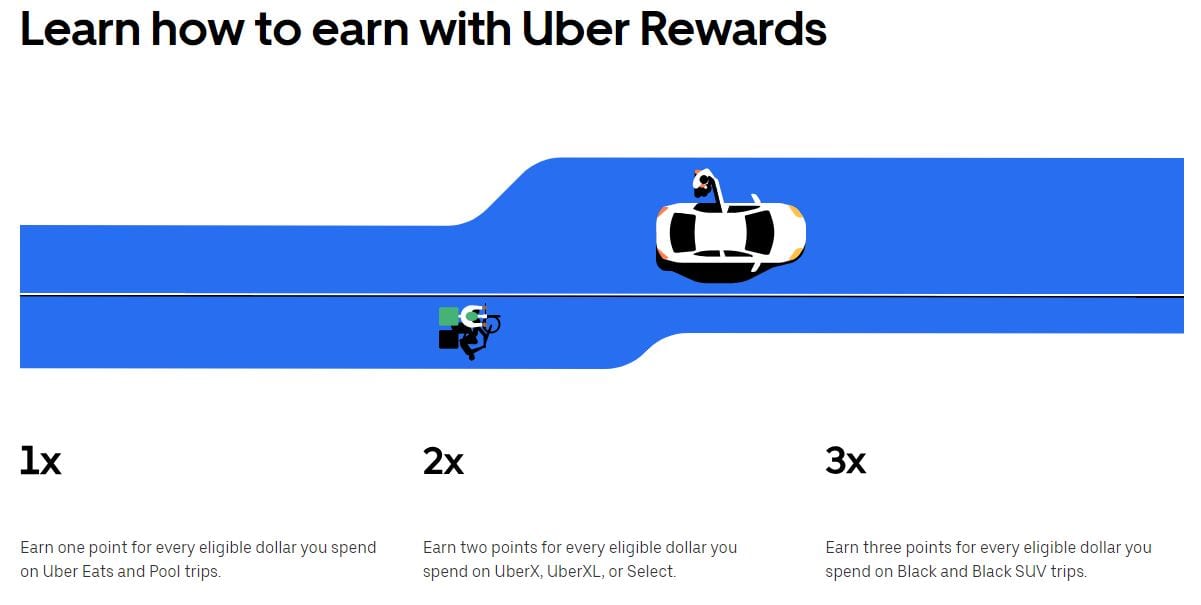 So what can you do with those points? For every 500 Uber Rewards points you rack up, you'll get a $5 Uber credit. If you stick with Uber Black, that means $167 in rides will unlock your first credit. It will take $250 in normal UberX rides to get your first credit. And so on.
Building Status with Uber Rewards
Building status with Uber is similarly simple. It just takes longer to get to the truly worthwhile perks. Uber Rewards has four levels of status: Blue (for all riders), Gold, Platinum, and Diamond. Earning points allows you to climb the status ladder.
Blue riders are always racking up points and eligible for an Uber credit once they hit 500 points. But that's the only perk.
Gold status with Uber Rewards comes as soon as you collect 500 points. In addition to their first $5 ride credit, Gold riders get "premium support" from Uber agents when issues arise and some additional leeway when canceling a ride.
It allows a cancellation fee to be refunded on some rides if you rebook within 15 minutes, but that perk can only be used once per hour and three times per month. It may not be available everywhere, such as rides from airports and other major venues.
You can unlock Platinum status by earning 2,500 Uber Rewards points, and this is where the good perks kick in. It comes with "Price protection," allowing riders to pick two locations and be shielded from drastic dynamic pricing increases. That benefit caps at a 35% discount on rides and the favorite locations can be changed monthly. Platinum riders also get access to priority pickups at the airport, though not all airports in the U.S. will be eligible for this feature.
Diamond status riders get all those perks and more after earning 7,500 Uber Rewards points. Uber's highest tier also comes with premium support and access to the app's highest-rated drivers. But there are two other standout benefits for Diamond riders: UberX rides will occasionally be upgraded to a better ride for free. And Diamond users can also get three free UberEats deliveries every month.
Why the Platinum Card® from American Express May Still Be Better
There are some worthwhile benefits here, but it takes a lot of Uber rides to rack them up. If you don't hop in an Uber often enough to unlock some of these rewards, there's a great alternative: The Platinum Card® from American Express.
By adding the Platinum card to your Uber account, you'll get up to $200 in Uber credits every year. These are doled out in up to $15 monthly installments, with a bonus in December that makes it up to $35. These credits also work for UberEats.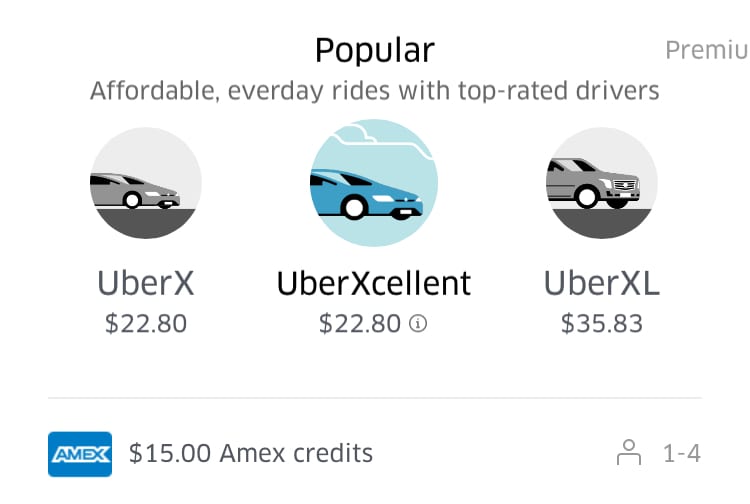 But a smaller perk of carrying the card with Uber resembles Diamond status. After adding the card to your account, you can request rides from drivers ranked only 4.8 stars and above. Just look for "UberXcellent" when you're searching for a ride.
Bottom Line
Uber Rewards is about as simple and straight-forward as a loyalty program will get, and there are some great benefits available for heavy users. But it definitely won't pay off for occasional Uber riders.