TripIt is one of our favorite travel-planning apps, with an easy-to-use interface to keep your flights, hotels, and car rental reservations neatly organized in one place. And it just keeps getting better – even throughout the pandemic.
The app announced this week it has added brand new guidance for planning around COVID-19 for your upcoming trips. Trips in your queue will now have instant access to up-to-date COVID-19 infection levels in your destination as well as entry requirements to get in.
It puts the whirlwind of ever-changing questions and information – "Do I need a test to get in? Will I have to quarantine? How bad is it in my destination?" – right at your fingertips. These new features are available to all TripIt users, whether you use the free version or have upgraded to TripIt Pro.
The information is updated automatically from TripIt's partner, Riskline, with data available on more than 200 countries – including individual states and provinces in the U.S., Canada, and Australia. To find it, just click the small book icon in each trip and select "COVID-19 Guidance."
For example, here's a look at my TripIt for a trip to Italy this fall. Each block has plenty more information about the current situation and restrictions in place.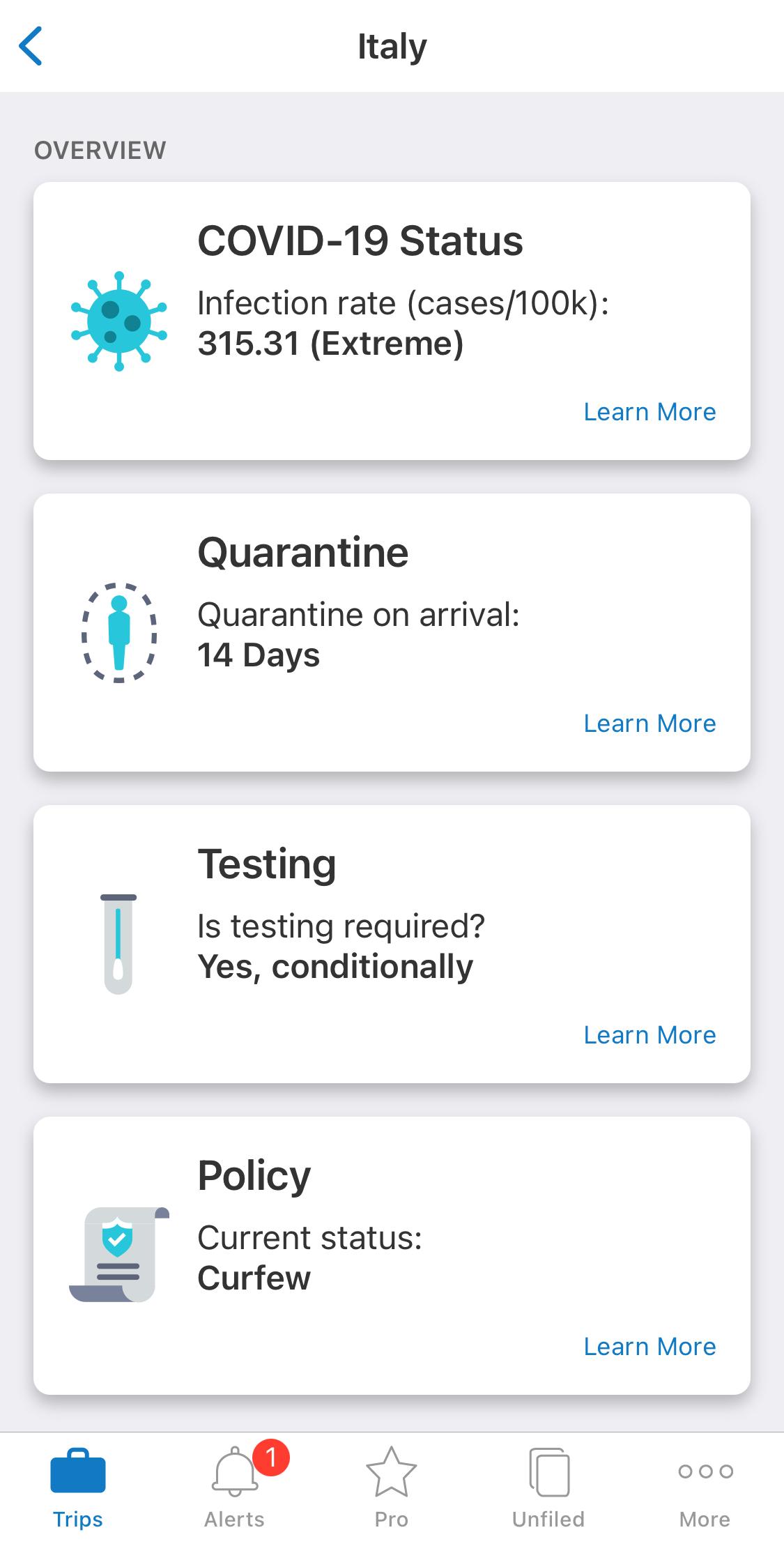 Of course, international travel is extremely limited these days. That's due in part to the vast patchwork of entry restrictions that range from pre-testing to outright travel bans. Clearly, TripIt is betting travelers will need help navigating those restrictions for the foreseeable future.
Read our country-by-country guide to international travel restrictions for the latest updates!
But there's also plenty of information at your fingertips for your next domestic trip. For example, here's a look at what TripIt says about current quarantine rules for a trip to California.

Keep in mind all this COVID-19 guidance is based on the current situation – not a projection of what the case will be when you actually take your trip. But it's a handy way to help travelers prepare for what may be in store for their next trip, near or far.
Bottom Line
TripIt continues to set itself apart as the best smartphone app for travel planning and organization.
While there's hope normal travel will resume sooner rather than later, COVID-19 will continue to shape the way we travel in the months ahead. Giving travelers guidance about the situation with COVID-19 in their destination and what travel restrictions they may face makes TripIt an even better travel planning resource.
Lead photo courtesy of TripIt