Editor's Note: As a travel company, we aren't encouraging you to travel right now. The U.S. and the rest of the world are still grappling with a pandemic. But 1 million people are traveling in the U.S. each day, and we think part of our job is to inform you to make safe and responsible decisions when it comes to travel.
As we (hopefully) near the end of the pandemic, choosing to travel now is perhaps more complicated than ever. Public health officials from the Centers for Disease Control and Prevention (CDC) on down are still urging Americans to stay home and put off nonessential travel.
Yet in some ways, the cat is out of the bag. Be it for work or for family, some people simply have to travel right now. And as we round the corner into spring break season and the one-year mark of living with the pandemic, it's clear more and more people are weighing a trip in the coming weeks and months.
But it's one thing to travel, and another thing to travel responsibly. If you're thinking about traveling anytime in the near future, there are a few things you can do to make it as safe as possible for you, those in your community, and the community you're traveling to.
Think Hard About Your Trip
Yes, this is step one: The first step in traveling safely right now is thinking hard about whether you should take the trip at all.
While there's hope for future travel as vaccine distribution continues and case counts are down across much of the world, now may still not be the right time to travel. Keeping yourself and those around you safe and helping to slow the spread of COVID-19 until vaccines are widespread will help us all get back to the normal days of travel sooner.
Worried about your money? Luckily, airlines and hotels alike have made it easy to reschedule a trip without losing what you've paid. From American Airlines to United, most major airlines are waiving change and cancellation fees on any travel through at least March 2021. That means you can cancel an upcoming trip and get a voucher for the value of your ticket or change to different dates without paying hefty change fees – though you'll be on the hook if the fares are higher.
Prefer a refund instead of a voucher? If the airline significantly changes your flight by more than a few hours, adds a layover, or cancels the flight, you can get a refund.

Hotel chains like Hyatt and Hilton have gone even further, allowing full refunds on most reservations through the summer of 2021 so long as you cancel at least 24 hours before check-in. Even Airbnb has expanded its cancellation policies to give travelers some additional flexibility.
Do More Than the Bare Minimum
Whether you're traveling within the U.S. or heading abroad, COVID-19 testing requirements have become more and more common.
Many international countries – and even some states like Hawaii – require a negative COVID-19 test taken just a few days before departure for entry. And now, all travelers who leave the country have to take a COVID-19 test before returning to the U.S., too.
Read our guide to international travel restrictions – and state-by-state restrictions!
But even then, you can do more to be safe and responsible. A single negative test taken days before you leave does not guarantee you won't unwittingly spread COVID-19. And while the science is encouraging, it's still not clear whether the vaccine will stop all transmission of the virus. So even getting the vaccine is not a license to travel worry-free – at least not yet.
Regardless of the travel restrictions, consider quarantining before you leave and after you get home. Even if your destination doesn't require a test to get in, getting tested before you depart is smart for some assurance you aren't spreading the virus. The same goes for getting tested three to five days after you return home.
Wear a mask not just on the plane and through the airport – it's a federal law now – but in any public indoor space. Avoid large crowds or getting too close to strangers, and keep washing your hands.
These are all in line with the CDC's recommendations if you have to travel. As the CDC puts it: "The more steps you take, the more you and others around you are protected against COVID-19."
It may be possible to travel safely right now. But to do so, your mindset should be more than: "How can I meet the requirements to go on my trip?"
Instead, try to think: "How can I do as much as possible to minimize the chances of contracting or spreading COVID-19?"
Choose the Right Place
It's clear where people are traveling right now. They're not going to big cities like Chicago or New York City. They're heading for the beach or mountains to be outside. And that's good.
Your lowest risk of exposure is outdoors and away from people. Whether that's on a beach, in the mountains, or a state or national park, choose a destination where there is a lot to do outside. Keep in mind the types of crowds you may encounter.

While many restaurants are taking additional COVID-19 precautions with limited capacity, spaced-out seating, and extra cleaning procedures, it's still much safer to eat outdoors. And if the weather is great, why wouldn't you want to eat outdoors?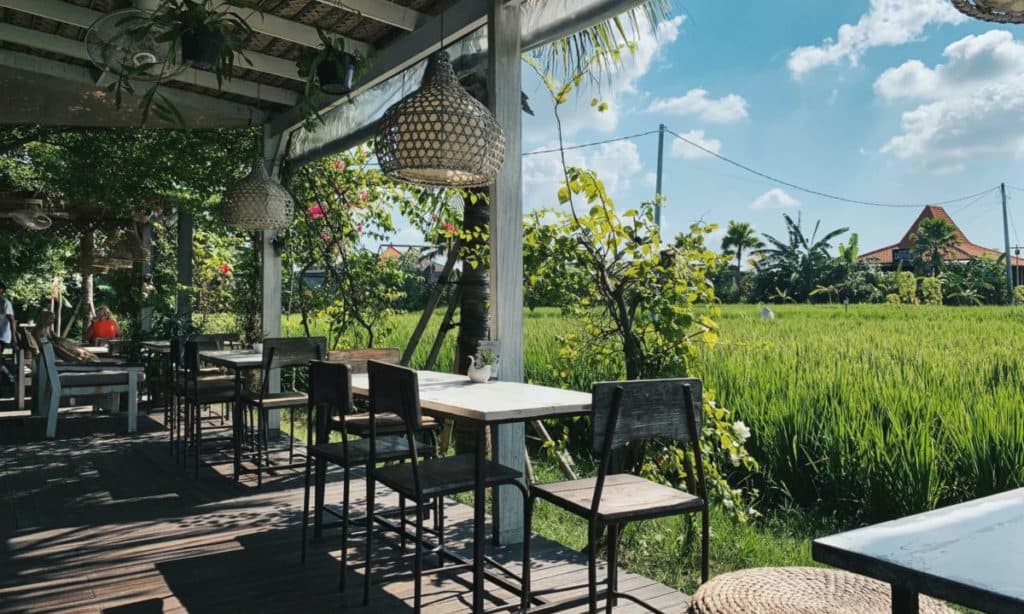 Fly with an Airline That Takes it Seriously – or Drive
Across the board, every airline big and small has implemented enhanced cleaning procedures and new policies to combat COVID-19. Airlines point to their onboard air filtration systems and industry-backed studies to show that the risk of COVID-19 transmission is low.
Still, what you'll find onboard the plane can vary wildly from airline to airline. Many carriers have reduced or even suspended in-flight service to limit contact between flight attendants and passengers. Delta and United are now boarding the plane from back to front.
After other airlines backed away from blocking middle seats, Delta is the only airline still keeping middle seats empty in the U.S., through April 2021. While that's not six feet of space, any additional space between a stranger is better than none – especially for your peace of mind.
Read More: Want More Space on the Plane? A Guide to Airlines Blocking Middle Seats
Watch our video comparing the four major airlines during COVID-19 to get a feel for what it's like to fly right now, and how that varies between airlines.

Still not comfortable flying? Take a road trip! Check out some of our favorite road trips.
Book a Risk-Free Trip for the Future (Now!)
Just because you may not want to travel now doesn't mean you shouldn't make plans for later in 2021 – or as far out as 2022! And believe it or not, now is the best time to do it.
Flight prices have dropped to unthinkable lows, both domestically and internationally. We've seen flights to Hawaii under $300 (and sometimes under $200), trips to the U.S. Virgin Islands, and even far down into South America cheaper than ever before. We've been sending nonstop deals like these for travel all the way through 2021 to our Thrifty Traveler Premium members.

Best of all, you can book these flights for the future at these low prices worry-free. Turns out you can't go or don't want to? Just cancel it for a voucher, as airlines are allowing free cancellation to any ticket booked through March 2021.
Read more: 5 Reasons Why Now is the Best Time to Plan & Book Future Travel
Got miles to burn? That's even better. Many airlines are allowing free redeposit, which means you can cancel and get your miles straight back to your account – no need to mess with cash vouchers or credits.
Once you have your flights booked, your inclination may be to start booking everything else like lodging and tours. But hold off until your trip gets closer so you don't saddle yourself with other nonrefundable expenses. Or if you do book your lodging make sure it has a flexible cancellation policy.
Read More: Planning a Future Trip? 3 Tips to Book Safe and Smart Amid the Uncertainty 

Bottom Line
We're all itching to get back out and see the world. And we're convinced it's possible to do so safely.
But travel is a privilege, not a right. It's up to you to exercise that privilege responsibly, taking the right steps and precautions to help us all regain that privilege and protect your neighbors.