You've been warned again and again and again over the years, but here's the latest reminder: A year from today, you'll need a new federally approved ID dubbed "Real ID" to board domestic flights in the U.S.
After more than a decade of delays and several extensions, Real ID requirements are currently set to take effect May 3, 2023. Of course, there's no ruling out yet another extension by the federal government that could push this requirement back yet again. But for now, federal officials are still planning to move ahead with Real ID in a year.
"On May 3, 2023, U.S. travelers must be REAL ID compliant to board domestic flights and access certain federal facilities," the Department of Homeland Security currently says on a statement on its website.
That means you'll need one of these new federally approved – or one of several alternatives like your passport or a Global Entry card – in order to continue flying within the U.S.
This new ID law was passed in 2005 in the wake of the Sept. 11 attacks to combat terrorism and identity fraud. Real IDs come with some additional hoops to jump through when applying for or renewing a driver's license – they're marked with a gold star showing they're federally approved.
But while Real ID requirements for air travel have been looming for years, they've been constantly pushed back as many states resisted falling in line. Now, they're available in every U.S. state. But as the pandemic led to office closures, federal officials delayed the effective date once again from October 2021 all the way back to May 2023.
Thus far, there's been no talk about another extension.
Who Will Need a Real ID to Fly?
In a word? Everyone … eventually.
The Department of Homeland Security makes it clear: Once these new requirements take effect, you won't be able to get into the airport without one. Read up on more frequently asked questions about Real ID on the DHS site.
The only exception is the same one that exists for IDs today: Children under 18 who are traveling with an adult companion will not need to present a Real ID at the airport.
But for now, the pressure is off. You won't need a Real ID to fly this fall. In fact, you won't need it until May of 2023.
How to Get a Real ID to Fly
Today, you can get a Real ID-compliant license from your local DMV in every state.
The cost of getting a Real ID will vary state by state. Some states have reduced the costs to renew an older license if it expires after the full Real ID requirements take effect. These new IDs are almost identical to the standard driver's license you're using today – they've simply got a golden star, denoting that they're approved for federal use.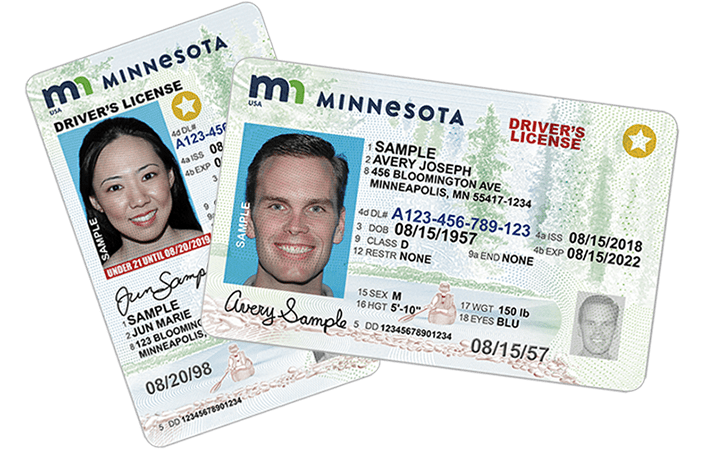 And while you simply go to your local DMV as usual, applying for a new, compliant license is a bit different. Namely, you need to provide some extra documentation.
One document proving your identity, like a valid passport or certified birth certificate.
One document with your Social Security number, like your Social Security card or a federal W-2 form.
Two documents proving your current address, like a valid driver's license, a canceled check, or utility company or bank statements issued within the last 90 days.
If you live in Minnesota, there's an even easier option. A few years ago, Minneapolis-St. Paul (MSP) airport set up a first-of-its-kind application center right inside the airport. Just set up an appointment and knock out your application before or after your next flight.
Of course, you may not need a Real ID after all. You could use a passport (or passport card) to board any flight – then you wouldn't need a Real ID. You'll still need that passport for any international journey, after all. And if you've got Global Entry, your Global Entry card will work as well.
Read more on the alternatives you can keep using instead of getting a Real ID.
Bottom Line
After years of delays and extensions, Real ID is coming a year from today. There's no ruling out yet another extension, but this time it could be official: Real ID will be required to board domestic flights on May 3, 2023.