Travelers in the U.S. have shockingly few rights when flights get delayed or canceled. There's only one ironclad rule, really: If an airline cancels or significantly delays a flight, passengers can cancel their trip and get a full refund – not just a voucher or travel credit.
Two years after an avalanche of complaints from flyers fighting for those refunds as the pandemic first upended travel, federal regulators are finally pushing to tighten those rules – and clear up exactly when travelers are entitled to get their money back.
The U.S. Department of Transportation on Wednesday proposed a new rule that would set even more refund laws in stone. It would require airlines to inform passengers when a refund is available. And it would force airlines who rake in federal subsidies during a future public health emergency, like the $50 billion-plus U.S. airlines collected during the COVID-19 pandemic, to issue refunds for travelers who cancel flights – not just a voucher.
"When Americans buy an airline ticket, they should get to their destination safely, reliably, and affordably," U.S. Transportation Secretary Pete Buttigieg said in a statement. "This new proposed rule would protect the rights of travelers and help ensure they get the timely refunds they deserve from the airlines."
What Would Change with Airline Refund Laws?
These new rules have little to do with the recent spate of delays and cancellations that have frustrated millions of Americans returning to the skies this summer. It wouldn't force airlines to dole out compensation for those disruptions, as we and several members of Congress have called for.
Instead, it's geared more toward responding to 2020, when airlines pulled hundreds of planes out of the sky as travel collapsed, canceling flights and leaving passengers to fight to get their money back. And they did fight: Consumer complaints to the department regarding airline refunds jumped from under 1,600 in 2019 to almost 90,000, according to Air Travel Consumer Reports – a mammoth increase of 5,587%.
These new proposed rules would set even more down in stone for when travelers are entitled to get a refund.
Chiefly, they clarify exactly how long of a delay or schedule change triggers a refund. Currently, federal rules leave it up to airlines what constitutes a "significant delay." Most major airlines set that threshold at two hours while some budget carriers consider it a whole calendar day change.
The new rules would set one clear standard, among others, including:
The proposed rules would require a refund if an airline changes your flight by three hours or more
For international flights, schedule changes of more than six hours would trigger a mandatory refund
Adding a connection to a nonstop flight (or additional connections) would be considered a significant delay – another aspect that's not currently clear in federal regulations
Shifting your flight to arrive in or depart from a different airport would trigger a refund
Downgrading cabins or class of service would trigger the option of a refund too
A plane swap that results in "a significant downgrade of the available amenities and travel experiences"
Giving airlines a three-hour window to change schedules without triggering refunds – and a whopping six-hour threshold for international flights – seems far too generous, especially when many airlines have for years doled out refunds after two-hour schedule changes or delays. But here's the most important part: These changes would also require airlines to explicitly inform passengers that a refund is available … before offering travel credits or a voucher.
That's been airlines' go-to move for the last two-plus years. They've sold tickets, canceled flights, and offered vouchers, hoping that passengers don't know they could get their money back instead.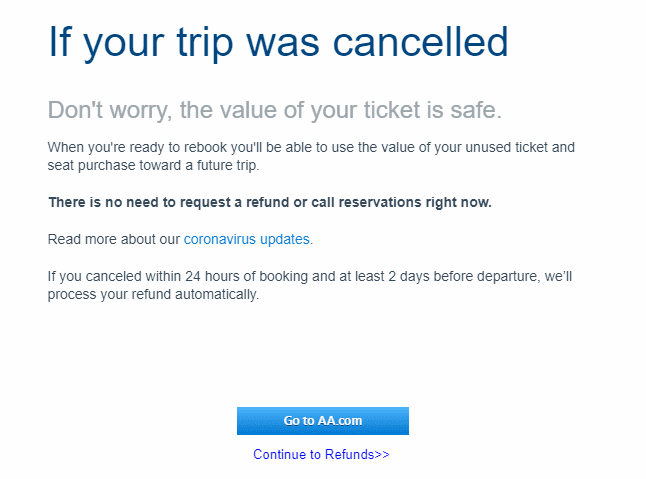 Without that required disclosure, these new rules are pointless. Airlines could keep doing what they've done all along: Stick travelers with a voucher that might expire in a year or less.
Airlines have repeatedly pointed to the fact that they've done away with change fees, giving flyers more flexibility to cancel an upcoming flight and pocket a voucher for the value of their ticket. That's true, but these new proposed rules would also force airlines to be even more generous with doling out credits if anything like another COVID-19 pandemic strikes.
Namely, it would require airlines to issue travel credits or vouchers that never expire if a passenger cancels due to travel bans or restrictions, during a future public health emergency, or simply due to health advice from a medical professional.
Most airlines' travel credits expire just one year from the date of purchase of the original ticket. After a change just last week, only Southwest – long the leader when it comes to changes fees and flexibility – offers travel credits without expiration dates. Delta has publicly considered doing the same.
Will it Actually Happen?
That's anyone's guess.
This is all part of the federal rulemaking process, which is a marathon – not a sprint. There's no guarantee these changes will become law anytime soon, if ever.
For instance, the U.S. Customs and Border Protection has been pushing to raise the price of Global Entry through the federal rulemaking process since January 2021. Nineteen months laters, there's still no sign of when that price increase may take effect.
With these proposed rules now put on paper, it begins a 90-day public comment period on the changes. The Department is also hosting a public meeting to discuss the proposed changes on Aug. 22.
Bottom Line
Better late than never, right?
Two-plus years after many airlines illegally held onto consumers' money instead of issuing refunds after canceling flights by the thousands, the U.S. Department of Transportation is finally moving to crack down and clarify when refunds for delays and cancellations should be available.
The wheels of the federal government may move slowly, and even these proposed rules aren't perfect. But many of these changes will help travelers know their rights and get their money back. And that's an important step.