With its expiration looming just over a week away, President Joe Biden's administration plans to extend the federal mask mandate for air travel by another month, the Transportation Security Administration (TSA) confirmed on Thursday.
The mask mandate on planes, in airports, and on other forms of public transportation had been set to expire after March 18. But Thursday's 30-day extension means travelers will continue to be required to wear masks on planes and in airports through April 18. CNN first reported the news of the extension.
It's the fourth time Biden's administration has extended the mask mandate since it was implemented in January 2021. But by extending it by just 30 days, it's a significantly shorter extension than prior actions – a sign that the mask mandate's days could be numbered.
CNN reports that health officials will review that decision over the next month to decide whether to extend it again – or perhaps eliminate it earlier.
"During that time, CDC will work with government agencies to help inform a revised policy framework for when, and under what circumstances, masks should be required in the public transportation corridor. This revised framework will be based on the COVID-19 community levels, risk of new variants, national data, and the latest science. We will communicate any updates publicly if and/or when they change," the TSA wrote in a statement.
While the federal mask mandate has only been in place for over a year by executive order, masks have been required on planes by airlines for nearly two years, dating back to the early days of the pandemic.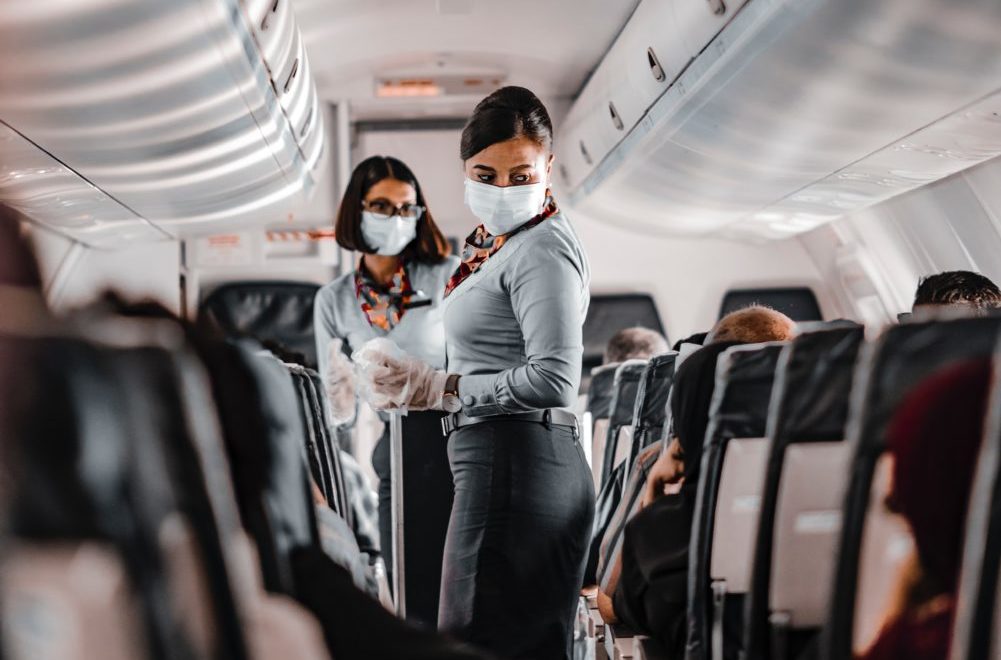 As COVID-19 cases have plummeted and states and cities have dropped their own masking requirements, the national conversation on masking has shifted since the last time Biden extended the mandate in early December. And with the previous March 18 deadline approaching fast, speculation swirled if this mandate would end next week.
The Centers for Disease Control and Prevention (CDC) recently gave nearly all Americans the go-ahead to ditch masks indoors, citing improving COVID-19 metrics like hospitalizations and strain on hospitals. And Hawaii will end its own statewide mask mandate later this month – the last state with such a requirement in place.
Some public health officials and flight attendants unions expressed misgivings about letting the mask mandate end in March, pointing to the fact that children under 5 are still ineligible to get the COVID-19 vaccine and many Americans remain vulnerable to the virus.
After two years of on-and-off mask requirements, many American now expect to go maskless nearly everywhere … except in airports and on airplanes. That creates a difficult situation for airlines and flight attendants, who have been tasked with enforcing mask usage onboard increasingly unruly planes.
Some flight attendants have pushed back, arguing that the Biden administration should extend the federal mask mandate to protect children under five who still aren't authorized to receive COVID-19 vaccines as well as vulnerable adults. But as the deadline approached with no clear sign of an extension coming, some flight attendants and other airline employees assumed it would end next week.
Elsewhere, many other countries and even individual foreign airlines have their own masking policies that are not expected to change anytime soon.
This is a breaking news story, check back for updates.