Thrifty Traveler Premium member Daniel H. had an epic plan to propose to his girlfriend, Megan, while doing what they love most together: traveling.
His plan started with booking flights in the world's best business class and one of the best ways to fly, period: Qatar Airways Qsuites. Their destination? One of the biggest bucket-list spots in the world, the Maldives.
But there was something even bigger and better in store for this trip. Daniel had a ring in his pocket, and he was determined to pop the question at 35,000 feet.
Our team was lucky enough to play a part in this incredible story. Here's how Daniel and Megan got engaged in the most fabulous way – all using points and miles.
The Setup: Earning the Right Points & Miles
Daniel came to our travel rewards credit card consulting (for Thrifty Traveler Premium members only) with his vision of flying the amazing Qsuites to the Maldives. That's where we stepped in.
With the guidance of our points and miles expert Nick, Daniel opened both the Barclays AAdvantage Aviator Card and the card_name cards to quickly earn more than 125,000 American Airlines miles. Add in a few big online purchases through AA's online shopping portal, and Daniel had the 140,000 miles he needed to book two one-way flights in Qsuites from Seattle (SEA) all the way to Male (MLE) in the Maldives.
Read more: Our Favorite Ways to Fly to the Maldives on Points & Miles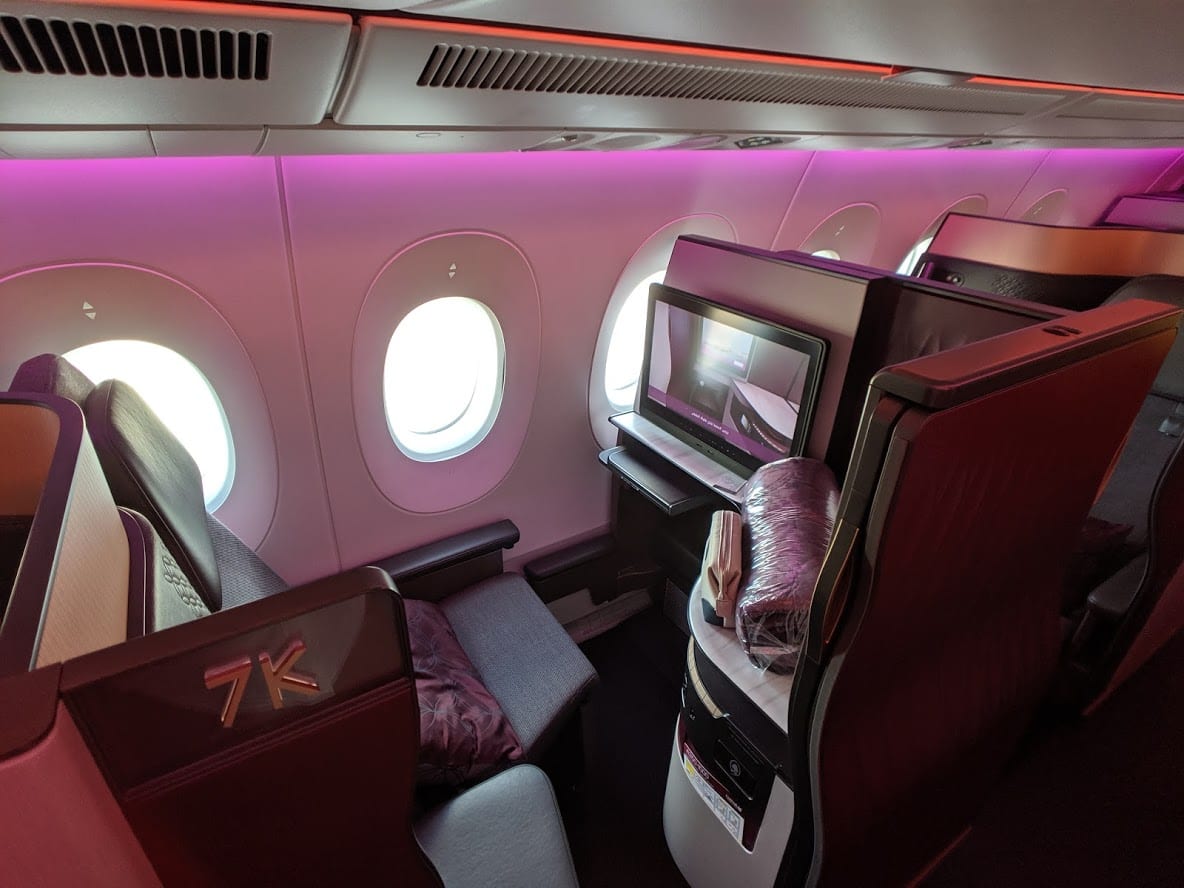 But his planning didn't stop there. He opened the Marriott Bonvoy Boundless® Card card back when it offered a full five-free-night bonus. Daniel used that to book five nights in a deluxe beach bungalow at the Westin Miriandhoo Resort in the Maldives. No engagement trip to the Maldives would feel complete without a stay in the famous overwater villas, so Daniel used leftover points and some cash to book two additional nights in an overwater villa, for a total duration of 7 nights. 
Related reading: the Maldives on a Budget: New Marriott for 35K Points!
For the return flight, Daniel booked a (slightly less exciting) economy flight back to the U.S. by using points through the Chase travel portal.
Okay, enough with the setup! Here's how this epic plan went down.
An Inflight Surprise
Daniel's lips were sealed: Everything was a surprise for his girlfriend, Megan. Unbeknownst to her, he arranged her vacation time with her boss. As the trip drew near, he provided nothing more than a vague packing list for her mystery trip. Soon, they were off!
They headed to the airport in Seattle and started the trip at the amazing Alaska Airlines Flagship Lounge. On the first leg of the trip, the crew helped Daniel reveal the final destination to Megan inflight. Final destination: the Maldives!
Next, they boarded their second flight to Doha (DOH) via Qatar Airways on their fantastic A350-1000 jet. Daniel booked the 1E and 1F suites so that we would get the "couples suite" experience complete with adjoining beds – but it was even more crucial for the proposal. By this point, he was giddy with anticipation.
After an exquisite meal inflight, Daniel got up from his ultra-comfortable Qsuite seat … then got down on one knee.
She said yes! The flight crew helped capture Daniel's proposal on camera and even opened a new bottle of champagne for them to celebrate.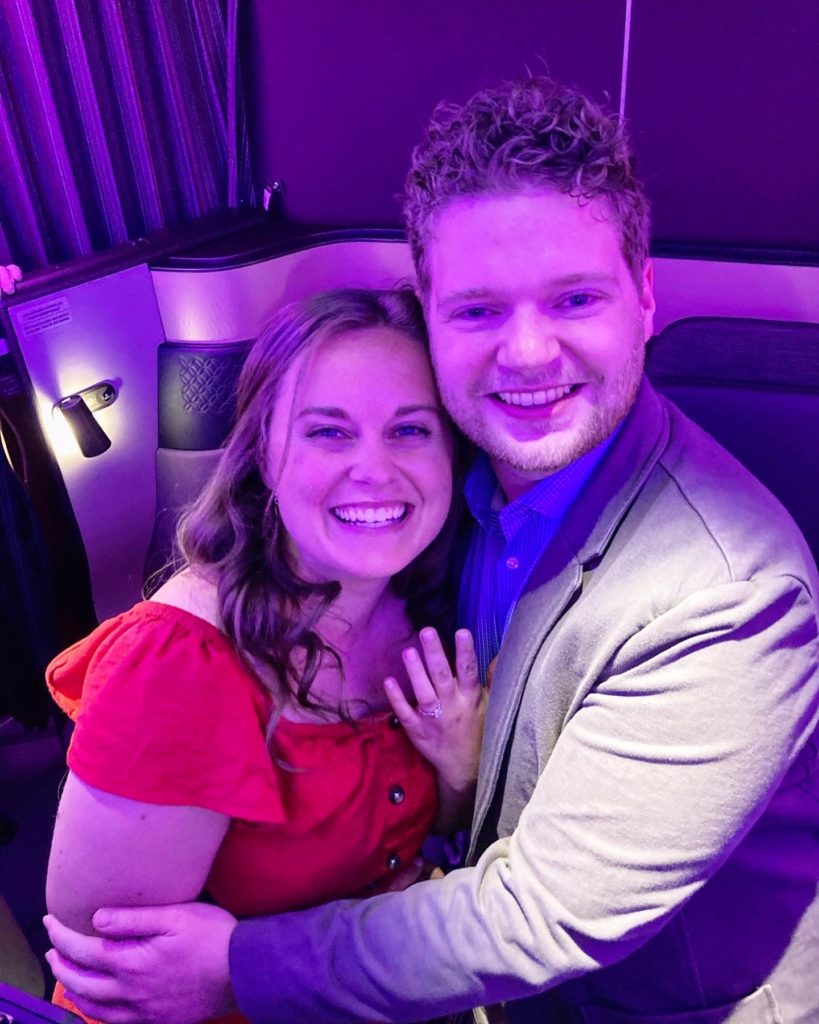 The newly-engaged couple changed into Qatar's complimentary pajamas, but didn't get much sleep in the lie-flat seats due to their excitement. After a layover in Doha spent at the epic Al Mourjan Lounge, they were soon in Malé and heading out on the seaplane to their island resort.
Daniel's top tip from the trip? Book a flight that arrives to Malé early in the morning and a departure flight that departs late in the evening. The seaplanes only fly to the other islands at certain times, so this can help avoid booking an extra night in Malé and maximize resort time. It's totally worth spending a bit more, as it will save you money in the long run. 
A Maldives Celebration
Once they arrived at their resort island, it was time to celebrate! Daniel said the island itself was very small, but not the least bit crowded. During their stay in May, the Westin Miriandhoo Resort was only a little over half capacity of their 70 rooms. 
Despite some unusually large storms that rolled through during their stay, the couple had an amazing time on the island. They spent most of their time relaxing in their own private pool, going on walks around the island, and snorkeling off the beach.
One highlight? Getting fresh oranges delivered each day to use in their room's fruit press. Daniel said that the three restaurants on the island were never busy. In fact, the whole stay felt like a very private experience.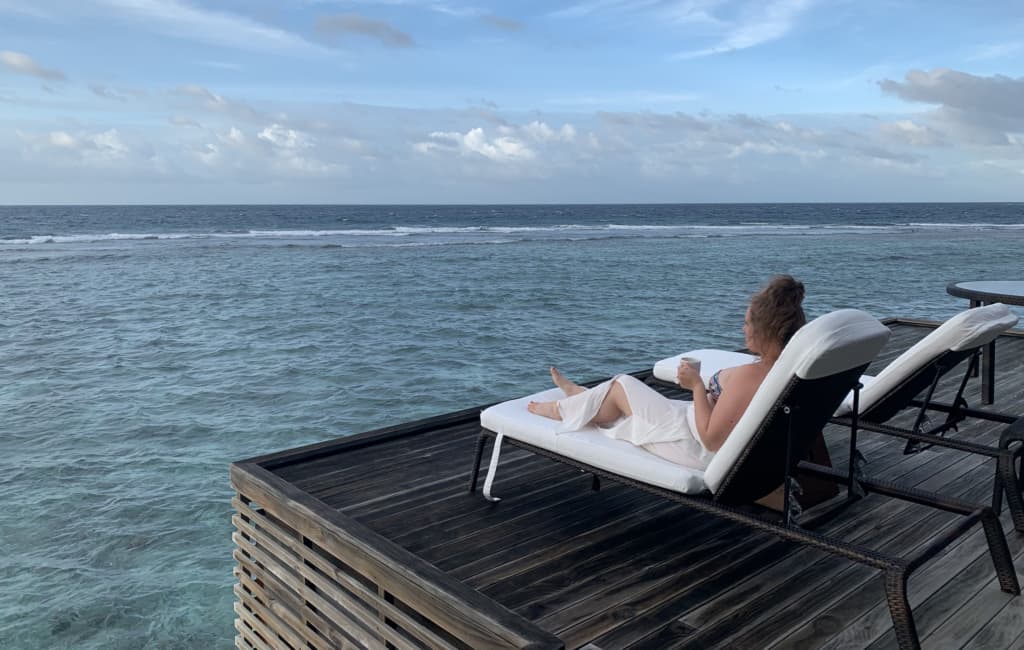 Their final days in the overwater villa were a highlight. They were able to see parrotfish and swordfish straight from the deck and glass floor window. 
While this trip was booked almost entirely on points and miles, there are a few unavoidable costs when it comes to visiting the Maldives. The seaplane transfer from Male to any other resort island is steep and unavoidable: typically around $400 roundtrip per person. And restaurant prices are high with just a few options, so be sure to budget for it in advance.
Read more: Should the Maldives Be On Your Bucket List?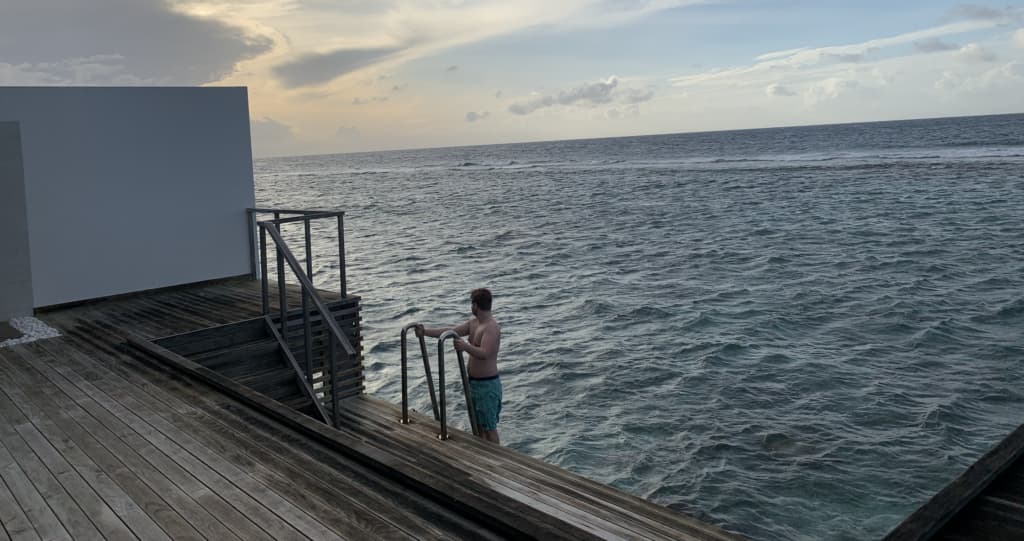 Bottom Line
Daniel returned from the Maldives with a fiancé and unforgettable memories of a QSuite experience and the Maldives. Helping members pull off epic trips like this – whether they're booking a cheap ticket or using points and miles – is why we do what we do.
Daniel has booked several flight deals from Thrifty Traveler Premium alerts over the past two years and he's on the lookout for the next cheap adventure for him and his soon-to-be-wife. We can't wait to see where the next flight deal takes these two!