St. Paddy's Day 2021 may have been canceled, but St. Paddy's Day 2022 is on. And even a trip this summer to the Emerald Isle may be in the cards.
Ireland is moving to reopen its borders to travelers from Europe as well as the U.S. starting on July 19, Reuters reports. Visitors with proof of vaccination will be allowed to enter the country, as will unvaccinated travelers with a recent negative COVID-19 test – though they'll have to take a second test upon arrival and self-quarantine until receiving a negative result. Children from 7 to 18 years old can get in with just a recent negative COVID-19 test.

Keep reading to see how to get to Ireland for less!
It's a drastic turnaround for Ireland, which hasn't yet fully emerged from a grueling lockdown. Travelers from more than 50 countries have been required to quarantine for two weeks at a hotel for many months. Starting July 5, bars and restaurants will finally be allowed to resume service indoors. Arts and sporting events can resume in early July with heavy capacity restrictions.
"If we continue to mind each other, if we continue to make the right choices, the end of this is within our grasp," Prime Minister Micheal Martin said.
The country is leaning on the European Union's brewing digital vaccine passport program to shepherd arriving tourists into Ireland. That program isn't up and running yet, but it's expected to launch by July 1 – first for Europeans traveling from country to country, then for international visitors.
As the EU moves ahead more slowly with a broader reopening, Ireland is just the latest country across Europe to announce its own plans – especially for Americans, who are critical for Ireland's tourism.
Spain was the latest to join the fold, announcing it will reopen to vaccinated travelers worldwide starting June 7. Iceland, Greece, Croatia, and Italy are already welcoming visitors today – although Americans can currently only avoid quarantine in Italy by traveling on specific "COVID-tested" flights.
Getting to Ireland on Cheap Flights
Planning a trip to Ireland in 2021 or 2022? We've got good news and bad news.
Let's start with a bit of bad news: Getting there could be a bit harder than it was just a few short years ago. While airlines may be flying more than they were this time last year, many international routes still haven't come back. Irish flag carrier Aer Lingus is struggling financially, which means many of its nonstop flights to Dublin (DUB) may take months or years to return – if they ever do.
Read more: Aer Lingus Cuts Minneapolis to Dublin Flights
Today, Aer Lingus is flying only to Chicago-O'Hare (ORD), Boston (BOS), and New York City (JFK). You can hitch a ride to Dublin on United from Newark (EWR) or American Airlines from Philadelphia (PHL). And Delta is currently set to resume nonstop service from New York City (JFK) to Dublin in August.
The good news? Ireland is one of the cheapest destinations to fly to in Europe. And even as it eyes reopening, we're seeing dirt-cheap fares to Dublin through 2021 and into 2022.

In the last two months, we've sent Thrifty Traveler Premium members a half-dozen fares to Dublin for under $500 for a trip well into next year, including St. Paddy's Day 2022. That's $400 or more off usual fares to Europe. It doesn't get any cheaper than a nonstop, roundtrip flight to Ireland for $289.
And while just a handful of cities will see nonstop service to Dublin over the coming months, there are plenty of deals available from across the U.S. by connecting throughout Europe on your way to Ireland.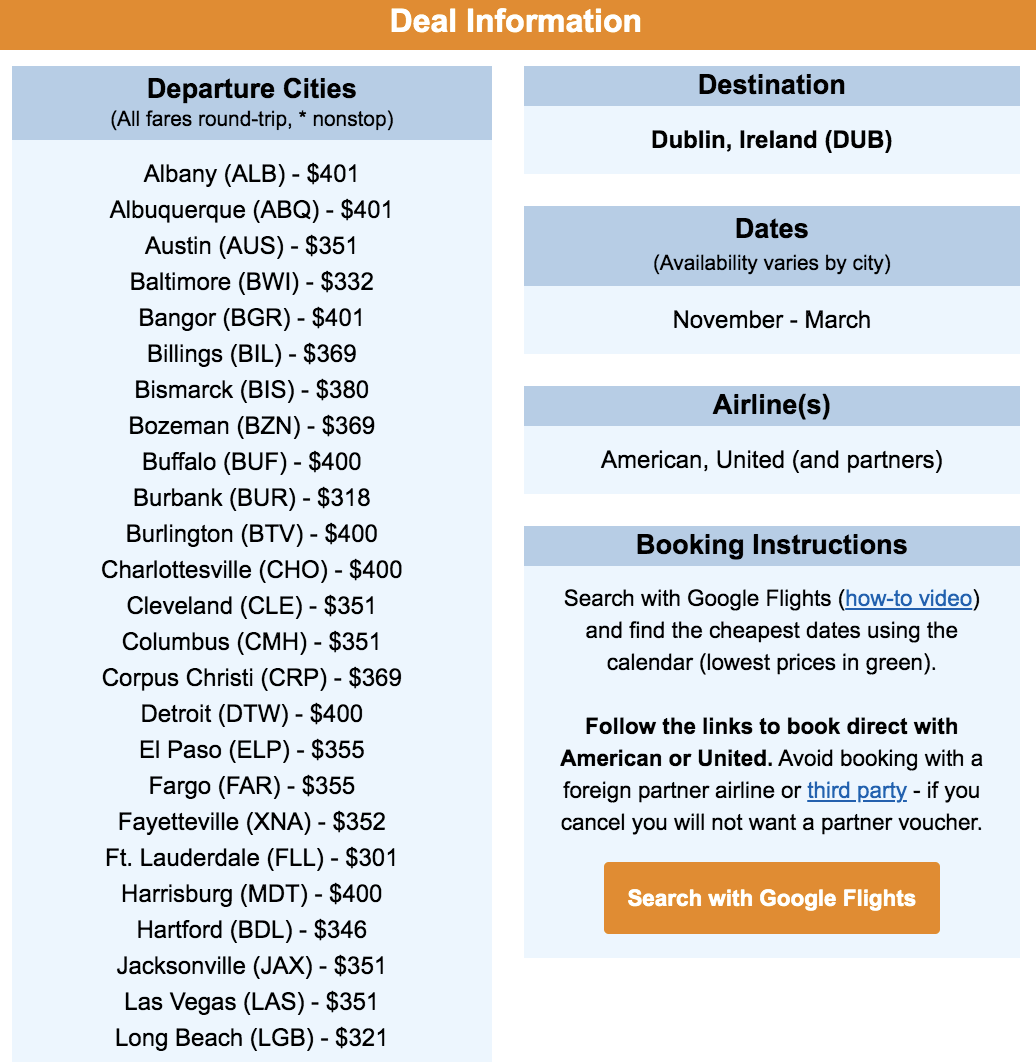 Get cheap flight alerts to Ireland and other international and domestic destinations with Thrifty Traveler Premium!
Bottom Line
Another one. The list of countries across Europe preparing to reopen their borders to Americans and other tourists is growing rapidly. While a lot can happen in the next month and a half, Ireland is gearing up to restart tourism in mid-July.
Just make sure you've got your vaccine card or a recent negative COVID-19 test – and a plan to fly to Ireland for less.