Flying internationally soon – or even not so soon? Between travel bans and restrictions, testing or vaccination requirements to get into your destination, and a mandatory test to get back to the U.S., a lot has changed since you last left the country.
Will the country let you in? Will you need a test, vaccination card, or both to get in – and get back home, too? How do you prepare for the worst? We're here to help with a COVID-19 travel checklist for your next trip abroad – whether that's coming up next month or not until next summer. Print it off and save it to work through!
And keep in mind that travel requirements are changing constantly, so you'll want to double-check there aren't any additional requirements for your destination or for returning home before your trip.
Want the latest updates on changing travel rules and regulations? Sign up for our free daily newsletter!
1. Book a flight with free change and cancellation
If you are looking to book a flight, make sure it's on an airline that is offering fee-free changes or cancellations. And with lots of money on the line for a big international trip, it may be worth paying more for that flexibility.
Unfortunately, the free change free-for-all has ended on most airlines. Nearly all major U.S. carriers no longer allow their cheapest basic economy fares to be changed nor canceled. Delta and United are two exceptions – but only for a trip through the end of 2021.
On the bright side, you can get that same flexibility by paying a bit more for a main cabin fare. This gives you the flexibility to change your dates free or cancel your flight for a voucher if plans change and you need to cancel your trip.
Want to get a refund instead of a voucher? Read our guide to getting your money back!
One tip? Stick with U.S.-based airlines if you can. If your plans change and you decide to cancel, it'll be much easier to use up a voucher on a domestic carrier than a foreign airline.
Read more: How to Book Travel Smarter as Pandemic Uncertainty Looms
2. Book a hotel or Airbnb that offers free cancellation
Now more than ever, it's important to make your travel plans as flexible (and refundable) as possible. One of the best ways to book risk-free right now is to book accommodations that can be canceled for a full refund.
Many hotel chains are offering free cancellation as far out as the day before you check in, making it easier to back out last-minute and get your money back. If you're hoping to stay at an Airbnb, be sure you filter for and select a place offering a flexible cancellation policy. Check out our guide on Airbnb's cancellation policy for how to protect your booking during COVID-19.
This goes for organized group tours, packages, excursions, and other pre-booked activities: make sure you read the fine print. If at all possible, only book things that can be fully canceled for a refund.
3. Check the country's entry requirements (repeatedly)
More than 18 months into the pandemic, international travel is back underway. But getting into a foreign country is much more complicated than it was before.
From mandatory proof of vaccination to a recent negative COVID-19 test, many countries around the globe require some health forms for entry. And those rules and regulations are constantly changing as the fight against COVID-19 continues.
Much of Europe has reopened to travelers, and exactly what you need to get in varies by country. To get into Spain and the Netherlands, Americans simply need to fill out a form – there's no testing or proof of vaccination required. But for Iceland, you need proof of vaccination and a recent negative COVID-19 test. Meanwhile, some other countries remain closed down altogether or impose lengthy quarantines.
See what the country you're visiting requires and prepare to take a test, pack your vaccination records, or both.
But this situation is changing rapidly. Country's can change their entry restrictions at a moment's notice. So be sure to check, double-check, and triple-check those requirements as your trip draws closer. Follow the U.S. embassy page for your destination country and local media in that country, too.
And it's not just entry requirements where things have changed – there may be some serious changes on the ground, too. In France and Italy, for example, you'll need proof of vaccination to enter restaurants, bars, and many other indoor venues as Europe cracks down amid the spread of the Delta variant.
Capacity limits, masking requirements, and other public health measures are the norm across much of the globe. So do your research and make sure these restrictions won't hinder the trip you have in mind.
4. Get tested, if necessary
If your destination requires a COVID-19 test to enter, you'll need to work backward to time that test – and results – in time. Present a test that's too old, and you won't be able to enter. If you don't get the results in time, that'll throw a major wrench in your plans.
First, read our master guide to COVID-19 testing for travelers for all the basics. Then, check which type of COVID-19 test you need and when you need it. For many countries, you'll need a test taken no more than 48 hours to 72 hours before your flight departs for your final destination. But the regulations vary widely from country to country.
Finally, find a local testing site that can get you the test results in a timely manner and schedule an appointment. Most countries will accept either paper or electronic versions, but you'll want to be sure you get the correct type of test results to present.
5. Make a plan to get tested before flying home
Yes, you'll need a negative COVID-19 test in order to fly back to the U.S. And that means you'll need to find a COVID-19 test abroad.
This new requirement took effect in late January 2021, and there's no sign it will disappear soon. It requires you to present a negative COVID-19 test taken no more than three days before your flight back to the U.S. Don't have a test? Your airline won't allow you to board your flight home.
Fortunately, getting a test abroad isn't as challenging as it may seem. Both PCR and rapid antigen tests satisfy the U.S. requirement. Even self-test kits make the cut – so long as it includes a supervised telehealth appointment with a health care provider. And tracking down a pharmacy or testing site isn't always as daunting as it may seem.
Check out our tips for finding your COVID-19 test to fly back to the U.S.
6. Make a plan in case you test positive before returning home
This is the big one. Finding a COVID-19 test in a foreign country is one thing. But if you test positive? You won't be getting on that flight.
And that means you need back-up plan in case that happens. The quarantine rules vary by country, but testing positive means you'll need to spend at least an extra 10 days quarantining in your destination before returning home. That adds a lot of extra stress – and cost – to any international trip.
Here are a few things to ask yourself:
Do you have a travel insurance policy that will cover some (or all) of the additional costs of quarantining if you test positive for COVID-19?
If not, can you afford a two-week additional stay in your destination?
Does your hotel allow COVID-19-positive travelers to quarantine at the hotel? If not, what is your back-up lodging plan?
Does your hotel offer discounted rates for two-week quarantining travelers? Or maybe even extend your stay for free?
Can you be away from work for two additional weeks (or more) if you need to quarantine abroad?
These questions are just a starting point for ensuring you're prepared, just in case the worst happens.
7. Present your negative test – and an extra form
When your trip draws to a close, you'll need two extra things in hand beyond your passport and tickets.
You'll need that negative COVID-19 test taken no more than three days before your return flight to the U.S. And you'll also need to sign a CDC attestation form with some health details – though your airline may have these on hand.
Either way, you'll need both in order to check in for your flight back to the U.S. – and perhaps at the boarding gate, too.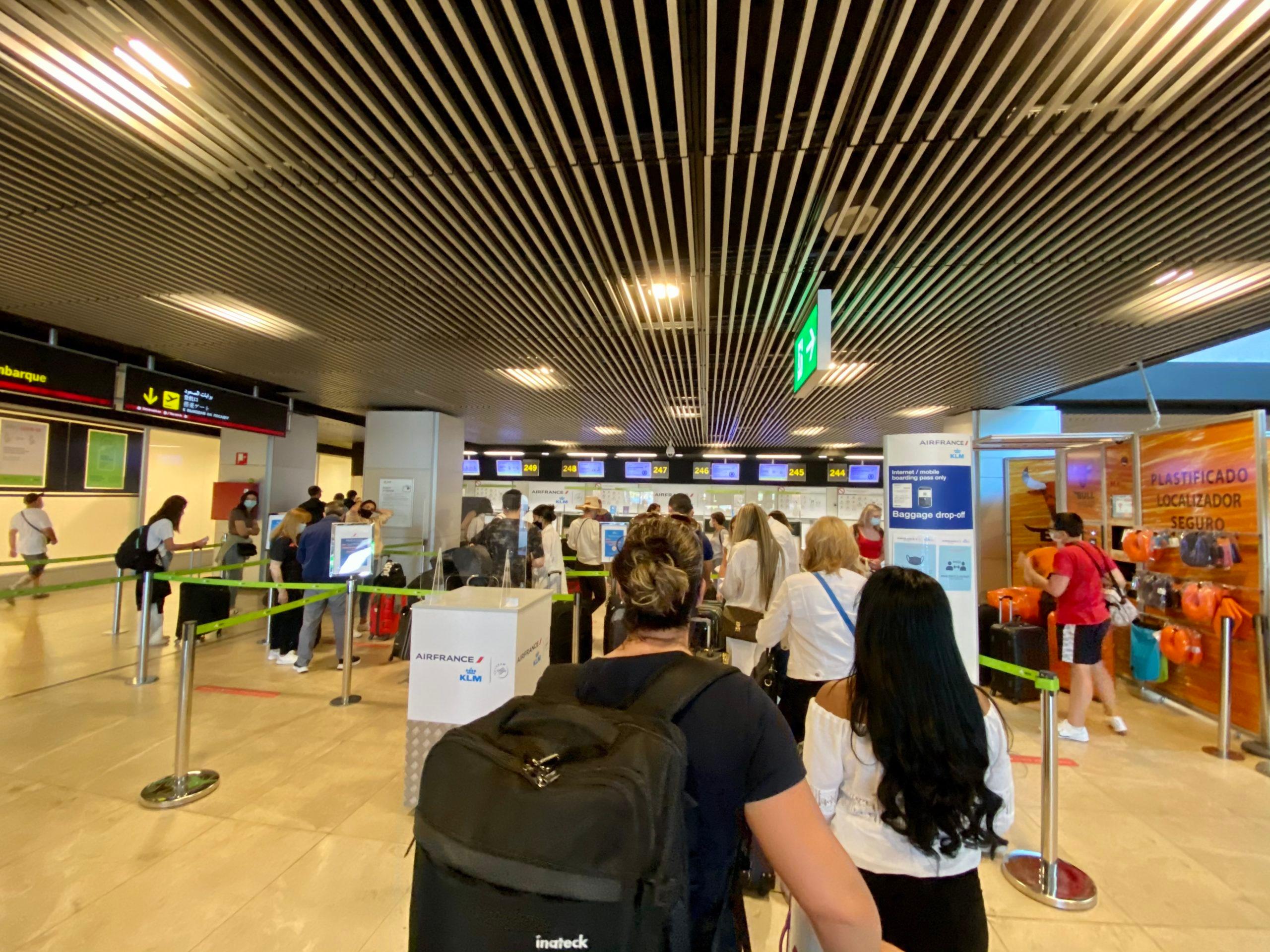 Without these things, you won't be boarding your flight back home to the U.S.
Bottom Line
It can be done, but international travel is much trickier than it was just two short years ago.
Whether you're considering international travel, planning a trip, or heading out soon, take a look through this international travel COVID-19 checklist and make sure you've got a plan before boarding that plane.