As the rest of Europe debates how to restart travel with a digital vaccine passport, Iceland has thrown the doors open. And yes, that includes Americans – or at least it should.
As of Thursday, March 18, Iceland now allows travelers from outside Europe's Schengen area to enter the country so long as they've been vaccinated against COVID-19, according to the Icelandic government. It makes Iceland the first country in Europe to reopen its borders to Americans (and other travelers outside of Europe) in a year. The Points Guy first reported the news.
Travelers will be required to present proof of full vaccination from any of the three approved vaccines in the U.S.: Pfizer, Moderna, or Johnson & Johnson. AstraZeneca vaccines will also be accepted.
Travelers can present a paper or electronic certificate as proof for entry, according to Iceland's regulations for entry. After questions about whether common vaccination cards in the U.S. would pass muster, Iceland clarified those regulations to ensure they would.
Still, Iceland's current requirements also don't spell out whether children will be required to be vaccinated for entry. And as of now, even vaccinated travelers will be required to get a test in Iceland before returning home. That international testing requirement for travelers returning to the U.S. does not currently exempt people who have been vaccinated.
With the right certificate in hand, travelers from the U.S. and elsewhere will be able to bypass quarantine and testing requirements upon arriving to Iceland. Travelers who can provide proof of a previous COVID-19 infection will also be allowed to enter freely. All tourists are required to register in advance at covid.is

Iceland is an incredible country that has earned the hype it's built up in recent years. And that allure should only grow brighter in the wake of COVID-19, as travelers focus on spending time outdoors.
It may feel like deja vu. Iceland was bold about its plans to resume travel as soon as last summer before eventually scaling back those plans – and backtracking on its hope of allowing Americans altogether. Americans have not been allowed to visit Iceland since early 2020.
This time, Iceland made it official just a day in advance.
Before COVID-19, airlines like Delta, American, and Icelandair operated plenty of nonstop flights to Reykjavik (KEF). Today, only Icelandair is currently operating flights from Boston (BOS) a few times a week – though it is scheduled to restart service from New York City (JFK) and Chicago-O'Hare (ORD) later in April.
Other Icelandair flights from cities like Minneapolis-St. Paul (MSP) and Washington, D.C.-Dulles (IAD) are currently scheduled to resume in May, though that could be pushed up if travel demand booms. Delta recently rescheduled nonstop flights from Minneapolis-St. Paul (MSP) and New York City (JFK) to Reykjavik starting in late May.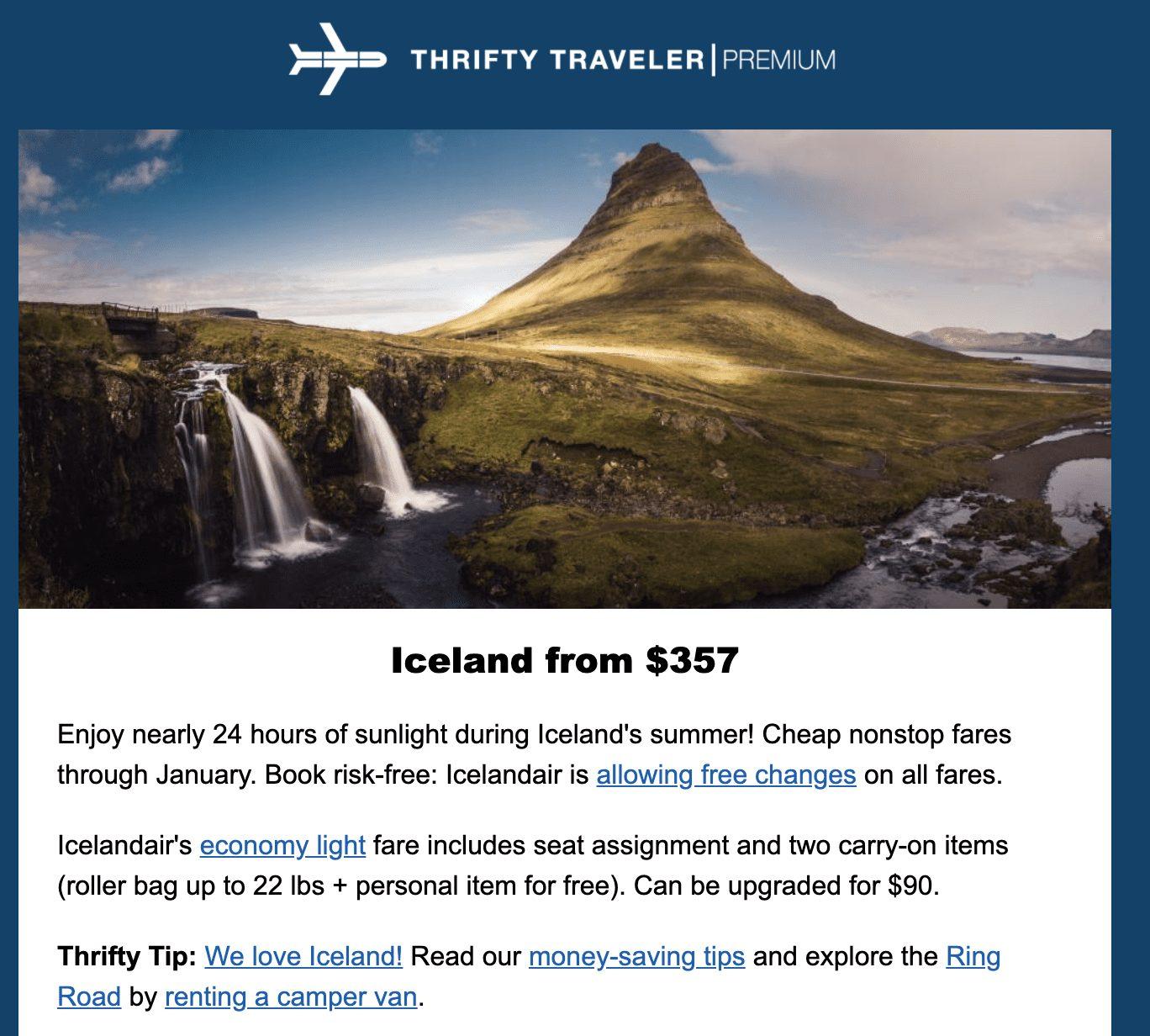 Wanna get to Iceland? We've sent fares under $400 roundtrip through the summer to Thrifty Traveler Premium members. Try it for just $5.99 a month!
Bottom Line
Iceland has burned American travelers before, but this seems to be the real deal. As of Thursday, March 18, fully vaccinated travelers will be allowed to visit Iceland without quarantining or providing a negative COVID-19 test result.