After an ugly start thanks to another bout of mass delays and cancellations last month, the summer travel season is flying smoother these days. But now is not the time to let your guard down.
If the last 18-plus months of disruptions have taught me anything, it's that the next airline meltdown is never far away. All it takes is a bad storm in one pocket of the country or yet another flareup of lingering air traffic control issues to throw an airline out of whack again.
For months, I've been telling every traveler who will listen to hope for the best … but prepare for the worst. And the best way to prepare is to be proactive – and that all starts with the booking process itself.
Here's how I'm booking flights differently these days.

The First Departure, Always
Let's face it: Early morning departures stink.
I'm a morning person, but no one really likes getting up at 4:30 a.m. or earlier to head to the airport for a 7 a.m. flight. Plus, that's typically when the airport is at it's busiest … and lines are at their longest. Throughout much of the pandemic, I did my best to avoid all of that.
But right now, it's all worth it for a little extra peace of mind. Whether it's a 5:30 a.m. flight or a 7 a.m. departure, every flight I've booked for this summer was the airline's earliest possible departure.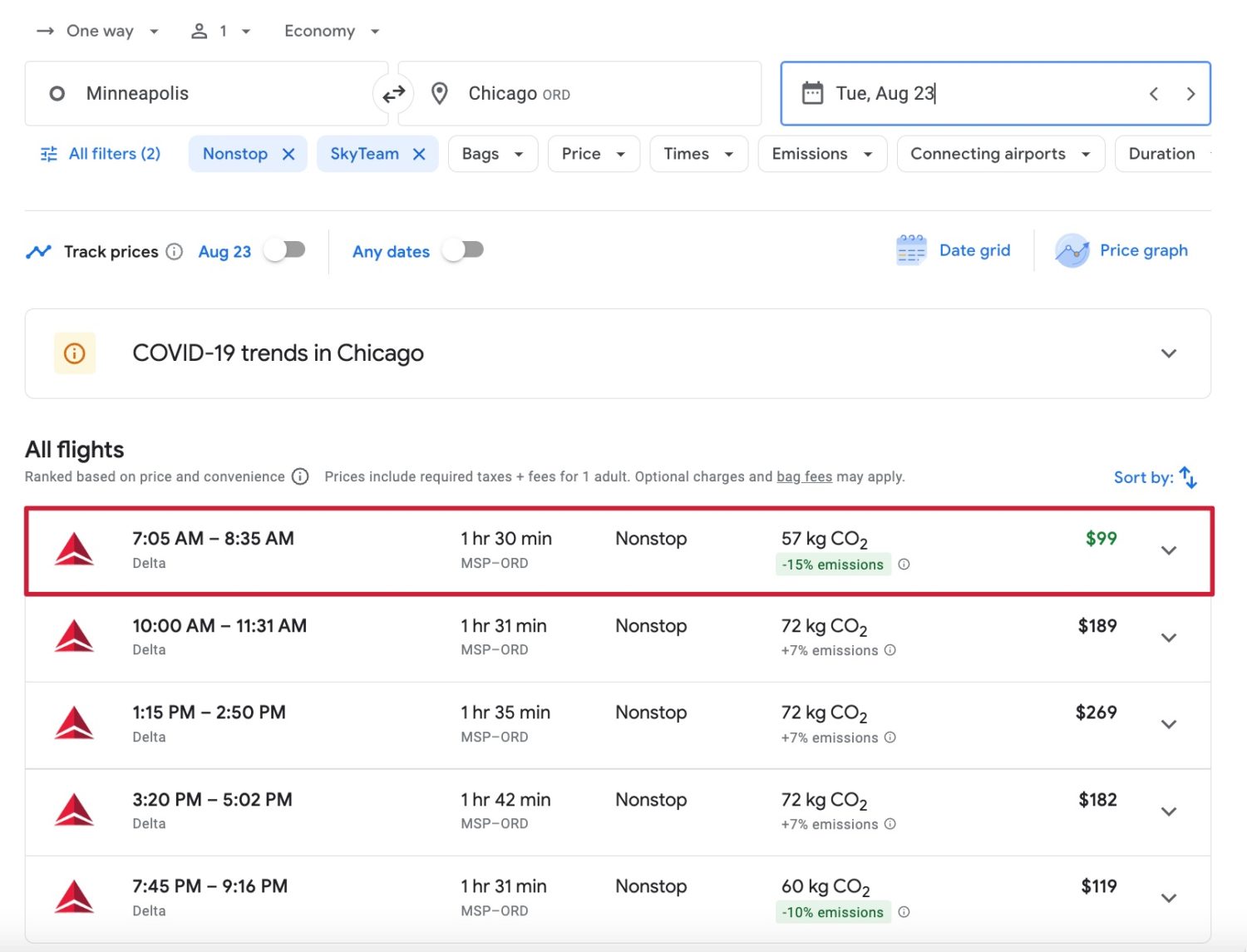 Why is earlier better? Because it's the best bet you can make that your flight will get on and off the ground on time.
Barring major weather issues or other problems, an airline can typically get its first flights of the day off the ground on time. But as the day goes on, delays and cancellations leave planes and crews alike in the wrong place, unable to catch up and get flights out on schedule. It's a snowball effect – and your best chance of escaping it is by leaving as early as possible.
That's why, when I had to book a flight from Minneapolis-St. Paul (MSP) to Chicago-O'Hare (ORD) for a trip last week, I chose the 7:05 a.m. departure – even though Delta's 10 a.m. flight or even the 1:15 p.m. departure would have worked just fine with my schedule.
Fortunately, Google Flights makes it quick and easy to sort your options by departure time. Just click those "Sort by" arrows after your results come up and click "Departure time." You can also filter your results by time, eliminating any flights that depart or arrive after a certain hour.

Flying nonstop is always more convenient. These days, it's almost critical: Making a stop on your way to your final destination also doubles the chances of something going wrong. 
Of course, a nonstop flight isn't always possible. I needed to get to Dublin (DUB) last week, and while I'd have loved to fly Aer Lingus' nonstop route from Minneapolis to the Irish capital, that flight still hasn't returned after being cut in the early days of the pandemic. So I had no choice but to make a connection, in this case through Chicago.
That's part of why I booked that 7 a.m. departure: It gave me an eight-hour connection rather than four hours. Is eight hours excessive? Certainly – especially if you're talking about a simple domestic connection. But here's the point: The days of a half-hour or even hour-long connection for the sake of shortening your travel day are over.
Yes, your airline is almost always responsible for getting you on the next available flight if you miss your connection … but if there's not a seat open on that next departure, "next available" could be many hours – or even days – away. And flights today are more full than ever, so that could very well be a reality.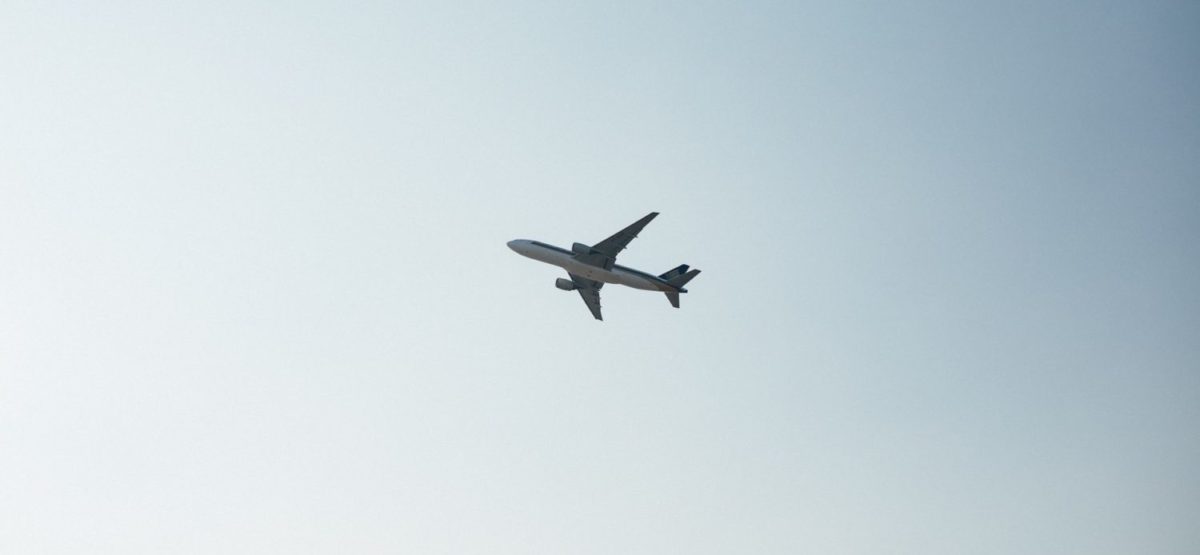 But there's an important reason I adopted a "better safe than sorry" mentality for this particular flight: My flight into Chicago was a positioning flight.
In normal times, it's one of our favorite-money saving strategies for cheap international flights. Instead of searching for flights to Dublin (DUB) from your home airport of Minneapolis-St. Paul (MSP), you book a cheaper fare out of Chicago-O'Hare (ORD) or some east coast hub, then separately book a cheap fare to get there for the transatlantic trip. Do it right, and the savings can be substantial.
But the stakes are far too high when things go wrong because if my flight into Chicago was delayed or canceled, I could miss the flight over to Dublin … and the airline would be under no obligation to put me onto the next flight to Ireland, because they were booked separately.
So in situations like these, I'm giving myself at least five hours between flights – and avoiding these kinds of risky connections altogether, if possible.
No More Basic Economy
For many years, I was one of those (not-so-rare) frequent flyers who would gladly buy a basic economy fare in order to save $30 or more each way. With sneaky ways to pick a seat for free, the savings almost always outweighed the restrictions for me.
Those days are over.
After the airline gutted Delta basic economy tickets by making them ineligible to earn SkyMiles or Delta Medallion status, I swore off buying Delta's cheapest fares last year. But with the uncertainty clouding travel, I'm buying at least a standard main cabin economy fare on every airline these days – no more basic economy for me. 
The reason? Flexibility is more important than ever … and that's not something you get with a basic economy fare anymore. After doing away with change fees, airlines only allow flyers to change or cancel their flights for free with a main cabin economy fare. Delta and JetBlue let you cancel a basic economy ticket for a fee, while other airlines' basic economy tickets can't be changed or canceled, period.

Opting up for a main cabin economy fare typically costs $60 or $75 more roundtrip over basic economy – or much more heading abroad. Ensuring I can change flights or cancel a trip without forking over some big bucks is worth the extra money for a main cabin fare.
Two-plus years into the pandemic, flight schedules are changing all the time. And if things go really wrong, making sure I can cancel a trip altogether and at least get a credit or voucher is huge.
And there's one more reason why paying a bit more to avoid basic economy fares might be worth it. When flights get oversold and an airline can't find enough volunteers to take a later flight, airlines move into the controversial world of involuntary denied boarding … and basic economy passengers with the cheapest fares are often some of the first to get booted. 
Flying European Airlines to Europe
During the worst of the pandemic, we had a mantra: Stick with U.S. carriers whenever possible.
With free change and cancellation, flying domestic airlines was a safer bet. If you wound up needing to cancel a trip, you'd at least get a voucher with a U.S. airline – and that's much easier to use on booking a different trip than it would be with a foreign airline.
But three letters and two numbers can change that calculus if you're flying to Europe: EU261. This little-known (and frequently misunderstood) European regulation offers travelers what American law does not: guaranteed compensation if your flight is delayed or canceled. It can cover some of your extra costs whether you booked your flight with cash or even if you used points and miles to book an award ticket.
This EU261 law (and its counterpart in the United Kingdom) puts up to $600 or so in compensation on the table – but it depends on which way you're flying … and which airline you're flying, too.
Flying a European carrier? EU261 will kick in whether you're flying from the U.S. to Europe or vice versa.
Flying a U.S. or Canadian airline instead? EU261 rules only cover flights from Europe back to the U.S. – not the eastbound leg from North America across the pond.
Read our full guide on the EU261 rule to make sure you're covered!
It's not hard to see the advantage of booking with a European carrier here. If things go wrong for your transatlantic flight, it opens the door to getting some serious compensation from the airline for your troubles. I won't lie: Getting these payouts is easier said than done, as many will drag their feet as long and hard as possible to avoid it. But if you're patient and diligent, it can be worth it.
Unfortunately, it hasn't always been possible to book this way. But I'll be giving European airlines a much harder look than this time last year the next time I head across the Atlantic.
Paying With a Good Credit Card
Prior to the pandemic, my decision-making process for which credit card to use to book a flight boiled down to one simple question: "Which card will earn me the most points?"
With the prospect for disruptions feeling higher than ever, I've got a new question: "Which card will get me the best travel insurance if things go wrong?"
Sure, you could buy a travel insurance policy that'll help cover some of your additional costs if plans change or your airline wrecks your travel. But if you've got the right travel credit card, you may not need to: Just book your flight with a card that comes with travel protection and you're set – plus you'll earn some extra points, too.
For many years, we've considered The Platinum Card® from American Express the absolute best card for booking flights thanks to the 5x points you earn for flights booked directly with airlines or through Amex's travel portal, AmexTravel.com. And it also comes with strong trip delay and cancellation coverage whether you buy a cash ticket or cover the taxes and fees on an award ticket … but only on round-trip airfare.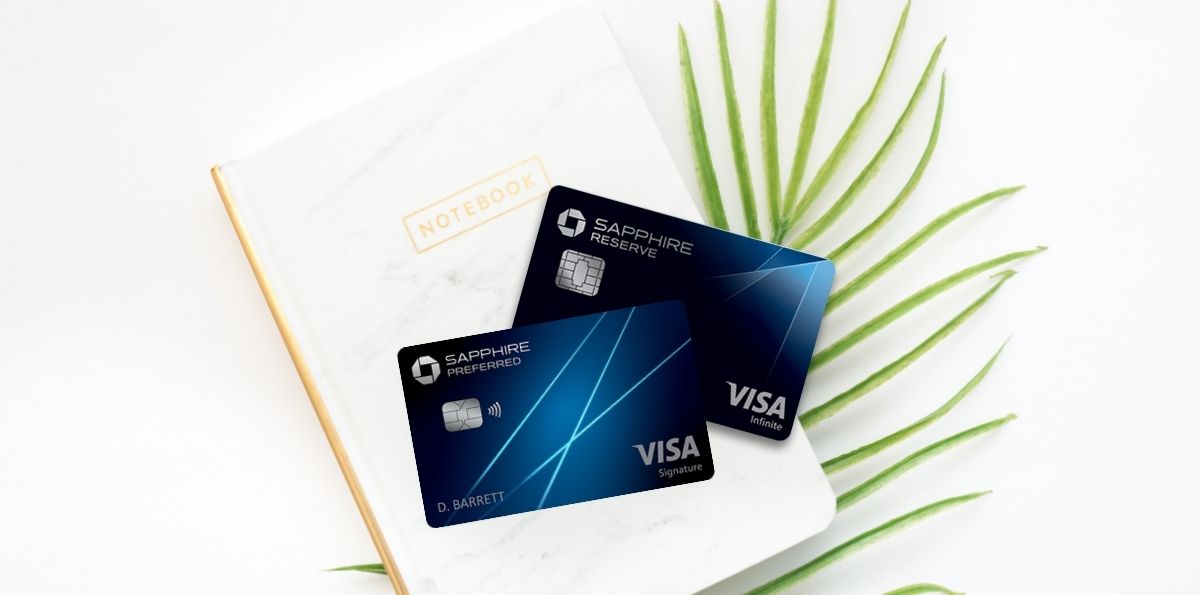 So I'm increasingly looking at booking with my Chase Sapphire Preferred® Card or the Chase Sapphire Reserve®, as they have some unbeatable travel insurance coverage on any ticket purchased with the card – whether it's a one-way flight or a round-trip booking. On the Preferred Card, for example, you get:
Up to $500 in reimbursements for expenses like airfare, hotels, meals etc. in the event of a delay of 12 or more hours.
Up to $100 a day for five days if your checked baggage is delayed more than six hours.
Unbeatable coverage for rental cars
And more…
Just pay for part of your flight (including just the taxes and fees) with one of these cards, and you're set.
Carry-On Bags Only
OK, this isn't about booking a flight. And it's not a change: I've been firmly pro-carry-on-bags for many, many years. But the last few months have solidified that for me. Unless absolutely necessary, I'm not checking a bag anytime soon. 
The flight delays and cancellations we've seen lately are one thing, but the situation with baggage is arguably even worse. Airlines and airports have been losing bags left and right recently. That's especially true over in European hubs like Amsterdam (AMS), Paris-Charles de Gaulle (CDG), and London-Heathrow (LHR), where staff shortages and technical woes have made it an absolute nightmare.
Delta recently flew a plane full of lost bags from overseas. You need only look at this mountain of misplaced luggage in Heathrow to see how bad things have gotten.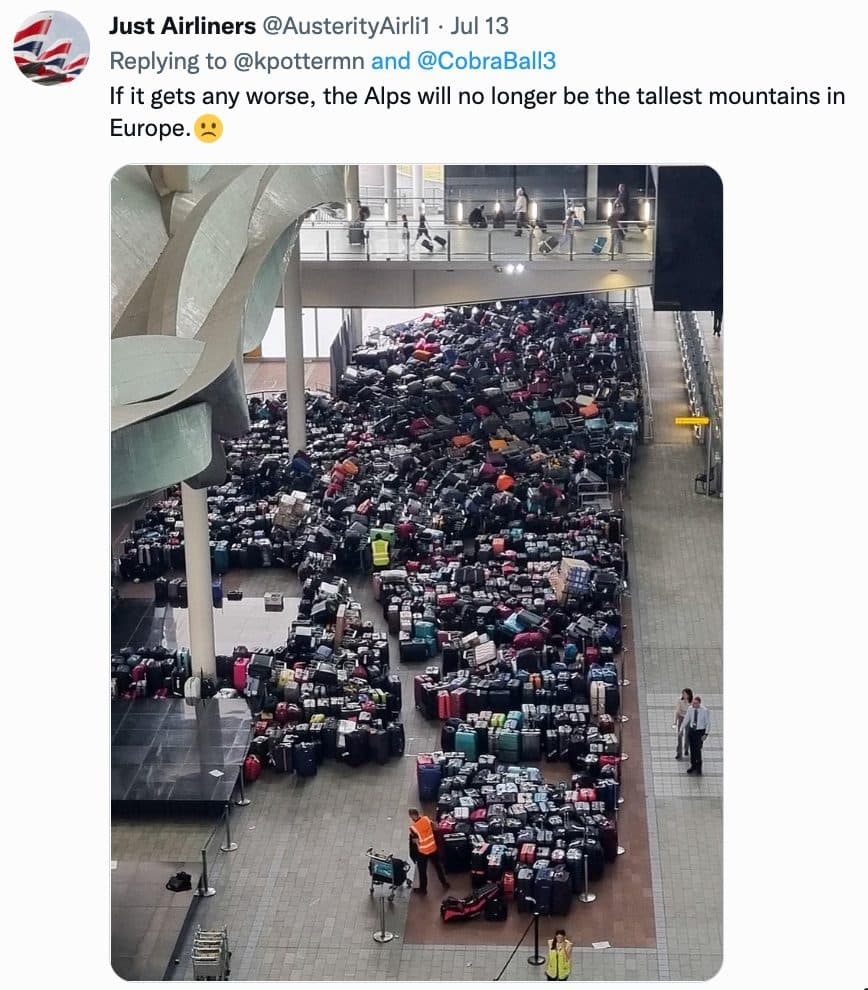 Add in the longer lines to check in and longer waits for a bag to make it to the carousel (if it makes it at all …), and I'm feeling good about sticking with just a carry-on bag, thank you very much. The stress of losing my belongings in a foreign country is just too much.
Not convinced you can pack in just a carry-on bag? Trust me: You can – just follow these tips and give it a try on your next vacation later this summer.
Bottom Line
I'm sure it's mostly luck and fortunate timing, but I've managed to escape the slew of delays and cancellations that have ruined millions of Americans' travel plans so far this summer.
Are these changes the reason? Maybe, maybe not. But until U.S. airlines get their act together for good, I'm going to stick to this script every time I book a flight.