For years, weighing Global Entry vs TSA PreCheck has been something of a no-brainer. Global Entry not only gets you a fast-pass through customs and immigration – you get TSA PreCheck benefits to clear security faster, too. It's a twofer.
But long processing times to get signed up – and finding a Global Entry interview to finalize enrollment – have made it a months-long hassle for many flyers. And now it's apparently gotten so bad, the federal government is practically pleading with travelers to sign up for PreCheck instead.
Customs and Border Protection recently posted a bright-red warning on their Trusted Traveler Programs homepage: "If you do not travel multiple times per year internationally, we recommend applying for the TSA PreCheck Program."

"Global Entry, SENTRI, NEXUS, and FAST (other federal travel programs) are experiencing application processing delays and have limited interview availability. While many applications are quickly reviewed, in some cases the process can take from 6-18 months to complete. Moreover, interview availability in various regions is limited."
Meanwhile, TSA PreCheck is a much quicker turnaround: "Most TSA PreCheck applicants can schedule an appointment in less than 2 weeks and, if approved, can receive a Known Traveler Number (KTN) in about 3 to 5 days after the appointment."
Between pandemic closures and government shutdowns before that, long waits are nothing new for Global Entry applications. Fortunately, it's a much, much smoother (and faster) process when renewing Global Entry – and that's still the case today.
But the fact that the federal government is pointing travelers "who do not travel multiple times per year internationally" toward PreCheck instead is telling. A Customs and Border Protection did not immediately respond to a request for a comment on this new warning. In May, the agency told Thrifty Traveler it took 208 days, on average, for new applicants to get signed up for Global Entry from start to finish.

Part of the problem might just be a surge in new applicants. This spring, the agency said they were receiving "unprecedented numbers of applications" for Trusted Traveler Programs like Global Entry. As travel demand bounced back, Global Entry applications increased from 10,500 a day in March 2022 to more than 12,000 daily in April.
TSA PreCheck costs $85 for a five-year membership while Global Entry is just $100 for a five-year enrollment – though many top travel credit cards will cover the cost of enrollment in either program.
On paper, signing up for Global Entry is simple: a 10-minute application, wait for conditional approval, get an in-person interview, and you're done. Some travelers can finish the entire process in a matter of just a week or so.
But others get left in purgatory for many months, awaiting the initial conditional approval to proceed. And then there's the matter of finding an in-person interview to finalize enrollment, which is another challenge: You can regularly scan through year's worth of dates at major airports without finding a single appointment available.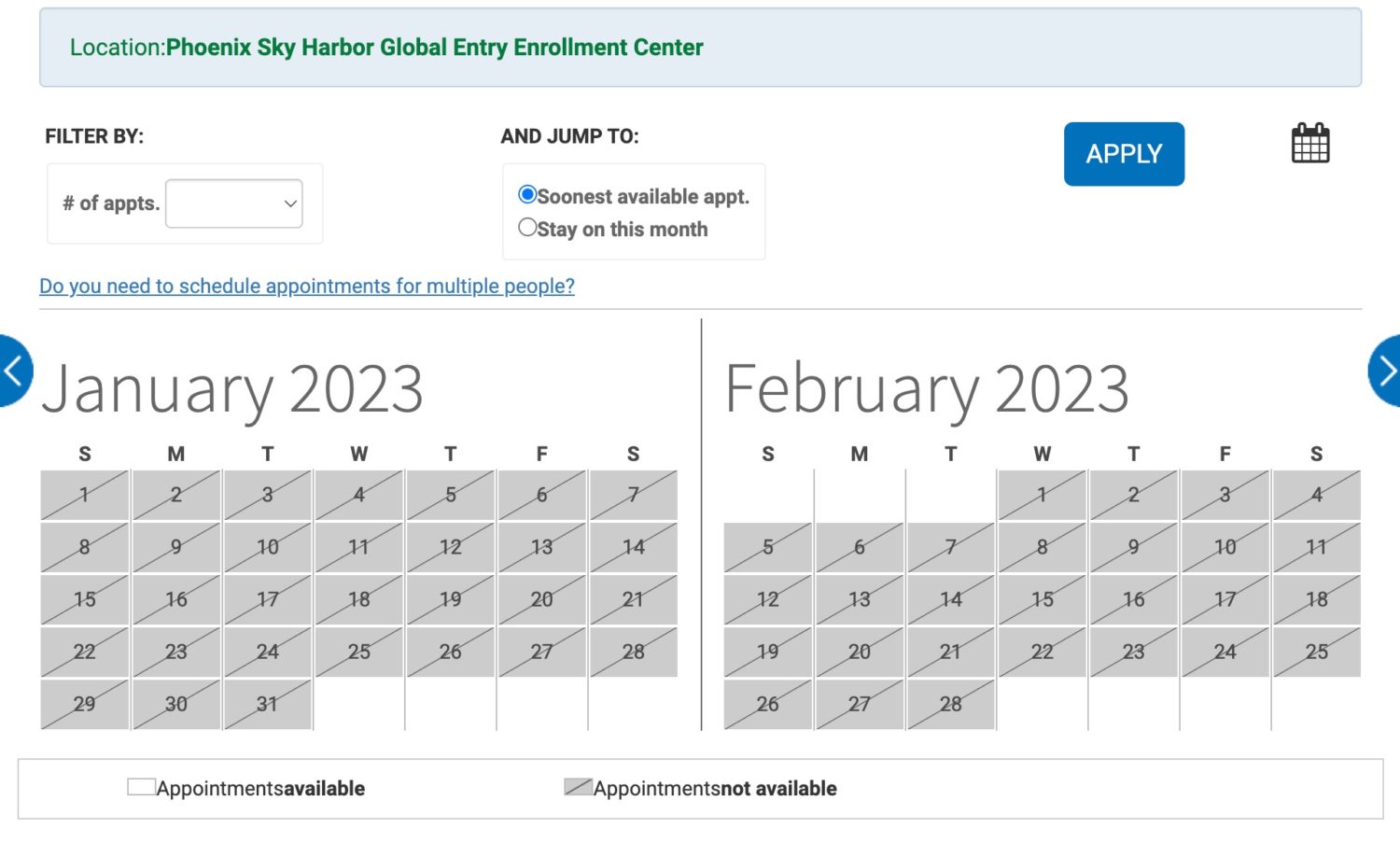 Read all our best tips on how to track down a Global Entry interview faster!
Customs and Border Protection officials have regularly pointed to Enrollment on Arrival as a great option to quickly finalize the signup process for travelers returning from a trip abroad. And they've also rolled out remote interviews via Zoom for travelers renewing their Global Entry accounts.
But Zoom interviews don't help for the wave of flyers trying to get signed up for the first time. And Enrollment on Arrival means travelers can't get their TSA PreCheck benefits until after a trip is done.
Bottom Line
This doesn't look good for Global Entry.
Long processing times and delays are nothing new for this popular, time-saving travel program. But the fact that federal officials are now explicitly encouraging many travelers to PreCheck instead is a troubling sign for anyone set on getting Global Entry … or already waiting.