Editor's note: As of Thursday, May 18, Cathay Pacific says all free flights to Hong Kong from the U.S. have been claimed.

Hong Kong is back open, and the country is preparing to give away free airline tickets in hopes of luring travelers back. Heads up, U.S.-based travelers: Your chance to score free roundtrip flights to Hong Kong (HKG) is coming soon – but you'll have to act really fast.
This Wednesday evening, Hong Kong-based airline Cathay Pacific will email travelers who are members of its frequent flyer program (which is free to join) with a link to book free roundtrip flights in economy to Hong Kong from select U.S. cities. That email is scheduled to go out at 7 p.m. CT on Wednesday, May 17. And this isn't a giveaway with randomly selected winners: Free tickets will be distributed on a first-come, first-served basis.
That means you'll want to set your alarm for 7 p.m. CT (or a bit earlier) and watch your inbox. There will be just 2,890 free tickets available for roundtrip flights from the U.S., according to Cathay Pacific's website – and there's a limit of one free roundtrip ticket per member. Travelers will still be on the hook for any taxes, fees, and surcharges.
Want more flight deals sent straight to your inbox? Sign up for our free cheap flight alerts!
U.S. travelers who haven't yet joined Cathay Pacific's Asia Miles program can join for free to get in the queue for tomorrow's free ticket rush.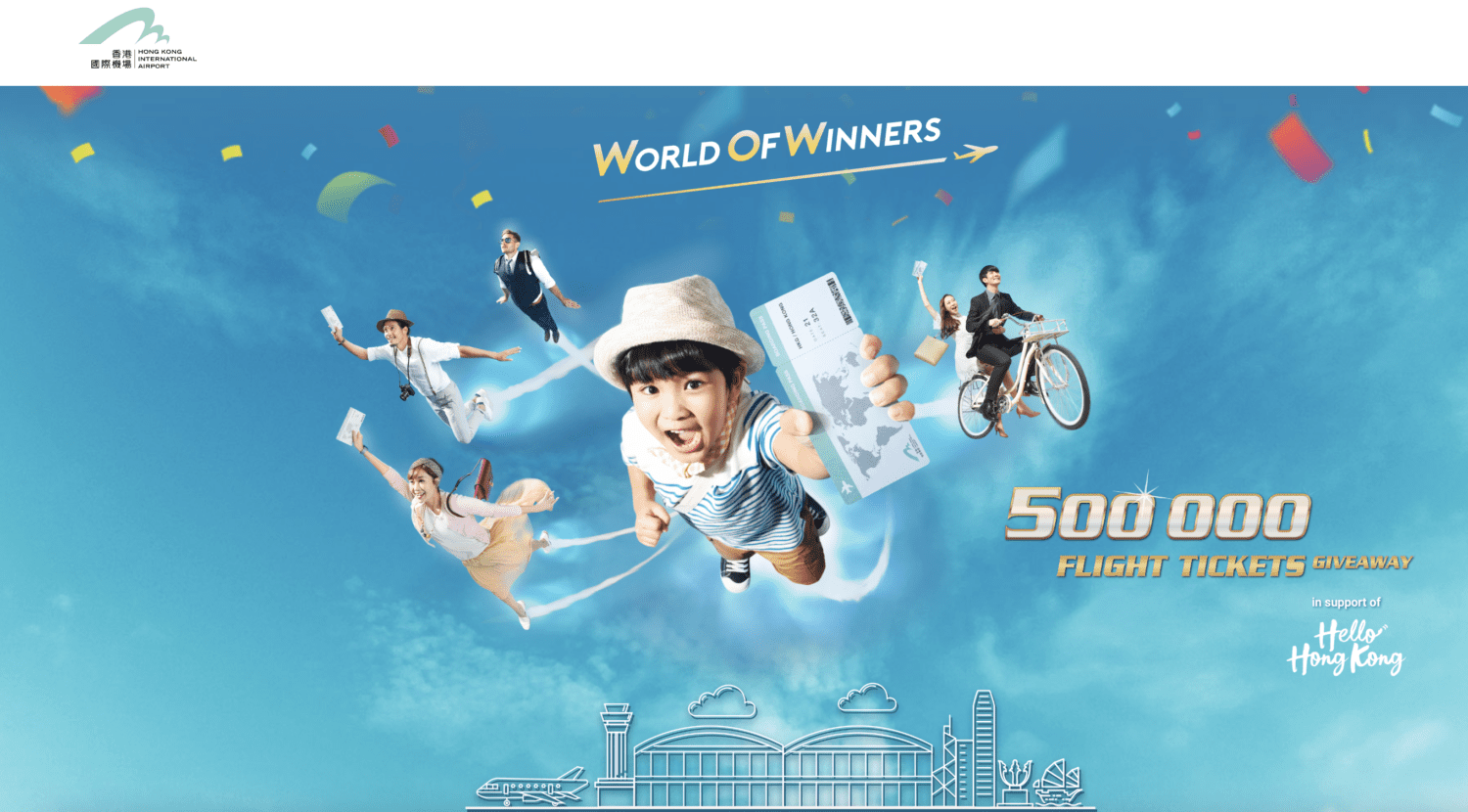 The free tickets are part of a huge "Hello Hong Kong" tourism campaign announced back in February, headlined by a giveaway of 500,000 round-trip airline tickets aimed at welcoming back travelers after several years of strict pandemic-related travel restrictions.
Hong Kong recently rolled back most of its travel restrictions and is looking to revive its once-thriving tourism economy, which has been even slower to recover compared to its neighbors like Japan, Singapore, and Taiwan due in part to strict COVID-19 policies. Before the pandemic, Hong Kong was a popular travel destination, receiving 56 million visitors in 2019 – over seven times its population, according to the Associated Press.
Most of the tickets are being distributed by four Hong Kong-based airlines – Cathay Pacific, HK Express, HongKong Airlines, and Greater Bay Airlines – through various promotional activities including drawings, "buy one, get one free" promotions, and games. The airlines have been distributing free tickets in phases, with some already awarded to lucky travelers in Southeast Asia and mainland China.
These ticket giveaways could bring in millions of tourists, as officials are hoping travelers who acquire one of the free plane tickets will pay to bring two or three friends or family members with them. Visitors can also get some special offers and vouchers among other incentives in the city, according to the Hong Kong Tourism Board.
If Hong Kong has been on your travel bucket list, it's worth it to try your luck at snagging one of the free round-trip tickets. Round-trip flights to Hong Kong, even from close-ish airports like Los Angeles (LAX), can easily run you $1,000 or more in economy.
Brace yourself, though: Cathay Pacific is warning travelers that traffic volume on its website will be high once the email goes out and the link is live. The airline said there will be a waiting room for travelers to be let into the site to book tickets, but we've seen a rush of visitors crash an airline's website for similar deals in the past.
How to Score a Free Flight to Hong Kong
First things first: Sign up now for free for Cathay Pacific's frequent flyer program. Apparently, that's all it takes.
Cathay Pacific members will receive an email on May 17 at 7 p.m. CT with a link to claim a free roundtrip flight. After signing in, they'll get a discount code to book one roundtrip economy ticket to Hong Kong from any one of the following airports: Boston (BOS), New York (JFK), San Francisco (SFO), or Los Angeles (LAX). You must book online through the link from the email.
You can use the discount code to book a flight for anywhere from a two-night trip to a monthlong stay, for travel anytime in the next nine months. Tickets are first come, first served and will be available until May 24 … although they'll likely sell out before then.
There's one catch: You can only use the discount code to book a ticket for yourself. You'll have to enter your passport information to complete the booking, and it must match the information on your Cathay Pacific account. If you want to travel with another person, make sure they're signed up to get the link to the ticket giveaway, too.

Cathay Pacific is the only one of the participating airlines offering free roundtrip tickets from U.S. the U.S. to Hong Kong. Neither of the other three participating airlines – HK Express, Hong Kong Airlines, or Greater Bay Airlines – fly to the U.S., and none have details available on their websites at time of publication.
Bottom Line
Hong Kong is giving away free roundtrip airfare in an effort to entice travelers back to the city after years of strict COVID-19 restrictions kept many visitors away. That drawing for U.S. travelers is coming up quickly.
Sign up for Cathay Pacific's frequent flyer program and you'll get an email on Wednesday, May 17 to claim one of the free roundtrip tickets. There are less than 3,000 tickets available for flights from the U.S. and it's all first come, first served – they're sure to go fast. But if Hong Kong has been on your travel bucket list, it may be worth trying your luck.