All the ingredients were there for a meltdown in air travel over the July Fourth weekend: Months of mass disruptions heading into the latest surge in travel numbers, stretching already-struggling airlines even thinner. An unprecedented move by Delta, practically pleading with customers to change their travel plans without fare differences or penalties. Pockets of bad storms across the country and lingering concerns about air traffic control.
And yet … it feels like it could have been worse. A weekend with tens of thousands of delays and cancellations as Americans are hitting the skies for the first time in years is nothing worth celebrating. But what had been dubbed a brewing "flightmare" or "airmageddon" turned out to be … well, just another in a long string of pretty bad weekends for air travel.
All told, airlines canceled nearly 2,300 flights within the U.S. from Thursday through Monday and delayed almost 27,000 flights, according to data from FlightAware. The big four U.S. airlines (American, Delta, Southwest, and United) canceled or delayed between 13% and 32% of their flights, depending on the day – roughly on par with a tough summer month prior to the pandemic.
The weekend got off to a rocky start as storms swept across much of the country on Thursday and Friday, leading to ground stops and delays at major hubs like Chicago-O'Hare (ORD), Atlanta (ATL), and New York City-area airports. Friday alone saw more than 7,800 delays and almost 600 cancellations in the U.S.
Friday set another new pandemic record as nearly 2.5 million travelers headed off for the Fourth – the highest number since Feb. 4, 2020, according to the TSA. But in the end, a lot of things went right during the busiest travel period airlines have handled in two-plus years.
Airlines' all-hands-on-deck mentality to avert embarrassing failures helped bring in the staff they needed to cover most of the flights that they sold
It's the start of the month, which gives airlines far more latitude to call in workers for extra help before they've worked their maximum hours for the month
Americans' travel patterns have changed with more freedom to work remotely, spreading out the surge of travel demand more evenly over the course of the week
With concern about disruptions front of mind, some travelers certainly changed their travel plans to avoid planes and airports altogether, easing the strain on the system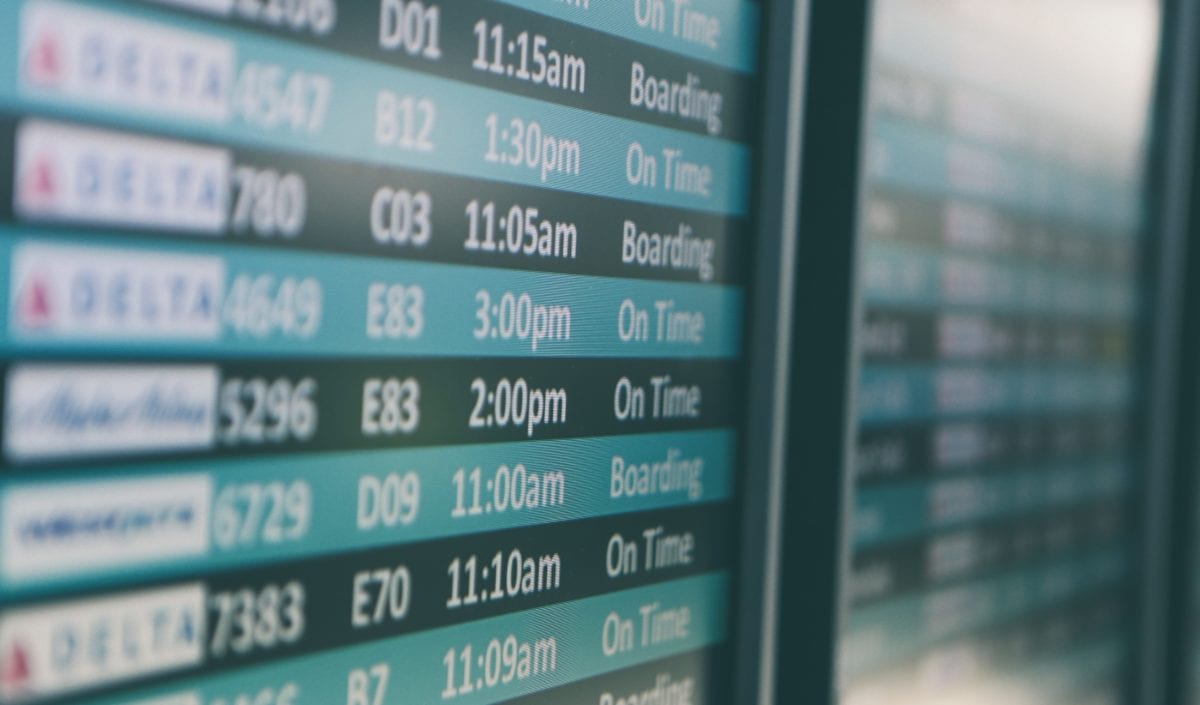 Delta, in particular, weathered the weekend far better than many flyers expected.
The Atlanta-based airlines set off alarm bells heading into the weekend with an unparalleled systemwide waiver, allowing Americans to move up or delay their weekend travel plans without fees or fare differences. This time last week, Delta's internal schedules showed hundreds of flights over the Fourth of July weekend and into this week still didn't have pilots scheduled.
In the end, Delta delayed less than 2,500 flights and canceled just 350 or so from Thursday through Monday, FlightAware data shows. It may be little comfort to travelers whose flights were disrupted this weekend, but that's far better than the airline's Memorial Day meltdown – or even a normal weekend in late June as Delta continued struggling through the month.
But this doesn't mean the months of mass delays and cancellations we've seen are in the rearview mirror. Holiday or not, carriers big and small are still confronting the same core problem.
After shrinking to survive the worst of the pandemic, airlines are stretching themselves too thin, selling every flight and seat they can without giving themselves the wiggle room to recover when things go wrong. And as travel demand continues to build throughout the summer, it's unlikely that will change anytime soon. They simply can't hire pilots, flight attendants, or other staff fast enough to keep up.
Whether it's a problem airlines can solve by summer's end or one that stretches into the fall and beyond is another question.
Read more: How to Survive (or Avoid) Flight Delays & Cancellations This Summer
Bottom Line
Don't call it a good weekend for air travel … but don't call it a meltdown, either.
After delaying or canceling almost 30,000 flights total, that means millions of Americans' Fourth of July travel plans were affected – maybe even ruined. Yet a vast majority of Americans were able to get on and off the ground on time this weekend.
The busy holiday weekend is in the books, but the mass disruptions are bound to continue as airlines struggle with the post-pandemic growing pains. All you can do is hope for the best … but still prepare for the worst.