The U.S. threw a major wrench in countless travelers' plans last month: As of Jan. 26, all travelers flying to the U.S. must present a negative COVID-19 test before boarding the flight. And yes, that includes Americans heading home from abroad.
That new requirement has put massive questions and roadblocks in many upcoming international trips, forcing travelers to find a COVID-19 test in a foreign country before coming home. Luckily, many hotels and resorts in Mexico and the Caribbean have  stepped up with onsite testing available to guests. Still, it's a complication for international travel for the foreseeable future. From the hotels to the government to the airlines, there's a lot to work through.

I saw that firsthand during a recent trip to the Dominican Republic with a stay at the incredible new Hyatt Zilara Cap Cana, one of the nearly 20 properties in Latin America where Hyatt has promised to offer free testing to guests returning to the U.S – the only major hotel chain to do so.
Read on to see how these new testing requirements work – in my case, flying with Delta after a stay at Hyatt in the Dominican Republic.
Read more: 'What if I've Had COVID-19?' & More Questions About International Travel Testing Rules

Checking In At the Hyatt Zilara Cap Cana
When we arrived at the Hyatt Zilara Cap Cana from the airport, we were immediately ushered into an area of the lobby where we could relax while they prepared all of our check-in documentation.
We were quickly informed of the new U.S. entry restriction and informed that the property would offer complimentary testing that would satisfy the U.S. entry requirements enacted by the Centers for Disease Control and Prevention (CDC). Of course, Hyatt had announced this earlier, but it was a good reminder.

We were told once that 72-hour window before our flight out of the Dominican Republic opened, we could simply head to the concierge desk to schedule our COVID-19 test. 
Our check-in host also informed us that if we tested positive, we would be required to quarantine at the property for 14 days. And the host said we would be eligible to get a discounted rate of up to 50% off for a quarantine extension – even though Hyatt's initial publication specifically mentioned that the Ziva & Zilara all-inclusive properties would be excluded from that offer.
But the Dominican government went further: We were also offered an insurance policy that would cover all additional expenses (including lodging) of up to $10,000 in the event of a positive test. It cost just $34 per person, total. 
This seemed like the logical choice, and everybody in our party opted for the $34 coverage. At the time of our stay, the staff at the Hyatt Zilara Cap Cana said they had not yet had a positive test at the property requiring a quarantine.

Taking Our COVID-19 Test Before Departing
Roughly 24 hours before our scheduled flight home, we headed to the concierge to make our COVID-19 test required for re-entry to the United States.
We were able to get in about an hour later and we were handed a packet of information to fill out. We were told to bring the packet to the testing site along with our passport.
This new Hyatt Ziva and Zilara property is positively massive, and it includes a large convention center that, for obvious reasons, isn't in use right now. That's where Hyatt was performing all its onsite COVID-19 testing.
Just a short walk from the main lobby, we entered the convention center and headed down the hall to get a test.

We provided our paperwork and passports to the Hyatt Ziva & Zilara staff members who went over a few things with us and indicated that we would be taking a rapid antigen test that would satisfy the entry requirements to get back into the United States.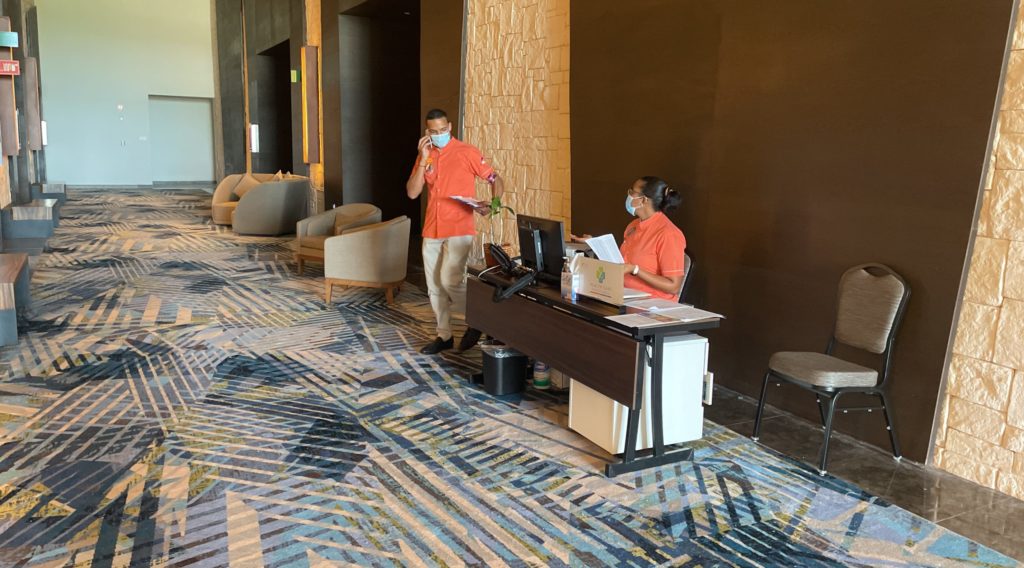 One by one, we were ushered into the conference room where they were performing the testing. From here, the healthcare professional confirmed our information and explained how the testing process would work.

If you haven't yet had a COVID-19 test via nasal swab….woof. It isn't the most comfortable feeling. Thankfully, it only lasts a few seconds.

Once we were completed with our testing, we were again ushered to a waiting area within the convention hall and told that our test results would be back within 15 to 20 minutes. If we didn't want to wait, they could deliver them to our rooms later in the day.
Being anxious and wanting to ensure that we were not positive for COVID-19, we waited. Sure enough, about 15 minutes later the staff member came in the room to inform us that we were all negative for COVID-19 and she handed us each our test results in a Hyatt envelope.
She indicated that we would just need to present this at the airport on our return trip to the United States. Still, where exactly we would be presenting this documentation was unclear.
Arriving at the Airport for Our Flight Home
When it was time to check-in for our flight home, we opened the Delta Air Lines app and got the following notification. That meant we couldn't check in for our flight online or via the app.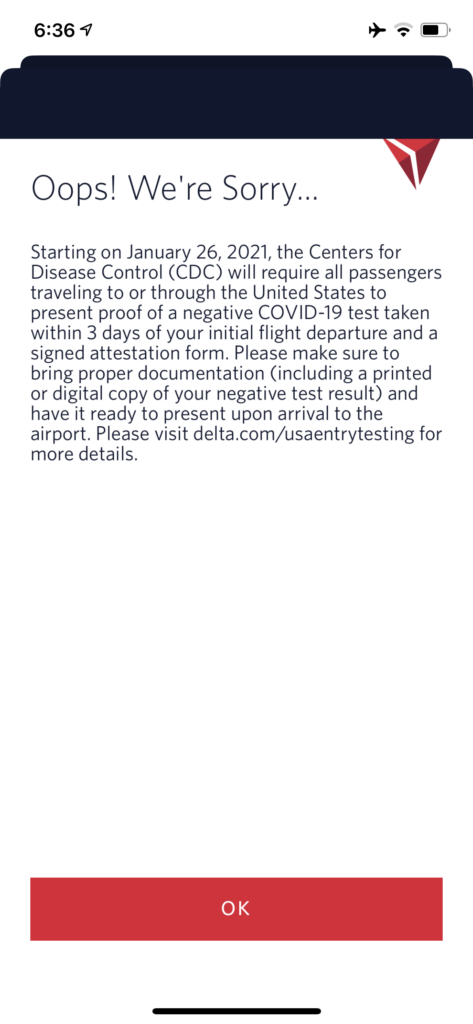 Upon arriving, an employee at the Punta Cana airport immediately handed us an attestation form that we were required to fill out and sign. This was essentially documentation certifying that we had produced a negative COVID-19 test within 72 hours of our scheduled departure.
Once we had filled these out, we headed for the check-in station before the actual check-in counters. Keep in mind: The CDC has left it to the airlines to ensure that passengers have a negative COVID-19 test result in hand before flying back to the U.S.
Sure enough, a Delta gate agent then checked our attestation forms and opened our COVID-19 results from the Hyatt envelope to ensure they were negative and taken within the time window. After that, she placed a yellow sticker on the attestation form – allowing us to get our actual boarding passes from Delta. 

Overall, the process was smooth and easy. And throughout, the airport staff were doing a good job to ensure travelers were wearing masks and staying spread out.
After getting our boarding passes, it was unclear if we would still need to keep our negative test document. To play it safe, we all kept ours in our carry on bags in case we needed to present it again upon entry to the United States.
Getting Back into the United States
About 30 minutes before landing, a Delta flight attendant had come overhead to announced we were starting our final descent into Minneapolis-St. Paul (MSP) – our final destination.
She indicated that the Customs and Border Protection officers may ask to see our negative COVID-19 test results. We were glad we hung onto our documents.
After deboarding the plane, we headed through the customs line. Throughout that process, neither we nor any other travelers were asked to show their test results. My guess is that this will be common practice, but they will perform audits from time to time to ensure passengers have the required testing documentation.
Still, it's smart to hang onto your test results until you have arrived at your final destination.
Bottom Line
We took this trip just a few weeks into the new testing requirements, and I didn't quite know what to expect. In all, the process was smooth and painless.
Staying at a hotel or resort providing complimentary testing onsite is key, so be sure to check with your accommodations on your options. The process at the airport was well-organized as well. And airlines seem to have quickly implemented a way to easily verify each traveler had the proper documentation to get back to the U.S.