CLEAR can be a godsend for making it through airport security faster, allowing you to cut to the front of the line. But the big problem with this privately run airport security program is that, unlike TSA PreCheck, it's not available everywhere just yet. Fortunately, that's slowly changing.
CLEAR just set up at both Chicago-Midway (MDW) and Sacramento (SMF), Delta announced on Wednesday. You'll find CLEAR kiosks in Midway's terminal and at both Terminal A and Terminal B in Sacramento. If you've got CLEAR, that could make your next trip through either city much faster.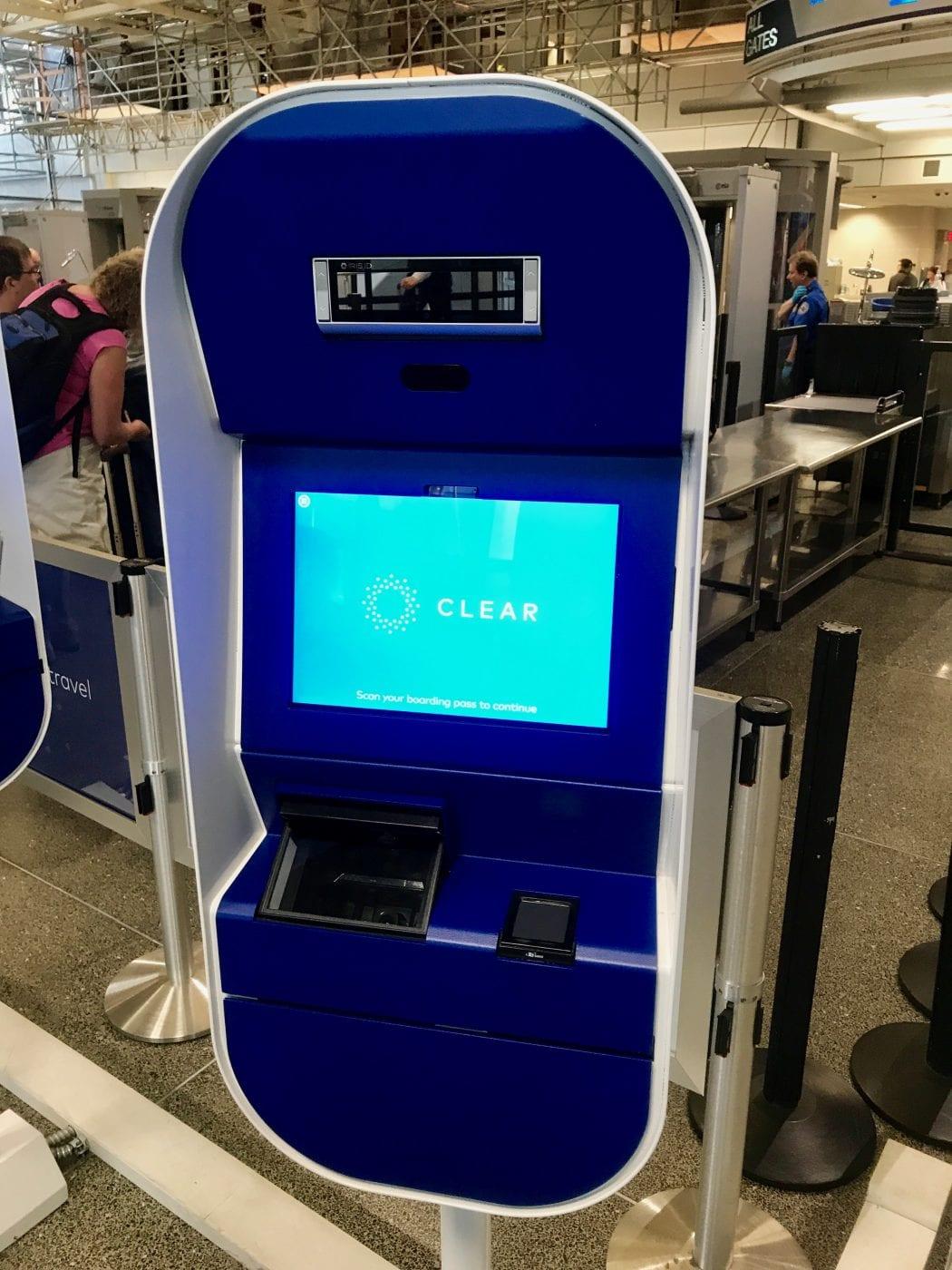 Those two new additions make for 37 U.S. airports with CLEAR service. That's a substantial increase from just a few years ago. But compared to the 200 U.S. airports big and small with TSA PreCheck available, CLEAR has a long way to go before becoming a mainstay for travelers.
Read our full review of using CLEAR at the airport!
Fortunately, CLEAR has partnered with both Delta and United Airlines, and that means it's constantly growing – with an emphasis on those two airlines' outposts. Here's the full list of airports where you can currently use CLEAR:

| Airport | Terminal(s) |
| --- | --- |
| Atlanta (ATL) | North & South Domestic Terminals |
| Austin (AUS) | Checkpoints 1 & 2 |
| Baltimore (BWI) | Checkpoints A,B,C, D & E |
| Birmingham (BHM) | Main Terminal |
| Boston (BOS) | Terminal A |
| Chicago-Midway (MDW) | Main Terminal |
| Chicago-O'Hare (ORD) | Terminal 1 & 2 |
| Cincinnati (CVG) | Main Terminal |
| Cleveland (CLE) | Center & South Checkpoints |
| Dallas-Fort Worth (DFW) | Terminal E |
| Dallas-Love Field (DAL) | Terminal 1 |
| Denver (DEN) | North & South Entrances |
| Detroit (DTW) | North & McNamara Terminals |
| Fort Lauderdale (FLL) | Terminals 1 & 2 |
| Houston-Intercontinental (IAH) | Terminals A, B, C and E |
| Houston-Hobby (HOU) | Main Terminal |
| Las Vegas (LAS) | Terminals 1 & 3 |
| Los Angeles (LAX) | Terminals 1 - 7 |
| Miami (MIA) | Checkpoints E & H |
| Minneapolis−Saint Paul (MSP) | Terminal 1 |
| Nashville (BNA) | |
| New Orleans (MSY) | Concourse D |
| New York City-John F. Kennedy (JFK) | Terminals 2 & 4 |
| New York-LaGuardia (LGA) | Terminals C & D |
| Newark (EWR) | Terminal C |
| Westchester County (HPN) | Main Terminal |
| Orlando (MCO) | East & West Security |
| Phoenix (PHX) | Terminals 2,3 & 4 |
| Sacramento (SMF) | Terminal A & B |
| Salt Lake City (SLC) | Terminals 1 & 2 |
| San Antonio (SAT) | Terminals A & B |
| San Francisco (SFO) | Terminals 1-3, International Terminals A & G |
| San Jose (SJC) | Terminal A & C |
| Seattle-Tacoma (SEA) | Checkpoints 1-5 |
| St. Louis (STL) | Terminal 2 |
| Washington, D.C. -Dulles (IAD) | Main Terminal & East Security Checkpoint |
| Washington, D.C.-Reagan (DCA) | Terminals A, B & C |
What is CLEAR?
There's no denying they're similar if you want to get through airport security fast, but CLEAR works separately from TSA PreCheck.
With PreCheck, you get a dedicated line at airport security, can keep liquids and electronics in your bags and can keep a coat, belt, and shoes on. But think of CLEAR as a license to cut in line – you get whisked to the front of either the PreCheck line or standard security lane.
TSA PreCheck vs Clear: Which one is better?
It's a privately run trusted-traveler program that takes both your fingerprints and iris scans to confirm your identity before security screening. Once you've signed up (more on this shortly) and finalized your registration, you simply head to the CLEAR lane, confirm your identity at a kiosk, and get whisked away to the front of the TSA line by a CLEAR ambassador.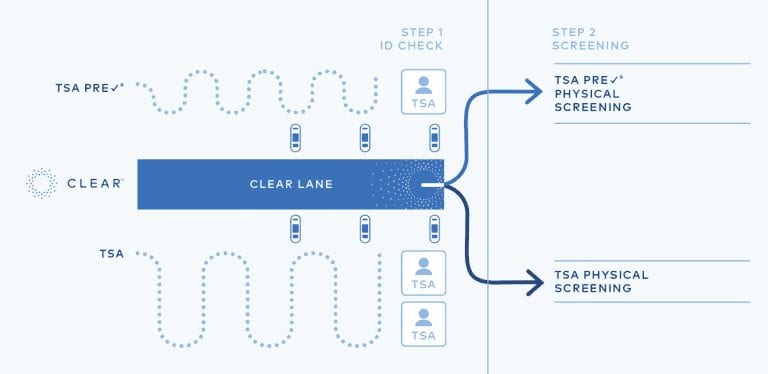 So what's stopping you? Likely the high price tag – a year's worth of CLEAR starts at $179. Compared to the $85 you pay for five years of TSA PreCheck (or $100 for Global Entry), it doesn't make sense for every traveler. Not to mention, a number of travel rewards credit cards offer TSA PreCheck & Global Entry for free.
Luckily, there are ways to drop the cost of CLEAR considerably. For starters, all Delta SkyMiles or United MileagePlus members can enroll in CLEAR for just $119. So even if you're not flying Delta or United, you can quickly sign up for a SkyMiles or MileagePlus account to capitalize on this lower cost.
But if you've got status with either airline or hold one of the co-branded credit cards, that price drops to $109. And the lowest pricing of all is reserved for top-tier elite status holders, who can select an annual membership as a free perk.
Finally, you can get CLEAR for as low as $9 a year by holding the American Express® Green Card. Amex recently overhauled this card, adding a $100 annual credit toward CLEAR membership – the first card to offer that perk. And there have been some rumors that a CLEAR statement credit is also coming for the popular Platinum Card® from American Express, but that hasn't been confirmed yet.
Bottom Line
It's great to see CLEAR's footprint continue to grow – especially at two fairly large airports in Chicago-Midway (MDW) and Sacramento (SMF). With a few exceptions, CLEAR has made its way to all the nation's largest airports. Now it's heading to some secondary hubs.
And that's one of the biggest reasons we don't think it makes sense for every traveler – especially with most travel on pause right now.
Lead photo courtesy of CLEAR