The pandemic has changed the way people travel – and Airbnb knows it. Travelers are looking for different kinds of accommodations, taking more time off, or maybe even extending trips and working remotely.
That's the crux of Airbnb's latest update of its popular homesharing platform released Wednesday. In a video explaining the changes, CEO Brian Chesky called it "the biggest change to Airbnb in a decade." Those changes are evident from the moment you head to Airbnb.com or open the smartphone app.
From architect-designed homes to castles in England to A-frame cabins on the lake, Airbnb overhauled its entire search process to put the spotlight on unique accommodations – and help travelers find what they're looking for, regardless of whether they know where they want to go. Airbnb has introduced an easy way to book multiple homes at once for a longer trip. And as it prepares to sunset cancellation policies for COVID-19, Airbnb is adding an overarching protection policy for all bookings.
Here's a deeper look at what's different with Airbnb heading into summer 2022.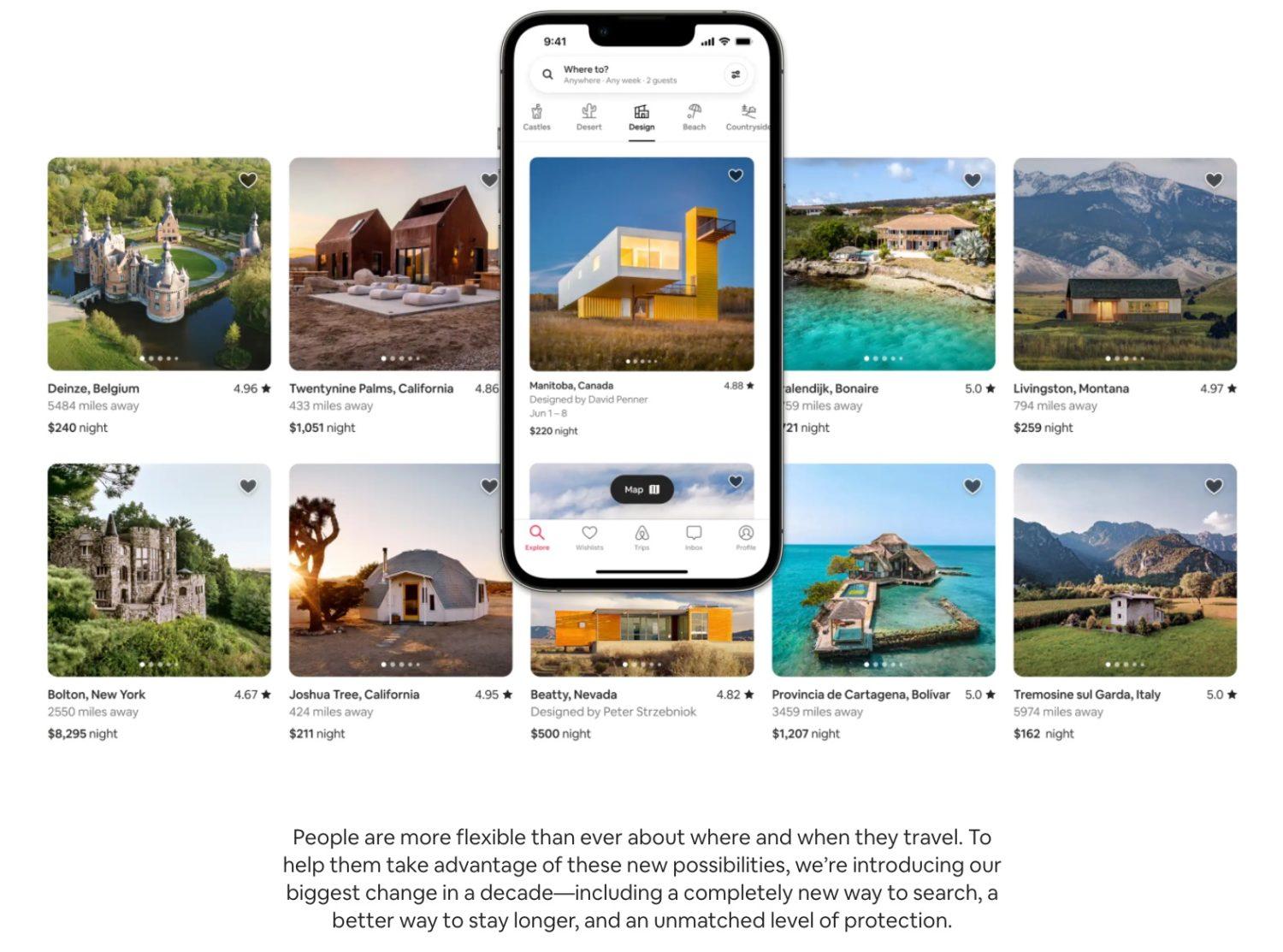 New Categories to Find Special Stays
Forget stuffy condos or bland homes. We've been fans of the unique Airbnbs you could find through the platform. Airbnb just turned its search platform upside down to make it much, much easier to find something special for your next trip.
They're called Airbnb Categories, and you'll see them straight away. Before you even tap in your destination, it allows you find a specific type of accommodation to suit your needs … or fuel your wanderlust.


You can immediately filter to see architect-designed homes for a special look, properties in the Arctic, A-frame houses, beachside spots or a homebase for surfing, properties perched around National Parks, caves, castles … the list goes on practically forever. Check out Airbnb's OMG! category, which seems like an apt name for a collection of Airbnbs that includes a Windmill in Portugal, a covered wagon in Nevada, or a glass house on stilts in Norway.

If you're having trouble narrowing things down, you can open up a map and take a spin around the globe to see different types of homes.

"Categories allow you to search by whatever your passion is, whatever you're interested in. It can lead you to a whole world of possibilities in towns you would have never known to search," Chesky said in the video explaining the changes.
If you already know where you're going, you can, of course, enter your destination and then narrow it down to the specific type of stay you want. How about a vineyard in Tuscany for a week this fall?


Find what you want? From price to amenities, room and bed counts, and more, Airbnb still lets you filter down to all the specifics for what you actually need for a successful stay. It's just made it much easier to find something special on the front end.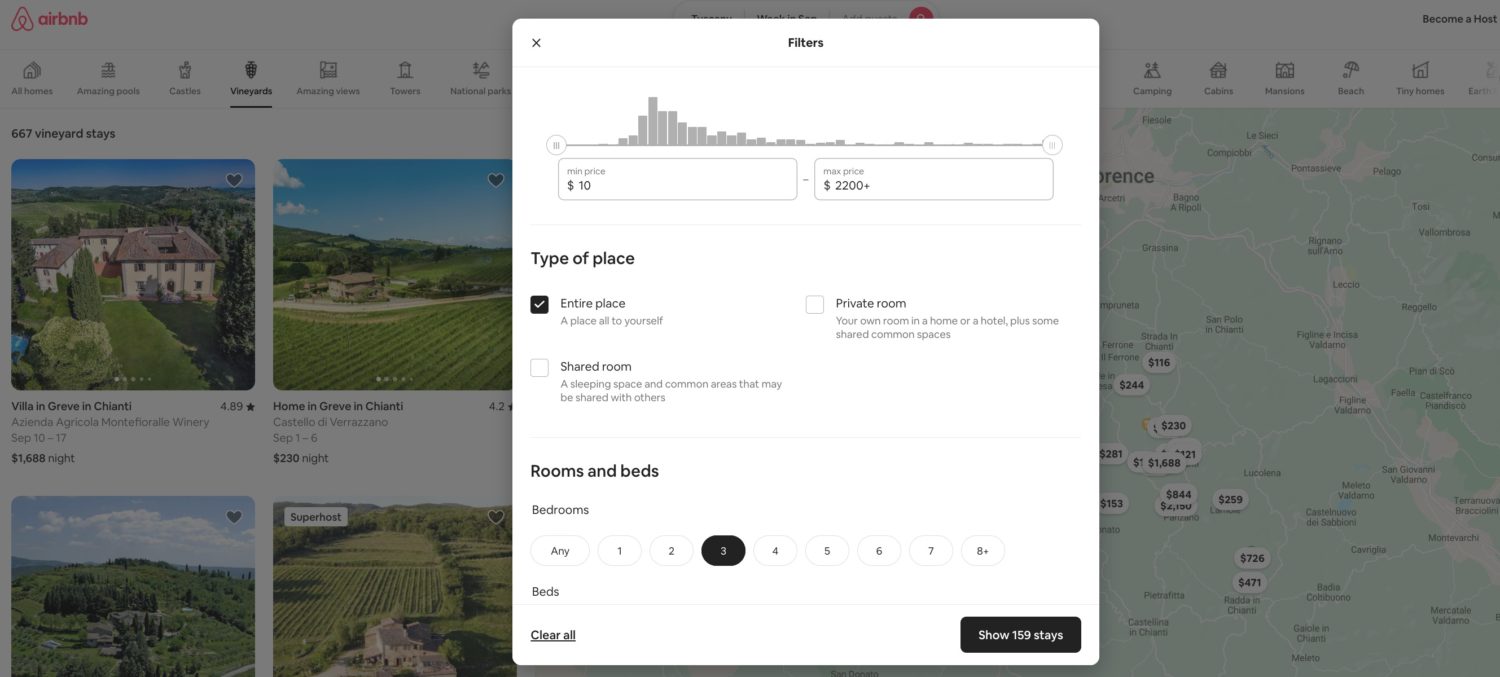 Book Split Stays for Longer Trips
Remote work reigns these days, and travelers have more freedom to work on the road than … well, ever. This new feature can help split up those longer trips.
Airbnb calls it Split Stays, and it's exactly what it looks like. For trips of at least a week or more, Airbnb may automatically display bookings that allow travelers to – you guessed it – split their reservation between two different properties.
When availability at a specific property gets challenging over these longer stays, this allows Airbnb to give travelers more options by offering two homes instead – Airbnb says it results in 40% more listings available.
For example, check out this Split Stay around National Parks in Utah. You'd spend two weeks in a cabin near Capitol Reef National Park before moving onto a glamping retreat in Moab, a stone's throw from both Arches National Park and Canyonlands National Park.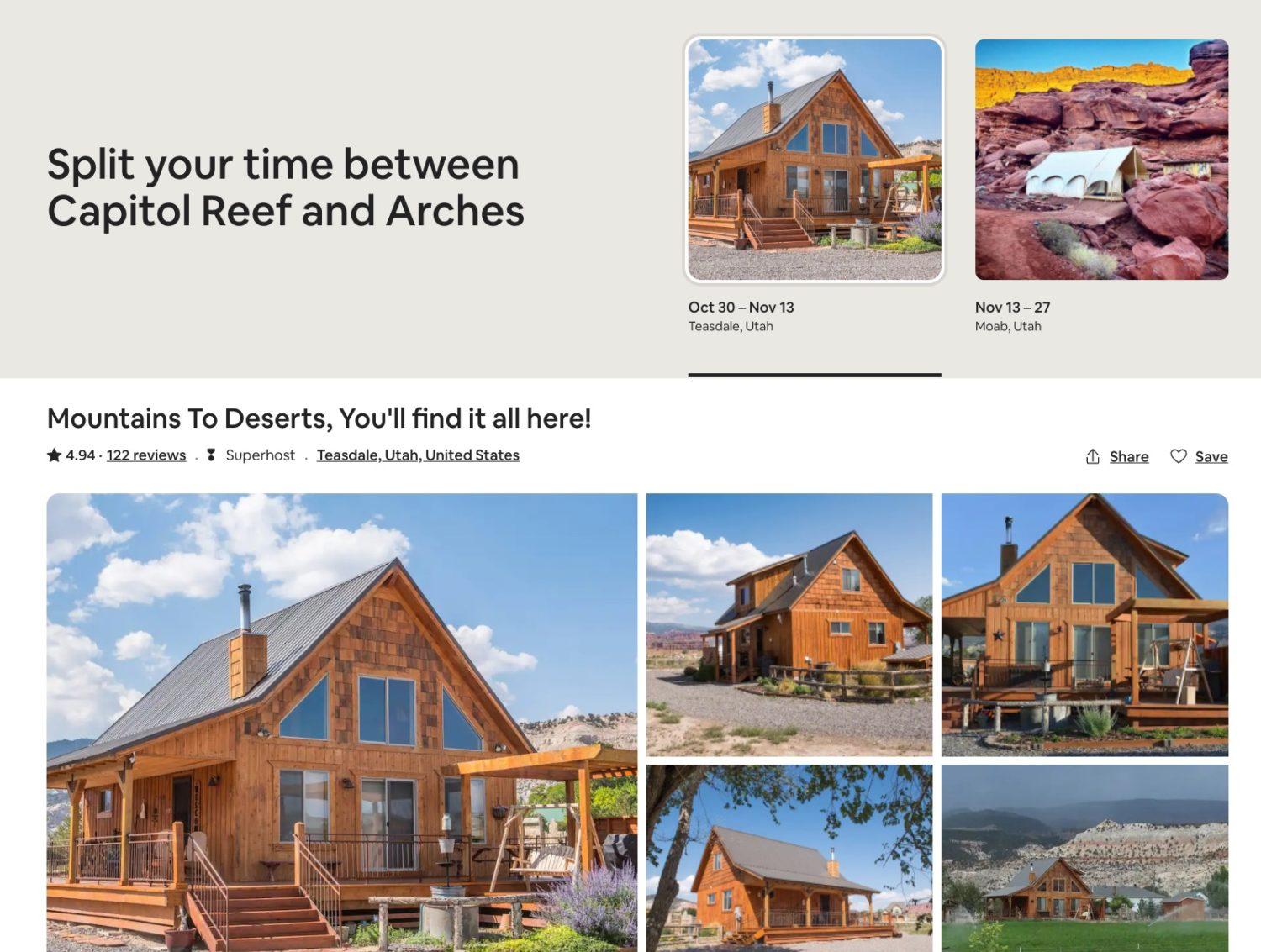 You'll see these Split Stays highlighted on the map of results with a handy house icon. In most cases, the two properties included in these results are just an hour or two drive away from one another, though that may vary.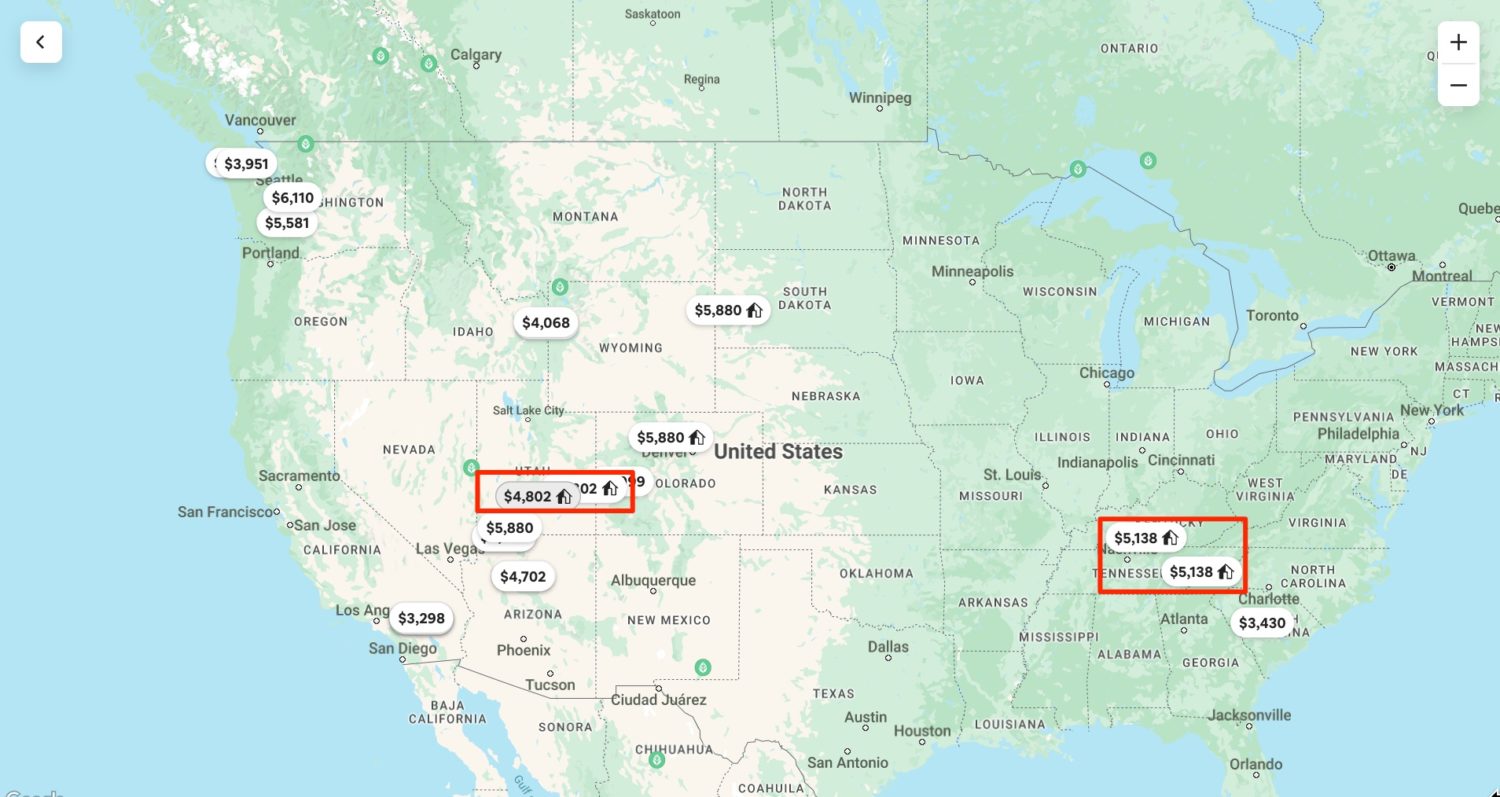 A word of warning: These Split Stay listings seem to skew on the expensive side. If you're interested, you may want to filter to set a maximum price before you get too deep.
New Travel Protection Policy
Just like the big box hotel chains, Airbnb has taken pains to give travelers more flexibility when planning trips in case things change throughout the pandemic.
They've overhauled the Airbnb cancellation policy, making it much easier for customers to find fully refundable listings while drastically increasing the availability of these homes with flexible policies. At the same time, Airbnb is set to end the policy that allows travelers to get a full refund if they test positive for COVID-19 for new bookings made June 1 and onward.
But now Airbnb has introduced an overarching set of travel protections called AirCover, which apply to each and every Airbnb reservation. Here's the gist of it:
If a host cancels within 30 days of check-in, Airbnb is guaranteeing an automatic full refund and says they'll help find a similar (or better) home instead. These last-minute cancellations have been a major worry for travelers wary of using Airbnb, especially during the pandemic.
If you have problems checking in to your Airbnb and can't reach your host, Airbnb will help find a suitable alternative listing or give you a full refund.
Didn't get what you booked? For undisclosed issues like a host or pet being present at your place, an uncleaned home, the wrong number of bedrooms, or major broken items like a nonfunctioning refrigerator, Airbnb says they may issue a partial or full refund if your host can't resolve the problem first. Just be sure to report the issues to Airbnb within 72 hours.
A dedicated, 24-hour safety line operated by special agents if you feel unsafe in your Airbnb.
Let's be clear: This isn't travel insurance. There's a lot of wiggle room here for Airbnb to make a judgment call, so be sure to read the fine print of this new policy. And in many ways, some of these AirCover policies seem like measures Airbnb should have had in place from the very start.
Still, it's nice to see Airbnb put some minimum commitments on paper to protect their customers – especially for problems that are a major source of heartburn for travelers when using Airbnb.
Bottom Line
Airbnb says this is the biggest change to the homesharing platform in more than a decade. They're not wrong. These are some great new features that will make it much easier for travelers to find what they're looking for on Airbnb – even when they're not sure exactly what that is.
The new Airbnb Categories are so much fun. Split Stays could come in handy for travelers who are hitting the road for weeks (or months) at a time but having trouble finding enough availability in one spot. And the new AirCover policy will give travelers some much needed protections for their next Airbnb reservation.