Airbnb has been rolling out program after program these last few months. First came the Airbnb Plus program for 5-star certified homes. They've plowed more and more into the day-trip and guided tours offerings with Airbnb Experiences. Most recently, they announced Airbnb Adventures: all-inclusive, full-service tours with local guides.
But they're not done. Airbnb is now trying to corner the market of luxury travel with Airbnb Luxe, adding the ability to book luxury villas and homes through Airbnb.
Read on to see what it's all about.
What is Airbnb Luxe?
If Airbnb Plus put the home sharing platform on steroids, Airbnb Luxe raises the bar even higher. These homes are the cream of the crop.
These homes range anywhere from a few hundred to a few thousand dollars a night, and they're geared mostly toward families or groups of travelers. Airbnb bills these accommodations as "pristine, expertly designed homes with luxury amenities, services, and a dedicated trip designer."
Check out this massive and gorgeous villa in Bali, with a pool overlooking Bali's iconic rice terraces and a professional chef on site. At more than $1,000 a night, it's not exactly cheap. But it can sleep up to 20 people, which makes it an affordable option for a large group.
Properties must apply and be accepted to the Luxe program. Similar to Airbnb Plus, each property is officially vetted. But these luxury properties take accommodations to the next level. Luxe homes are verified on over 300 points to ensure a perfect stay and provide amenities that regular and Plus homes do not offer.
What's Included in an Airbnb Luxe?
These homes are immaculate, beautiful, and provide top-notch amenities you won't find in a typical Airbnb – or even Airbnb Plus.
For example, check out the features and amenities included at this Airbnb Luxe property, Villa Chiara in Tuscany:
Many luxury services are provided in each Airbnb Luxe home. You can add some additional services for an extra cost, for example:
Services and amenities will vary by property, but all Luxe properties offer features that you don't get with regular Airbnbs or Airbnb Plus homes.
Airbnb's other recent venture, Airbnb Adventures, provides fully guided and all-inclusive tours. Luxe takes a page from that book and provides a dedicated trip designer for each booking. This "trip designer" provides airport pick-up, welcomes you to the luxury home, and can plan every detail of your vacation. Want reservations at a 5-star restaurant or tickets for a show? This trip designer can do all the leg work at no extra cost.
How Do I Search and Book an Airbnb Luxe?
Airbnb Luxe homes aren't available in every city. You'll find them in cities like Los Angeles, Punta Mita, and Cape Town, or in Bali or Tuscany.
To see if Airbnb Luxe properties are available in your destination, go to "More filters" and select to only see Airbnb Luxe homes.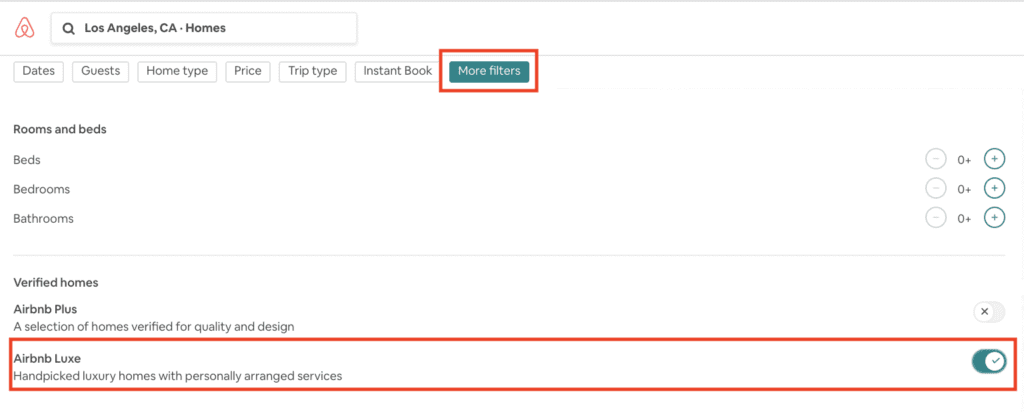 If your destination has Luxe homes available, you'll see "Luxe Verified Luxury Home" in purple above the home description.
Bottom Line
Airbnb's entrance into the luxury home rental market comes on the tails of other recent Airbnb announcements. Airbnb Luxe offers an elevated experience, building on the home vetting of Airbnb Plus and services of Airbnb Adventures.
And while there's no denying these homes are more expensive than your typical flat in London or Madrid, you get a lot. If you're traveling with a large group, you could even come out ahead and stay in luxury.
All photos courtesy of Airbnb