Alaska Airlines recently introduced the ability to use Alaska miles to book flights on Singapore Airlines – including first and business class seats.
That's a huge change – for years, the only way to book premium seats on one of the world's best airlines was using Singapore's own KrisFlyer miles. And Singapore business class is outstanding, with some of the biggest seats and best meals you'll find in the sky. These two airlines partnered ages ago, but the ability to book Singapore flights with Alaska miles has been on hold until now.
But just because it's a big change doesn't mean it's a good deal. And just because you can doesn't mean you should.
Alaska charges 100,000 of its Mileage Plan miles for a one-way flight in business class between the U.S. and Singapore (SIN). Economy clocks in at 47,500 miles, while first class will cost you a whopping 130,000 miles each way. Rates are slightly cheaper flying from the U.S. to Tokyo-Narita (NRT) or Seoul-Incheon (ICN). And unfortunately, you can't use Alaska miles to fly one of Singapore's awesome fifth-freedom routes from the U.S. to Europe.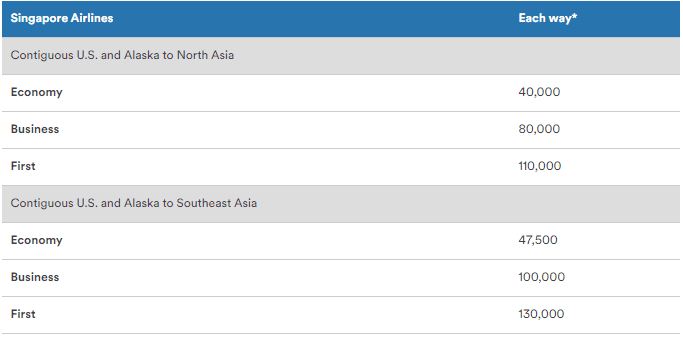 No matter how you slice it, that's not a great deal. Even after Singapore raised the price of awards early this year, business class flights are cheaper at 95,000 for a one-way between the West Coast and Singapore. Flights in economy are also cheaper booking through Singapore: 38,000 miles from the West Coast.
More importantly, Singapore miles are infinitely easier to earn – you can transfer them from Chase, American Express, Citi, and Capital One. Alaska, meanwhile, does not have any credit card transfer partners. While they're some of the most valuable miles out there, they're also some of the hardest for average travelers to earn.
In short: It's typically cheaper to book the exact same flights with Singapore miles, which are much easier to earn. You're much better off using Alaska miles on other airlines like Japan Airlines or Cathay Pacific.
To hammer this point home, you could use 100,000 Alaska miles for a one-way flight in Singapore Airlines business class. Or you could use that same 100,000-mile stash and book round-trip flights to Singapore and back in Cathay Pacific business class, stopping in Hong Kong (HKG) along the way.
Singapore business class may be great, but it's not twice as great.
Bottom Line
More options to use your airline miles is always a good thing. But unless if you've got more Alaska miles than you can ever use in your lifetime, this isn't the way to do it.
If you can earn enough Alaska miles to book Singapore, you can earn enough Singapore miles to book Singapore. And that's the better way to go.
Want the best flight deals and travel tips delivered to your inbox?
Sign up for Thrifty Traveler, and like us on Facebook or follow us on Twitter & Instagram

Editorial Note: Any opinions, analyses, reviews, or recommendations expressed in this article are those of the author's alone, and have not been reviewed, approved, or otherwise endorsed by any card issuer.