There's more good news for using American AAdvantage miles: You can now book flights on Hong Kong's Cathay Pacific online at AA.com!
Cathay Pacific is widely regarded as one of the world's best airlines, with a great business class seat and one of the world's most luxurious first class cabins. But these flights haven't been the easiest to book using AA miles – they haven't shown up when searching for flights online, requiring a convoluted process to eventually book by phone.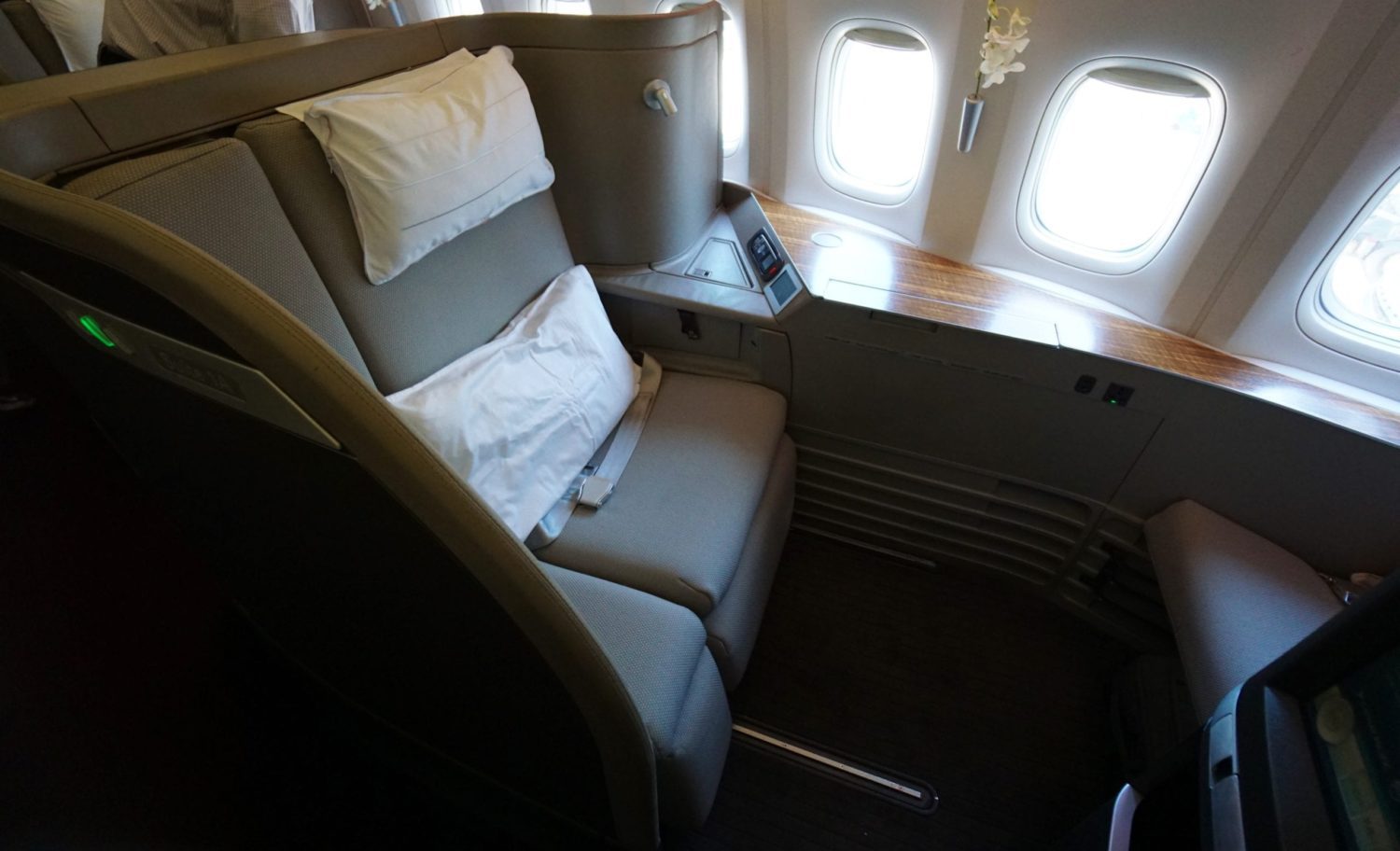 As of Thursday, that's changed. View from the Wing first reported that Cathay Pacific awards are now bookable through AA.com. 
The one small hitch with this development is that you'll only find Cathay awards when using American's older (and far superior) award search tool. Bookmark this link and use it to start searching.
American has been on a tear lately, adding more and more of its excellent partner airlines to its online booking engine. In the last year alone, it has added Qatar Airways, Etihad, Japan Airlines, and many more.
But this addition is one of the best yet because finding Cathay Pacific award space – particularly for business and first class seats – can be notoriously difficult.
Prior to this addition to AA.com, the only feasible way to search for Cathay flights was to British Airways, which doesn't give you a calendar view to easily zero in on available flights. Then you'd have to call American to actually book the ticket.
Booking Cathay Awards
Here's a look at pricing when using AA miles to fly Cathay from the U.S. to Hong Kong, or vice versa:
Economy: 37,500 AAdvantage miles each way
Business Class: 70,000 AAdvantage miles each way
First Class: 110,000 AAdvantage Miles
But it gets better. If you're not looking to spend time in Hong Kong – and given the ongoing unrest, you're not alone – you can connect onward to almost anywhere in Southeast Asia for the same price. That means you could fly business class from the U.S., make a pit stop in Hong Kong (HKG), and head to Singapore, Thailand, Vietnam, or elsewhere still for just 70,000 miles each way.
Pricing is just half the equation – you have to find award availability to use those miles. And you're in luck, as there is some pretty great availability to use your miles on Cathay flights.
Thrifty Tip: Start by searching nonstop routes like JFK-HKG, LAX-HKG, BOS-HKG, ORD-HKG, etc. to find dates that work. Then, search starting your home airport (example: MSP-HKG) on that date to add in a free domestic connecting flight.
For example, it's pretty easy to hop on a business class flight from Chicago-O'Hare (ORD) to Hong Kong (HKG) in the next several weeks. If you're looking to fly Cathay Pacific, this kind of close-in availability is usually your best bet.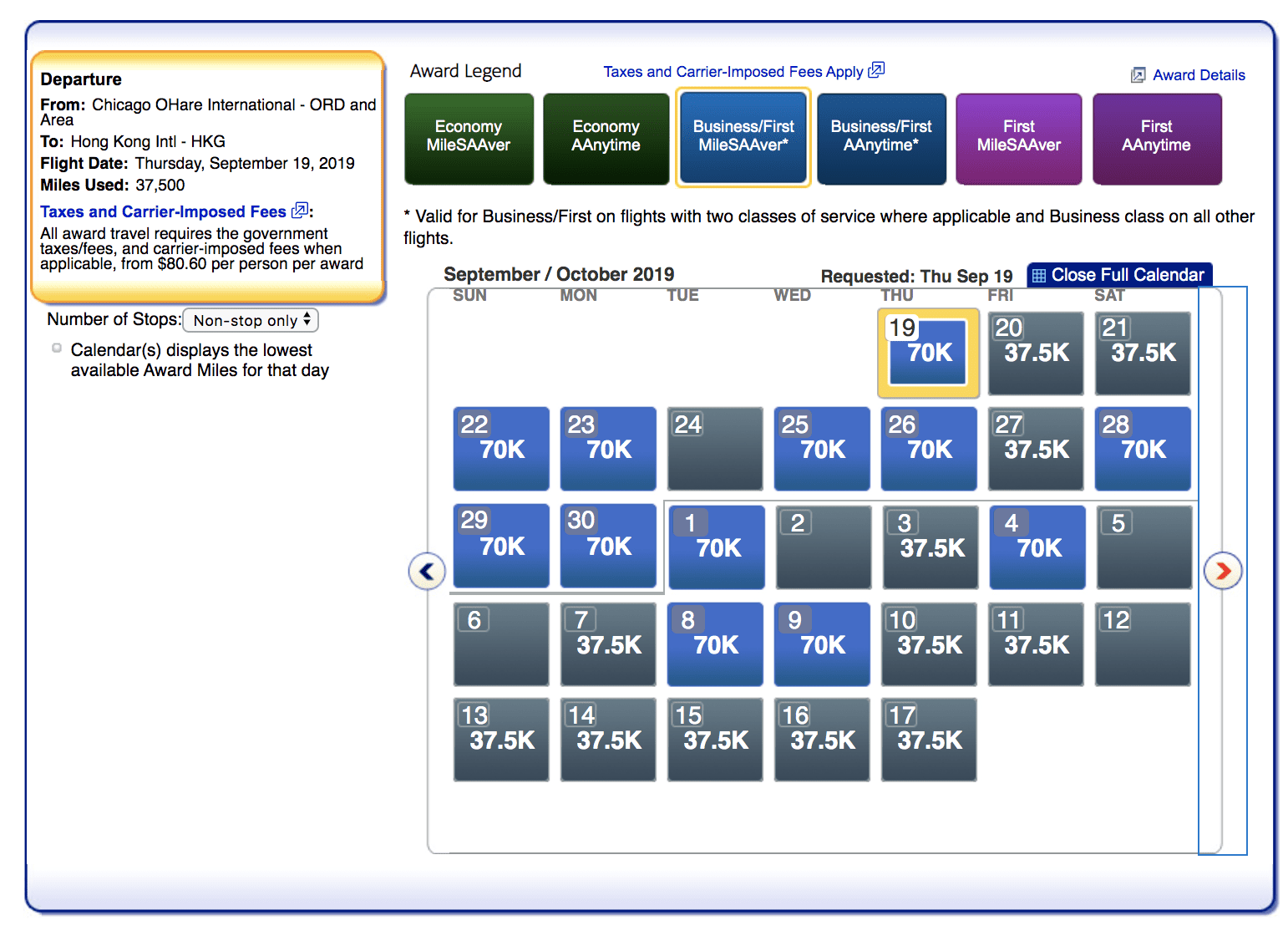 The same is true for flights from Boston (BOS) to Hong Kong, for example.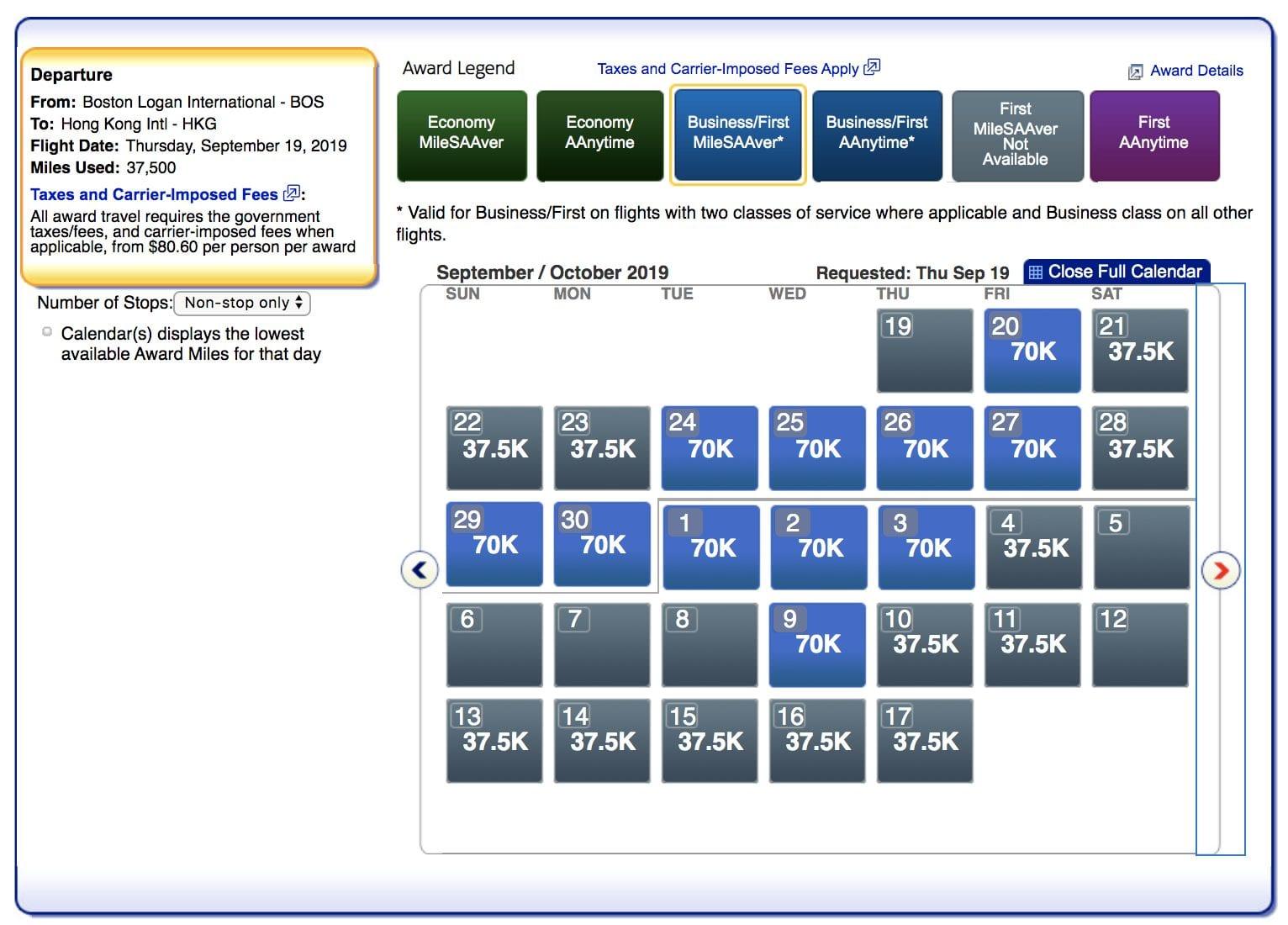 But if you're not looking for a spontaneous splurge, don't worry – our friend Spencer and his outstanding award alert service, Straight to the Points, has you covered (sign up for his free newsletter if you haven't already. He found some amazing availability to fly from New York City (JFK) to Hong Kong from April through August of 2020 – including many dates with enough business class seats for a family of four or more.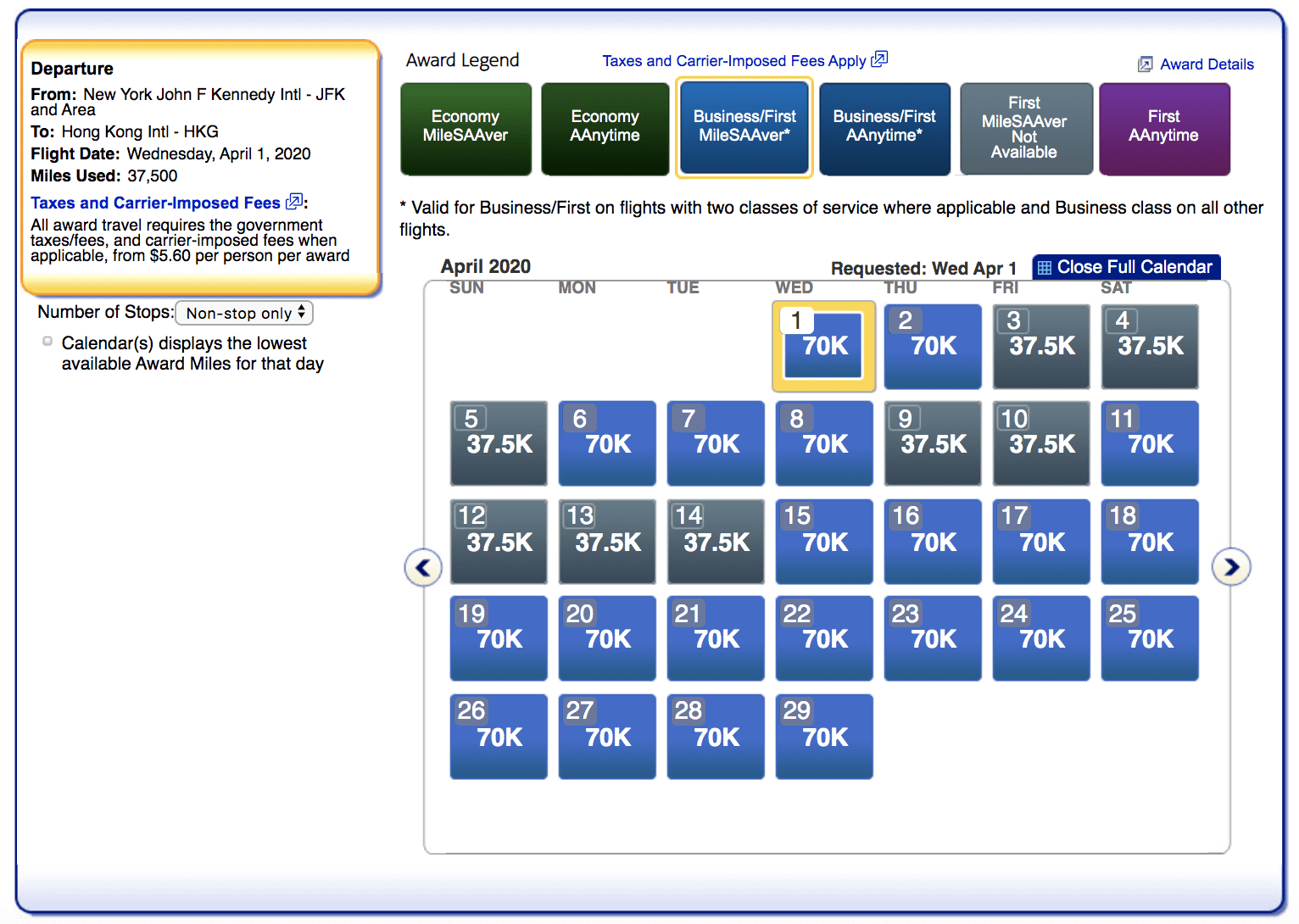 Flying in Cathay's massive first class seats is almost as easy, depending on when you're looking to go. Just don't count on booking more than one seat available at a time. Check out how easy it is to fly from New York to Hong Kong in first class next April.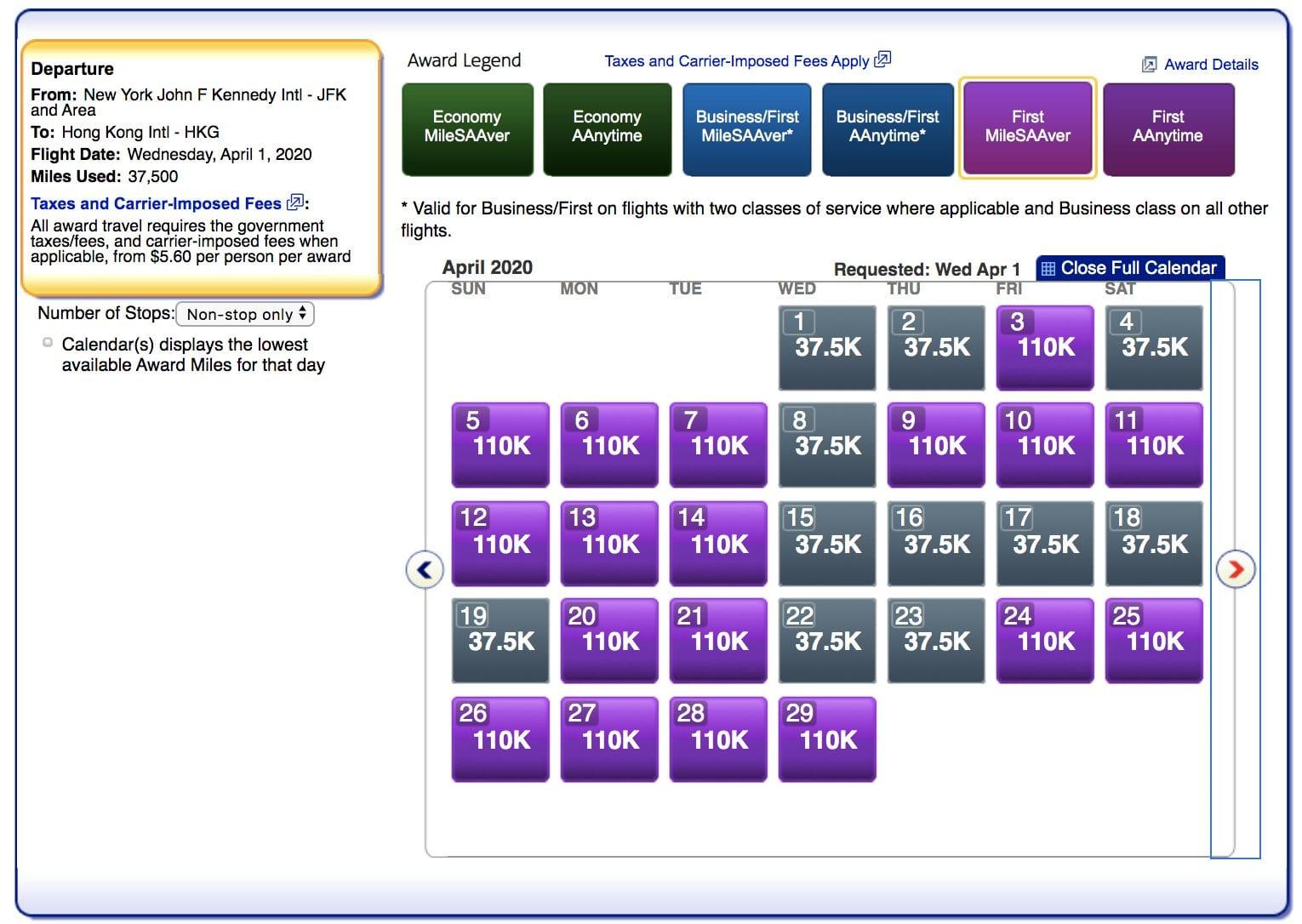 It's worth noting that there's a cheaper way to book these exact same flights. Using Alaska Airlines miles, you can fly business class for just 50,000 miles each way and first class for only 70,000 miles. 
But if you've got American miles, it just got much easier to use them on a great airline.
Bottom Line
This is a big addition to AA.com. We still think there are better ways to get to and from Asia in style, but Cathay Pacific is still a great way to use your American Airlines miles.