For the past several months, it's been harder to book Qatar Qsuites with American Airlines AAdvantage miles. At some point last October, American's website stopped displaying Qatar availability more than 60 days in advance.
But we're happy to report that you can, once again, easily search for Qsuites award availability and book via AA.com.
One of our readers tipped us off to this great news over the weekend, which makes it much easier to pinpoint available dates to use your American AAdvantage miles to book the best business class in the world. And while using AA miles is the best way to book Qsuites, this will also make it easier to book the lowest saver-level awards with Qatar Avios.
Read our full review of flying Qatar Qsuites business class from Dallas-Fort Worth (DFW) to Doha (DOH)!
Search for Qatar Qsuites Availability via AA.com
Have a big stash of American Airlines AAdvantage miles? Here's how you can book the world's best business-class seat.
Head to AA.com and choose the advanced search. It will be easiest to pinpoint the dates by searching for each nonstop leg separately since this will help you filter your results to show only Qatar-operated flights.
First, search for the nonstop flight from your North American gateway to Qatar's hub in Doha (DOH). Qatar currently flies from 12 U.S. cities and one in Canada.
Atlanta (ATL)
Boston (BOS)
Chicago-O'Hare (ORD)
Dallas-Fort Worth(DFW)
Houston-Intercontinental (IAH)
Los Angeles (LAX)
Miami (MIA)
Montreal (YUL)
New York (JFK)
Philadelphia (PHL)
San Francisco (SFO)
Seattle (SEA)
Washington, D.C.-Dulles (IAD)
Select "redeem miles", search one-way, the exact number of passengers traveling, and choose "business/first" under "class". On the following page, click on the "calendar" icon to maximize your view of travel dates.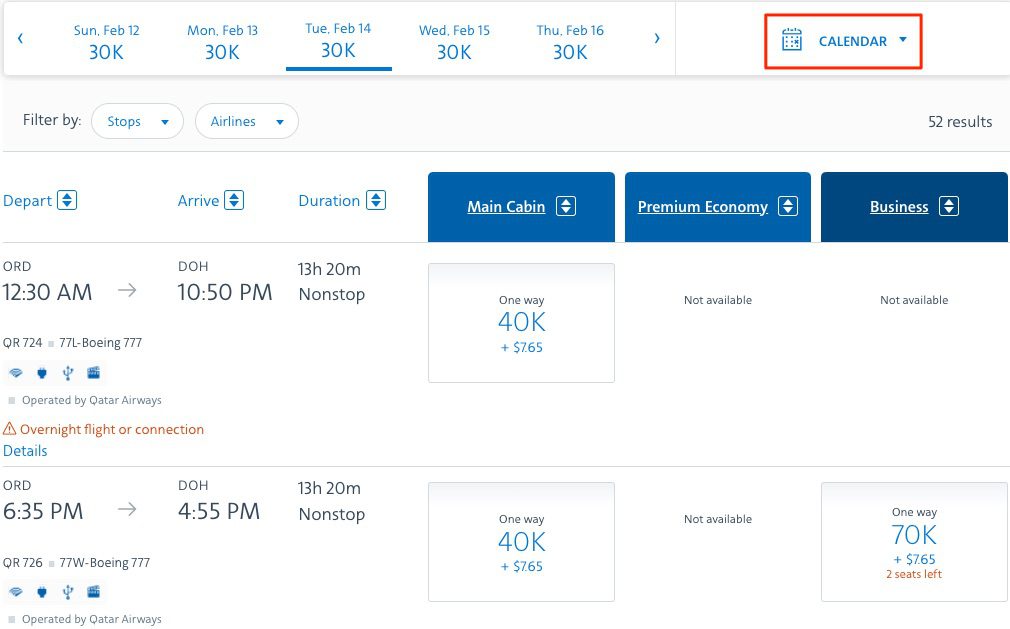 Once you're in the calendar view, make sure to filter for nonstop flights only. And also verify that your cabin filter is set to business class if you're looking for Qsuites. If you see dates available in green, these will be Qsuites when searching nonstop flights to/from Doha with the only exception being from JFK where you may see some flights operated by American Airlines itself.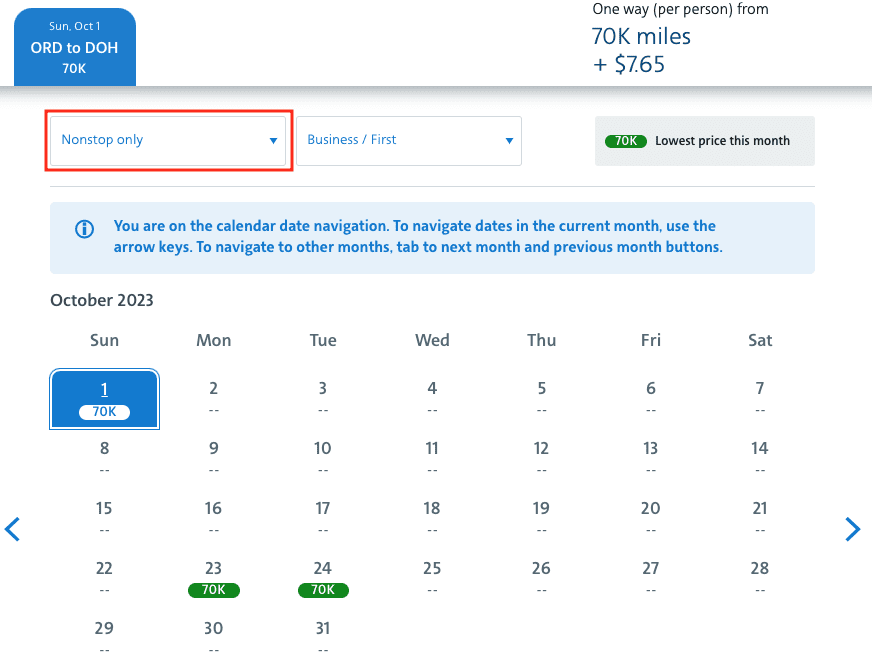 If you're looking to fly beyond Doha, try searching for your final destination in months where you saw availability on the nonstop flight to Doha.
After searching and expanding to the calendar view, filter your results to show "1 stop or fewer" availability. That will help weed out other airlines and give you the best chance at pinpointing availability on Qatar-operated flights.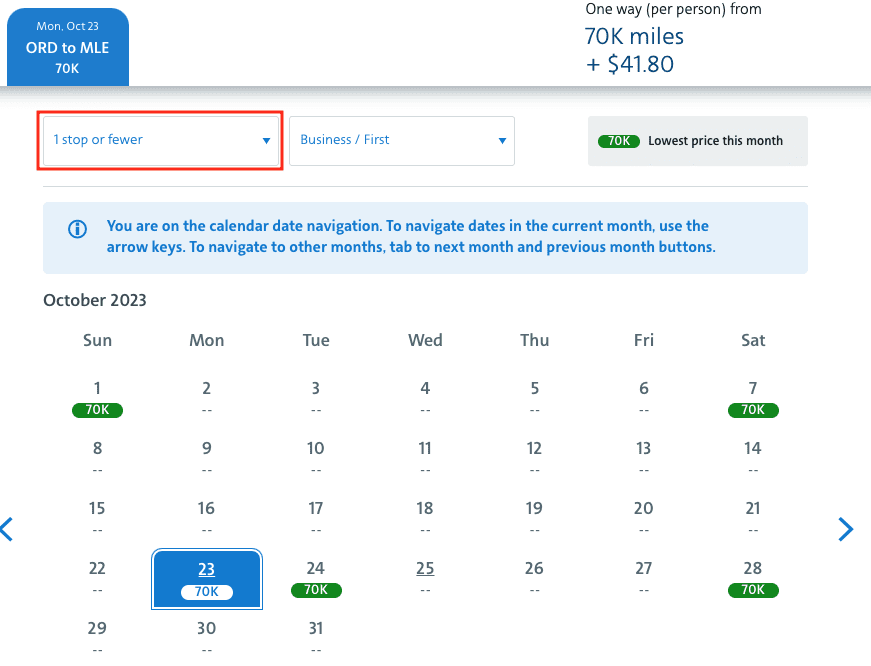 When choosing your flights, you can also filter on this screen to only show "Qatar Airways" flights. It may take some trial and error but this is far easier than searching on British Airways' website or directly with Qatar.
However, you can only search for availability on American's website for travel up to 331 days in advance. If you're looking for availability beyond 331 days, you can search on British Airways' website for nonstop flights to/from Doha (DOH) or search directly via Qatar's website for connecting flights.
Read more: The Best Websites for Finding Award Availability
We've tested and confirmed that Qsuites business class awards are once again searchable and bookable directly on the American Airlines website.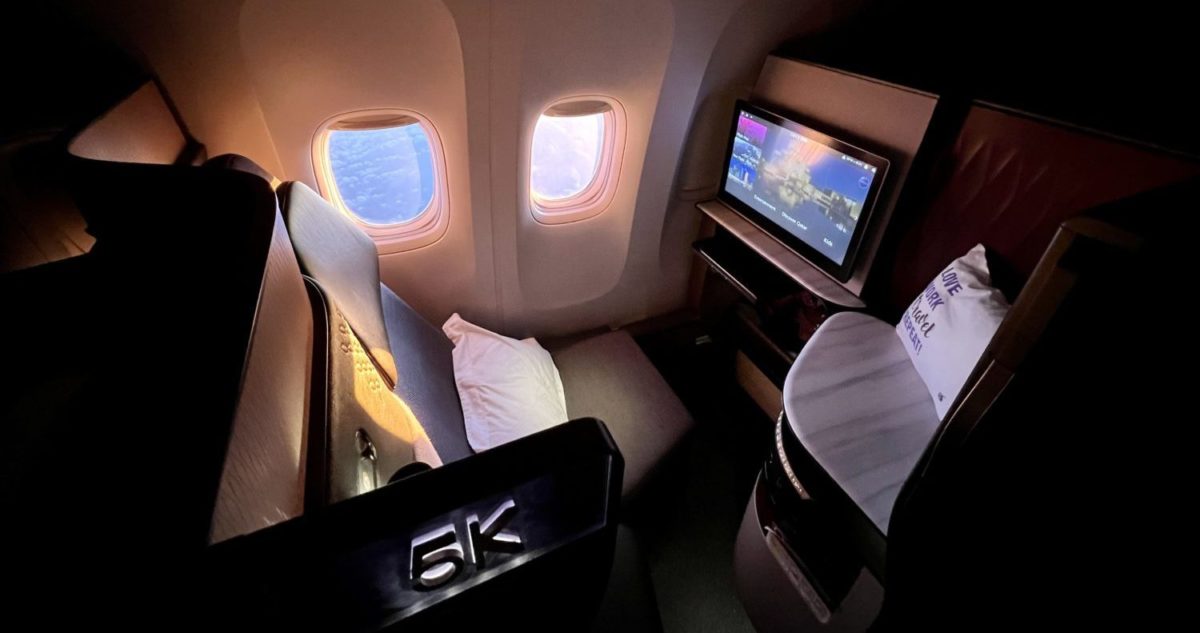 Want Award Space Alerts? You Need Thrifty Traveler Premium+
Flexible with travel dates and destinations? Just looking to use your points and miles to go wherever there is a deal? We may be biased, but we think the best option for this type of traveler is Thrifty Traveler Premium+.
With a Premium+ membership, you'll not only get flight deal alerts but also award availability alerts across all airlines and alliances – including Qatar. And we only send deals that have good availability and can be booked for at least two passengers.
For example, Thrifty Traveler Premium+ members recently received an alert for a ton of availability flying Qatar's Qsuites all the way to the Maldives & Seychelles starting at just 70k points each way.
Join Thrifty Traveler Premium+ – you'll come out ahead (and then some!) after booking your first deal!
Bottom Line
You can once again find availability for Qatar Qsuites business class by searching on American Airlines' website. This is excellent news since AA's search engine allows you to see availability over a full-month period and has great filters that allow you to pinpoint the flights you're looking for.
After several months of needing to search for availability elsewhere and having to call AA to book Qatar business class awards, you can now search and book directly online.