After piling up miles throughout the pandemic or snagging eye-popping bonuses on the Capital One Venture X Rewards Credit Card from its launch last year, travelers have plenty of Capital One Venture Miles in their accounts. Here's a chance to get even more out of them – while you still can.
Capital One kicked off August with not one but two brand new transfer bonuses: A 20% bonus when sending your miles to Air France/KLM and another 20% bonus for transferring to British Airways. That means a stash of 100,000 Capital One Venture Miles could get you 120,000 Air France/KLM Flying Blue miles … or 120,000 British Airways Avios.
But both of these bonuses are set to end at 11:59 p.m. EST on Aug. 31, which means you've got just under a week to take advantage before they disappear.



Not sure how (or why) to transfer your miles? Read our full guide to Capital One transfer partners!
These transfer bonuses are basically free airline miles – it's a great way to get even more value out of your credit card points. Just remember: These transfers are a one-way street. Once you send your credit card points to an airline or hotel chain, you can't get them back. That means you'll want to have a specific redemption in mind – and confirm those flights have award availability – before sending them to either Air France/KLM or or British Airways.
Fortunately, there are tons of great ways to put these transfer bonuses to use whether you're aiming to get to Hawaii for less, book a Caribbean getaway, hop over to Europe, or even fly Qatar Qsuites to the Middle East. Keep reading to see the best ways to put these bonuses to use.

4 Great Ways to Use the British Airways Transfer Bonus
British Airways might be the largest airline in the U.K., but that doesn't mean your only focus for using these miles should be on transatlantic flights to London. Far from it.
There are plenty of great ways to use British Airways Avios. And with this 20% transfer bonus, those redemptions get even better.
Hawaii and Back for 22K Points
One of the cheapest ways to book flights to Hawaii involves … British Airways?
That's right: You can book flights to Hawaii with miles from the massive U.K. carrier, using British Airways Avios to fly American Airlines or Alaska Airlines out to the islands.
While American Airlines frequently charges 45,000 AAdvantage miles or more for these flights, you can fly from the West Coast to Hawaii for just 26,000 Avios. Factor in the 20% transfer bonus, and you need just 22,000 Capital One miles to make it happen. 
The trick to getting these ultra-low rates is starting your search in Los Angeles (LAX) or Phoenix (PHX), both of which have nonstop service to the islands. You can also start from other cities like Seattle (SEA), Portland (PDX) San Francisco (SFO), San Jose (SJC), or San Diego (SAN), as Alaska Airlines nonstops to Hawaii are also bookable at these rates.

Read more on the cheapest ways to get to Hawaii using points and miles!
Availability to book these American Airlines flights via British Airways is typically quite solid – especially if you're looking at least a few months in advance. The same is true of Alaska Airlines.
Roundtrip to Spain for 29K Points
Most airlines charge about 60,000 to 70,000 miles to fly from the U.S. to Europe and back. One airline can get you there and back for half that price.
Yes, it's British Airways again – but you're using those miles to fly Iberia, the Spanish flag carrier, straight to Madrid (MAD). Depart from the right cities and at the right time, and you can score round-trip flights straight to Madrid (MAD) for just 34,000 miles plus about $200 in taxes and fees – or just 29,000 Capital One miles with this transfer bonus.
For many years, you'd much rather book these flights with Iberia itself rather than partner British Airways because the U.K.-based airline program tacked on hundreds of dollars in extra fees. No more: Now you'll pay the same amount in fees no matter which of the two airlines' miles you use to book. And that makes it much easier to transfer just 29,000 Capital One miles to your British Airways account and book a roundtrip flight to Madrid like this.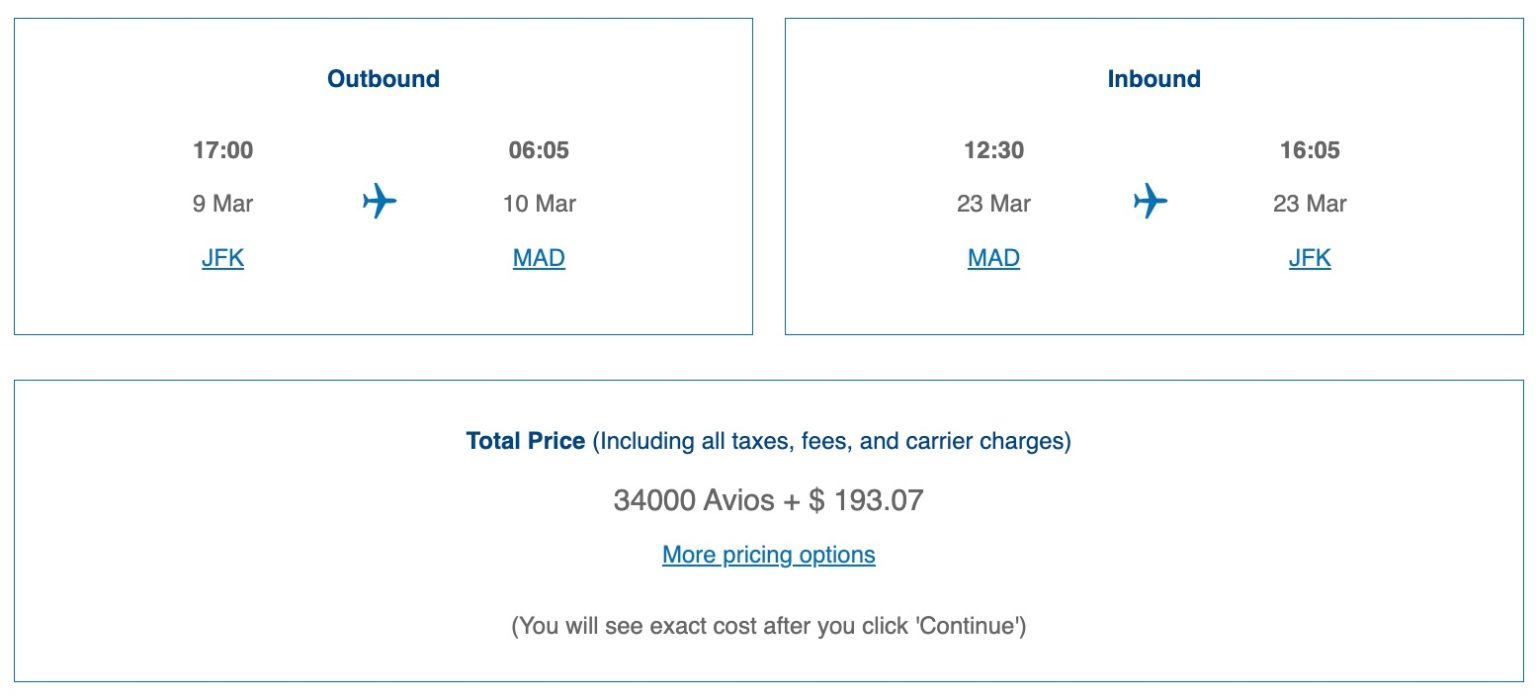 The trick? Iberia's distance-based award pricing system means you have to start your journey from the East Coast hubs of Boston (BOS), Washington, D.C.-Dulles (IAD) or New York City (JFK). Luckily for Midwesterners, Chicago-O'Hare (ORD) works at this price, too. Departing from other Iberia outposts like Miami (MIA), Dallas-Fort Worth (DFW), San Francisco (SFO), or Los Angeles (LAX) will cost you more miles.
You also need to time it right. Iberia uses peak and off-peak pricing, which means getting these cheap flights at 34,000 miles requires traveling during the off-peak season. Luckily, Iberia's definition of "off-peak" is typically quite generous: It means you can fly at the lowest rates for nearly 2/3 of the year. Mid-June through mid-September are generally considered peak summer season, with some scattered weekends and holidays blocked off, too. Check out Iberia's full calendar to scope out the dates.
… Or Do it in Business Class for 57K
Flying business class to Europe doesn't get any cheaper than this. In fact, we consider it one of the best deals in points and miles. And with a 20% transfer bonus to British Airways, the best somehow gets even better.
After transferring to British Airways and again over to Iberia, it brings your final tally to just 29,000 miles for a one-way Iberia business class flight to Madrid – or 57,000 points roundtrip! That's a roundtrip flight in business class for less than what almost every other airline would charge you to fly in economy.
Why not fly like this rather than back in economy when you can do it using fewer points?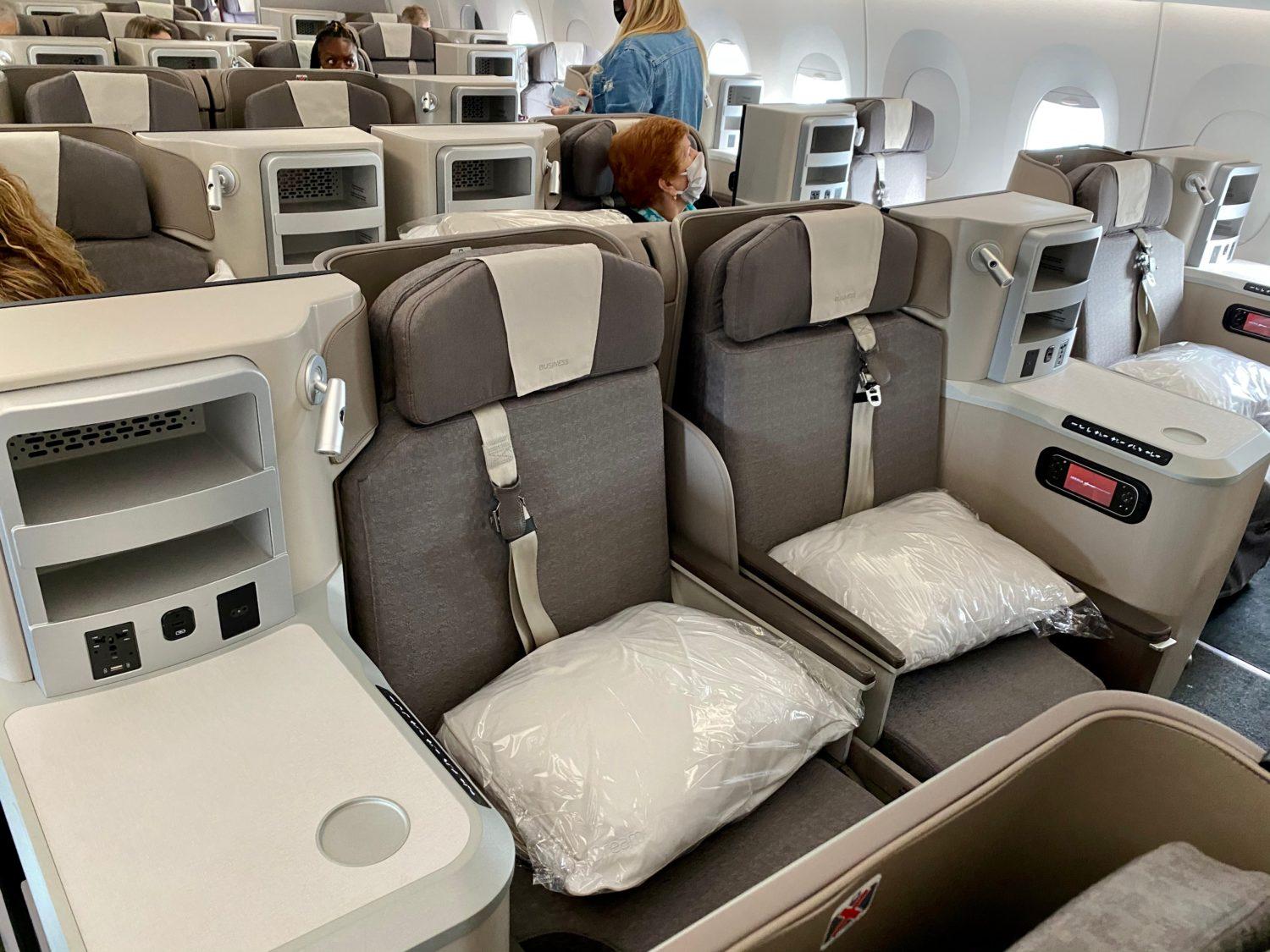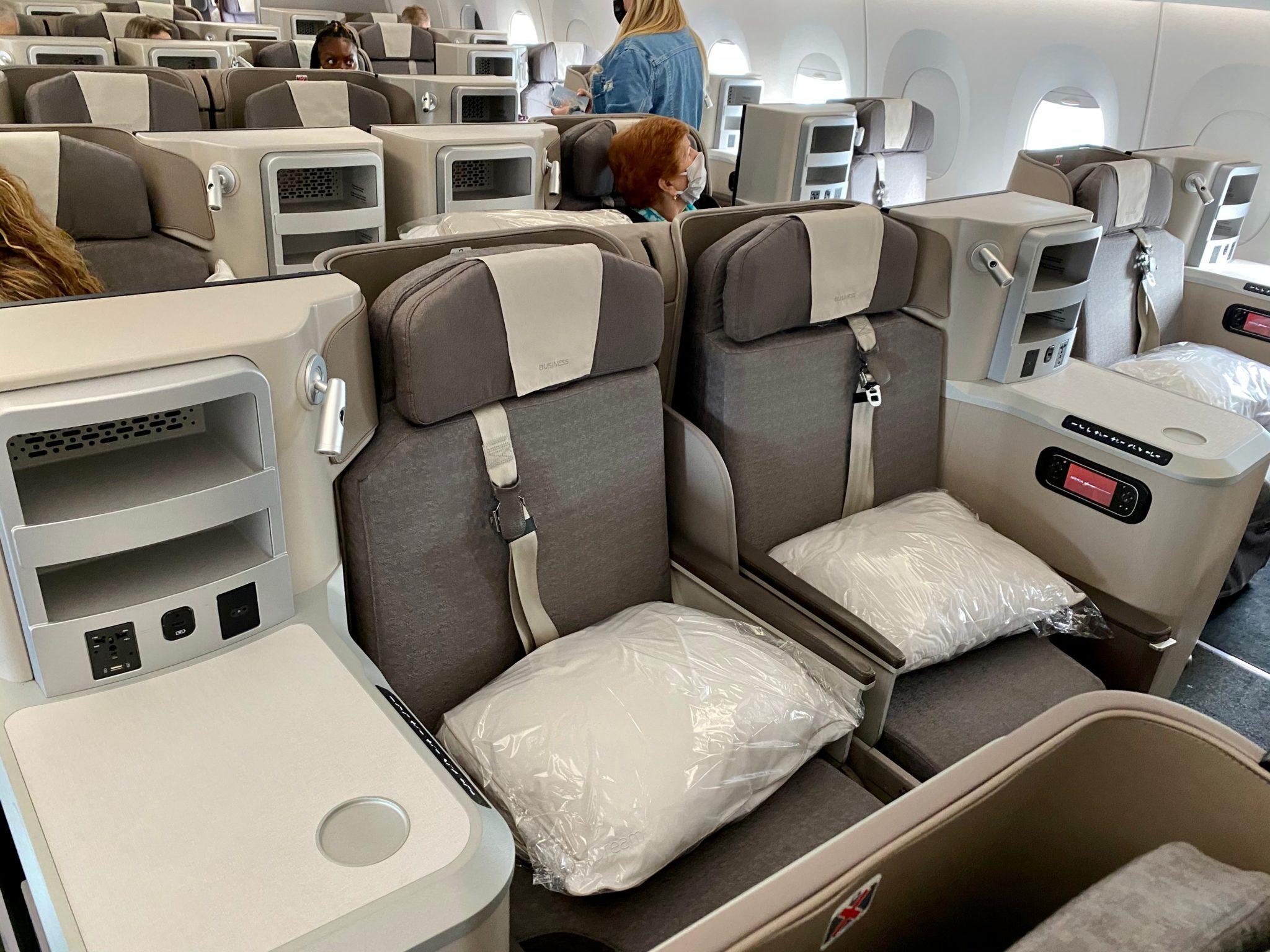 Read our full review of Iberia business class!
Booking Iberia business class flights follows the same script as the economy example above. Focus on flights from New York City, Boston, Washington D.C., and Chicago to Madrid to get the lowest rates. Off-peak travel times are key. Better yet, there's typically plenty of Iberia business class award availability as far out as July 2023, which makes it easier to score these seats using your points than you'll find with many other airlines.
Flying lie-flat to Europe and back for just 57,000 points and $250 in fees is tough, if not impossible, to beat.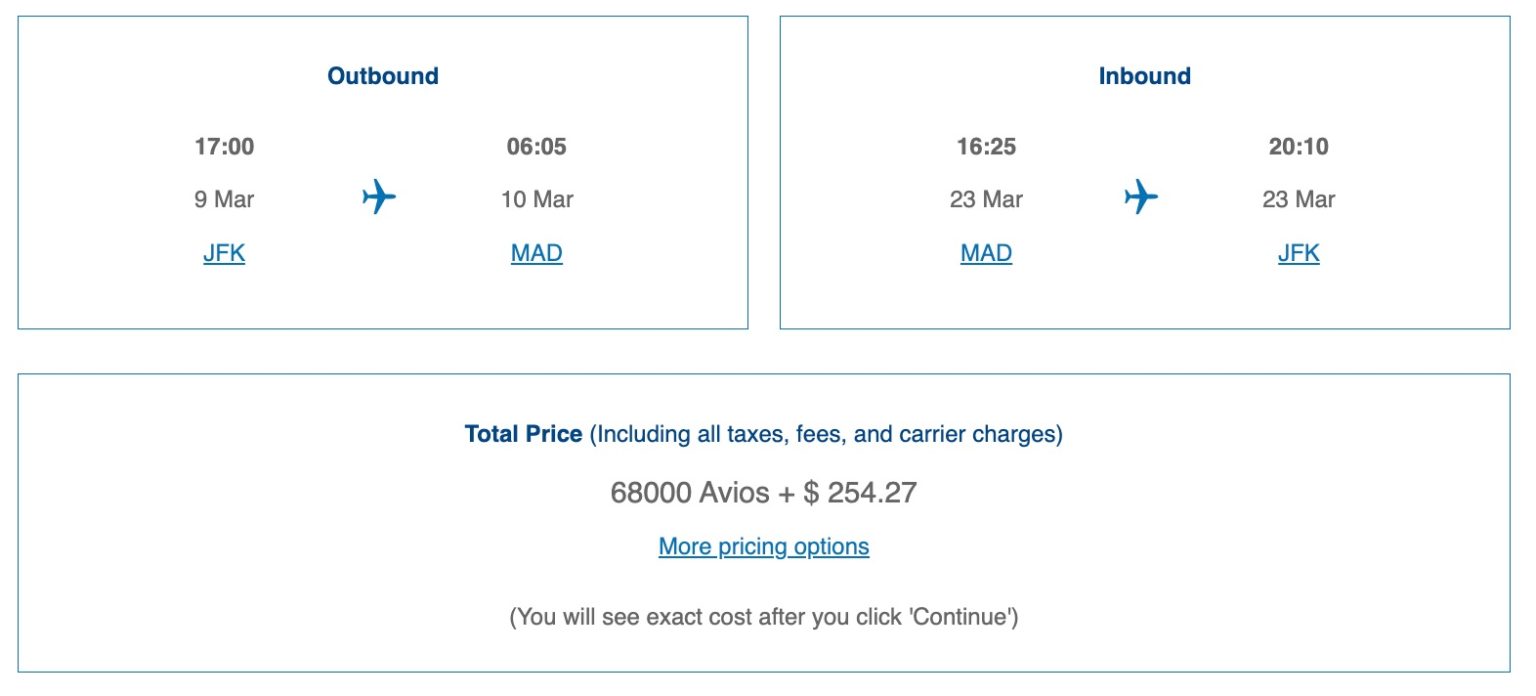 Need more help? Read our guide to booking Iberia business class! 
Fly East Coast to the Caribbean
Instead of flying from the West Coast to Hawaii, head from the East Coast down to the beaches of the Caribbean.
British Airways' distance-based award pricing means these relatively short jaunts south start at just 7,500 miles each way. For example, you can fly from Miami (MIA) to Aruba (AUA) for just 9,000 Avios each way, or 18,000 round trip. Factor in this transfer bonus, and that's just 15,000 miles for roundtrip flights to Aruba.

Here's a look at the British Airways Avios award rates based upon the distance of your flight down to the Caribbean:
0 to 650 miles: 7,500 Avios each way
651 to 1,150 miles: 9,000 Avios each way
1,151 to 2,000 miles: 11,000 Avios each way
2,001 to 3,000 miles: 13,000 Avios each way.
Just plug your flights into GCmap.com to measure the distance. And you'll want to ensure you're finding nonstop flights, as British Airways charges on a per-segment basis.
Book Qsuites for Cheap
We saved the best for last.
Thanks to Qatar Airways' recent adoption of Avios, the floodgates are open to book Qatar's world-leading Qsuite business class seats using Capital One miles. Factor in this 20% transfer bonus, and you can do it for fewer points than ever.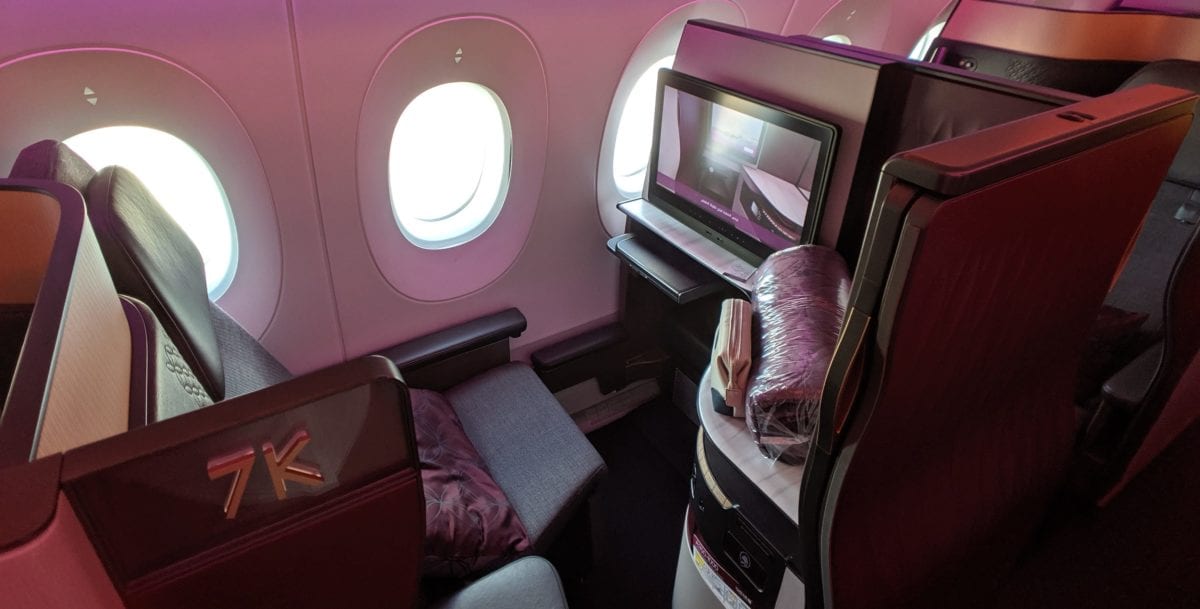 Check out our full review of Qatar Qsuites!
Here's the easiest route: You could book a simple nonstop from many cities in the U.S. over to Doha (DOH) for just 70,000 British Airways Avios and about $100 in fees. Find the award availability you want, transfer 59,000 Capital One miles to your BA account, and book it. Done. It doesn't get much cheaper or easier than that.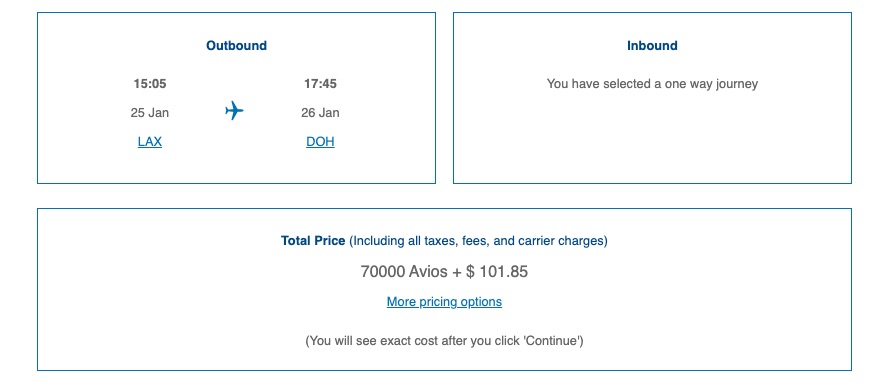 We send Thrifty Traveler Premium members award alerts when they can book the world's best business class using their points, plus cheap cash fares too!
But if you want to take it next level and connect elsewhere – Dubai (DXB) or Muscat (MCT) in the Middle East, Cairo (CAI), or maybe even the Maldives (MLE) or down to Cape Town (CPT) in South Africa – you'll want to turn to Qatar Airways Avios. Just like Iberia, you can combine your Avios balances between British Airways and Qatar. In fact, it's even easier – check out our walkthrough.
And these multi-segment awards wind up being much cheaper by booking through Qatar itself than British Airways, which still charges mileage on a per-segment basis. Booking through Qatar, you could fly in Qsuites to …
Middle Eastern destinations like Dubai (DXB), Abu Dhabi (AUH) or Muscat (MCT) for 75,000 miles – just 63,000 Capital One miles after the transfer bonus!
Other destinations like Amman (AMM) and Cairo (CAI) as well as major Indian cities go up to 80,000 miles each way, or 67,000 Venture Miles with this bonus.
Getting to the Seychelles (SEZ) or Maldives (MLE) will run you 85,000 miles each way, which works out to 71,000 Capital One miles.
Both Southeast Asia and South Africa typically cost 95,000 miles each way – 80,000 Capital One miles with the 20% bonus.
Just a few weeks back, we alerted Thrifty Traveler Premium members to some wide-open award space to fly Qsuites from several U.S. cities all the way down to Cape Town.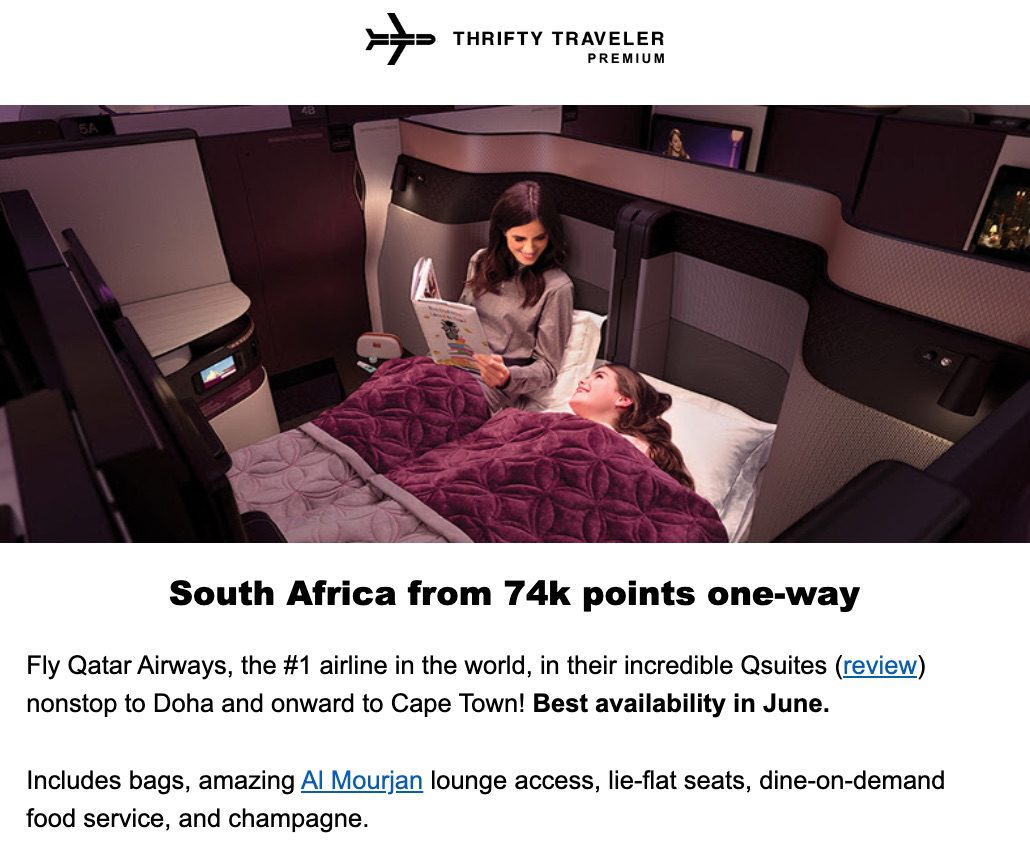 Qatar tacks on some decent cash surcharges at about $100 for a simple nonstop to Doha or $200 if you need to make a connection. But that's a price worth paying given you can book these incredible flights starting at 63,000 Capital One Venture miles.
Best Ways to Use the Air France/KLM Transfer Bonus
Flying Blue is the combined mileage program for Air France and KLM, and it's one of the best ways to book flights with SkyTeam airlines including Delta, Korean Air, and Air France or KLM, of course.
That's easily worth considering. You can regularly fly one-way from the U.S. to Europe in Air France business class for just 55,000 miles – or 44,000 points with this bonus. But Flying Blue miles are also easily the best way to fly Delta from the mainland out to Hawaii and back.
Cheaper Business Class to Europe
Flying Blue is a great way to fly to Europe and back – especially if you want to do it in KLM business class or Air France business class.
Whether you want to get to Paris-Charles de Gaulle (CDG), Amsterdam (AMS), or connect almost anywhere in Europe for just 55,000 to 58,000 miles each way. With this transfer bonus, you'd need as low as just 46,000 Capital One miles to make it happen. We occasionally see even cheaper award rates thanks to Flying Blue Promo Rewards, monthly specials with lower prices.



Finding flights at these low rates may require some flexibility, as you won't find them one very single date. Luckily, Air France and KLM allow you to easily scroll through up to a month's worth of flights to find the best deals. And sometimes we discover a goldmine, like wide-open award space from many U.S. cities … for up to seven passengers … including summer 2023!
With this transfer bonus, it works out to just 46,000 Capital One Venture miles for a lie-flat business class seat in peak summer 2023. You can't beat that.

Flying Blue typically tacks on about $200 for a one-way business class award to Europe – and about $380 or more for the way back. That's a small price to pay for $6,000-plus flights.
Of course, you can also book economy awards to Europe using Air France and KLM miles – including one-way trips from several U.S. cities for less than 20,000 miles. But Flying Blue also passes on some hefty cash surcharges on award tickets that make it less appealing for economy prices, while it can easily be worth paying $228 or so for a one-way business class ticket for Europe.
It's a great ride across the Atlantic ocean whether you're flying with Air France or KLM.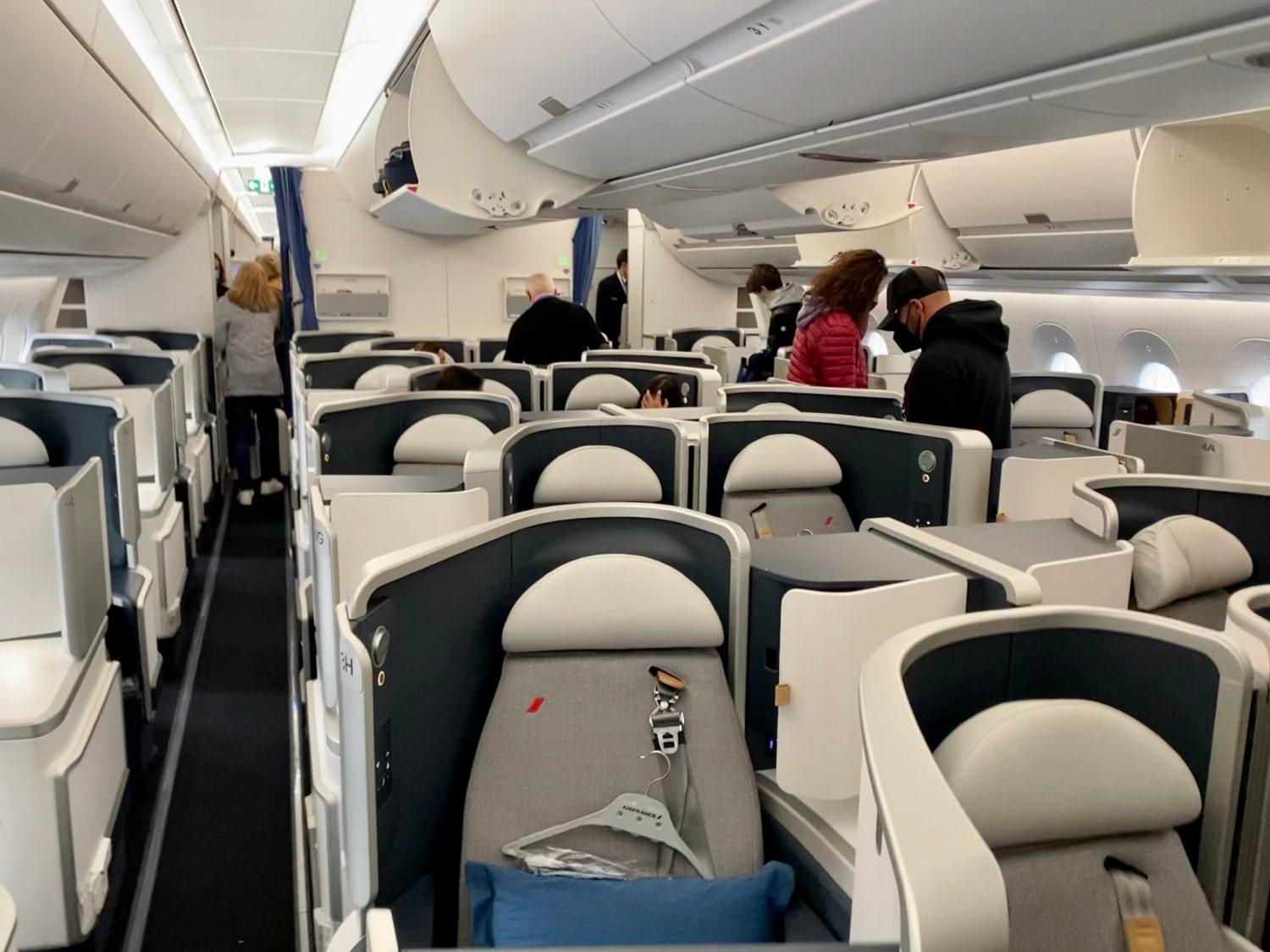 Read our full Air France business class review!
Nationwide to Hawaii for 30K Points RT!
Our single favorite way use Air France and KLM miles isn't to fly either European airline. Why not use this bonus is to fly from the continental U.S. to Hawaii on Delta?
No matter whether you're flying nonstop from the West Coast, making the long trek from New York City (JFK) or Boston (BOS), or starting from a tiny airport in the Midwest, you can book from just 35,000 miles to any of the Hawaiian islands and back.

At that rate, you could transfer only 30,000 Venture Miles and have enough for a trip to Hawaii and back!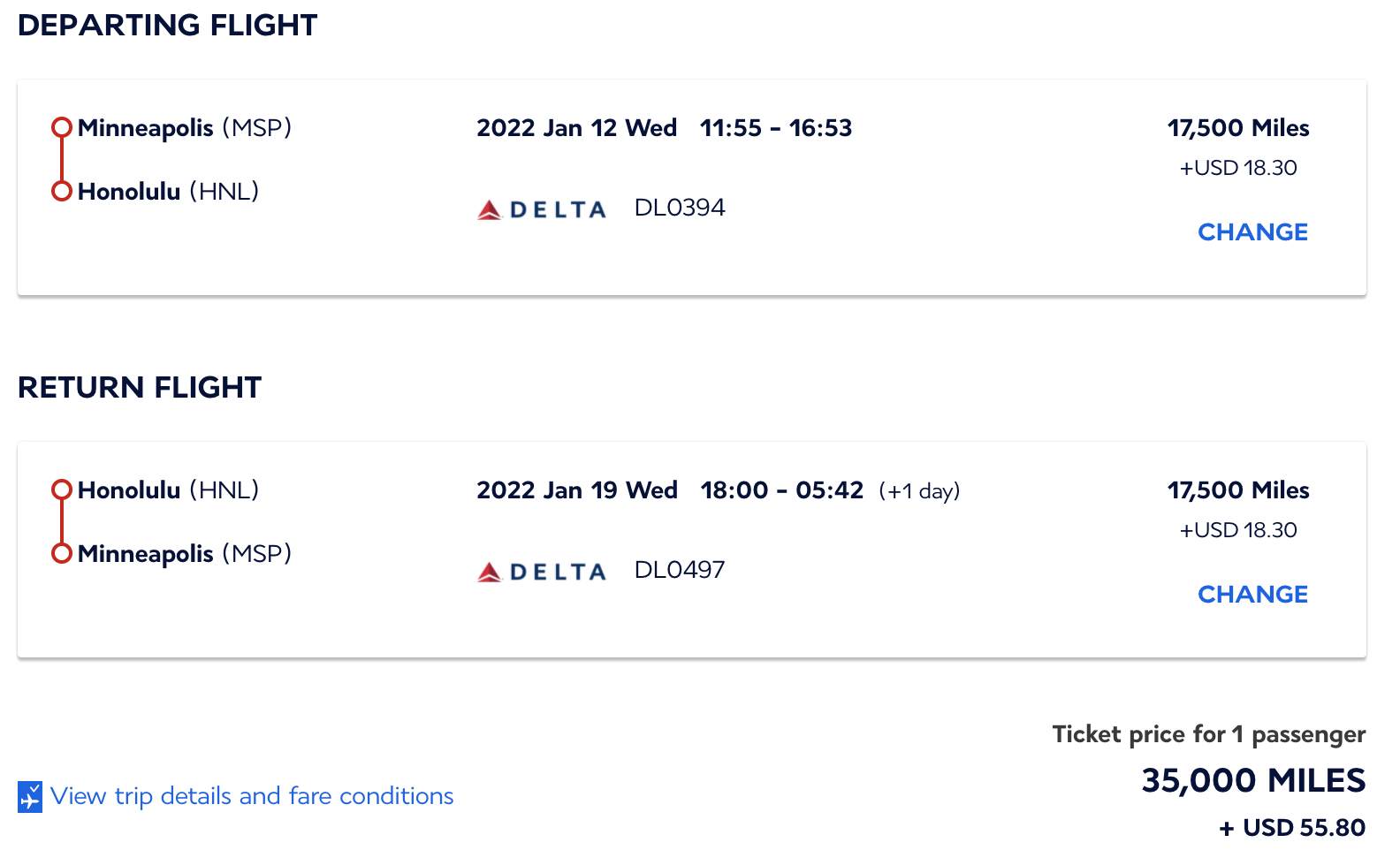 Thrifty Traveler Premium members previously got an alert for some incredibly rare award space to fly nonstop to Hawaii on this route. Get award alerts and cheap fares sent straight to your inbox!
That's a steal – especially compared to the 60,000 SkyMiles (or 80,000 SkyMiles or more) that Delta frequently charges for the exact same flights. Just keep in mind you'll have to be extremely flexible to make it work at these rates. Read our guide on how to book Delta flights to Hawaii for just 35,000 miles using Flying Blue.
Bottom Line
Any transfer bonus can be a great way to squeeze more value out of your miles, but these new Capital one transfer bonuses are outstanding.
Any time you can book a one-way flight to Europe in business class for under 30,000 Venture Miles or roundtrip flights to Hawaii for 22,000 Venture miles is worth celebrating. And that's just what these transfer bonuses to Air France/KLM and British Airways make possible.
Put them to use before they end next Wednesday, Aug. 31!