Mother's Day is around the corner, and what better way to honor the woman who brought you into the world than buying her flowers and getting a bunch of extra miles?
We're joking. Moms are great and deserve praise 365 days a year. But if you are buying flowers this Mother's Day, shopping portals for many of the major airlines and the excellent shopping portal Rakuten – one of the best such portals, period – are offering up to 30 points for every $1 spent at several popular flower delivery sites like FTD.com, ProFlowers and 1-800-Flowers.
Rakuten typically earns you cashback, and the site is offering 30% back on many of these flower sites. But if you've got a card that earns Amex Membership Rewards points like The Platinum Card® from American Express or the American Express® Gold Card, you can now earn Amex points instead: 30% cashback nets you 30x points.
And it gets even better if it's your first time using Rakuten to do your online shopping. New members who sign up for Rakuten will earn an additional $30 bonus (or 3,000 Amex points) after completing their first purchase of at least $30. Full disclosure: We also get a bonus, so we appreciate it if you use our link!
On a $50 floral arrangement for Mother's Day, that could net first-time Rakuten users $45 cashback (or 4,500 Amex points) in one fell swoop!


All you need to do is sign up for Rakuten, then head to Rakuten itself and search for one of these online flower vendors. By clicking through your Rakuten account (or using the handy Rakuten browser plugin) first, you'll activate the 30% bonus. Plus, you'll earn that $30 bonus (or 3,000 Amex points) on your first purchase of $30 or more.
A handful of airline shopping portal are also offering some decent bonuses on major flower vendors if you'd rather go that route. For example, you can earn 20x Delta SkyMiles at FTD via the Delta shopping portal, 16x Alaska Mileage Plan Miles through FTD, or 30x United MileagePlus miles at 1-800-FLOWERS.
CashbackMonitor.com is a great resource to compare the best point returns between different programs for your purchases, like for 1-800-FLOWERS.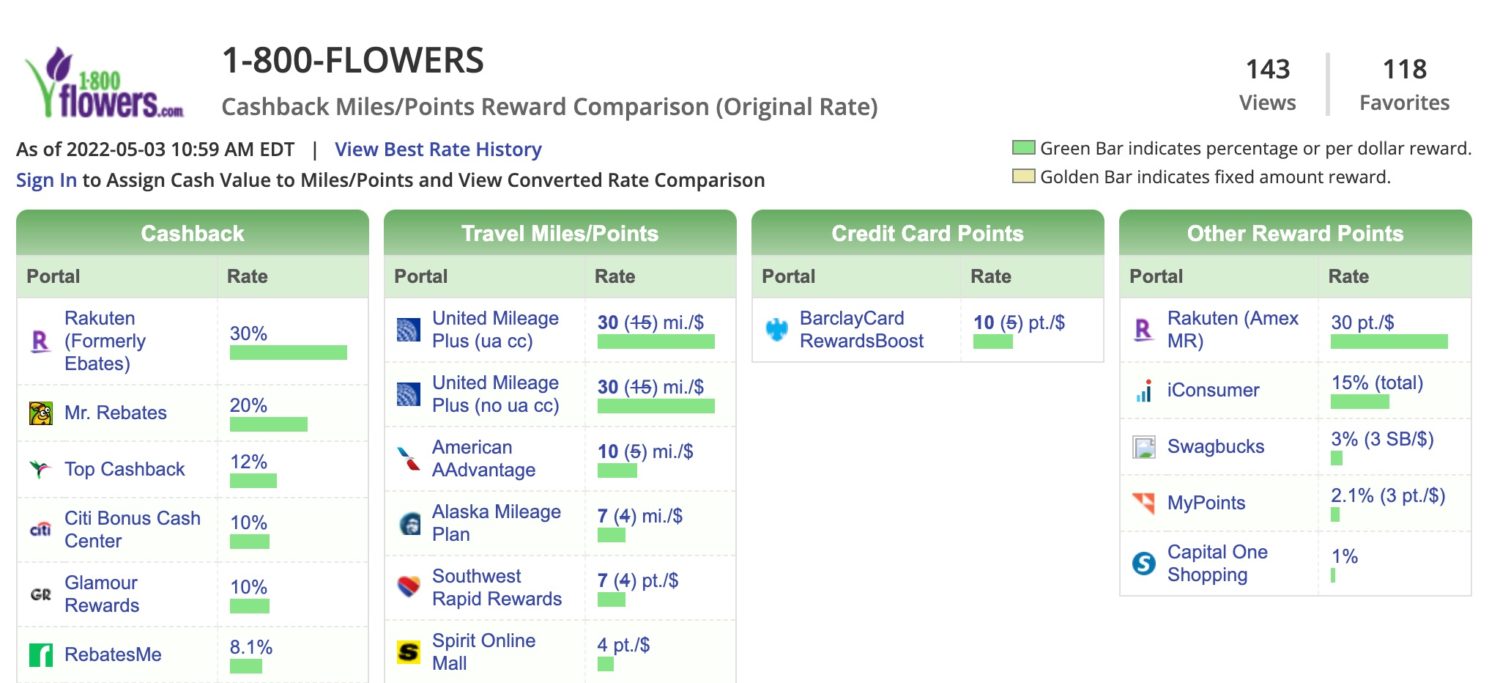 Read more: CashBack Monitor: The Key to Maximize All Your Online Shopping
Regardless of which shopping portal you choose, there are a ton of extra points and miles to be earned. So while your toughest choice will be between roses and lilies, the second hardest will be where to credit your bonus miles.
How It Works
The easiest way to pile up miles and points is through credit card signup bonuses. However, shopping portals offer an easy way to keep adding to your stash through purchases you are already making.
Most airlines and several major banks run their own shopping portal, offering bonus points for every dollar you spend at specific online retailers and merchants. These bonus rates are always shifting, so it's a good thing to keep track of or check in on when you're getting ready to make a purchase.
But Rakuten is among the best, offering you a way to earn ultra-valuable Amex Membership Rewards points with regular double or triple cashback bonuses at hundreds or thousands of online retailers, including some of these flower shops.
Read more on how to use Rakuten!
I use FTD all the time when I need to order flowers. It's a seamless service that works directly with local florists to deliver arrangements.
Just beware: Depending on where the flowers are being delivered, your order can come with a substantial service charge. Mine this year was an extra $25.99. These fees don't accrue the bonus points.
If you haven't signed up for an individual airline's shopping portal, you'll need to register with your frequent flyer account.
Finally, the points and miles you earn through the portals are in addition to the points and miles you earn on the credit card used to pay for the transaction.
Bottom Line
Shopping portals are a great way to earn some extra points and miles, whether you're buying flowers for mom or something for yourself, it pays to run those purchases through a portal. And earning up to 30x points for flowers is no exception.