Avianca LifeMiles is filled with frustrating quirks … but even more sweet spots that make it worthwhile. There may be no better way to redeem miles to get to Asia – especially in business class. But that value proposition just took a big hit.
We're seeing signs of a massive devaluation when redeeming LifeMiles to Asia, with award rates jumping by up to 30% or more in both economy and business class to Japan, Taiwan, Singapore, and beyond. For example, a one-way flight from Chicago-O'Hare (ORD) to Taipei (TPE) on EVA Air just earlier this week cost 35,000 for economy and 75,000 LifeMiles in business class.
Now, those rates have jumped to 47,000 miles for economy and a whopping 90,000 miles for a lie-flat seat. 

You'll find similar hikes to destinations across Asia, no matter which airline you're flying. Worst of all, LifeMiles absolutely gave no warning about this sudden (and substantial) devaluation. In fact, its award charts for Star Alliance redemptions haven't even been updated to reflect these higher prices.
LifeMiles is practically notorious for temporary (and permanent) award pricing quirks as well as IT woes, so we can't rule out this higher pricing is a result of a glitch rather than a pricing change. We haven't seen higher award rates affecting great redemptions to other regions like Europe, Africa, or even Australia – at least not yet.
While its website is iffy at best and customer support can be nonexistent, travelers turn to LifeMiles because it offers an unparalleled mix of affordable award rates without hefty fees and surcharges on top. Plus, they've gotten easier to earn over the years: LifeMiles is now an Amex transfer partner, Capital One transfer partner, and Citi ThankYou transfer partner. That means a stash of points from cards like the American Express® Gold Card or the Capital One Venture X Rewards Credit Card could get you all the miles you need.
But the allure of transferring points to LifeMiles for a trip to Asia doesn't shine so bright after this sudden increase.
Breaking Down this LifeMiles Devaluation
If this devaluation holds, the timing is doubly frustrating because it comes at a time when travelers are increasingly setting their sights on destinations across the Pacific.
At the top of the list is Japan, which is set to reopen in just a few weeks for the first time in more than two years. Coupled with months of big cash surcharge hikes when booking via ANA Mileage Club, this is another tough blow for anyone trying to get to Japan or elsewhere in Asia.
But let's focus on LifeMiles. Just a few days ago, you could have booked a flight from New York City (JFK) to Tokyo-Haneda (HND) for 35,000 miles in economy or 75,000 in ANA's new business class seats.
Today, those same seats clock in at 45,000 miles in economy and 90,000 miles for business class each way. That's a 29% increase and 20% hike, respectively – with absolutely no warning or disclosure.

You'll generally see slightly milder increases on shorter flights starting from the West Coast. For example, an ANA flight from Los Angeles (LAX) or San Francisco (SFO) to Tokyo jumped to 40,000 miles in economy and 85,000 miles for business class.

Ditto for flights in United Polaris business class on the same routes.

We haven't been able to suss out whether first class award rates to Asia have also popped, as award availability for redemptions like ANA First Class has been nonexistent lately.
After being the go-to program for using points and miles to get to Asia in business class, you'd now almost always be better off booking these awards via Air Canada Aeroplan instead – especially in business class, where award rates start at 75,000 miles each way.
It's unclear exactly what's behind this devaluation and new pricing. While longer flights from the Midwest and East Coast to Asia seem to have been hit the worst, there are some weird quirks here that make it hard to sort out what's going on.
For example, a one-way flight on EVA Airlines from Los Angeles (LAX) all the way down to Singapore now clocks in at 47,000 miles each way in economy or 90,000 miles for EVA Air business class – another big increase and more than the nonstop from LA into Taipei (which now costs 40,000 miles each way in economy or 85,000 miles in business class).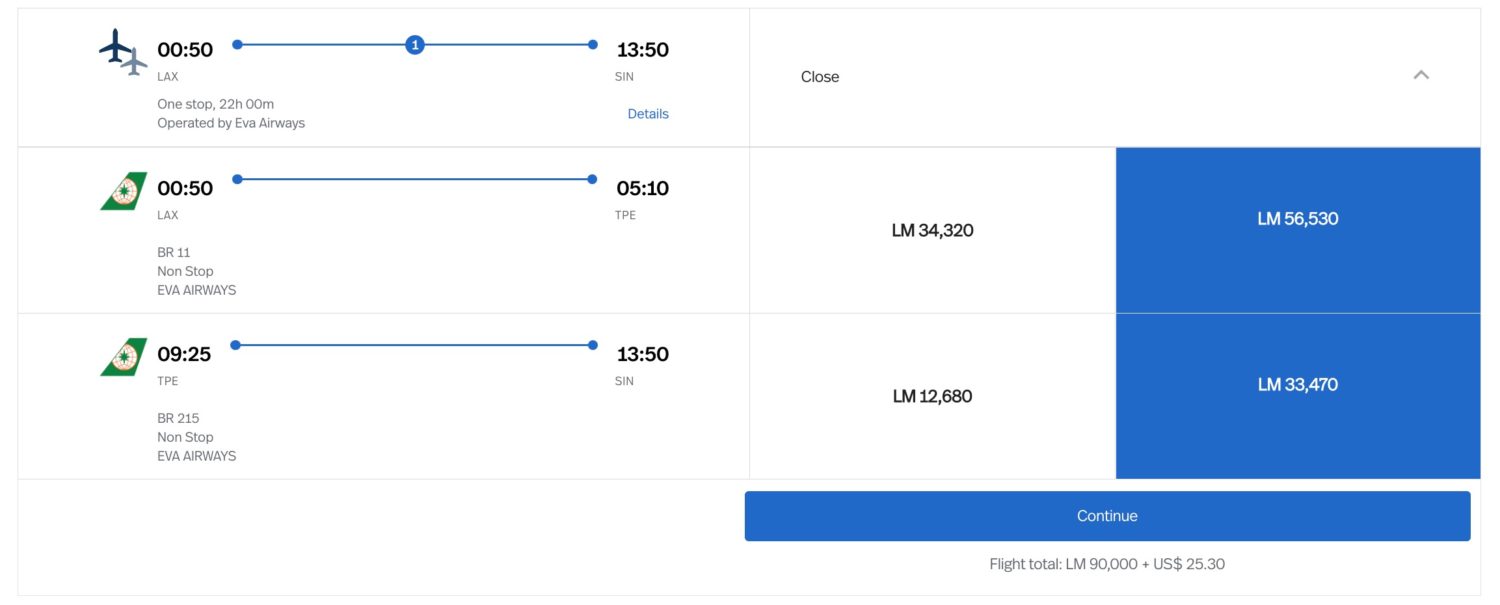 But a similar route from Chicago-O'Hare (ORD) down to Singapore is the same price as starting over in Los Angeles – and identical to the new award rates for the nonstop flight from Chicago to Taipei.

Fortunately, we aren't seeing other LifeMiles sweet spots take a beating. Even longer flights to Europe, like San Francisco to Zurich (ZRH) in SWISS business class, can be booked for 63,000 miles each way. Ditto for even redemptions to Sydney (SYD) and as far as Cape Town (CPT) – no award rate increases there yet.

Bottom Line
Ouch. This LifeMiles devaluation for award rates to Asia stings.
After years of solid bargains flying in economy or lie-flat business class, LifeMiles raised award rates by as much as 30% or more on nearly all redemptions to Asia. Let's just hope this is where it stops and that we won't see similar increases when using LifeMiles to get to Europe or elsewhere – but we wouldn't get our hopes up…
Lead photo courtesy of EVA Air