Back in the spring, award bookings on American Airlines flights using Iberia Avios – one of the best ways to book short domestic flights in the U.S. – were unavailable for several months.
It appears that problem has returned. 
We've tested more than a dozen routes within the U.S. operated by AA. Each and every time, Iberia returns the same error: "No availability has been found for the selected journey."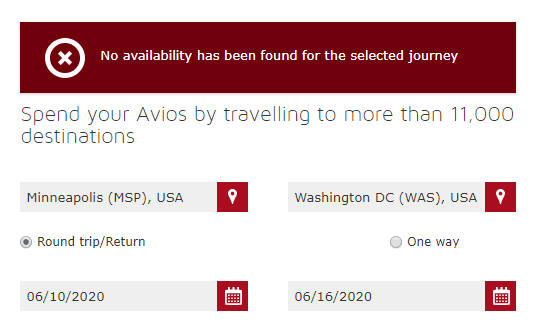 That's the case even when these flights should be bookable via Iberia, as American has these flights available at the MileSAAver level. What's more, these American flights are bookable with other Oneworld partner airlines like British Airways and Qantas. So clearly, there's something wrong on Iberia's end again.

Iberia did not immediately respond to a request for comment on the issue. In the spring, the airline said for months that it was "working to fix this issue as soon as possible, therefore, we kindly recommend you to try to complete the booking in few days." The issue persisted from mid-April until it was eventually fixed in July.
Our Analysis
If you're scratching your head wondering why you should care about using a Spanish airline's website to book American flights, it's because there are solid savings to be had.
Workarounds that allow you to use airline partnerships to book flights for fewer miles are one of the most exciting parts about using points and miles. And this Iberia workaround to book AA flights can be lucrative.
Iberia uses a distance-based award chart, which means the savings are typically best with shorter flights. Flights under 600 miles round-trip price at just 11,000 Avios, while journeys between 601 and 1,000 miles come in at just 12,000 Iberia Avios. Flights up to 2,000 miles cost just 17,000 Iberia Avios, which still gives you some solid savings.
American will charge you 25,000 AAdvantage miles for a MileSAAver round trip award from Minneapolis-St. Paul (MSP) to Washington, D.C.-Reagan (DCA). But because those flights are under 2,000 miles, you would need just 17,000 Avios to book the exact same flight.

Unfortunately, this workaround isn't currently working. Of course, with the rise of AA's Economy Web Specials – and award flights starting at just 5,000 miles each way – this Iberia workaround is less useful than it once was.
And there are some important restrictions to keep in mind using Iberia Avios to book American flights. Iberia requires round-trip bookings when using Avios to fly with American Airlines – you can't book a one-way flight. And much like Economy Web Special fares, you generally can't cancel or change AA flights booked through Iberia.
Still, it's a shame this isn't available. Because you can transfer credit card points to Iberia Avios from both Chase Ultimate Rewards and American Express Membership Rewards, this has been a great way to use credit card points to fly American (which doesn't have those transfer partners).
Bottom Line
Whatever the issue is, it's likely temporary. Here's hoping it doesn't take another three months to restore the ability to book American Airlines flights with Iberia Avios.