It might sound odd, but using miles from the Spanish airline Iberia is one of our favorite ways to book domestic flights in the U.S.
British Airways gets all the love for the best workaround to book American Airlines. But you can often book short flights within the U.S. for cheaper using Iberia Avios. These flights start at just 11,000 Iberia Avios round-trip when you can often expect to pay 15,000 miles or more using either British Airways or American Airlines miles for the exact same flight.
There's just one problem: You can't actually book AA flights using Iberia miles right now. 
Any attempt to book an American Airlines-operated flight through Iberia.com results in the same error message. The Points Guy first reported the issue.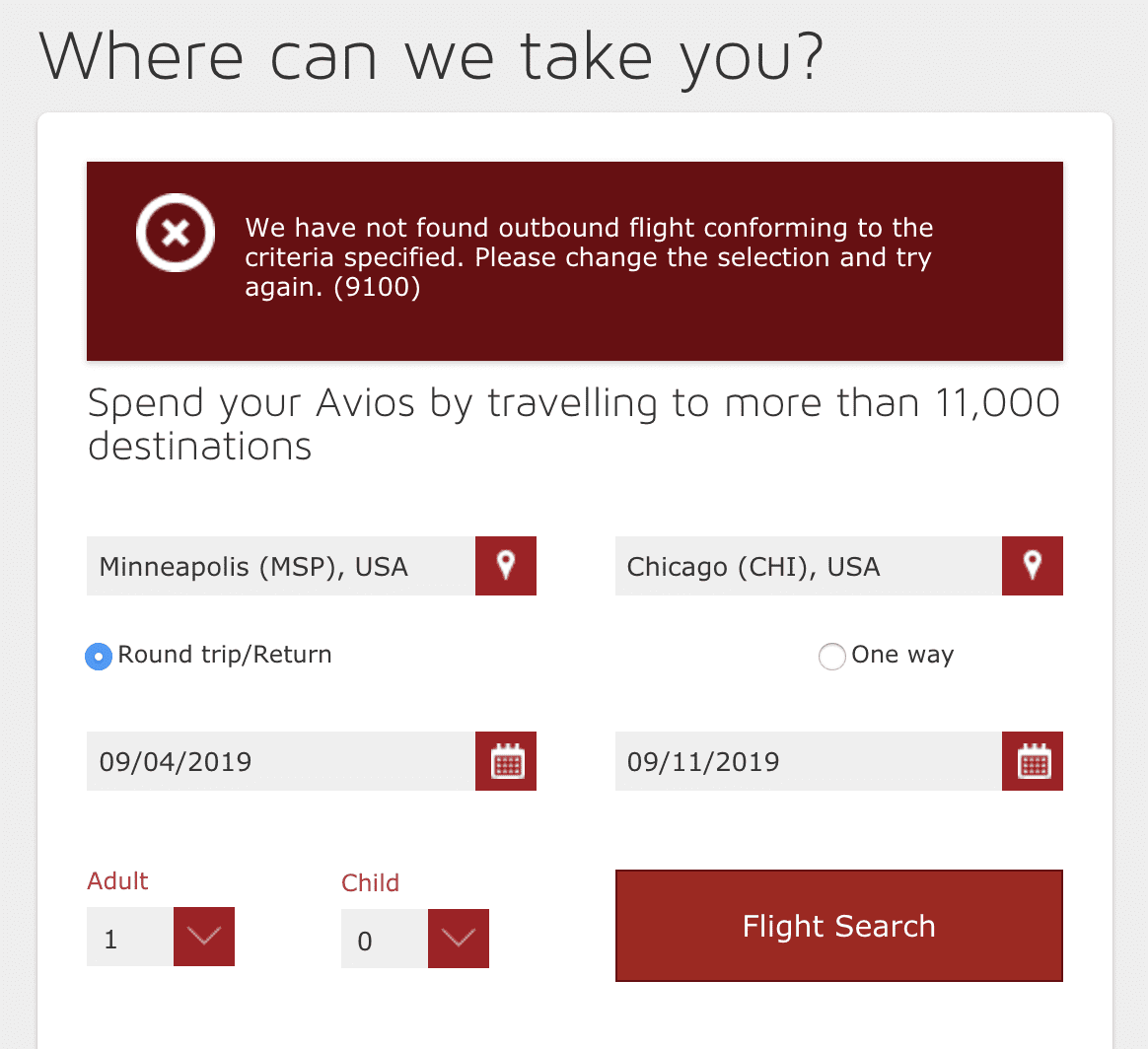 This issue actually goes all the way back to mid-April, when we first noticed this error message. At this point, it's unclear whether it's a simple IT issue or a permanent change in how you can use Iberia Avios.
Back in May, Iberia said in an email that "our IT department is working to fix this issue as soon as possible, therefore, we kindly recommend you to try to complete the booking in few days."
It's still not available. Nor is it possible to book by phone. An Iberia phone agent said yesterday it's not possible to book any American Airlines flights with Iberia Avios right now. Again, he said they expect that ability to return in the next week.
But these deadlines have come and gone with no change.
Our Analysis
Workarounds that allow you to use airline partnerships to book flights for fewer miles are one of the most exciting parts about using points and miles. And this Iberia workaround to book AA flights has been lucrative.
Iberia uses a distance-based award chart, which means the savings are typically best with shorter flights. Flights under 600 miles round-trip price at just 11,000 Avios, while journeys between 601 and 1,000 miles come in at just 12,000 Iberia Avios. Flights up to 2,000 miles cost just 17,000 Iberia Avios, which still gives you some solid savings.
Here's a quick example. American will charge you 25,000 AAdvantage miles for the round trip from Minneapolis-St. Paul (MSP) to Washington, D.C.-Reagan (DCA). But because those flights are under 2,000 miles, you need just 17,000 Avios to book the exact same flight.

But it's not possible right now. We're hoping this ability returns as promised and will update you if and when that happens.
That said, there are some caveats to keep in mind. Iberia requires round-trip bookings when using Avios to fly with American Airlines – you can't book a one-way flight. And much like American Airline's economy web specials, you generally can't cancel or change AA flights booked through Iberia.
Bottom Line
Our fingers are crossed that this workaround returns in short order. If not, it could be a blow to one of the best ways to book domestic flights in the U.S.