I don't know how many points and miles I've earned nor how many I've cashed in over the years. And I don't care.
Yes, you read that right. And let me be clear, that doesn't mean I'm ungrateful for what using credit card points and airline miles have allowed me to do – just the opposite. But rather than thinking about big numbers or cash value, I like to think in terms of treasured memories – about trips I'd never have taken, experiences I'd never have had. That's the entire purpose of points and miles, right? To accelerate your travels and take a trip you otherwise couldn't afford.
So when I think about my travels over the years using points and miles, a handful stand out more than others. And as you'll see, my favorite points and miles redemptions aren't just for flashy, top-dollar business and first class flights … though I certainly won't say no to those, either.

Hawaii and Back for 35K (Twice)
It's the redemption so nice I've done it twice.
Among a virtual laundry list of ways to get to Hawaii using points and miles, I've repeatedly turned to booking Delta flights to Hawaii for 35,000 points – not with Delta SkyMiles, but using Air France/KLM Flying Blue miles. Sure, I could get to Hawaii for fewer miles using a few other methods.
But it was the flexibility of this redemption that kept me coming back. Whether you fly nonstop to Honolulu (HNL) from Los Angeles (LAX), make a one-stop trip from Minneapolis-St. Paul (MSP) to Kauai (LIH), or take two stops from a small town like Fargo (FAR) or Duluth (DLH), it was still just 35,000 miles roundtrip.

Considering Delta itself often charges 60,000 SkyMiles (or 70,000-plus) for these exact same flights, it was a stellar workaround to save some major points – so stellar I've used it repeatedly: Once to help get my in-laws to Hawaii a few years ago, then again for an upcoming trip to Maui (OGG) for my wife and I early next year. Throw in some transfer bonuses to Air France/KLM Flying Blue using Amex or Capital One points, and I've booked these trips for as low as just 27,000 points apiece.
Sadly, it seems like my second time will be my last. Over the past few months, Air France and KLM seem to have done away with this redemption in place of dynamically priced award rates for Delta flights, with far higher prices to get to Hawaii from Minneapolis … or pretty much anywhere.
That's just another reminder: Use your points and miles ASAP. Those amazing deals and sweet spots won't last forever.
Business Class to Bali
You never forget your first time … flying business class.
Back in 2018, my wife and were planning our wedding and an immediate getaway to Bali, Indonesia for a long honeymoon. We had barely flown up front in domestic first class before, let alone fancy lie-flat seats in long-haul business or first class.
But we saved and scrimped points for more than a year to make it a reality for that grueling, 24-hour trip to Indonesia. Good timing with opening a few new credit cards around upcoming payments for our wedding and some house projects allowed us to responsibly hit the minimum spending requirements to earn a few big bonuses.
In the end, we transferred a virtual boatload of points to Avianca LifeMiles to book EVA Air business class from Chicago-O'Hare (ORD) all the way down to Bali (DPS) for 78,000 miles each – plus $35 or so in fees. And it was worth every single point.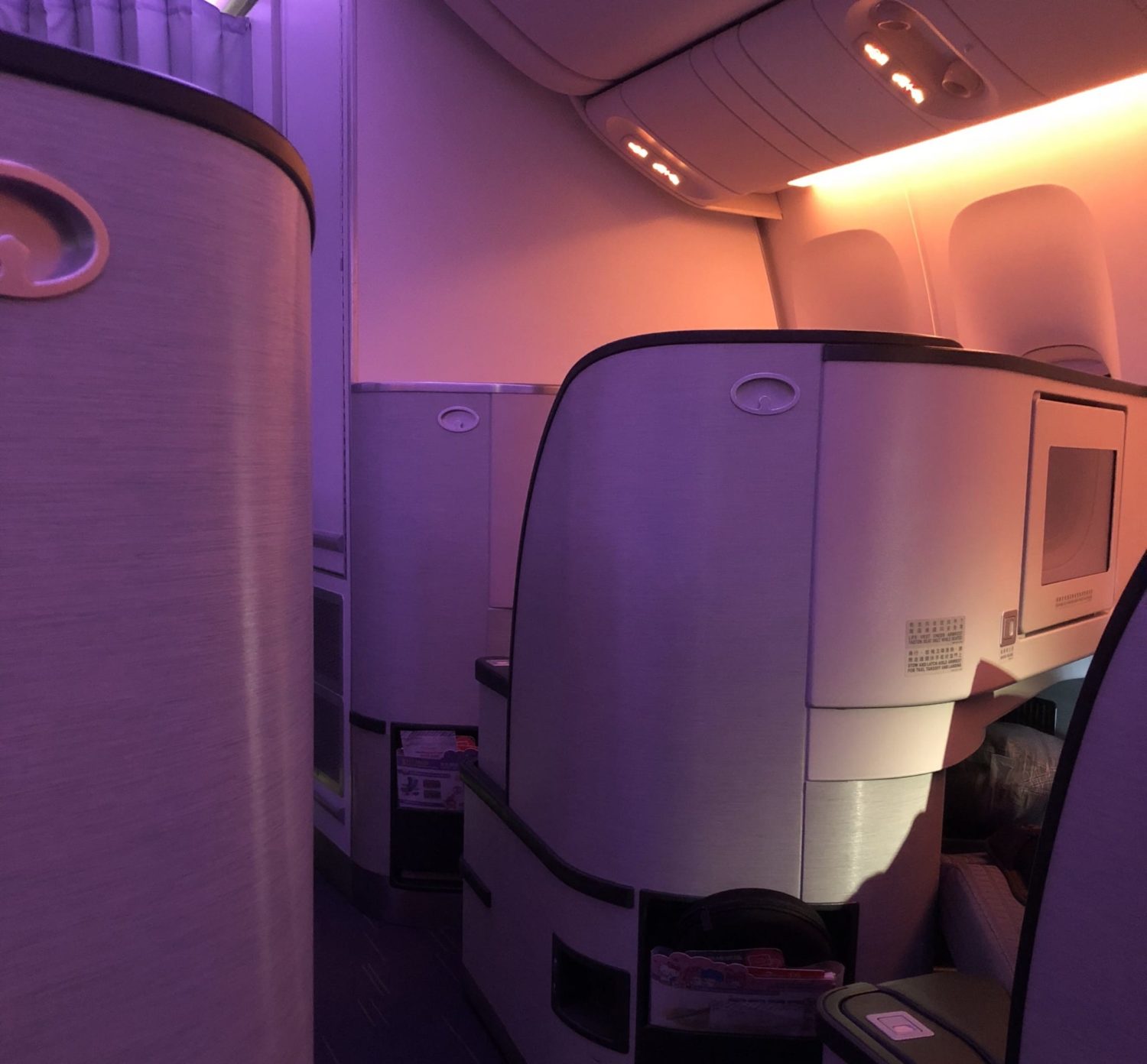 Oh, and this wasn't just any flight … it started with a 15-hour-long Hello Kitty extravaganza. Yes, really.
From the service to the food to the seats themselves, every moment felt special – especially the (much-needed) seven hours of sleep we each got while crossing the Pacific Ocean. We arrived in Bali far more well-rested than we deserved to after flying for an entire day … and then some. To date, it's easily my favorite flight ever – and therefore one of my favorite uses of points and miles, too.
Unfortunately, a recent LifeMiles devaluation means these exact same flights now cost 90,000 miles each way after Avianca raised award rates to fly from the U.S. to much of Asia. Still, I'd gladly do it again.
A Road Trip through Utah
It's been more than six years since my wife and I cashed in some points from our Chase Sapphire Preferred® Card to book flights and a rental car for a trip across Utah.
I've long forgotten the names of restaurants, hotels, or even how many points we spent to take this trip. But I can still tell you exactly how much value I got from those Chase Ultimate Rewards points booking this trip: 1.25 cents each.
I skipped right past the world of Chase transfer partners – the key to getting even more out of your points – and went straight to book roundtrip flights to Las Vegas (LAS) plus a set of wheels through the Chase travel portal. Booking that way, every point from the Preferred Card is worth 1.25 cents toward travel. A $215 flight, for example, costs you just 17,000 points and change – or even less with the Chase Sapphire Reserve®. It's simple.

That's practically heresy to many points and miles aficionados obsessed with squeezing every decimal point of value out of their miles and points. But I don't care.
Why? Because we had an absolutely amazing trip driving through Utah, taking in some of the country's best national parks.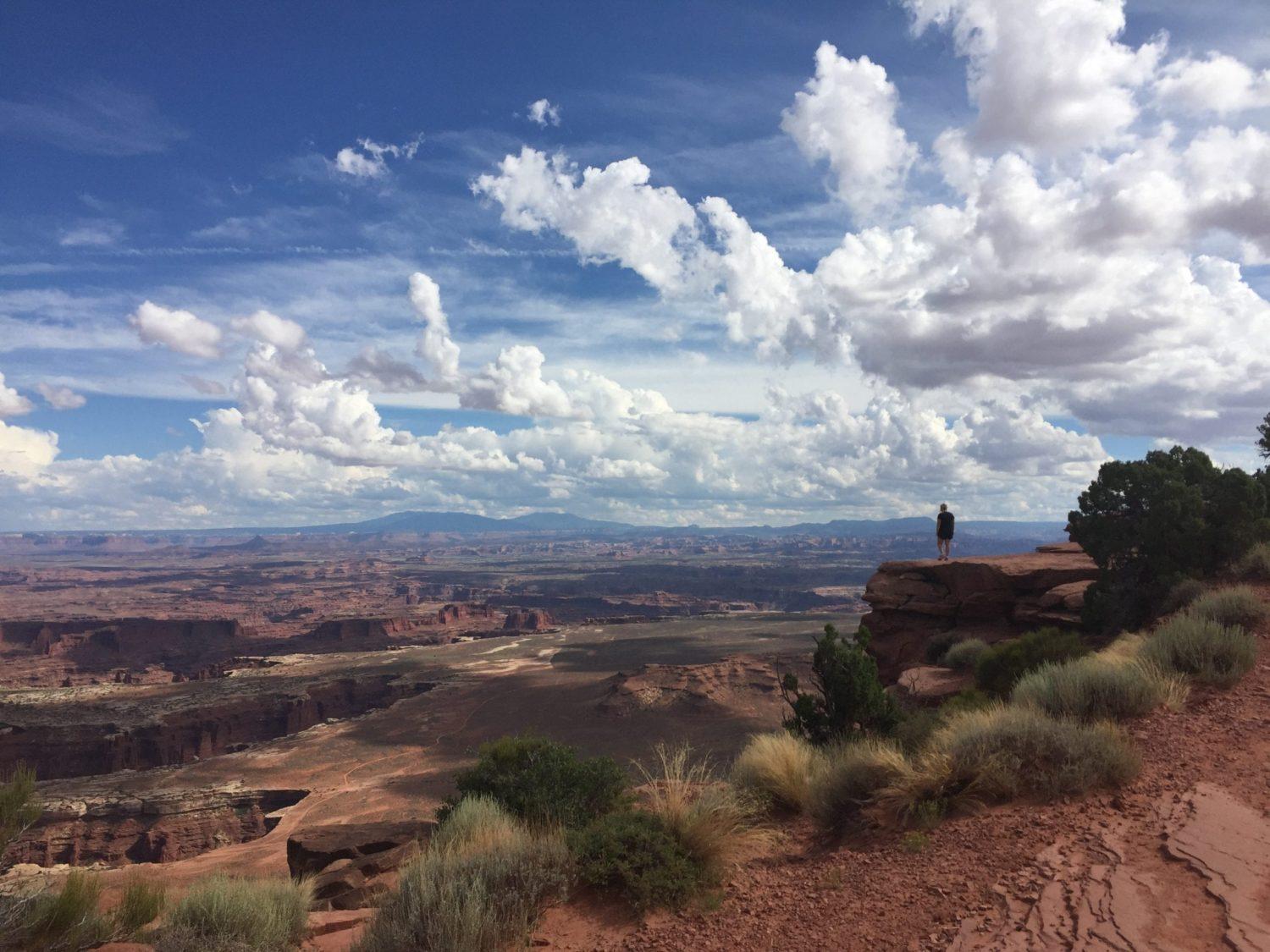 To date, it's one of my favorite trips we've ever taken. And that's the entire point of using points and miles, isn't it? To go on trips that you otherwise wouldn't – or couldn't.
Could I have gotten more value out of those Chase points by using them another way, maybe save them for another trip? Sure.
But travel is more than booking expensive flights or drinking champagne in a lounge. It's about experiences. And this was the experience of a lifetime.
The Rush of Lufthansa First Class
It was the thrill of the chase, really.
Flying Lufthansa First Class in the nose of a double-decker Boeing 747-8 is on countless travelers' bucket lists – mine included. It's not just the seats, the service, or the over-the-top Lufthansa First Class Terminal lounge in Frankfurt (FRA). It's how hard these seats can be to book. You always want what you can't have, right?
Even with all the points and miles in the world, booking Lufthansa first class can be a chore. Whether you book using miles from United, Aeroplan, LifeMiles, or another carrier, Lufthansa typically doesn't release award space to partner programs until at least 14 days ahead of time. Oftentimes, you can really only book a seat just three to four days in advance.
That gives it an extra air of exclusivity – it's part of why points and miles nerds like me obsess over it. Case in point: After running one of about 1,000 searches (and missing my chance to book a few days earlier), I stumbled upon two seats flying from Miami (MIA) to Frankfurt (FRA) and onward to Italy for a trip last summer. Finally!

Read our full review of flying Lufthansa First Class!
Here's where it starts to get ridiculous. We already had flights to Italy booked. I found these Lufthansa first class seats while sitting on the plane after landing in San Francisco (SFO) for a friend's wedding. And our trip to Italy was … three days away.
I huffed and puffed while trying to cancel our existing tickets on my phone sitting on the plane, get my Air Canada Aeroplan points back in my account, and book these ultra-rare seats before someone else could to no avail. So I practically sprinted into the Delta Sky Club, logged into the Wi-Fi, tried (and failed) to get the flights to ticket three times … before it finally went through on attempt four. Cue the fist pump and glass of champagne to celebrate.
Let's be clear: None of this is normal, human behavior. I know that. Going to these lengths to rebook a trip that we already had locked in just a few days in advance is practically idiotic.
In the end, we wound up paying 100,000 Air Canada Aeroplan points each and a few bucks in fees to fly all the way from Miami (MIA) to Frankfurt (FRA) and onward to Florence (FLR). Booking through Avianca LifeMiles would have been cheaper at 87,000 miles (or a bit less) each, but I already had a bunch of points in my Aeroplan account after scrapping our previous flights.

But I like to think of using points and miles as a puzzle. Putting the pieces together requires finding award availability and the right airline miles to book with to get the most bang for your buck. The harder those pieces get, the more rewarding it is when you can pull it off.
Keep reading: Lufthansa First Class was Spectacular … But I'll Never Fly it Again
QSuites for Two
What's better than flying Qatar Airways Qsuites, the world's best business class? Just one thing: Sharing it with the world's best travel companion.
I first flew in Qsuites more than three years ago and, much like the rest of the internet, fell in love. Nothing beats the combination of space, comfort, and privacy of these suites. As nice as they are to look at, actually flying in your own Qsuite is even better.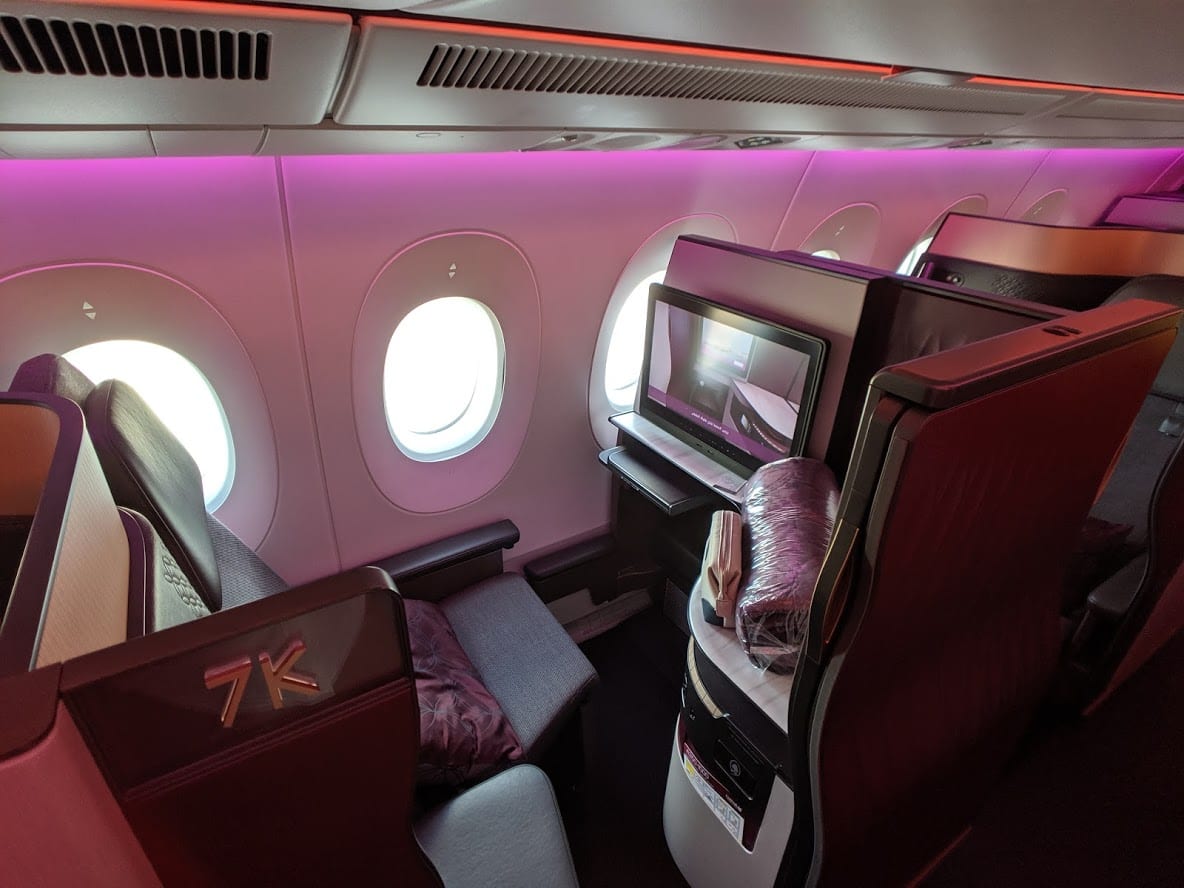 At a certain point, my wife probably got sick of me blabbing about just how nice Qatar business class is. So when I had a chance to book these seats again using some points – at a steep discount, too, thanks to a huge Amex transfer bonus to British Airways earlier this year – I jumped on it. It was the perfect way to cap off a trip this past summer that brought us hot-air ballooning in Cappadocia, eating to excess in Istanbul, checking out Muscat in Oman, and spending a few days in Dubai. So how'd we book two seats from Dubai (DXB) all the way back to Washington, D.C.-Dulles (IAD)?
For many years, booking with American AAdvantage miles was the only surefire way to get a bargain. Lucky for us, Qatar made it much easier to book these suites earlier this year by pairing up with British Airways and its Avios mileage program. That opened the door to book Qsuites even with transferrable credit card points like Chase Ultimate Rewards or Amex Membership Rewards.
With that 40% transfer bonus to British Airways at the time, Amex points were a no-brainer. I transferred 108,000 points to British Airways to get the Avios I needed, kicked them over to Qatar, and booked two Qsuites for 150,000 Avios and about $400 in fees. A well-timed bonus and some referrals to friends from my American Express® Gold Card were enough to cover it all.
It was my first time sharing the "honeymoon suite," dropping the wall for a near-double bed at 37,000 feet. It did the trick: After an amazing but exhausting trip, we both slept for eight-plus hours straight.

When we weren't sleeping, the service, food, and drinks were outstanding. Even as other airlines continue struggling to get back to their pre-pandemic ways, Qatar Airways has hardly missed a beat. Because we connected within the Middle East before heading home, we even got to pop into the unparalleled Al Safwa First Class Lounge in Doha (DOH) for a glass of champagne while gawking at the space.

I'd flown Qsuites a few times before and even booked for fewer miles and fees. But this flight was easily my favorite redemption of the bunch … because I was sharing it with someone special.
Oh, and I'm happy to report that it lived up to the years worth of hype for my wife, too. And that was the entire point.
Bottom Line
There's no one-size-fits-all answer for the best ways to use points and miles. It all depends on you: What you care about, what you don't, what you can earn, and what you can afford to spend. And only you can answer those questions.
But for one reason or another, these redemptions and trips stand out over the years as my personal favorites. What are yours?