Just last week, we were celebrating the return of Emirates' awesome Airbus A380 flying the funky route from New York City (JFK) to Milan (MXP) – and tons of award space to fly it in 2022 for two or more passengers. Well … you win some, you lose some.
Emirates kicked off February with a completely unannounced increase to many of its business class award rates, whether you're flying from the U.S. to Europe, over to Dubai, or anywhere else. One Mile at a Time first noticed this Emirates business class devaluation, with award rates increasing by 15% or more. When a business class flight to Europe that once cost 62,500 miles suddenly jumps to 72,500 miles with no warning, that stings.
But here's the weird part: Those increases haven't affected how many miles you need to book Emirates First Class. And if you're booking a roundtrip award in Emirates business class, you can still save some serious miles over booking two separate one-way tickets…
.. at least for now. Read on to see what's changed with Emirates award rates in business class – and why we think you might want to lock in an Emirates redemption sooner rather than later.
One-Way Biz Class Awards on the Rise
Emirates mileage program is called Skywards, and it's emerged as the go-to way to book almost any Emirates flight within the past few years.
While it lacks the low-priced award rates of some other airlines, these miles are almost laughably easy to earn: You can transfer to Emirates from American Express, Chase, Citi, and even Capital One. Almost two years ago, Emirates drastically slashed fees on award tickets to make the cash costs on these award tickets much easier to stomach.
But it can't be all good news forever. Devaluations like this one are never far away.
So far as we can tell, it's only one-way business class awards that have seen a price hike. Neither economy nor first class redemption rates appear to have changed. And for now, the savings on roundtrip business class award tickets remain in tact.
Here's a quick breakdown of the changes on some common business class awards:
New York City (JFK) to Milan (MXP): One-way business class tickets now cost 72,500 miles – up from the previous 62,500 miles
Newark (EWR) to Athens (ATH): One-way business class tickets now cost 72,500 miles – up from the previous 62,500 miles
New York City (JFK) to Dubai (DXB): One-way business class awards now cost 115,000 miles – up from 100,000
Los Angeles (LAX) and San Francisco (SFO) to Dubai (DXB): One-way business class awards now cost 131,250 miles – up from their previous 113,750-mile rate.

After a lag when these award rates were initially increased earlier this week, this new pricing is now displayed in Emirates' Skywards Miles Calculator, too.
These increases aren't obnoxious. We've certainly see much bigger devaluations over the years. But the fact that Emirates did this with absolutely no warning is what rubs frequent flyers and points and miles aficionados the wrong way.
Some of their other decisions are even more puzzling.
Roundtrip Biz, First Class Tickets Unchanged
Here's the good news: Some of the best ways to redeem Emirates miles have escaped unscathed.
Emirates is one of a handful of airlines out there that cuts flyers a better deal when making a roundtrip redemption rather – at least in business class. And few deals are better than booking a roundtrip in business class on one of Emirates' fifth-freedom routes for just 90,000 Skywards miles total, plus about
That's still bookable today. Whew.

Thrifty Tip: You won't find these low rates every day you search with Emirates – use trial and error and select "My dates are flexible" when searching for awards on Emirates.com.
Those roundtrip savings are no longer available flying Emirates First Class after the airline ended that discount last year. But one-way first award rates haven't changed, either. You can currently still pay 85,000 miles for a one-way first class ticket from the U.S. to Europe and 136,250 miles from most East Coast cities to Dubai – and more on longer routes.


Are you seeing the same problem we're seeing here?
Book Now?
It's hard not to see more trouble ahead for Emirates Skywards. It's simple logic.
Why book a one-way business class flight to Europe for 72,500 miles when you can get there and back for just 17,500 miles more? For that matter, what's the point of flying business class when you can get up into first class, drinking Dom Perignon and taking a shower at 38,000 feet, for just 12,5000 additional miles?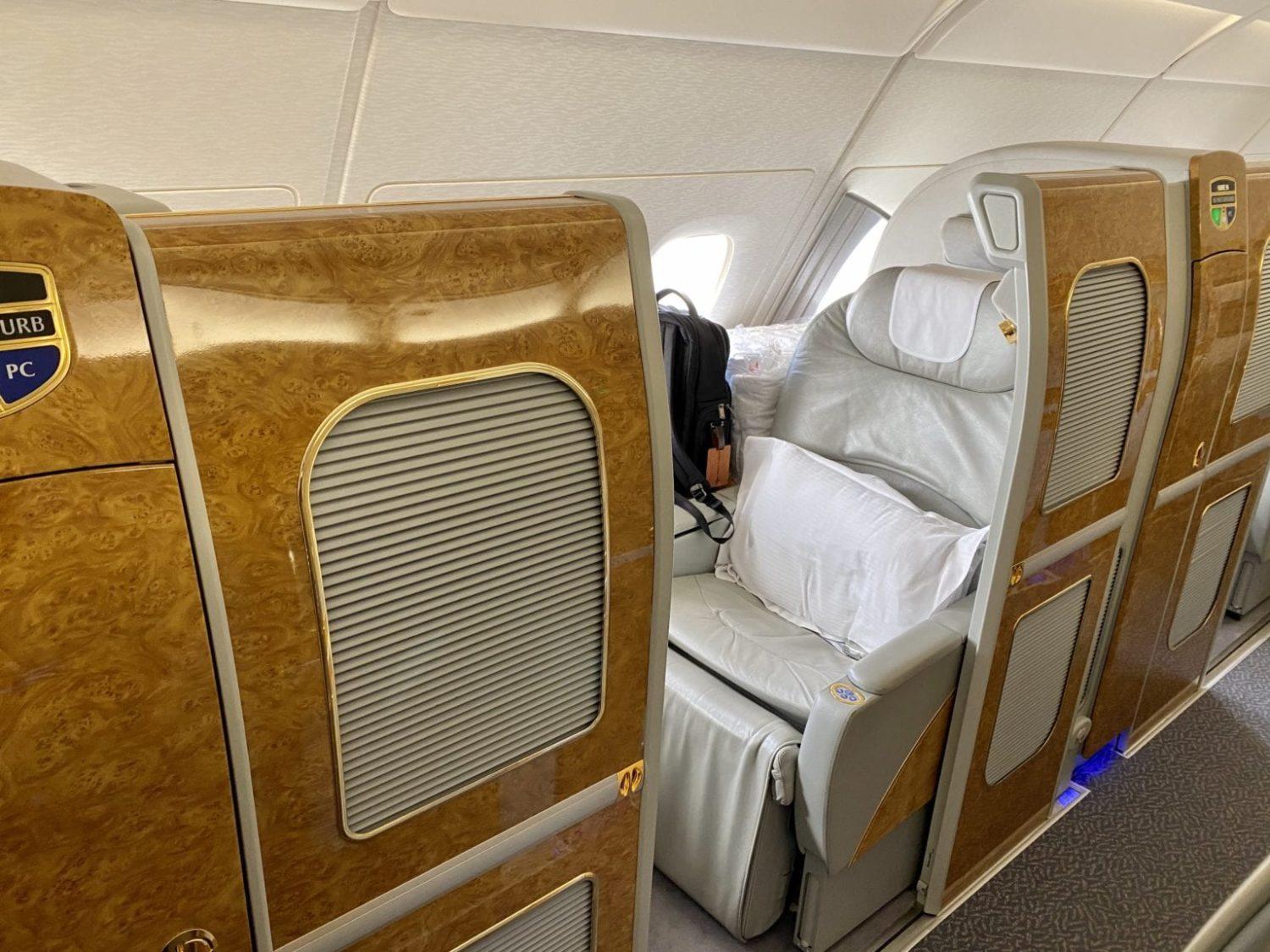 By raising business class award rates and not touching others, Emirates is putting itself into a box. And the only way to get out of that box is by increasing how many miles it takes to book a first class or roundtrip business class flight, too.
Sure, travelers love the flexibility of booking one-ways instead of roundtrip flights. And it's generally much harder to book Emirates First Class with miles than business class due to award availability.
Will they increase award rates again? We don't have the answer that. But if you've got an Emirates first class or roundtrip business class redemption, you might want to book sooner rather than later. It could save you tens of thousands of miles.
Bottom Line
Out of nowhere, Emirates increased award rates to book some of its most vaunted seats by 15% or more. That means more miles the next time you want to fly Emirates business class.
This Emirates devaluation didn't hit Emirates first class nor roundtrip business class tickets booked using miles. But it may be only a matter of time before that happens, too.