With travel largely on hold last year, Chase rolled out a great new way to use your Ultimate Rewards points called Chase Pay Yourself Back.
It works like this: Put select everyday expenses on your Chase Sapphire Preferred® Card or Chase Sapphire Reserve®, and you'll be able to cover those purchases using your Chase points – getting the same bonus you get as when you use points to book travel through the Chase portal. It currently works at grocery stores, home improvement stores, and restaurants. And while Chase has indicated that the Pay Yourself Back benefit will be permanent, the current redemption categories will end on Sept. 30, 2021.
And with those current categories, we can confirm after multiple tests there's at least one other favorite retailer that works, too. Yes, it seems you can also use Chase points to pay yourself back for purchases at Target. 
Testing Out Target
Several members of our team recently headed to one of America's favorite supermarkets to give it a whirl, putting a Target purchase on a Chase Sapphire card.
After my Target run, I logged into my Chase account and headed to the rewards portal, navigating to the new Pay Yourself Back function.
Read more: The Ultimate Guide to Using Chase Pay Yourself Back
Sure enough, there it was: My $89.69 Target purchase was eligible to be covered with Chase points using Pay Yourself Back. Because I've got the Chase Sapphire Reserve, each point is worth 1.5. That means I could cover the entire transaction with 5,979 points. 
With the Chase Sapphire Reserve, each point is worth 1.25 cents – so you could wipe out this same $89.69 charge with just 7,175 points.
And remember, you don't have to cover the entire purchase with points. You can choose to wipe out just part of the transaction with Chase points.
It seems this works best at Super Target stores that also sell groceries as these transactions are coding as grocery – making them eligible for Pay Yourself back. Notably, this does not appear to work for online Target purchases or even purchases through the Target app. You need to make the purchase in-store at a Super Target.
It's great to see yet another way to redeem Chase points at a time when many still aren't ready to redeem their points for travel. It also appears the same is true for Walmart purchases, and they should be eligible for Pay Yourself Back. Unfortunately, it appears that Costco purchases or purchases from other warehouse stores do not qualify.
How to Earn Chase Ultimate Rewards Points
There are many methods and credit cards that will help you earn Ultimate Rewards points. But in order to take advantage of this new Pay Yourself Back promotion through the end of September, you must hold either the Chase Sapphire Preferred Card or the Chase Sapphire Reserve.
To start with, The Chase Sapphire Preferred Card is one of our favorites. It earns 3x points per dollar spent on dining out at restaurants and 2x points per dollar spent on travel expenses.
At 1.25 cents each, those points are worth at least $1,250 toward travel, grocery stores, home improvement, or at Target. Considering the card has only a $95 annual fee, you can come out way ahead.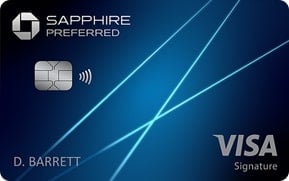 Click Here to learn more about the Chase Sapphire Preferred Card.
Then there is the Chase Sapphire Reserve, the premium version of the Sapphire Preferred Card with many more benefits that makes the annual fee on the card $550 each year. You get more premium travel benefits like lounge access, a $300 travel credit, and a $100 credit for Global Entry or TSA PreCheck, and more.
And for opening the card and spending $4,000 in the first three months of card membership, you can earn 60,000 Chase Ultimate Rewards Points. But since the points redeem at a value of 1.5 cents each, these points will be worth up to $900 towards travel, groceries, restaurants, and even at home improvement stores.
Even if you have no travel planned for the foreseeable future, again, this is a heck of a deal. But starting with the Sapphire Preferred to earn more points now is likely the better option. You can always upgrade to the Sapphire Reserve at a later date.
Click Here to learn more about the Chase Sapphire Reserve
Bottom Line
As far as we're concerned, Chase's Pay Yourself Back feature is another fantastic addition to the Chase Ultimate Rewards program. The ability to use points to cover everyday spending gives these points some much-needed flexibility.
Purposeful or not, adding Target to that mix just makes it even more lucrative.