Capital One is making waves this morning with details on not one but two upcoming Capital One-branded airport lounges. Plus, the company behind the popular Capital One Venture Rewards Credit Card is adding a few new transfer partners – including some to which you can transfer miles on 1:1 basis, making those Venture Miles a bit more valuable.
Read on for a full breakdown of these new airport lounges as well as a deeper dive into what these new transfer partners mean for your Venture Miles.
New Capital One Airport Lounges
For more than a year, Capital One has been hinting at its plans to open up an airport lounge. Now, the credit card company is ready to shed some light on even more ambitious plans.
Capital One plans to open two airport lounges by 2022. The first Capital One airport lounge will open at Dallas-Fort Worth (DFW) airport later this summer, while another will follow at Washington, D.C.-Dulles (IAD) at some point in 2022.
The lounge in Dallas will be located in Terminal D near Gate 22, which is also home to the Dallas-Fort Worth (DFW) Amex Centurion Lounge. Capital One has indicated that the lounge will be approximately 10,000 square feet with amenities like high-speed Wi-Fi, grab-and-go food or dining stations, luggage lockers, relaxation rooms, and more.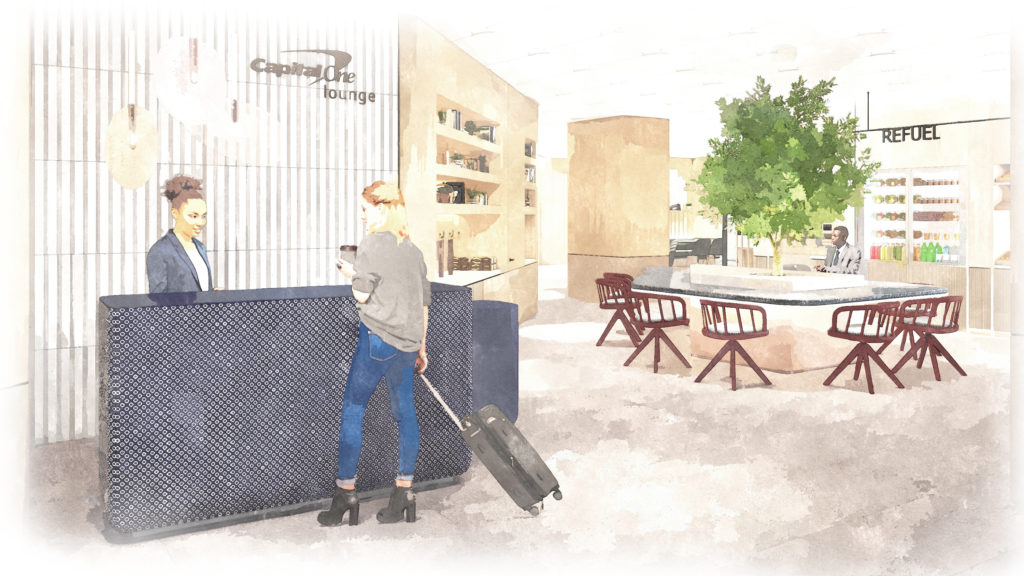 Capital One has not provided any information on the location or size of the space slated for Washington Dulles in 2022.
But in terms of getting into these lounges, that's up in the air. A Capital One spokeswoman would only say that Capital One cardholders will be eligible for "special cardholder pricing, depending on their card." The company did not provide any details on the additional cost of getting into a lounge, including whether some Capital One cardholders may get free entry. Nor did it provide any information on whether cardholders will be able to bring guests.
Consider that the Platinum Card from American Express gets you and two guests (until early 2023) into the Amex Centurion Lounge for free.
We will have to wait until closer to the lounge opening dates to see how this is handled. Perhaps Capital One has plans to launch a premium credit card with a higher annual fee that would allow complimentary lounge access? Capital One hasn't said.
New Capital One Transfer Partners
Capital One is adding four brand new transfer partners to the Venture Miles Program. Meanwhile, it's also addressing one of the major shortcomings of transferring Venture Miles.
Starting Tuesday, April 20, Capital One will add British Airways, TAP Air Portugal Miles & Go, Turkish Airlines, and Choice Hotels as new transfer partners. That gives Venture cardholders a total of nearly 20 different transfer partners at their disposal. Venture cardholders will be able to make transfers to both TAP and Turkish Airlines starting tomorrow (4/20), while both British Airways and Choice Hotels transfers will go live at some point later this year.
But more importantly, Capital One is making some of these transfers more valuable. Since the company introduced transferable points back in 2018, Venture miles have transferred on a 2:1.5 basis – or worse. Compared to Chase – where every transfer is 1:1 – that wasn't a great value.
Transfers to new partners TAP Air Portugal and Choice Hotels will be 1:1, meaning every Venture Mile gets you one mile with TAP or point with Choice. But some longstanding partners will get an improvement to 1:1 transfers, too: Avianca LifeMiles, Etihad Guest, Asia Miles, AeroMexico Club Premier, Finnair Plus Qantas Frequent Flyer, and Wyndham Rewards.
Here's a full breakdown of all the Capital One Venture Miles transfer partners.
| Program | Type | Ratio | Transfer Time |
| --- | --- | --- | --- |
| Aeromexico | Airline | 1:1 | Same day |
| Air Canada Aeroplan | Airline | 2:1.5 | Same day |
| Air France/KLM | Airline | 2:1.5 | Same day |
| Alitalia | Airline | 2:1.5 | Same day |
| Avianca | Airline | 1:1 | Same day |
| British Airways | Airline | 2:1.5 | TBD |
| Cathay Pacific AsiaMiles | Airline | 1:1 | Up to five business days |
| Choice Hotels | Hotel | 1:1 | TBD |
| Emirates | Airline | 2:1 | Same day |
| Etihad | Airline | 1:1 | Same day |
| EVA Air | Airline | 2:1.5 | Up to five business days |
| Finnair | Airline | 1:1 | Same day |
| JetBlue | Airline | 2:1.5 | TBD |
| Qantas | Airline | 1:1 | Up to five business days |
| Singapore | Airline | 2:1 | Up to five business days |
| TAP Air Portugal | Airline | 1:1 | TBD |
| Turkish Airlines | Airline | 2:1.5 | TBD |
| Accor | Hotel | 2:1 | TBD |
| Wyndham | Hotel | 1:1 | TBD |
These are solid additions, especially with the introduction of new 1:1 transfer partners. Still, we think the best way to use Capital One Venture Miles is with their Purchase Eraser function. From flights to hotels to Airbnbs and rental cars, just charge your travel expense to your Venture Card and then remove that charge from your card using miles.
When you redeem them this way, each mile will be worth 1 cent towards travel. That means a $500 flight or Airbnb booking can be removed with 50,000 Capital One Venture miles. It's still the easiest and most straightforward way to book travel with Capital One Miles. And it allows you to cover many expenses that other travel credit cards don't.
Read More: Use Your Capital One Venture Miles for More Than Just Flights
Bottom Line
Capital One will be launching two new airport lounges, starting with a lounge in Dallas this year and a second in Washington, D.C. – Dulles sometime in 2022. Many questions remain about access and pricing, which should be cleared up closer to the lounge opening dates.
Additionally, Capital One has added a handful of new Venture transfer partners and introduced a new 1:1 transfer tier, which is a major improvement if you're looking to squeeze extra value from your Venture Miles.