When it comes to using American Airlines AAdvantage miles, it gets so much better than AA flights. The airline has a ton of great partner airlines that you can fly using those AA miles.
And Etihad Airways from the United Arab Emirates is near the top of that list. It doesn't get much better than flying in your own Apartment – one of the most luxurious first class cabins in the world – using miles.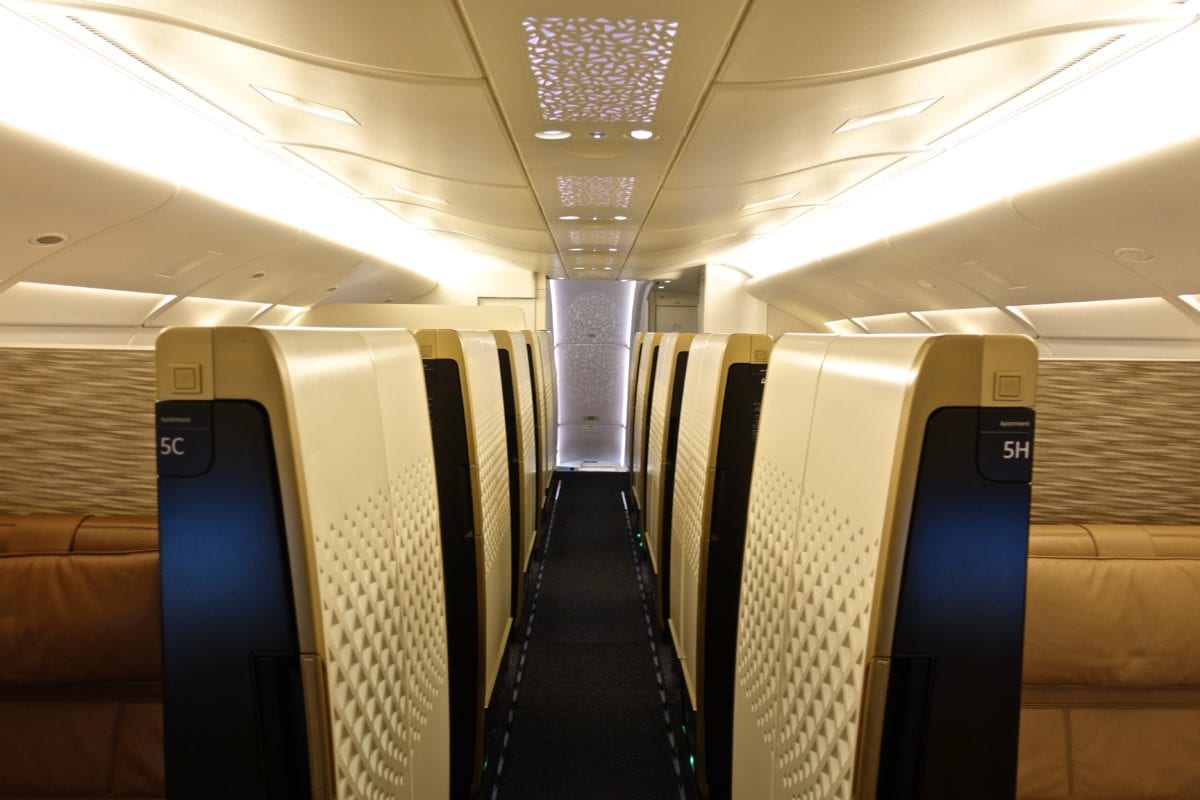 But for years, it's taken some extra legwork to do it. You'd need to search for the award space on Etihad's website, then call up American Airlines to actually book the flight.
No more. One Mile at a Time reports that these awards are now bookable online at AA.com! Read on to learn how.
All About Etihad Awards
Etihad only flies from three U.S. cities to its hub in Abu Dhabi (AUH): Chicago-O'Hare (ORD), Washington, D.C.-Dulles (IAD), and New York City-JFK (JFK). And if flying in the first class Apartment is your goal, your only option is JFK.
But there are some other great ways to fly on Etihad, including getting a seat in the Apartment cabin. Here's a look at how many miles it takes to fly, all priced one way.
| Route | Economy | Business Class | First Class/Apartments |
| --- | --- | --- | --- |
| U.S. - Abu Dhabi (or vice versa) | 40,000 AAdvantage Miles | 70,000 AAdvantage miles | 115,000 AAdvantage miles |
| Paris or London - Abu Dhabi (or vice versa) | 20,000 AAdvantage Miles | 42,500 AAdvantage miles | 62,500 AAdvantage miles |
| Sydney or Melbourne, Australia - Abu Dhabi (or vice versa) | 42,500 AAdvantage miles | 80,000 AAdvantage miles | 100,000 AAdvantage miles |
Of course, your options are bigger than that – especially after some changes in the AAdvantage program that made it cheaper to book a two-segment itinerary. So, for example, you can now fly Etihad business class from the U.S. to Johannesburg, South Africa (JNB) with a stop in Abu Dhabi (AUH) for just 75,000 AAdvantage miles, rather than paying separately (and more) for each segment.
How to Book Etihad Online
You know you want to book these flights – who doesn't want to fly in their own Apartment? – now you just need to know how.
There are some important restrictions to keep in mind. As One Mile at a Time notes, your best bet for finding flights that work from the U.S. is within a month before departure. After that, availability dries up.
And unfortunately, you're out of luck if you need a return flight from the Middle East. Those flights just don't show up on AA.com, so you'll still need to call in to book. Read up on the old method of booking Etihad flights, which will put many more flights at your fingertips.
But if your plans fit the bill, it's easy to book. Just head to AA.com, type in your cities and your dates and page through what's available. You'll see it's not easy – but not impossible – to find dates that work to fly in an Apartment from JFK to AUH.
But say you just want to fly from Europe to the Middle East in your own Apartment? It's much easier – and cheaper.
Bottom Line
One of the best ways to use AAdvantage miles just got even easier. And now that it's easier to book, odds are that it will get harder to find the flights you want using AAdvantage miles.