Snagging a seat – no, a suite – in Etihad's first class is on travelers' bucket list for a reason. They're called Etihad Apartments, after all.
And now, there's a great new way to book them. Aeroplan, the frequent flyer program of Air Canada, launched its new partnership with Etihad this week. That means you can book flights on Etihad using Aeroplan miles (or vice versa), and earn Aeroplan miles when you book a cash flight with Etihad (or vice versa).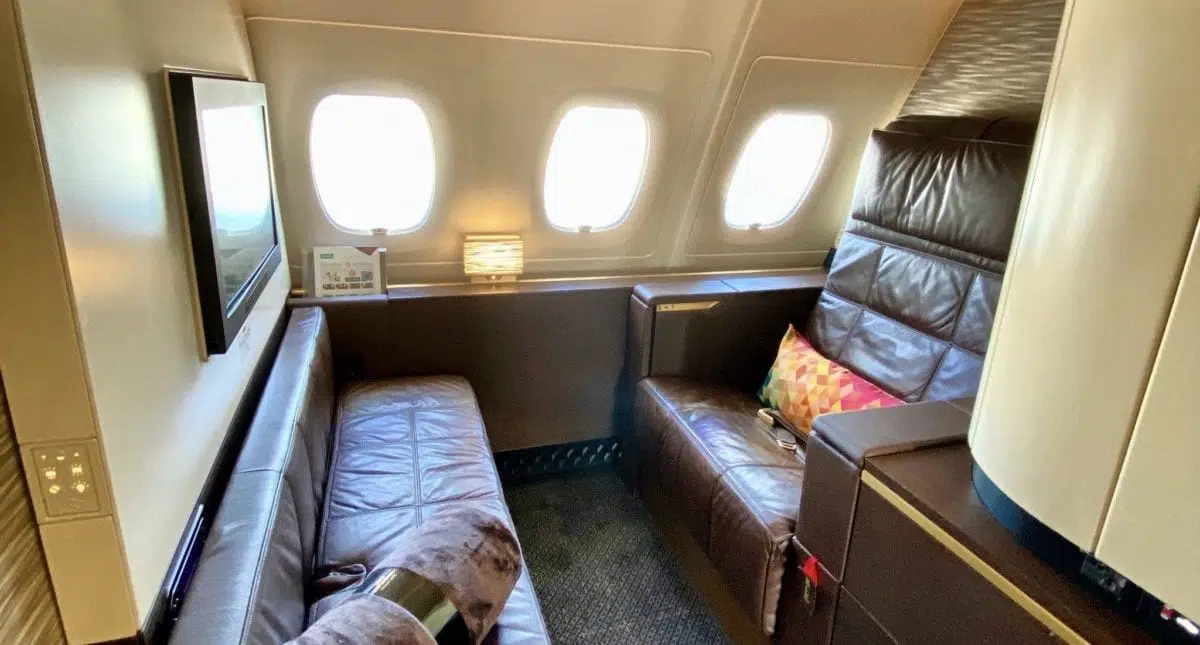 Read our full review of flying the Etihad Apartments from Abu Dhabi (AUH) to New York City (JFK).
For years, using American Airlines AAdvantage miles has been the go-to way to book Etihad economy, business, and first class flights. Aeroplan is another outstanding option, with similar award rates and availability. And considering you can transfer points to Aeroplan from both American Express Membership Rewards and Capital One Venture Miles, this makes it much easier to book those Etihad flights.
Great Rates + A Sweet Spot
This new partnership opens several opportunities to use miles to fly, but using Aeroplan miles to book Etihad flights is the real sweet spot here.
Aeroplan has a great fixed award chart, with reasonable rates to fly on more than two dozen Star Alliance and other partner airlines and pretty low cash fees when using miles.
That doesn't change when booking Etihad flights with Aeroplan miles. Here's a look at what Aeroplan will charge for a one-way flight between the U.S. and Middle East:
Economy: 40,000 miles
Business Class: 82,500 miles
First Class/Apartments: 115,000 miles
Those rates are largely in line with how many American AAdvantage miles you'd need to book the same flights. The 115,000 miles to fly first class is identical, while an 82,500-mile business class ticket is a bit steeper than the 70,000 you'd pay with AAdvantage miles.

But it gets even better if you want to fly between the U.S. and Africa or the Indian subcontinent, making a stop in Abu Dhabi (AUH) along the way. That includes the Maldives (MLE), Seychelles (SEZ), and heading as far south as Johannesburg, South Africa (JNB). Here's a look at those rates, again for one-way flights:
Economy: 50,000 miles
Business Class: 75,000 miles
First Class/Apartments: 105,000 miles
That's right: It will save you miles to book a longer trip in first or business class (with a stop at one of Etihad's Abu Dhabi lounges in between). That's a fantastic deal.
Because Aeroplan also partners with United, you should also be able to seamlessly find a connecting flight within the U.S. and book a mixed-partner award without paying another mile – at least when you can find the award space on both segments.
How to Book
These flights are all bookable online. But finding the actual award availability is another matter. And there's one big problem.
Much like American, Aeroplan doesn't seem to show Etihad flights departing the U.S. Whether you search for a round-trip or a one-way flight, you'll only see Etihad awards when searching for flights from Abu Dhabi (AUH) to the U.S.
It's unclear whether these awards simply aren't available, or if you can call Aeroplan's contact center (at 1-800-361-5373) to book them by phone.
Thrifty Tip: Though you're booking with Aeroplan miles, use the Etihad Guest website to search for award availability. Search for round-trip flights starting in Abu Dhabi, and look for flights with "Guest First" availability. Those flights should be bookable with your Aeroplan miles.
Etihad flies to several U.S. cities. But if you're trying to fly the Apartments on to or from the U.S., you've got just one option: flying in or out of New York City (JFK), the airline's only route with the Airbus A380.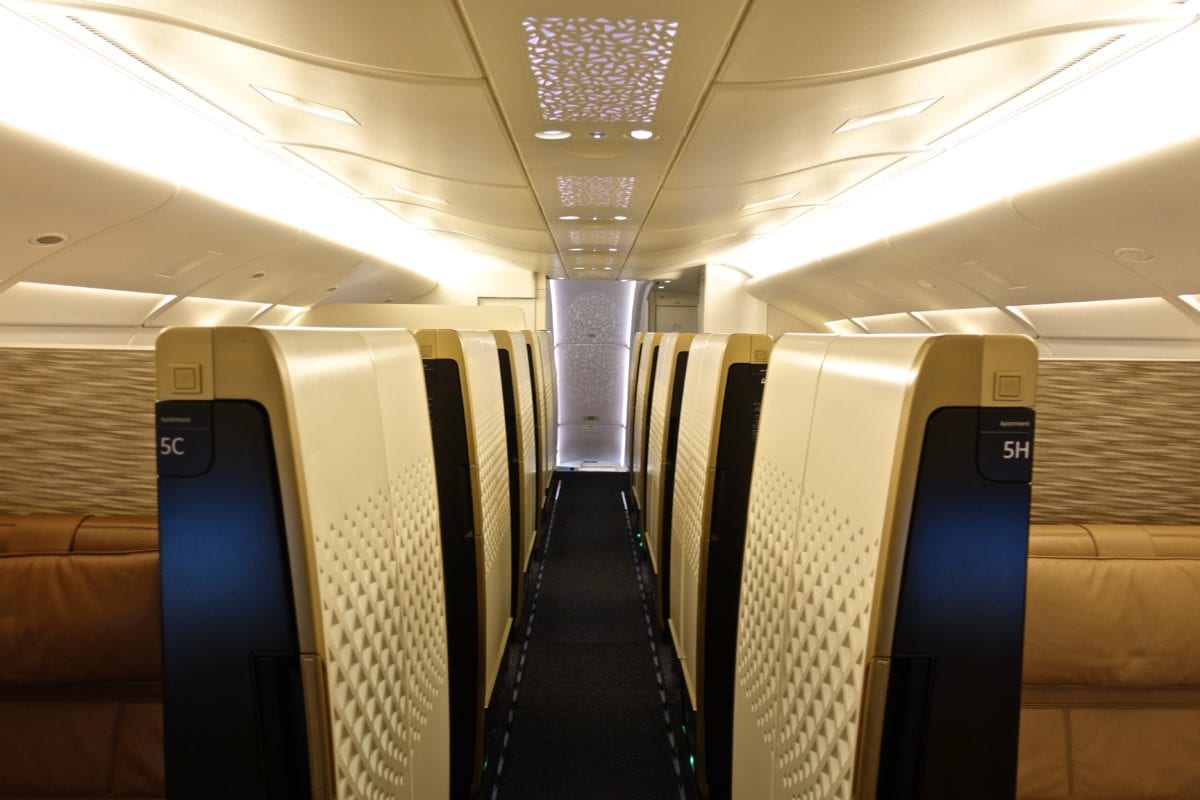 How to Earn Aeroplan Miles
The real beauty of this new partnership is how much easier it makes it to earn the miles you need to fly Etihad.
For starters, you can transfer American Express Membership Rewards points to Aeroplan. These transfers are instantaneous. Amex points transfer to Aeroplan on a 1:1 basis, so 100,000 Amex points will get you 100,000 Aeroplan miles.
You can also transfer Capital One Venture Miles – but at a 2:1.5 transfer ratio, those transfers aren't quite as lucrative.
Bottom Line
This is an exciting new addition. Using Aeroplan miles could easily be one of the best (and easiest) ways to book flights with Etihad.