We have a motto here at Thrifty Traveler: The best use of points and miles is for a flight you wouldn't otherwise take. And we lived up to that motto in 2021  … and then some.
It's been a strange year of travel. Like many of you, we did our best to return to travel over the past year as safely and wisely as possible. And using points and miles helped: With the ability to cancel and get your miles back for free (or cheaply) through many airlines, it's been a great way to book travel in these uncertain times. For this year and next.
But that uncertainty didn't stop us from going big. Our team used miles to book a bucket-list honeymoon to Africa for next year, take a first class flight to Italy, get to Europe and back in business class, and even book one of the biggest first class suites you can find on a plane thanks to some incredibly rare award space.
Want the scoop on when first and business class redemptions like these are available? We send Thrifty Traveler Premium members award space alerts, plus cheap domestic and international flight deals!
Jared, Founder & CEO: Singapore's Massive First Class Suites
There's flying first class, and then there's Singapore Airlines' latest and greatest first class suites.
You won't find a bigger suite on a plane – in fact, you have to measure it in feet, not inches. These suites onboard select Singapore Airlines Airbus A380s measure in at a whopping 50 square feet. Each suite is equipped with a separate reclining seat and fold-down bed, along with a 32-inch TV for each and every passenger.
Throw in some high-end champagne and the ability to "Book the Cook" to pre-select your meals, and first class doesn't get much better than this.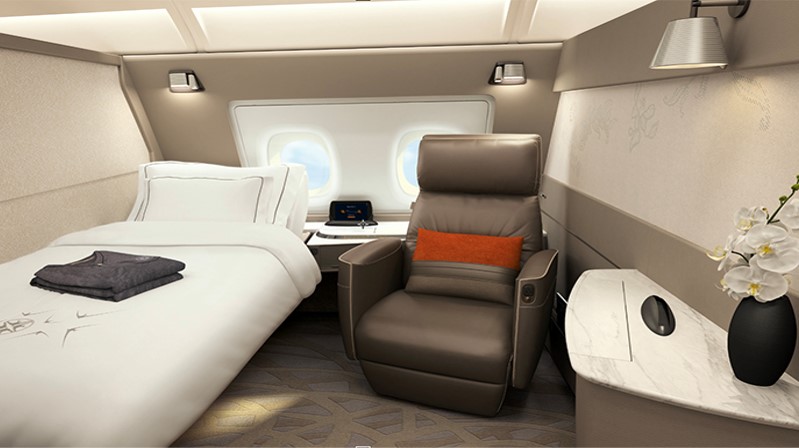 It gets even better. If you're traveling with a companion – or luck out and no one is in the suite next door – ask a flight attendant to drop the wall between the suites. Voila: You've got a double bed and 100 square feet of space to share.

Even with an endless supply of miles, the problem is actually finding these suites. They're only available on certain routes – and rarely to or from the U.S. You'll need Singapore KrisFlyer miles to book, as Singapore doesn't make its premium cabin awards available to partner carriers like United, Air Canada, and other Star Alliance airlines. And even then, Singapore is incredibly stingy with releasing award space to book these suites using miles.
But that all changed this month, when Singapore put one of these sparkly new Airbus A380s on its fun fifth-freedom route between New York City (JFK) and Frankfurt (FRA). My wife, Erica, and I jumped at the chance to score our own double-suite in the sky.
We used just 86,000 miles and just over $100 in taxes each to book an incredible flight home from Europe next year after a visit to the Christmas markets.


Nick, Co-Founder: Another Trip Up Front with Emirates
I've flown Emirates First Class before, and there's nothing like it. Your own suite, top-notch food and service, an onboard bar, and even a shower at 38,000 feet.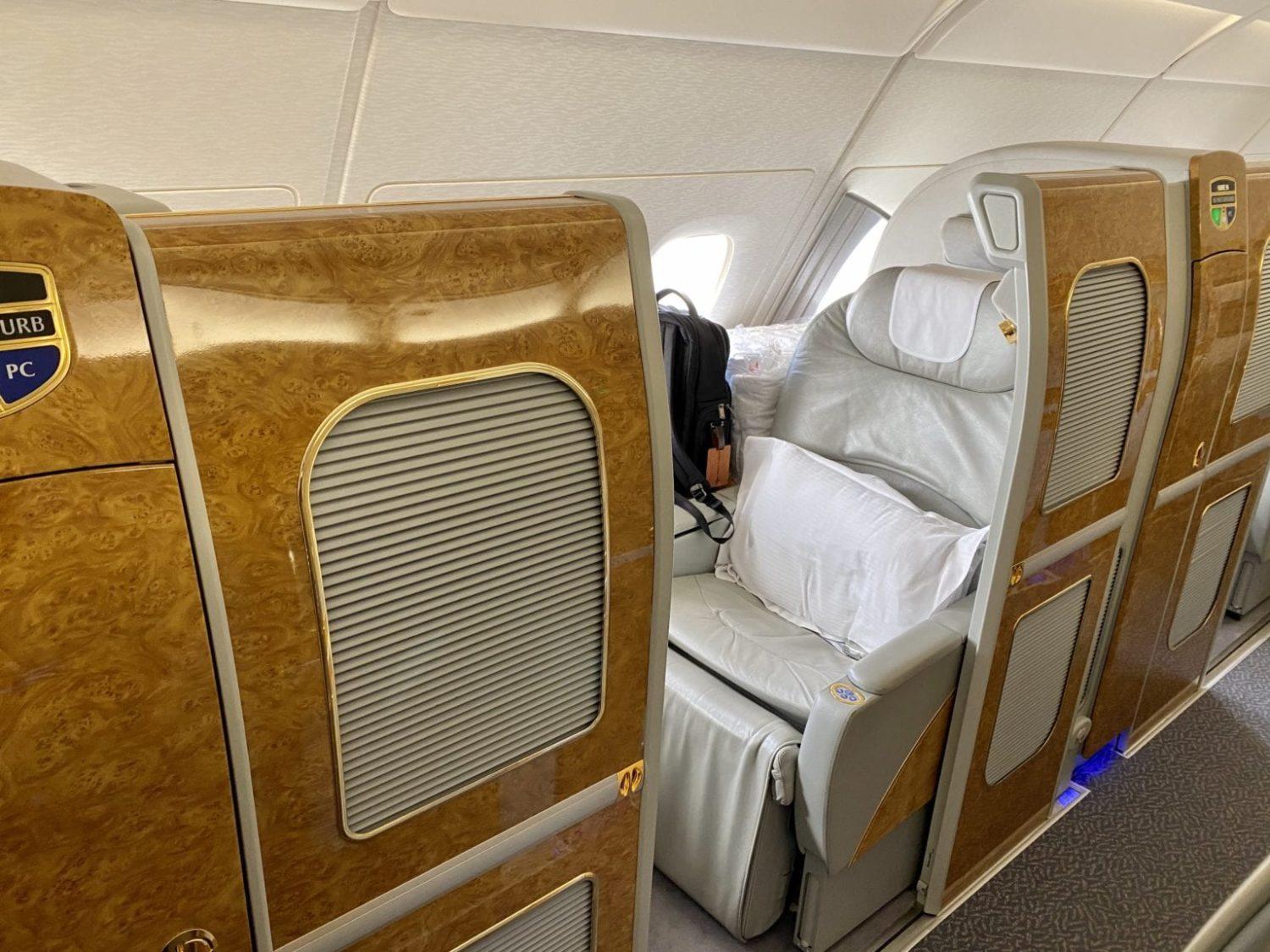 But this next trip I booked using points and miles is going to be extra special. In 2022, the World Cup will be held in Doha, Qatar. Lucky for me, there's no shortage of fun and completely over-the-top ways to get to the Middle East using points and miles.
Jared, two other friends, and I will be flying Emirates First Class to Dubai and head onward to Doha in November for the opening days of the World Cup – the tournament is being held later next year due to the summer heat. I was able to book my seat for 136,250 Emirates Skywards miles. Plus, I covered the $180.60 of taxes and fees using my Chase Sapphire Reserve $300 travel credit. 


Emirates miles are incredibly easy to earn, as they can be transferred from Amex Membership Rewards, Chase Ultimate Rewards, Capital One Venture Miles, and Citi ThankYou Points – all on a 1:1 basis. Seeing as I have a ton of Amex Membership Rewards points, I transferred 136,250 Amex points to book.
And considering the cash price of this ticket is currently just under $9,000, I'd say I did fairly well with my points.
I had a chance to fly Emirates first class right before the pandemic in 2020, and it is on another level when it comes to international travel. First-class passengers have access to the onboard bar and also the onboard shower. Yes, taking a shower at 36,000 feet is as absurd and amazing as it sounds.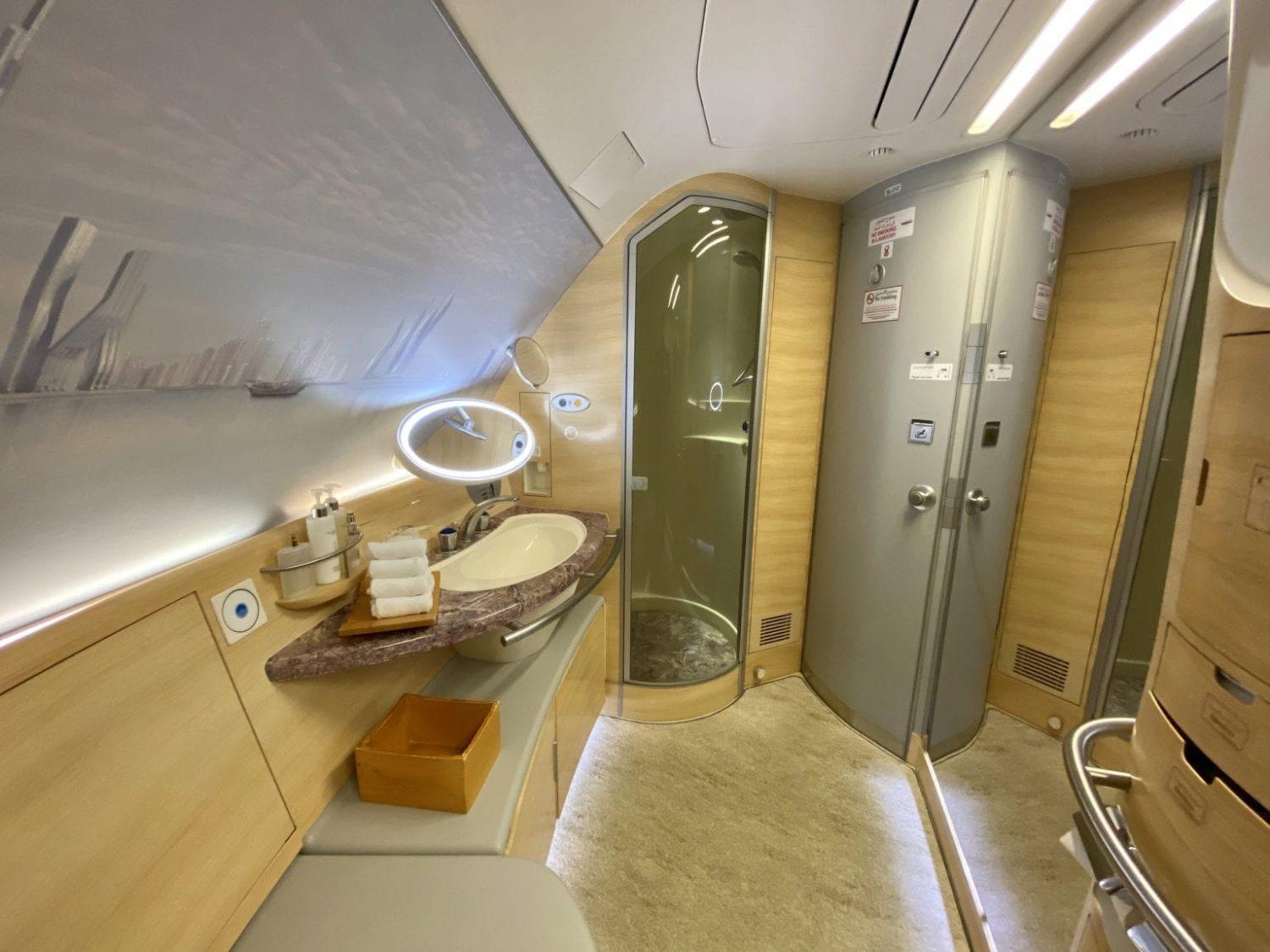 Read our full Emirates first class review to see what all the hype is about!

Erica, COO: Flying SWISS Business Class
One of my favorite points redemptions from 2021 was our flight on SWISS Business class from Chicago to Zurich this past summer. Not only is it pretty easy to book using miles, but it's a much better experience than what you'll get flying business class on most U.S. carriers – and a much better way to use your points and miles, too.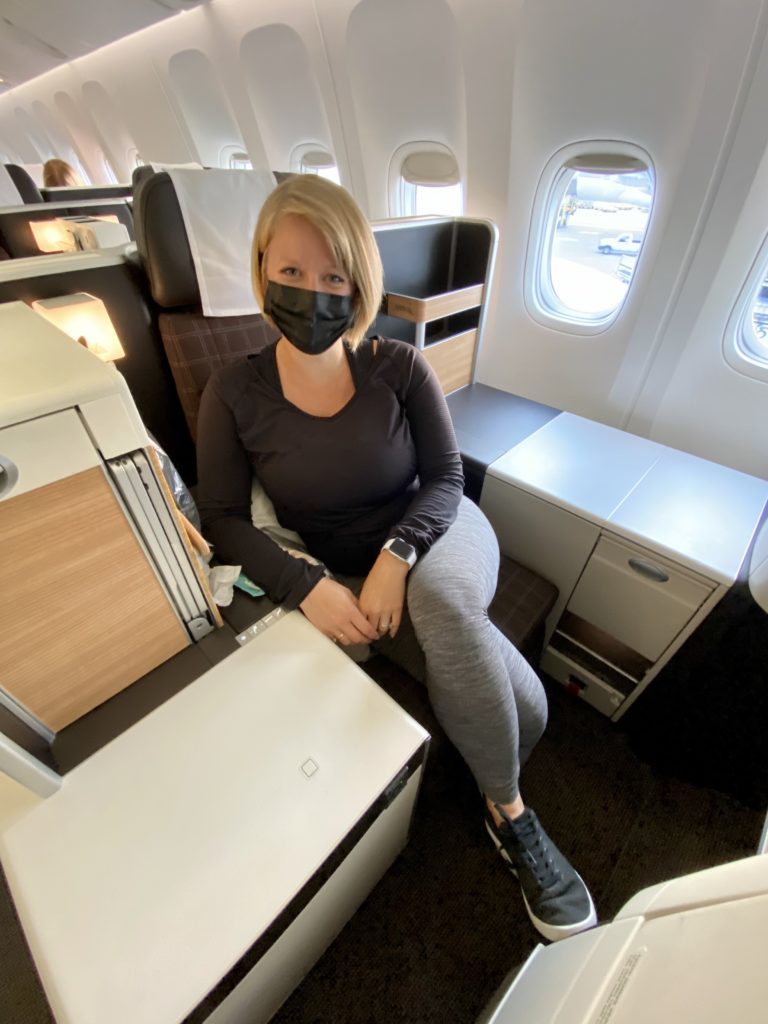 One of the best parts about booking SWISS business class is how easy it is to book for two or more people – the award availability in SWISS business class is frequently wide open. Other business and first class redemptions require hours upon hours of searching and trial-and-error, but that's not the case here.
And because SWISS is part of the Star Alliance, there are plenty of great airline programs you can use to book. We went with Avianca LifeMiles, which are transferrable from Amex Membership Rewards, Capital One Venture Miles, and Citi ThankYou Points. We booked our one-way flights from Chicago-O'Hare (ORD) to Zurich (ZRH) using 63,000 Avianca LifeMiles and just $24 in taxes and fees each.

SWISS business class seats are plenty comfortable, with more storage than you'll get in almost any business class seat – especially if you manage to snag one of the throne seats like I did. The service, food, and drinks were all great, too.
One of my favorite little things about SWISS business class was the breakfast pre-order form they handed out at the beginning of the flight. Rather than get woken up with a tray of food, SWISS flight attendants handed out these forms asking if you'd like to be woken for breakfast – and if so, what you'd like to eat. This is a simple touch that made our flight go smoother.

Check out my full review of our SWISS business class flight!
Kyle, Executive Editor: Perfection on a Flight to Italy
If your bucket list had a bucket list, this flight would be on it. I lost track of how many times I had to pinch myself flying Lufthansa First Class.
Everything about this flight was spectacular. Getting in the nose of a Boeing 747 before they disappear for good was on my bucket list, and Lufthansa First Class is widely considered one of the best ways to cross the Atlantic Ocean. Despite all the hype and mystique surrounding this flight, it met and surpassed my wildest expectations.
The seats were great, reclining into one of the best beds I've ever had in the sky. The service throughout the flight my wife and I took this past summer from Miami (MIA) to Frankfurt (FRA) was second-to-none. The meals and drinks were great from start to finish. But the highlight was a long layover in the incomparable Lufthansa First Class Terminal, where we napped, ate, and drank to our hearts' before being escorted in a Porsche on the tarmac to our connecting flight to Italy.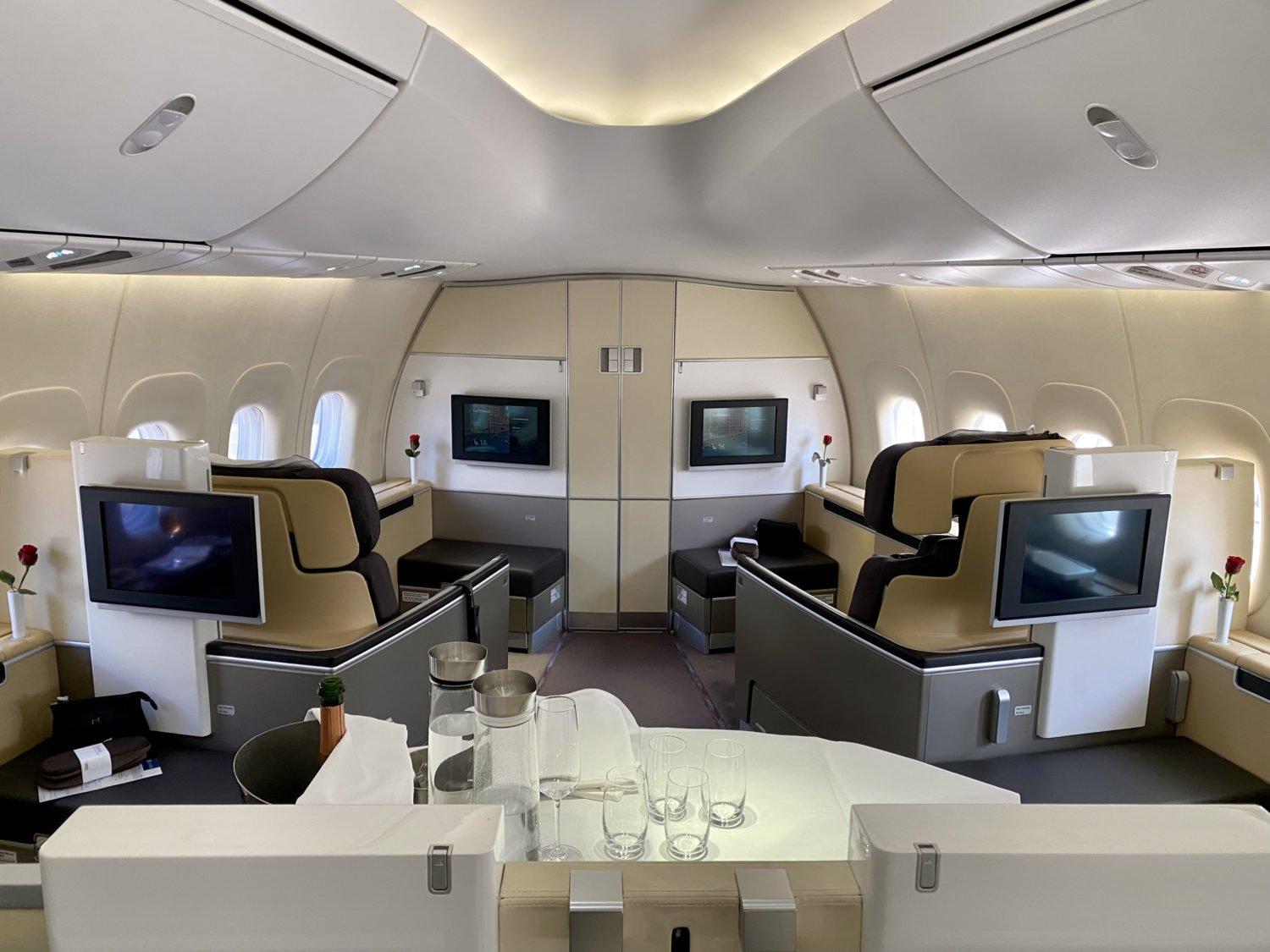 But booking this flight was a bit of a nightmare – and it always is. Whether you book using miles from United, Aeroplan, LifeMiles, or another carrier, Lufthansa doesn't release award space to partner programs until at least 30 days. In practice, you can really only book a seat just three to four days in advance.
But it's all about the thrill of the chase. Just three days before we were set to depart for Europe, it happened: Lufthansa First Class was suddenly available. So my wife and I scurried to cancel our existing tickets and hurriedly booked our seats. Whew.
In the end, we used 100,000 Air Canada Aeroplan miles and about $70 apiece to book our flights. We had much of that covered from the flights we canceled, getting those miles back within just 10 minutes of scrapping them. I transferred the rest from a stash of Amex Membership Rewards points.

And I'm so, so glad we did it: It was easily one of the best flights of my life and my favorite use of points, too … but I'll probably never do it again. How could we possibly top it?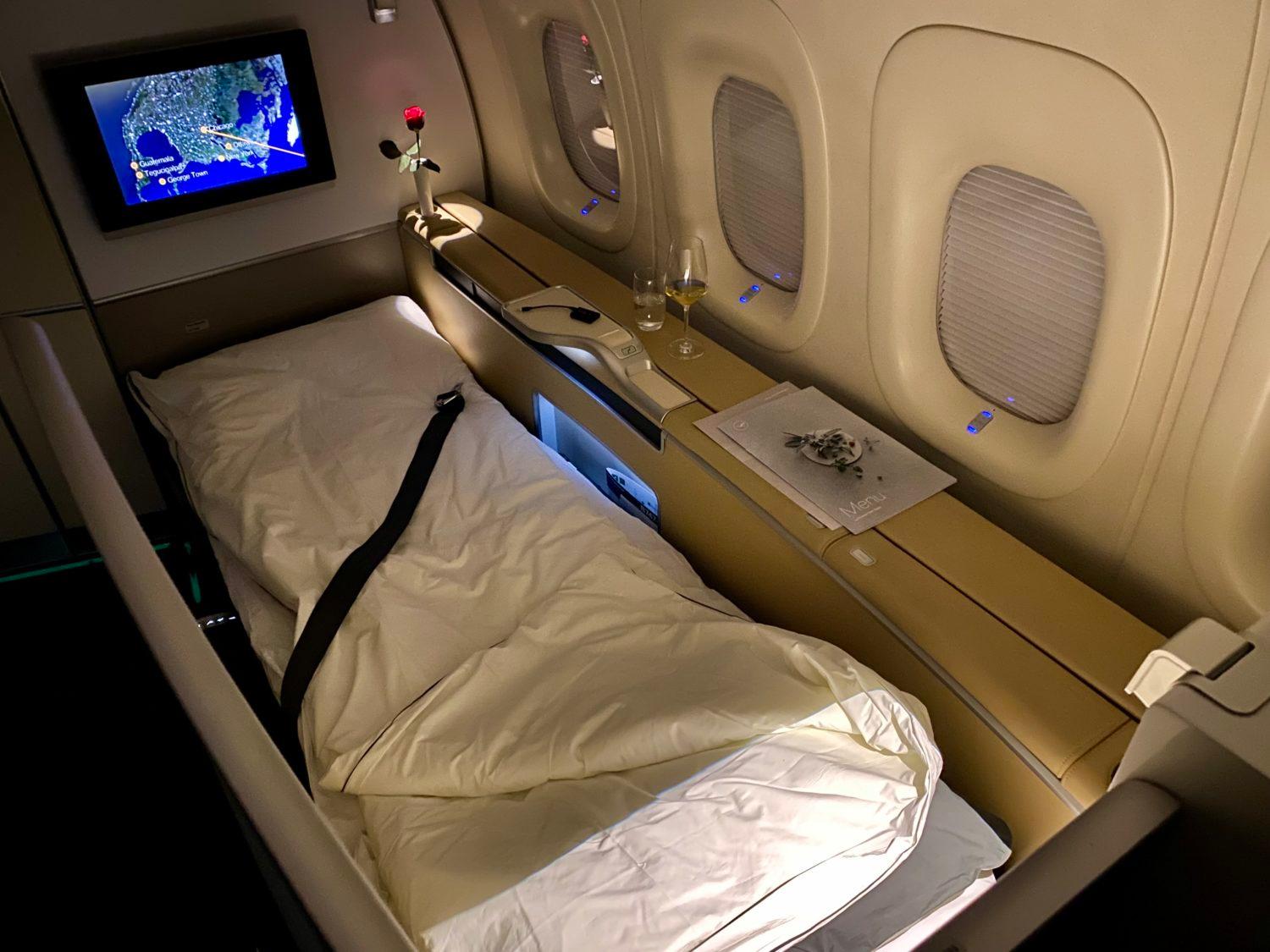 Read more: Lufthansa First Class Was Incredible … But I'll Never Fly it Again
Jon, Chief Flight Deal Analyst: Flying Mint to Vegas
My favorite points and miles redemption from 2021 married some of the things I love most: Cheap flights, a trip to Las Vegas, flying in first class, and using points to do it.
In early 2021, we found and sent Thrifty Traveler Premium members an incredible fare to fly JetBlue Mint – the airline's first class seats and one of the best ways to fly in the U.S. – for just $300 for a one-way transcontinental flight. That's an incredible deal for fares that typically cost $900 or much more.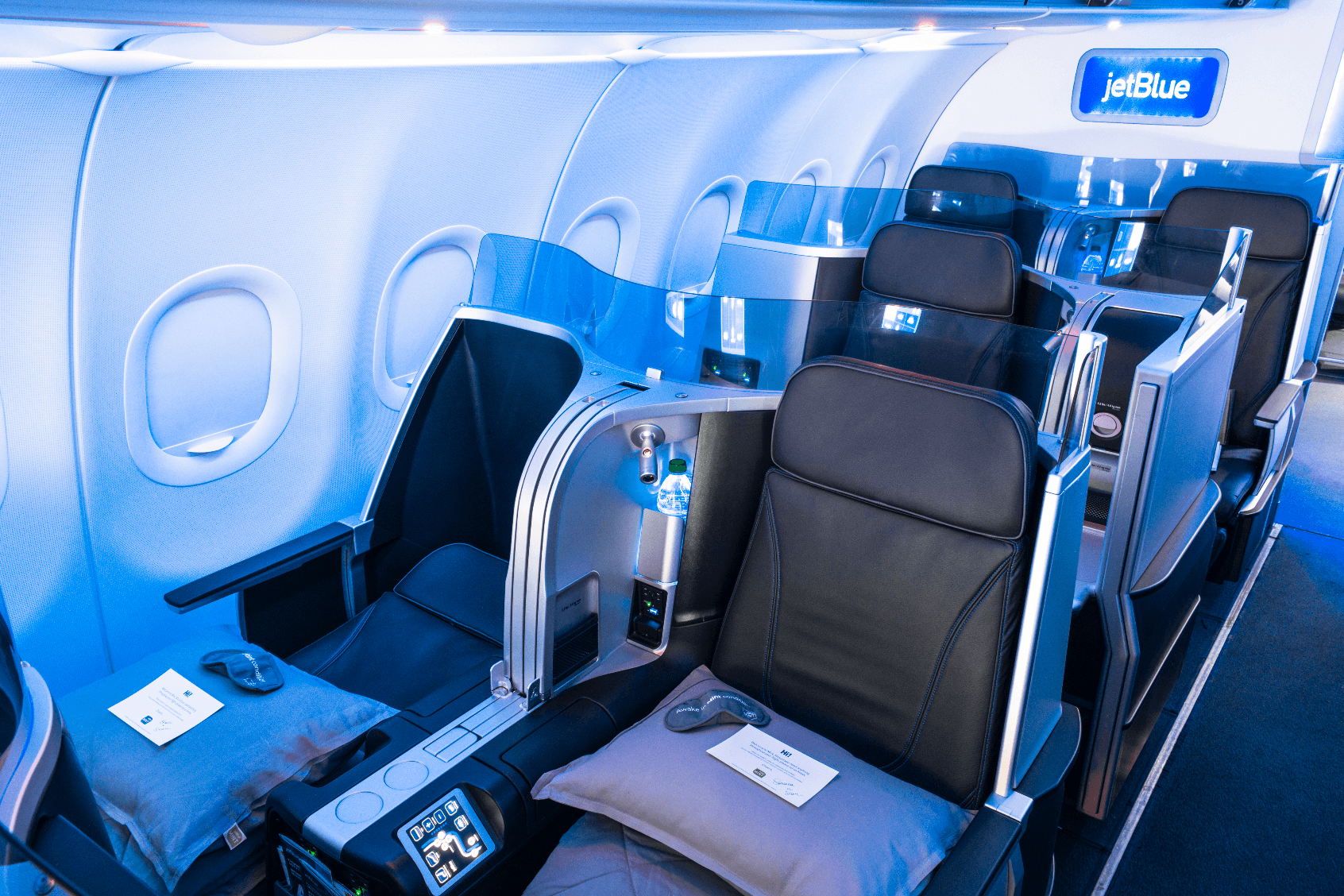 But we took it to the next level. Instead of paying cash, Kyle and I booked our seats using Amex Membership Rewards points from The Business Platinum Card® from American Express. Thanks to the 35% rebate when using points to book any premium cabin seat, that knocked down the final cost to just 19,000 points apiece!
Not only was this an insane price for what we were flying, but it was also en route to one of my favorite cities in the U.S., which made it even more fun! After a positioning flight to Boston (BOS) the night before, we pushed off for Las Vegas (LAS) the following morning. This nearly six-hour flight was incredible. From the top-tier service to phenomenal cuisine to the extra comfy seats (even for someone 6 feet, 3 inches like me), there wasn't a thing I could complain about with JetBlue Mint.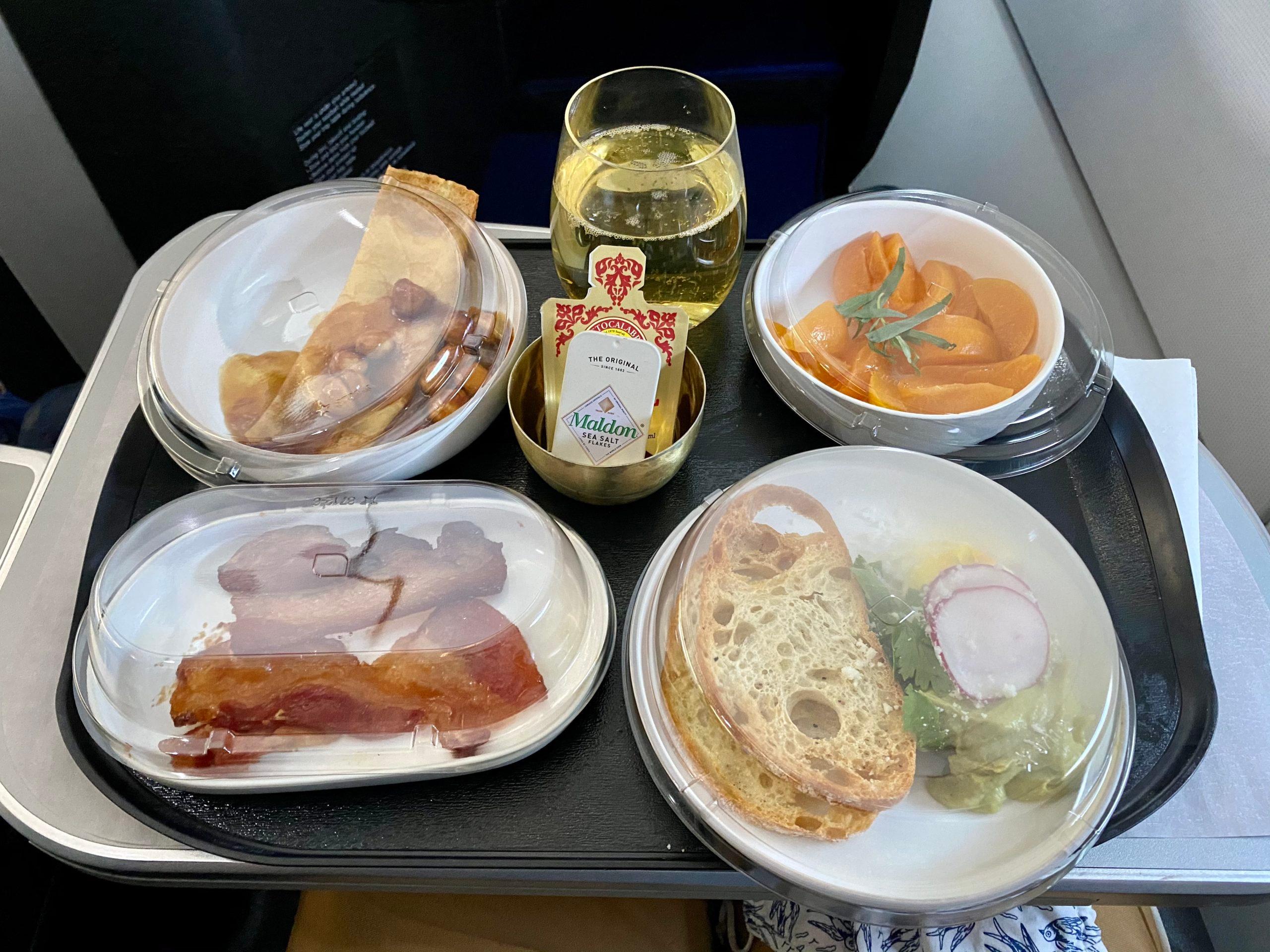 Check out our full review of this JetBlue Mint flight! 
If I ever get the chance to book one of these flights again at that price (and with flexible currencies), I would not hesitate.

Gunnar, Editor & Flight Deal Analyst: QSuites to Africa for 75K
Ever since I joined Thrifty Traveler earlier this year, my co-workers can't seem to shut up about Qatar Airways' QSuites and how great it is.
And by all indications, they're right: Just look at this.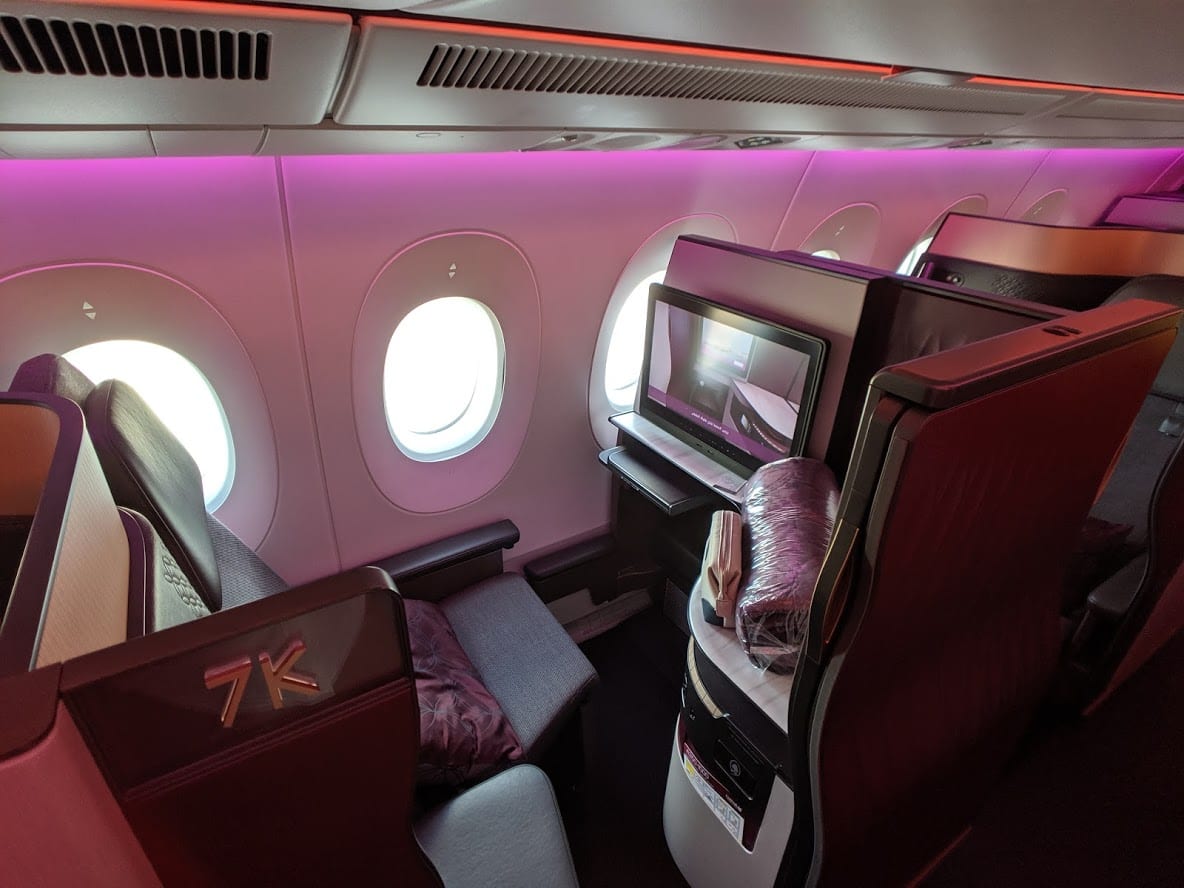 Check out our full review of Qsuites!
So I figured it would be the perfect way to get my fiancee and myself to Zanzibar (ZNZ) in Tanzania to kick off our honeymoon next year. Just a few days ago – before the year comes to a close – we booked these fares for travel in fall 2022. It instantly became my favorite award redemption of 2021 – and perhaps ever.
Amazingly, you can book a one-way flight in Qsuites from the U.S. to Doha (DOH) and onward to anywhere in Africa for just 75,000 miles each. And that's what we did.
We started by each opening the AAdvantage® Aviator® Red World Elite Mastercard® which was offering a 60,000-mile bonus after making one purchase! I bought a cup of coffee. My fiancee bought her mom and dad a Christmas tree. With a few thousand miles more apiece, we had enough miles to book.

Finding the availability to book Qsuites can be tough, as it's always coming and going. But we're constantly searching for it to alert Thrifty Traveler Premium members – and, as luck would have it, availability for our October honeymoon was wide open.
We took advantage to book our dream flights to paradise. Read more on the best ways to book Qsuites!

Bottom Line
Look at this list, and you'll see just how far points and miles can really go. Many of these flights were booked using just a single welcome bonus from one credit card. And booking with miles often gives you even more flexibility in these uncertain times.
Want alerts when there's a chance to book flights like these using your miles? Need help sorting out which credit card is right for you or the best way to use your miles? Thrifty Traveler Premium members get it all!