Delta Air Lines is offering some Delta SkyMiles credit cardholders 15% off SkyMiles fares on Delta-operated flights with a brand new benefit dubbed TakeOff 15. But is the airline going to raise SkyMiles rates to make up for it?
It's a fair question for travelers to ask, as it feels like a blanket 15% discount for cardholders might be too good to be true. And the answer isn't as simple as "Delta is going to raise SkyMiles rates by 15%" either.
Luckily, we have some answers, as we scan and log Delta SkyMiles fares many times a week to help find Thrifty Traveler Premium+ deals for our members.
What we found isn't as straightforward as you might think. While many SkyMiles rates have been increasing steadily over the last few months, we are still finding some of the cheapest SkyMiles fares we've ever seen.
That's the nature of the way Delta prices flights using SkyMiles. Delta employs something called dynamic pricing for its SkyMiles frequent flyer program so the rates are constantly rising and falling with supply and demand, and more or less based on the cash price of fares.
So what exactly should Delta flyers expect to happen to SkyMiles rates in the wake of this new TakeOff 15 benefit? Let's dig in.
Related Reading: How Much are Delta SkyMiles Really Worth?
What is Delta's TakeOff 15 Benefit?
First, TakeOff 15 is a new benefit for Delta SkyMiles American Express cardholders that provides at least a 15% mileage discount when redeeming SkyMiles for Delta-operated award flights.
It's available on both consumer and business versions of the Delta SkyMiles Gold, Platinum, and Reserve credit cards. Only the no-annual fee Delta SkyMiles Blue card is excluded.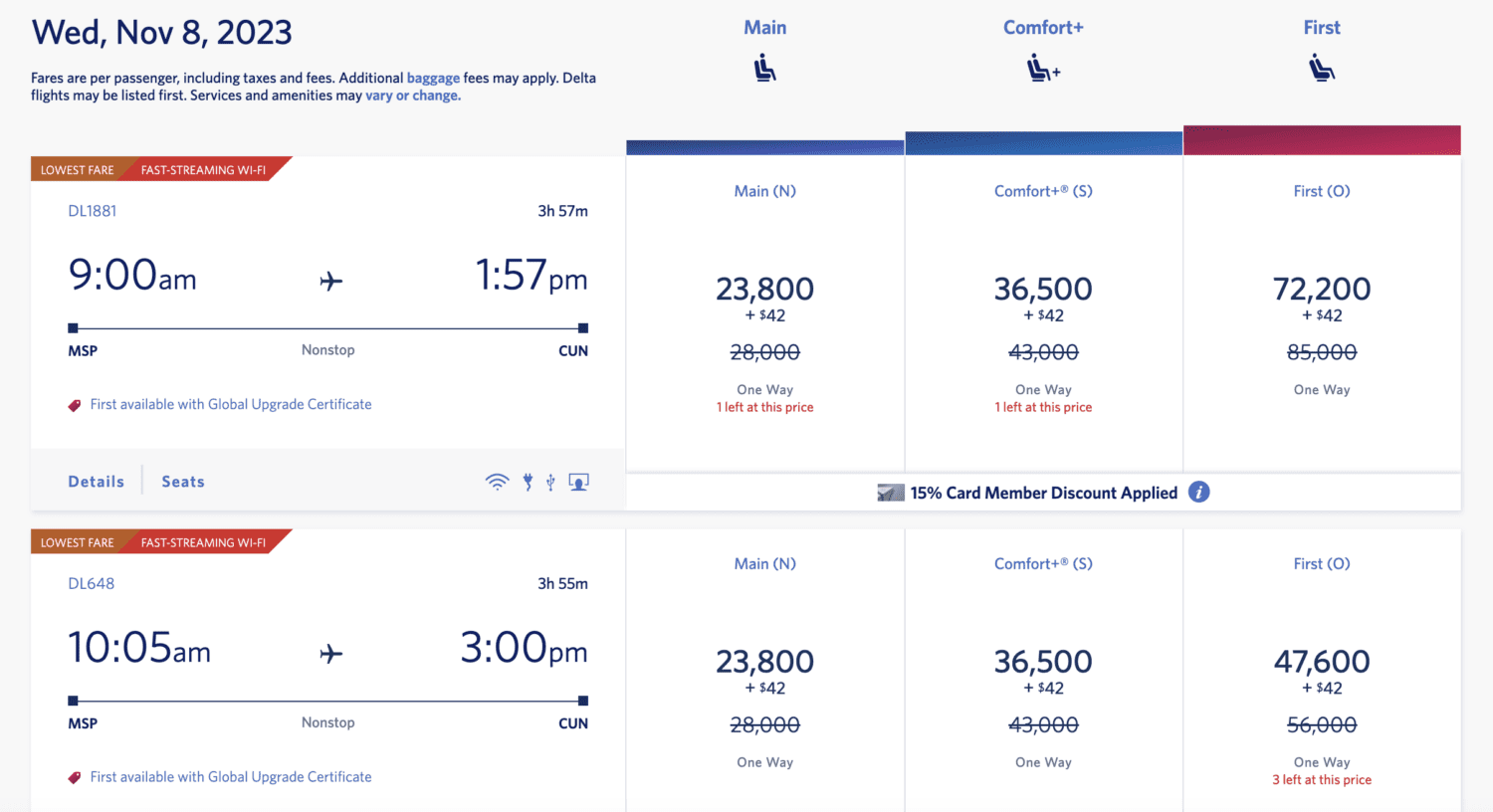 The TakeOff 15 discount is automatically applied at checkout when you are booking with SkyMiles as long as you are logged into a Delta account associated with a SkyMiles credit card and only applies to Delta and Delta Connection-operated flights.
As you can see from the screenshot above, the discounted fare is shown in bold, while the original fare is crossed out. The discount applies to all fare types, all the way up to First Class and Delta One.
Are SkyMiles Fares Getting More Expensive?
For our Thrifty Traveler Premium+ service, we are constantly tracking Delta SkyMiles fares so we can send the best SkyMiles flash sales to our members. That means we also have months and months of SkyMiles pricing data.
So, what are we seeing over the last month in the run-up to the TakeOff 15 benefit announcement?
Here are some of the lowest SkyMiles fares from Atlanta (ATL) we found for travel in March 2023 when we searched on Jan. 10:
Amsterdam (AMS) – 76,000 SkyMiles
London (LHR) – 60,000 SkyMiles
Honolulu (HNL) – 63,000 SkyMiles
Cancún (CUN) – 34,000 SkyMiles
Montego Bay (MBJ) – 38,000 SkyMiles
Santiago, Chile (SCL) – 108,000 SkyMiles
Tokyo (TYO) – 193,000 SkyMiles
Here are the same searches when we conducted them again on Jan. 27:
Amsterdam (AMS) – 90,000 SkyMiles (18% higher than Jan. 27)
London (LHR) – 60,000 SkyMiles (The same)
Honolulu (HNL) – 69,000 SkyMiles (9.5% higher)
Cancún (CUN) – 44,000 SkyMiles (29% higher)
Montego Bay (MBJ) – 41,000 SkyMiles (7.8% higher)
Santiago, Chile (SCL) – 123,500 SkyMiles (14% higher)
Tokyo (TYO) – 200,000 SkyMiles (3.6% higher)
From this small sample of data, SkyMiles fares on these routes from Atlanta went up an average of 11.7% in a 17-day span.
This trend is also borne out in some of the Premium+ deals we've sent over the last few months.
In late October, we found this awesome Delta SkyMiles deal on flights to Maui (OGG).
And just this week, we dug up another really great deal on Maui fares and sent them to our members, too.
As you can see, fares went up by a few thousand miles for almost all of these departure cities.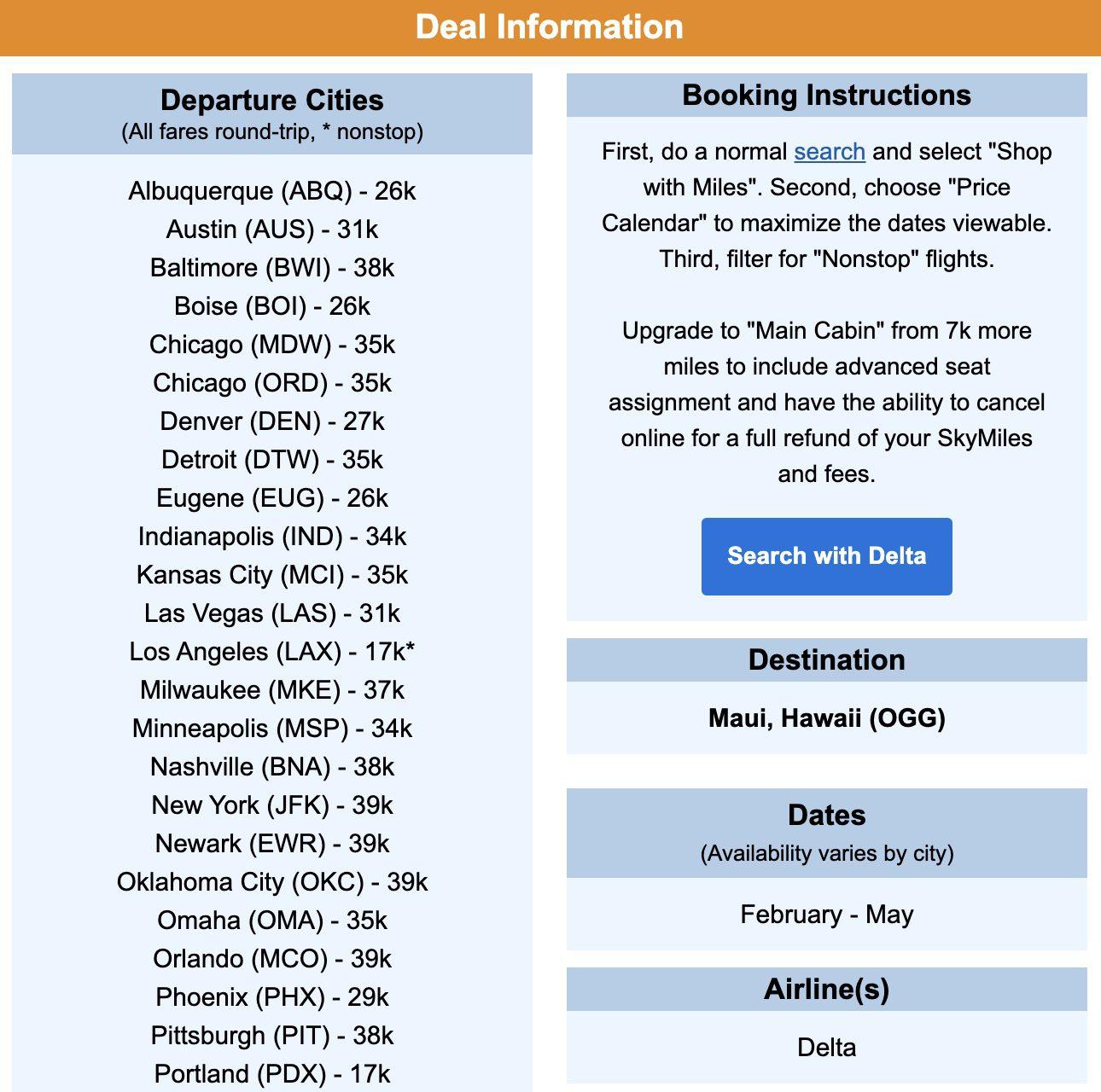 However, the list of departure cities did grow since the October deal, meaning more cities had significantly lower SkyMiles fares to OGG than they did in October. So the trend isn't perfect.
Let's take a look at another example to one of our favorite destinations north of the border: Vancouver (YVR).
On Jan. 5, we sent out this SkyMiles deal to Vancouver, offering flights as cheap as 12,000 SkyMiles roundtrip up to the Sea-to-Sky Region.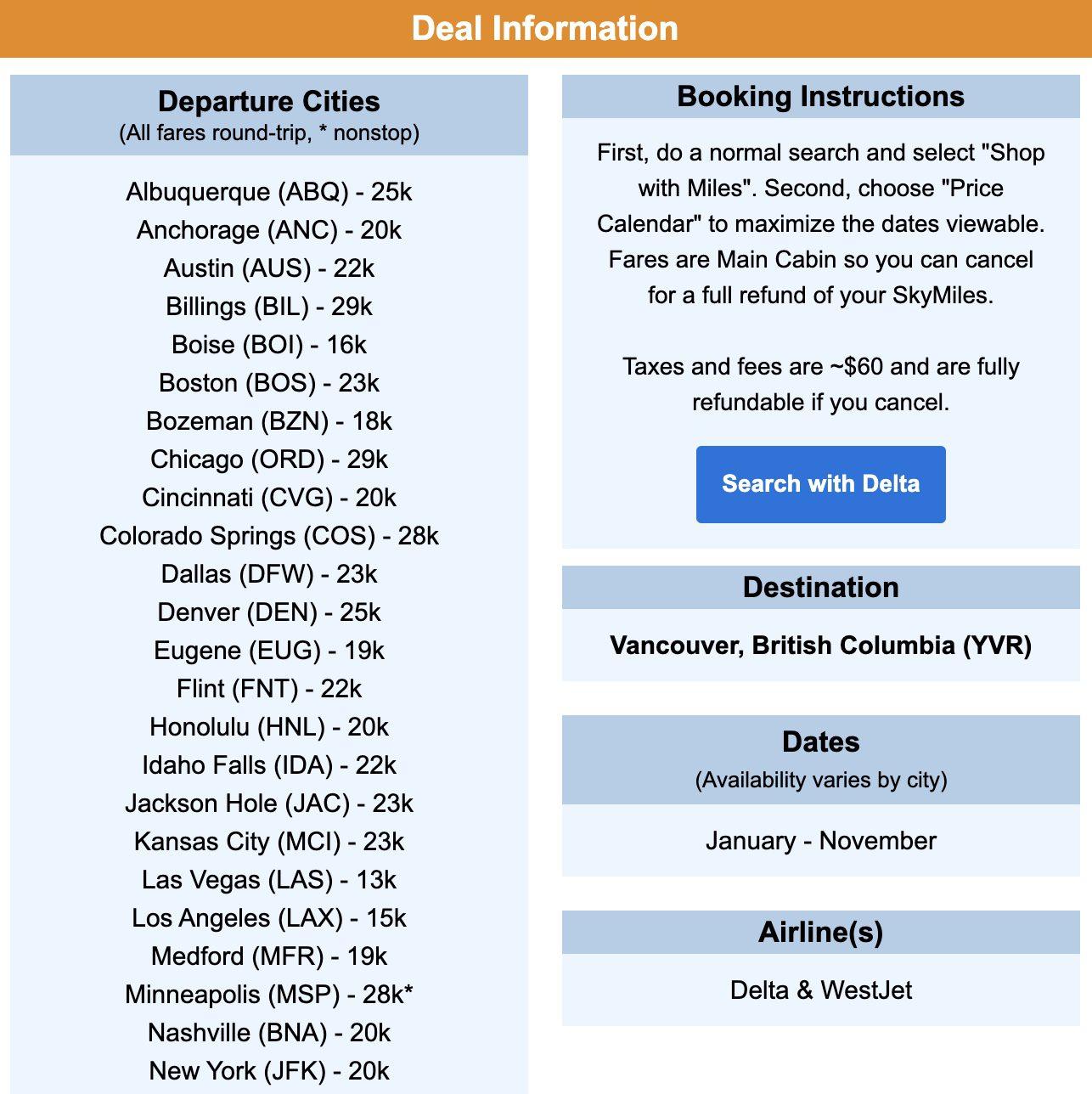 Now, however, many of these fares have gone up. As you can see from a re-search for the Austin (AUS) to Vancouver fare, even the 15% off fare has gone up significantly from when we sent that deal.
The same trend applies to Europe, too. Earlier this year, we sent out an amazing SkyMiles deal with service to Western Europe for 32,000 SkyMiles roundtrip from nearly every North American airport with Delta service.
On the exact same route as the Minneapolis-St. Paul (MSP) to Madrid (MAD) fare above, the very best rate I could find for any flight in 2023 was more than twice that.
These examples from Premium and from our own analyses show that SkyMiles values are going up, but that's not the whole story. Not at all. 
Along with some rising SkyMiles fares, we're also seeing huge drops in SkyMiles rates, too. 
Let's use Las Vegas (LAS) as an example. The desert locale is always popular among SkyMiles members, so we sent out this deal a few months ago with some incredible values to Harry Reid International Airport.
But just a few weeks ago, we found that a number of these fares went down! And in the case of Minneapolis (MSP), way down.
The same goes for Hawaii, too. We showed you the Maui (OGG) example at the beginning of this section, indicating that SkyMiles fares were going up. But in the last two weeks, we've also found some of the lowest SkyMiles fares to Hawaii that we've ever seen.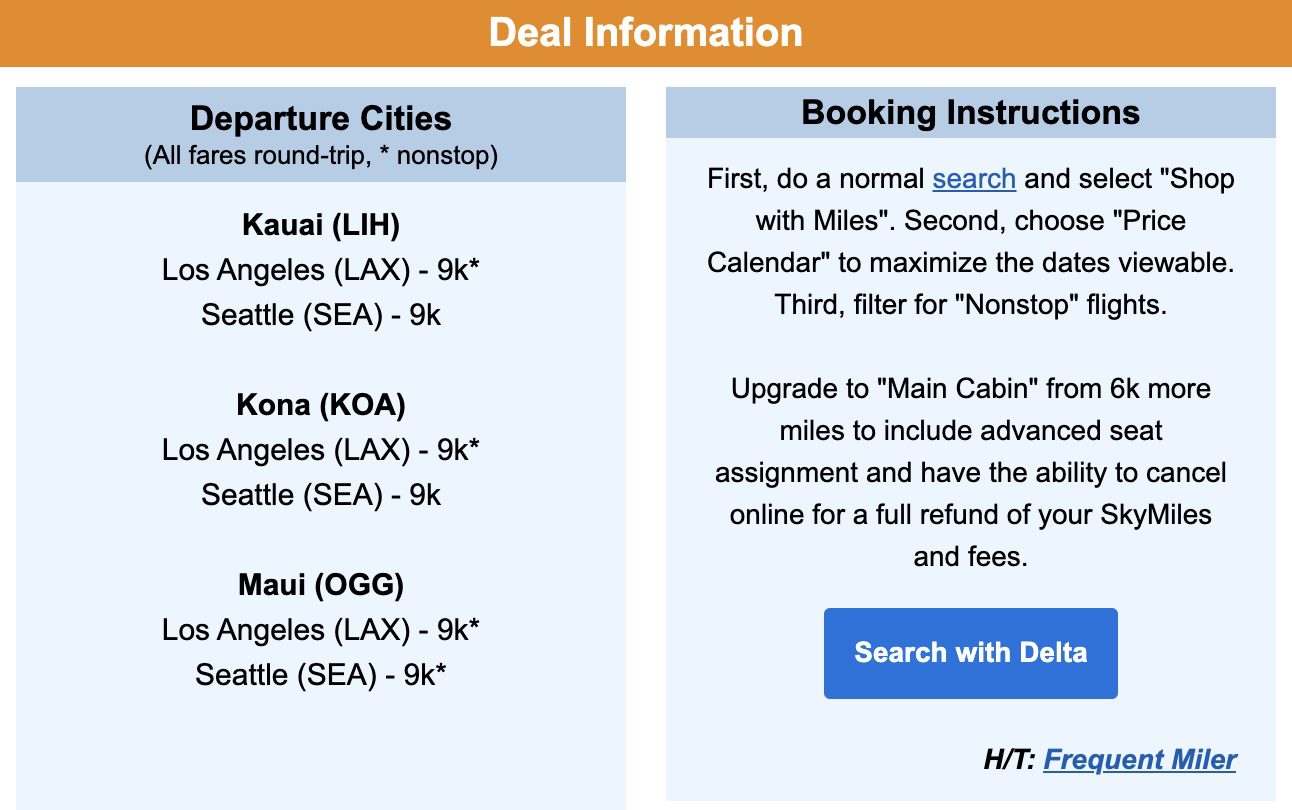 There's no all-encompassing answer to the question: "Are SkyMiles prices going up?"
While we've anecdotally seen SkyMiles rates go up, on average, over the last month, we've also been finding some of the best SkyMiles fares we've ever seen thanks to some amazing Delta SkyMiles Flash Sales, too.
At the end of the day, thanks to Delta's dynamic award pricing method, they are free to charge whatever they want for SkyMiles bookings since they are not governed by an award chart.
The State of SkyMiles
Let's be clear. Delta has been devaluing its SkyMiles program long before the introduction of the TakeOff 15 benefit for SkyMiles credit cardholders.
For years, one of the best ways to use Delta SkyMiles was booking flights on partner airlines (through Delta's own website) like Air France, KLM, Virgin Atlantic, or Korean Air. While award rates to fly Delta were unpredictable (and often through the roof), these partner award redemptions were almost always a better deal – and more stable, too.
But then, they devalued these partner redemptions in fall 2020 with some massive increases for both economy and business class flights. Then, there was another increase in 2021. In early 2022, Delta gutted the last decent SkyMiles business class redemption on routes to the Middle East.
And last October, Delta put another nail in the coffin with sky-high award rates using SkyMiles on many SkyTeam partner airlines – and in what's certainly not a coincidence, they're almost always matching exactly what Delta is charging for its own flights.
Before the latest devaluation, a one-way economy flight from the U.S. to Paris-Charles de Gaulle (CDG) with KLM cost you 35,000 SkyMiles – or 120,000 SkyMiles in KLM business class.
Here's what you'll see now.
That's an 83% increase for an economy award and a 175% jump for business class – which happened overnight, with no warning.
Airline mileage program devaluations are inevitable and Delta's SkyMiles program is no different. While we can't say for sure if the airline is raising SkyMiles award rates to offset the new 15% discount from the TakeOff 15 benefit, the door is open for that to potentially happen at some point.
This new TakeOff 15 benefit seems to be much more about getting customers to engage with their SkyMiles program, and more importantly, open a co-branded Delta American Express credit card.
"The more engaged a customer is with Delta, the higher their satisfaction is. That's really part of that ecosystem that we're really trying to grow," Delta President Glen Hauenstein said during the airline's latest quarterly earnings call.
Hauenstein confirmed that roughly one in every eight SkyMiles members will eventually pick up a co-branded SkyMiles American Express card. And that's huge business for Delta: Their relationship with Amex resulted in a $5.5 billion windfall in 2022 alone – and 1.2 million new cardholders, yet another record.
Delta is expecting to keep adding new SkyMiles members in droves this year with one new perk: free inflight Wi-Fi. The Atlanta-based airline officially launched this benefit on Feb. 1, which you'll need a free SkyMiles account to access.
But once Delta customers have a Delta credit card in their wallet, Delta and American Express need to retain them as customers. TakeOff 15 will likely make cardholders more unwilling to give up their Delta credit card which would forfeit their ability to get 15% off SkyMiles award tickets.
Bottom Line
Delta's new TakeOff 15 benefit is giving SkyMiles credit cardholders a big discount on SkyMiles fares, but is Delta raising SkyMiles rates to cover those losses?
On average, our team of flight deal analysts at Thrifty Traveler has seen SkyMiles fares go up, but we're still finding and sending out some of the best SkyMiles flash sales we've ever seen at the same time. At the end of the day, it's a mixed bag.
It may be too early to draw a definitive conclusion on whether the TakeOff 15 benefit will negatively impact award pricing, but based on the way Delta prices award tickets, the door is wide open for that to potentially happen at some point.