Award charts are a traveler's best friend. They're a cheat sheet that tells you how many miles you need to book a flight, keeping the airlines honest and giving travelers a barometer of where their miles can get them – and a way to zero in on the best ways to use those miles.
But one by one, major U.S. airlines have scrapped that award chart system and moved to dynamic award pricing – where the miles you need to book a flight can vary wildly, hinging largely on the cash price. And the next one to go could sting the most.
American Airlines is planning to get rid of its award charts. The airline made that plan clear in a recent interview with The Points Guy that was light on details or pushback. Of course, American spins the brewing change as a positive: The head of the AAdvantage program said the airline will still provide some "goalposts" that show flyers where their miles can get them while expanding beyond only flight redemptions.
"Increasingly, I want you to redeem miles for more and more things, not just awards," American's Rick Elieson said.
Exactly when this may happen – or what may take its place – remains to be seen. But whatever happens, it's not good.
What This Means for AAdvantage Miles
There's no question there can be an upside to a chart-less award program.
That's what has led to the rise of Delta SkyMiles flash sales, with roundtrip flights to Alaska for 5,000 SkyMiles or to Europe for under 20,000 SkyMiles. American itself has been flirting with dynamic award pricing for years with its web special fares, including an astounding 10,000-mile trip to Australia and New Zealand. Untethered from award charts, airlines are free to cut award rates far below the norm.
But that's the bright side, and the opposite is often true. Axing award charts guts top-dollar first- and business class redemptions, leading to sky-high award rates and making it much harder to get outsized value from using miles.
Let's be clear: This is a bad thing. Airlines get rid of award charts for one reason, and one reason only: To make their loyalty programs less transparent and, making their miles less valuable in the process.
We've seen it again and again. United raised award rates to fly partner carriers like Lufthansa or Turkish Airlines just days after getting rid of its Star Alliance award chart. Already notorious for charging 250,000 SkyMiles or more to fly Delta One Suites to Europe or Asia, Delta has raised partner award rates twice in the last few months alone. A one-way business class flight on Air France KLM that once cost just 75,000 SkyMiles is now 120,000 SkyMiles or more.
That's why Elieson's insistence that AAdvantage members don't need to worry rings hollow.
"I certainly have no intention of that," he said.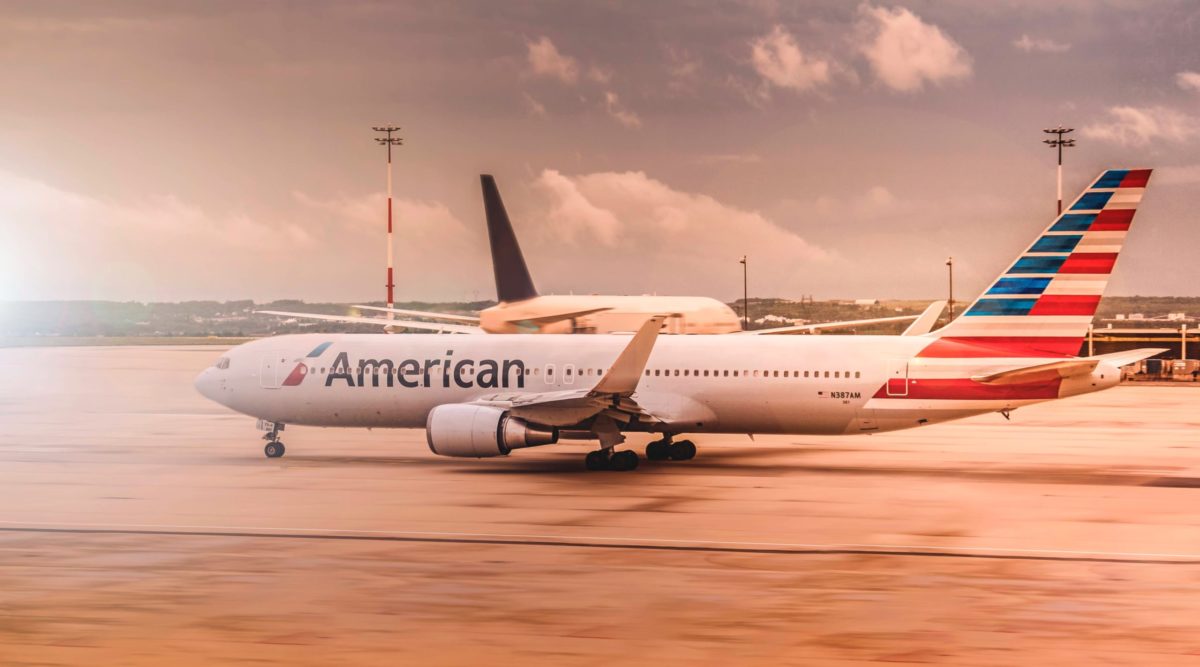 American's incentive here is clear. The airline mortgaged the value of its AAdvantage program last year to get a $10 billion loan to stay afloat during the pandemic. Meanwhile, balances of unused AAdvantage miles ballooned during the pandemic, growing to more than $9 billion worth of miles. Both numbers give American all the reason it needs to limit its financial exposure to travelers redeeming miles.
But American needs to tread carefully. Delta has set itself apart from the competition over the years with more comfortable seats, better service, and reliably running flights on time. That has allowed the Atlanta-based airline to treat SkyMiles as a bonus for loyalty rather than the main tool to breed loyalty.
American doesn't have that same luxury. Earning AAdvantage miles are a core part of keeping flyers loyal.
Fortunately, some of the best ways to use AAdvantage miles to fly partner airlines are likely to remain intact – at least for now. While American will be free to mess with redemption rates on its own flights, making changes to partner award redemptions is more involved.
Those rates typically require individual agreements between each carrier, and that takes time. So even though Delta hasn't published an award chart for years, there's always been a hidden award chart dictating what you'll pay to in SkyMiles to fly Virgin Atlantic, Korean Air, and other SkyTeam carriers.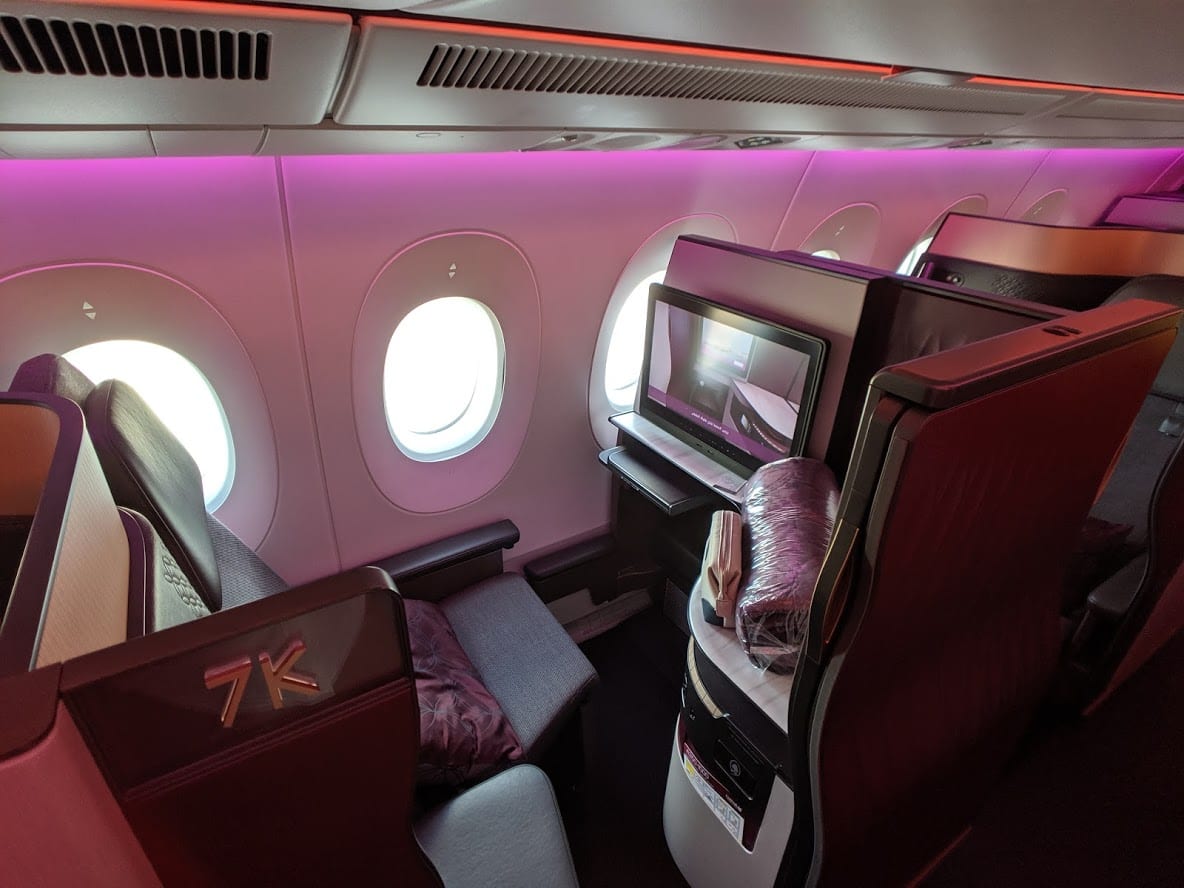 That means great redemptions like using 70,000 AAdvantage miles to fly Qsuites from the Middle East (or just 5,000 more to continue down to South Africa), a business class flight on Japan Airlines for 60,000 miles, and others will stick around. But even then, that's temporary.
Death, taxes, and airline devaluations are some of the only certainties in life. And if American follows through with its promise to get rid of award charts, that only makes it easier for the airline to start charging travelers more AAdvantage miles to fly airlines like Qatar, Japan Airlines, Cathay Pacific, and Qantas.
Read more: Your Airline Miles May Get Less Valuable, Here's How to Fight Back
American Airlines Award Chart Today
We're doing it for posterity.
Here's the current AAdvantage award chart for American Airlines awards, starting with economy awards from the U.S. All pricing is one-way.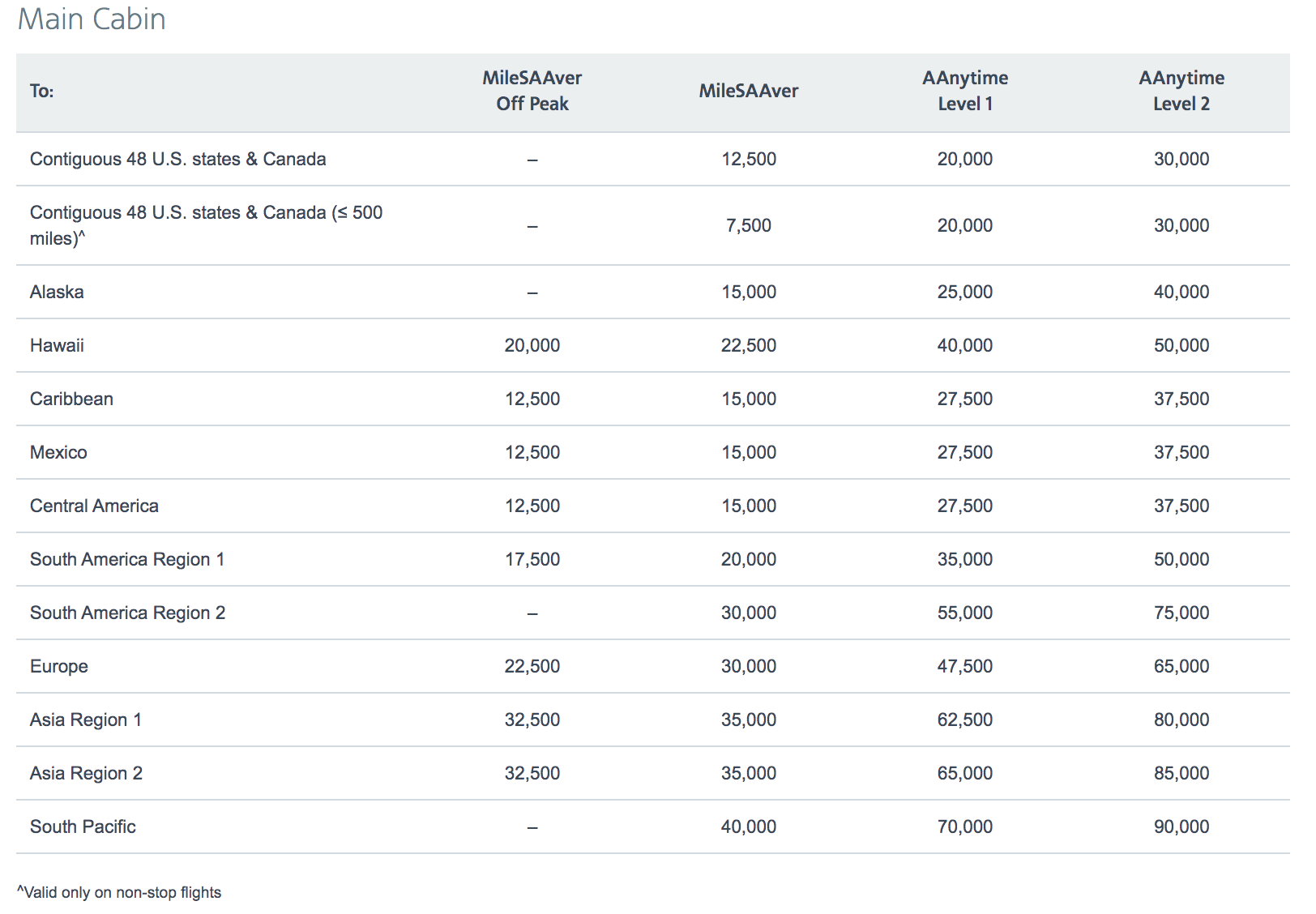 And here's the award chart for American business class awards from the U.S.




But there's an entirely different award chart when using AAdvantage miles to fly Oneworld and other partner airlines.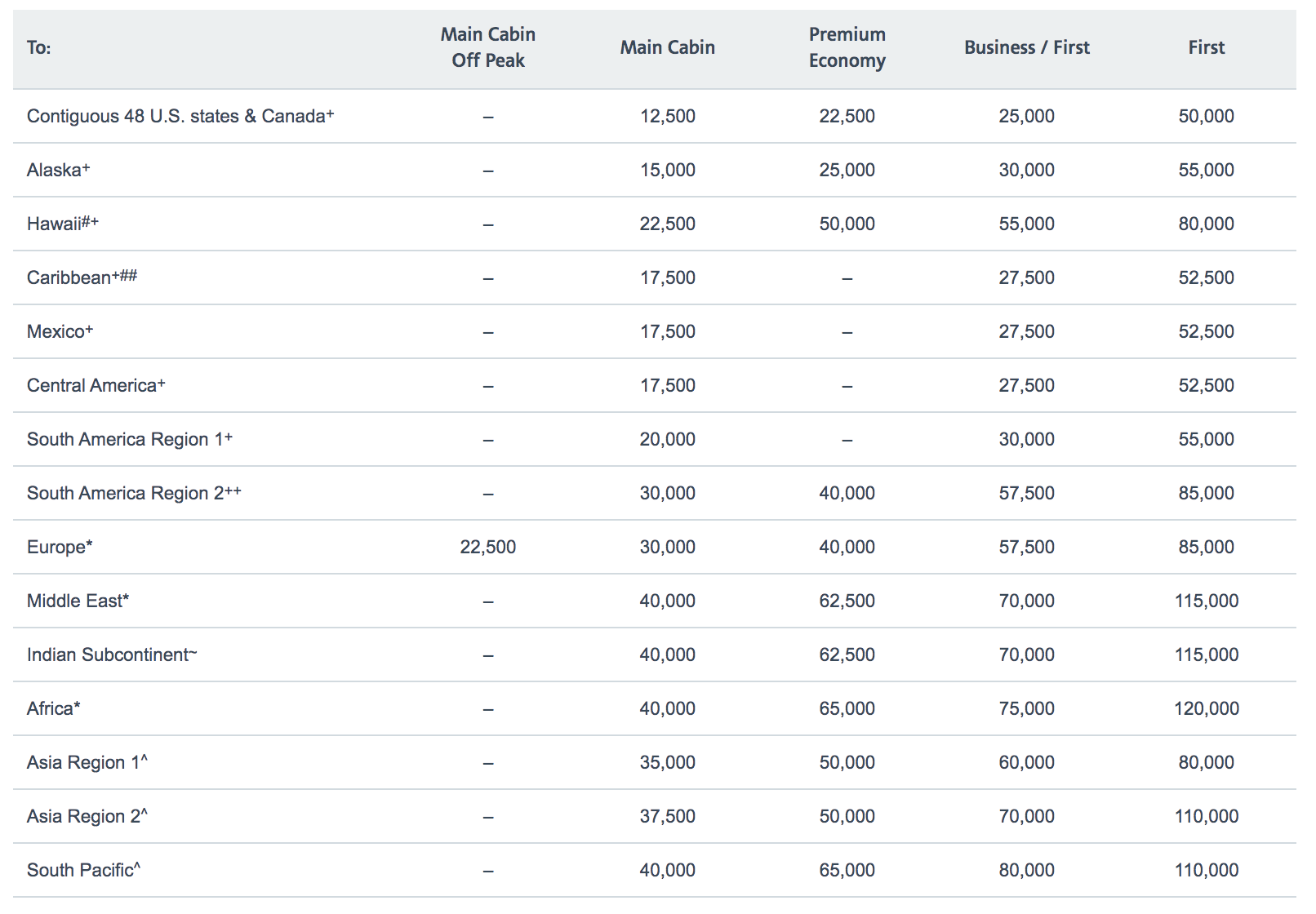 Bottom Line
Other major U.S. airlines have ditched award charts, and that's been a rare bright spot for American and its AAdvantage program. It has given AAdvantage miles far more stability and value where SkyMiles and United MileagePlus miles falter.
Don't let them fool you: This looming move from American is bad news. They'll dress it up as giving flyers more flexibility to use their miles how they want. Or insist they're making the program easier to understand. But that will come at a truly massive cost.