They may be hard to earn, but Alaska Airlines Mileage Plan miles are some of the most valuable on the planet thanks to low award rates booking partner airlines like Japan Airlines, Cathay Pacific, and Qantas. But change is in the air, and there's good news and bad news…
Long after joining the Oneworld Alliance with American Airlines and other carriers, Alaska Airlines announced a few months back that it would roll out a new award chart (which governs how many miles it takes to book a flight) by the end of the year. That day has come: The new Alaska award chart is here.
The good news? Alaska's amazing award rates are still largely the same, at least for now. And it's much easier to make sense of, as the airline has replaced its previous setup – with separate charts for each of its 20-plus partner airlines – with one single system. Whether you fly Cathay Pacific or Japan Airlines to Asia, the new chart indicates it could cost you the same amount of miles … at least on paper.
Now for the bad news: It's nowhere near as transparent. Alaska's new pricing system shows award rates "starting from," meaning that same flight to Asia could cost you 50,000 miles each way in business class … or, down the line, much more.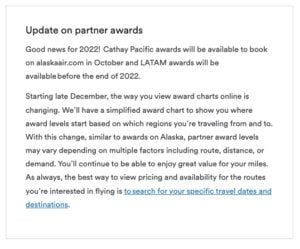 On the plus side, Alaska has recently introduced the ability to book Cathay Pacific and LATAM flights online. Before, you'd need to search for award availability on another airline's website, such as American, and then call Alaska to book.
But what does the new award chart look like? Let's have a look …
Alaska Airlines New Award Charts
In the past, Alaska's award chart page on its website used to have you select your departure and destination regions, and then it would list out different award rates for each individual airline.
Now, it simply has two award charts: North American Awards and International.
North American Award Chart
For flights within North America (typically on either Alaska Airlines itself or American Airlines), you can get an idea of how low an award flight could possibly cost depending on the distance of your flight. That's not a major change from how Alaska previously priced these awards.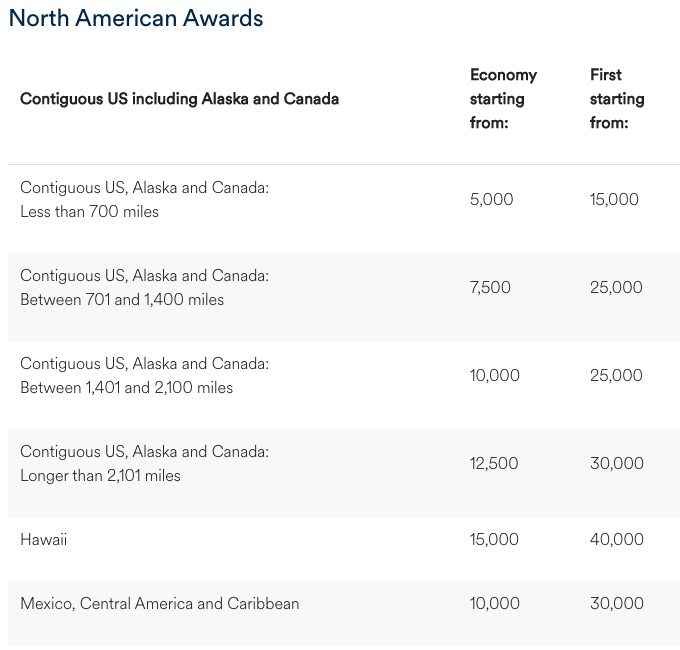 Not sure how long your flight is? Plug the route into GCmap.com!
However, you won't see a separate chart for flights on Oneworld partner American Airlines. And these are just the "starting from" rates. That means Alaska Airlines has dynamic pricing for its own flights, with rates that go up and down based upon cash price or demand. So while you might see a one-way flight from Seattle (SEA) to Denver (DEN) at 7,500 miles each way in economy (because it measures in at 1,024 miles in distance), you might wind up seeing a much higher rate, too.
Alaska Airlines New Partner Award Chart for International Flights
Here's where things start to get vague.
Instead of breaking out different award rates for each partner airline, Alaska has subbed in one single award chart. How many miles you'll need depends on which region you're flying to from the U.S. or Canada as well as what cabin you're flying.
Once again, this new Alaska award chart lists the rates as "starting from" – you might find a business class seat from the U.S. to Europe for 57,500 Alaska miles … but you may see higher rates, too.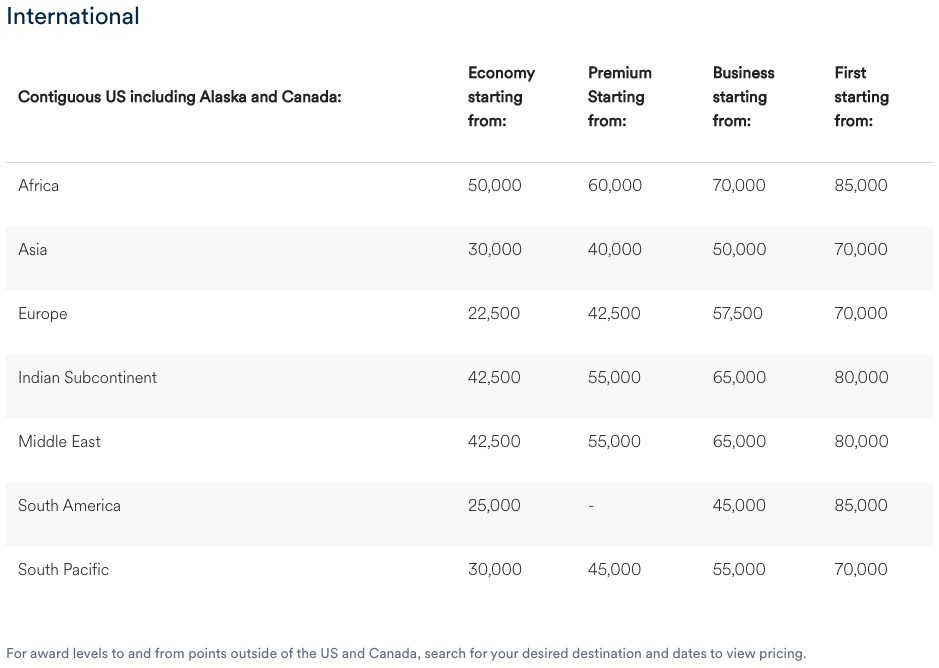 For now, we're not seeing substantial changes in the award rates for flights on partner airlines. For example, you'll still be able to find flights to Dublin (or beyond) for 60,000 miles each way flying Aer Lingus business class, like this example from Philadelphia (PHL) to Dublin (DUB). That's higher than the 57,500-mile starting point laid out in Alaska's new chart … but it's what Alaska has charged for these Aer Lingus redemptions for years.

Looking for flights to Asia? You can still find flights for as low as 50,000 miles each way flying partner airline Cathay Pacific in business class. This is still an absolutely incredible deal, like this example from Boston (BOS) all the way to Bangkok (BKK).



But the new award chart means you may be wondering why it costs more to fly nonstop to Japan. That's because, no matter what the award chart says, Alaska still charges different rates depending on the airline you're flying and where exactly you're going. The old award chart set the prices in stone, broken down by each airline. With this new setup, the chart is just a starting point – you'll need to search to see what the actual price will be.
Fortunately, for now, you'll still be able to find nonstop flights to Japan for 60,000 miles each way flying Japan Airlines business class – another amazing value. But if you were to choose Korean Airlines, you'd get a much worse deal for 105,000 miles one-way on this particular date. You'll need to choose your airline wisely.

And one of the best ways to get to Australia using points and miles is intact … for now. You can still find business class flights to Australia for 55,000 miles one-way flying Fiji Airways – though you might pay nearly triple that amount if you choose Singapore Airlines instead.

The trouble with this new award pricing format is that it opens the door for Alaska to eventually charge much, much more for these same awards. With award pricing set at a "starting from" point, the sky could be the limit.
One potential upside is that Alaska could eventually offer the option to book flights using miles on more than one partner airline in a single trip – for example, flying Singapore Airlines down to Singapore (SIN) and Cathay Pacific up to Hong Kong (HKG). Today, you can only combine an Alaska Airlines-operated flight with one single partner airline when redeeming Alaska miles.
Bottom Line
Alaska Airlines has a new award chart, a simplified system that sets a baseline rate depending on which region you're traveling to – though in practice, pricing can still be much different depending on the airline you're actually flying. So far, award rates haven't changed for any of the amazing sweet spots you can book when redeeming Alaska miles.
But the writing is on the wall that this could be a bad thing down the road. With less transparency, it's hard to work out exactly how much a flight should cost. And the door is open for Alaska to start charging far more miles for some of these flights.