Priority Pass, the international lounge network you can access free with several top-tier credit cards, has added the Virgin Atlantic Clubhouse lounge at San Francisco (SFO). 
Priority Pass actually added the lounge last month – Deals Points broke the news – but we missed it. But this is an exciting addition that's worth highlighting, as Virgin Atlantic Clubhouses are some of the sharpest, swankiest lounges you'll find in the U.S. And Priority Pass isn't exactly known for its outstanding lounges in the U.S.
As of Dec. 16, 2019,  Priority Pass members can get into the Virgin Atlantic Clubhouse when departing SFO – with a catch. You'll only be able to enter between 6 a.m. and 12:15 p.m., as Virgin reserves the space for its own flyers after that window. All Priority Pass members can still bring in two guests free. Keep reading to learn how you can get a Priority Pass membership free!
The San Francisco Clubhouse is located in the airport's international terminal on level five. It's the second Priority Pass lounge at SFO, after the Air France-KLM Lounge nearby. And it's the fourth Virgin Atlantic Clubhouse to participate in Priority Pass, after Los Angeles (LAX), Washington-Dulles (IAD), and Newark (EWR).
Virgin Atlantic Clubhouses are among the best in the U.S., and the San Francisco lounge looks no different. Check out our review of the New York City (JFK) Clubhouse, and you'll see what we mean when we call these lounges swanky and stylish.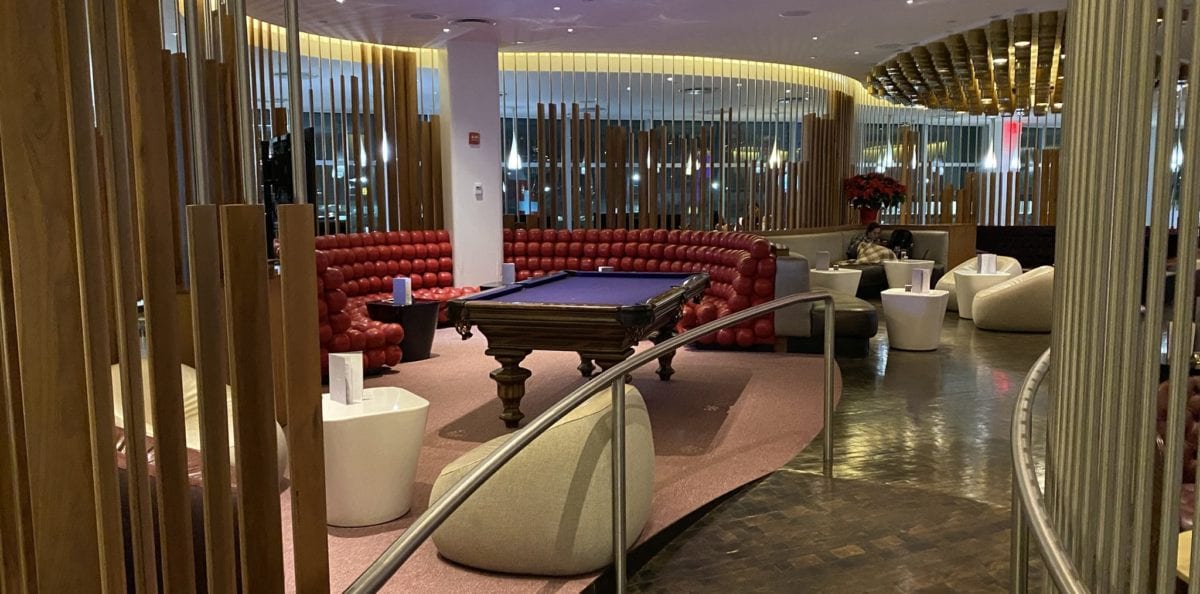 But don't expect the full Virgin Atlantic treatment when getting in with your Priority Pass card. While these lounges offer a la carte dining and spa treatments, Virgin typically scales that back during Priority Pass hours. Still, it's a great space to relax before your flight or during a layover.
And considering the scant lounge options for Priority Pass members at SFO, it's a great addition. Read our master guide to all things Priority Pass lounges.
If you've got the Platinum Card from American Express, you have a few more options at SFO. There's a great Amex Centurion Lounge in Terminal 3. And if you're flying Delta out of Terminal 1, you can get into the outstanding Delta Sky Club SFO.
How to Get Priority Pass
You can buy a Priority Pass membership for lounge access outright. But we beg you: Please don't.
That's because there is a growing number of travel rewards credit cards that offer Priority Pass membership as a benefit of holding the card. Most of these cards have annual fees ranging from $450 to $595 and provide many other benefits in addition to the Priority Pass membership.
So it's always a better option to hold one of these cards rather than paying for a membership outright. These are the cards offering Priority Pass Select memberships, which will get you and up to two guests into more than 1,000 airport lounges worldwide.
While all these credit cards offer Priority Pass memberships, they aren't necessarily the same. As of Aug. 1, 2019, Priority Pass memberships obtained via an American Express credit card no longer offer credits for Priority Pass restaurants. Citi, Chase & U.S. Bank still offer these restaurant credits withtheir Priority Pass memberships.
Bottom Line
Better late than never, right? The Virgin Atlantic Clubhouse at SFO is an exciting addition to the Priority Pass portfolio.
Lead photo of Virgin Atlantic Clubhouse LAX courtesy of Virgin