Chalk this up as exciting news for anyone who wants to visit one of the best cities in the world.
United Airlines has announced it plans to begin nonstop flights from its hub in Newark (EWR) to Cape Town (CPT) beginning later this year. If approved by regulators, it would be the first nonstop service from the U.S. to the popular South African city.
United is aiming to start flights in December, and the seasonal service will run through March of 2020. The airline will run flights three times a week on a Boeing 787 Dreamliner, with departure times set in the evening to allow travelers from across the U.S. to connect in EWR.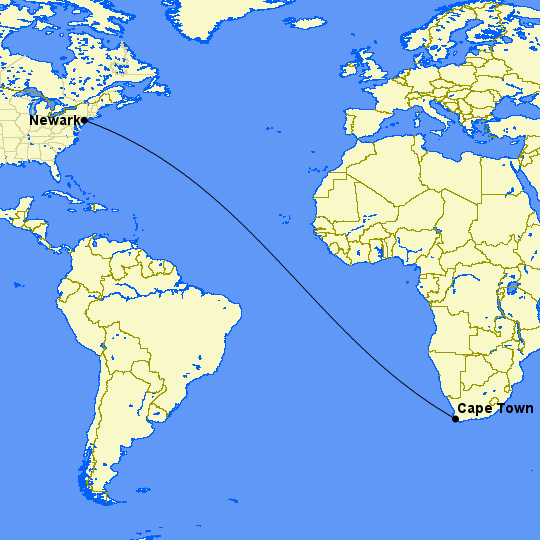 "We are always looking at ways to expand our industry-leading international route network to offer our customers more convenient options," Patrick Quayle, United's vice president of International Network, said in a statement. "This new flight will provide customers with the only nonstop service between the United States and Cape Town."
Our Analysis
Cape Town is one of the most exciting cities in the world, offering an unbeatable combination of urban buzz, rich history, nature, seaside views, and wine. But there's no denying it: It's a long haul to get there.
With no current nonstop flights to Cape Town, travelers generally have to connect through Johannesburg (JNB), northern Africa, Europe, or the Middle East to get there. And that means at least 24 hours of travel time each way – and often more than 30 hours.
United says the nonstop offering should shave at least four hours off travelers' time in the air. And while it's the first direct flight to Cape Town and United's first entry into Africa, the Chicago-based airline isn't alone there among major U.S. carriers.
Delta already flies to Johannesburg (JNB) from Atlanta (ATL), The airline also has flights from New York City-JFK (JFK) to Dakar, Senegal (DSS) and Accra, Ghana (ACC). South African Airways flies to its hub in Johannesburg (JNB) from both New York City-JFK (JFK) and Washington, D.C.-Dulles (IAD).
It's unclear how this exciting new route will be priced. Fares won't be available until after United gets regulatory approval to begin the service – The Points Guy reports the airline expects to begin selling tickets in May.
But the airline will have a monopoly on the route, so it could potentially charge a premium for airfare.
Bottom Line
We're surprised it took this long for a U.S. airline to launch nonstop flights to Cape Town. Its popularity as a travel hotspot has only grown over the last several years. And with a direct flight from the U.S. in the making, don't expect that to change.

Lead photo courtesy of BriYYZ via Flickr