United began its path to dynamic award pricing late last year after removing its award chart – the cheat sheet that determines how many miles you need to get from point A to point B. That made for unpredictable and ever-changing award rates for United flights, with some good deals and some truly bad ones.
But when using United miles to book partner airlines like Lufthansa, ANA, or EVA Air, there was still an award chart. It spelled out that a flight from the U.S. to Europe would cost 30,000 United miles in economy or 70,000 for business class. A business class flight to Japan on ANA would be 80,000 miles.
Until now. The Points Guy reports that United has pulled this partner award chart from its website. Worse, it did so overnight with no warning – adding insult to injury during the midst of a coronavirus crisis that makes using miles much more difficult. And even worse yet, United quickly capitalized by jacking up award rates on many partner flights.

United spun this move as a natural step after it instituted its anything-goes pricing for its own flights starting in mid-November.
"We announced in April of last year that all award pricing will be dynamic beginning November 2019," the airline said in a statement. "This change is consistent with other major carriers and allows us to align information regarding all MileagePlus award flights, whether it is for travel on United or one of our partner airlines."
United quickly increased award rates on some – but not all – partner award redemptions for flights starting July 1. For instance, a one-way Saver Award – the lowest priced ticket – from the U.S. to Japan on ANA earlier cost 35,000 United miles in economy. Or 80,000 miles for business class. And 110,000 miles for first class.
As of Wednesday evening, those have all increased by 10%.


And others are already on the move, too. One Mile at a Time found that some awards on Asiana, Lufthansa, and Ethiopian have already increased by 10%.
So yes, some partner award rates will increase. In the world of points and miles, increasing costs are about the only certainty. And removing award charts allows United to do that more easily. That's bad.
But that doesn't mean we'll see typical dynamic pricing, where award rates swing wildly.
Are Partner Awards About to Get More Expensive?
Award charts are gold for travelers looking to get the most bang for their buck – err, miles.
It's the barometer for what's a good deal and what's not, and helps you zero in on sweet spots for the best redemptions. Without them, the airlines are free to charge however many miles they'd like for a flight – sometimes a lot (see: Delta SkyMiles).
Taking that away is always negative. It gives the airline all the power to do what they want with award pricing. And that's rarely a good thing.
But that doesn't mean we're about to see constantly changing award prices when using United miles to book partner airlines. You need only look at Delta SkyMiles for proof.
Delta is notorious for its own dynamic award pricing. It was the first major U.S. airline to ditch an award chart, earning the moniker "SkyPesos."
Read more: How Delta SkyMiles Work (And How to Make Them Work for You)
But while the rates for Delta flights can be all over the map – and often exorbitantly high – prices are more predictable when booking partner airlines. There's still a (hidden) award chart for these partner redemptions, which keeps the prices stable.
A flight with LATAM from the U.S. to South America is always 25,000 SkyMiles. A one-way flight from Minneapolis-St. Paul (MSP) all the way to Athens is 25,000 SkyMiles for economy or 75,000 SkyMiles for business class – so long as you're flying with KLM. And although pricing for these routes is all over the map if you get on a Delta plane, it's stable and predictable for these partner airlines.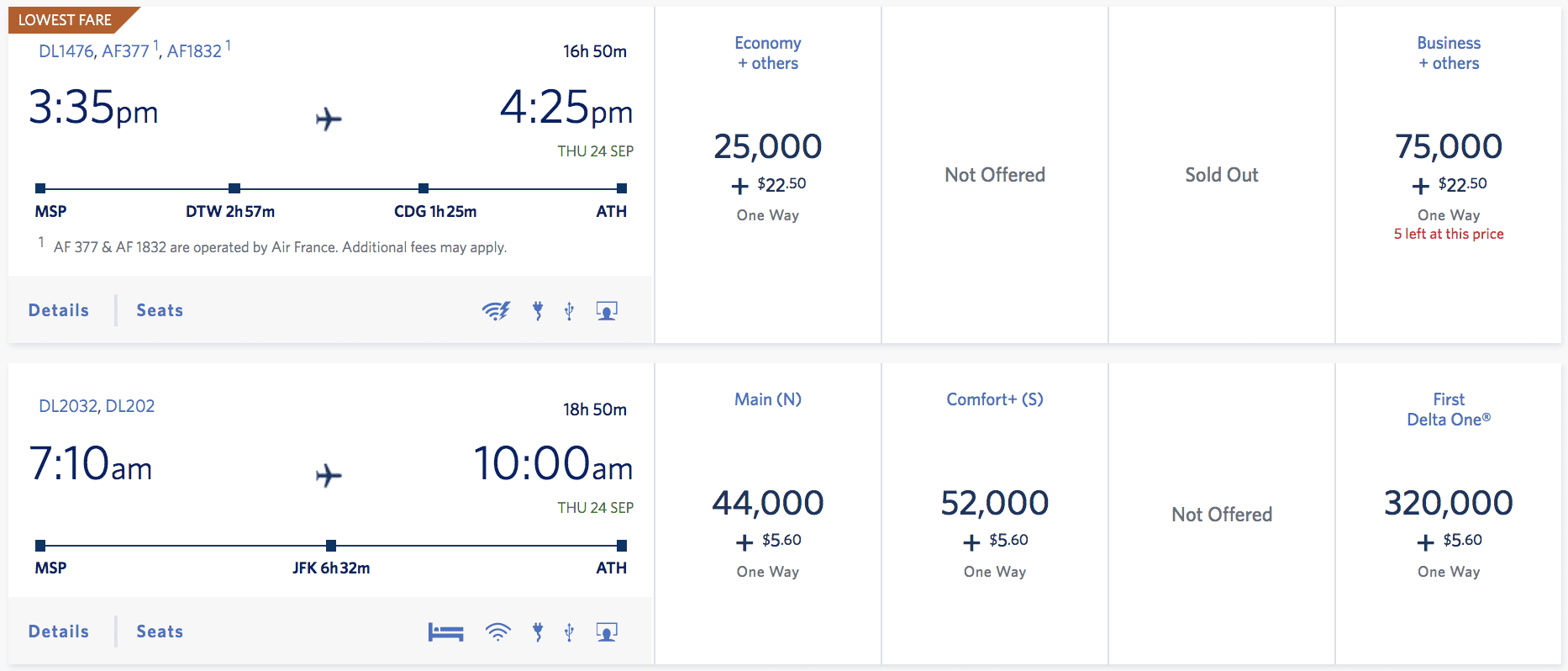 One exception: Delta slaps big penalties on some partner bookings within 60 days of departure. United has done much the same.
This starts to get deep into the weeds of how airlines negotiate and determine partner award pricing and compensation. But the complexity of setting these prices makes it difficult for Delta, United, or any airline to truly implement dynamic award pricing with partner redemptions. 
That's why Delta SkyMiles flash sales are only for flights on Delta – not partner airlines like Air France or Korean Air. Ditto for American Airlines and their cheap web special fares; you'll never see them on Japan Airlines or Qatar Airways.
Bottom Line
United now holds all the cards. Award rates to fly with airlines like ANA, Turkish, and SWISS are likely going up. That's never good, and the lack of transparency makes it even worse.
But that doesn't mean we're about to see sky-high award rates that are constantly changing.