For months, airlines have allowed free change or cancellation on flights thanks to the confusion and uncertainty surrounding travel amid coronavirus. On Sunday, United Airlines announced it was immediately dropping those fees permanently for domestic flights – but not on their cheapest basic economy fares.
On paper, it's a major concession and a big win for consumers. U.S. airlines have made a killing by charging $200 to change or cancel a domestic flight, raking in $2.8 billion in 2019 on those fees alone, according to federal data. United joins Southwest, which has never charged change or cancellation fees on any of its fares.
"Change is inevitable these days – but it's how we respond to it that matters most. When we hear from customers about where we can improve, getting rid of this fee is often the top request," United CEO Scott Kirby said in a statement. United will also allow travelers to fly standby free starting Jan. 1, 2021.

But as with almost everything in travel, the reality about what this means for travelers is more complicated.
Good News, But…
There's no denying this is a good move for many travelers who hate paying these fees. But behind United's public relations victory lap, there are some major caveats and potential problems.
The first one is simple. This change doesn't mean travelers will be able to cancel an upcoming flight for a refund. Instead, they'll be able change flights without paying a $200 change fee, or cancel and get a voucher for the value of their ticket. You can rebook a ticket within one year of your original purchase date. It applies to flights within the 50 U.S. states, U.S. Virgin Islands, and Puerto Rico effective immediately.
Rebook or change to a more expensive flight? You won't have to pay that fee, but you'll be on the hook for the fare difference. Yet if you change to a cheaper ticket, United will pocket the fare difference. So if you're changing a $500 flight and wind up rebooking a trip that costs just $300, United won't give you $200 back – in cash or as a voucher.\
And keep this in mind: United isn't making a dime on change fees right now. They haven't since March, when airlines began issuing waivers for free changes or cancellations to all flights. Those deadlines have been extended month after month (after month.)
This change will allow United to start collecting those fees once again on basic economy and international fares while still proclaiming it as a big win for consumers. All the while, the airline hopes to pick up extra business from wary travelers who want the extra flexibility they can get by booking with United – or at least the flexibility they think they'll get.
Read more: Fares with Free Change, Cancellation are Here to Stay … For Now
And that brings us to the biggest caveat of all: Change fees will still apply to United basic economy fares, the cheapest fares that come with major restrictions. That said, basic economy fares for travel through the end of the year or booked by the end of 2020 will still get free change and cancellation, thanks to United's ongoing waiver for coronavirus.
Why Basic Economy Matters for United Change Fees
To see why this matters so much, you have to understand: Basic economy fares are a mirage.
Airlines lure in travelers with these seemingly cheap tickets, with prices comparable to budget carriers like Spirit or Sun Country. Then they hit you with the upsell effort, hoping that major restrictions like boarding last, no ability to pick a seat, and no carry-on bag convince you to pay up for the pricier standard economy seat.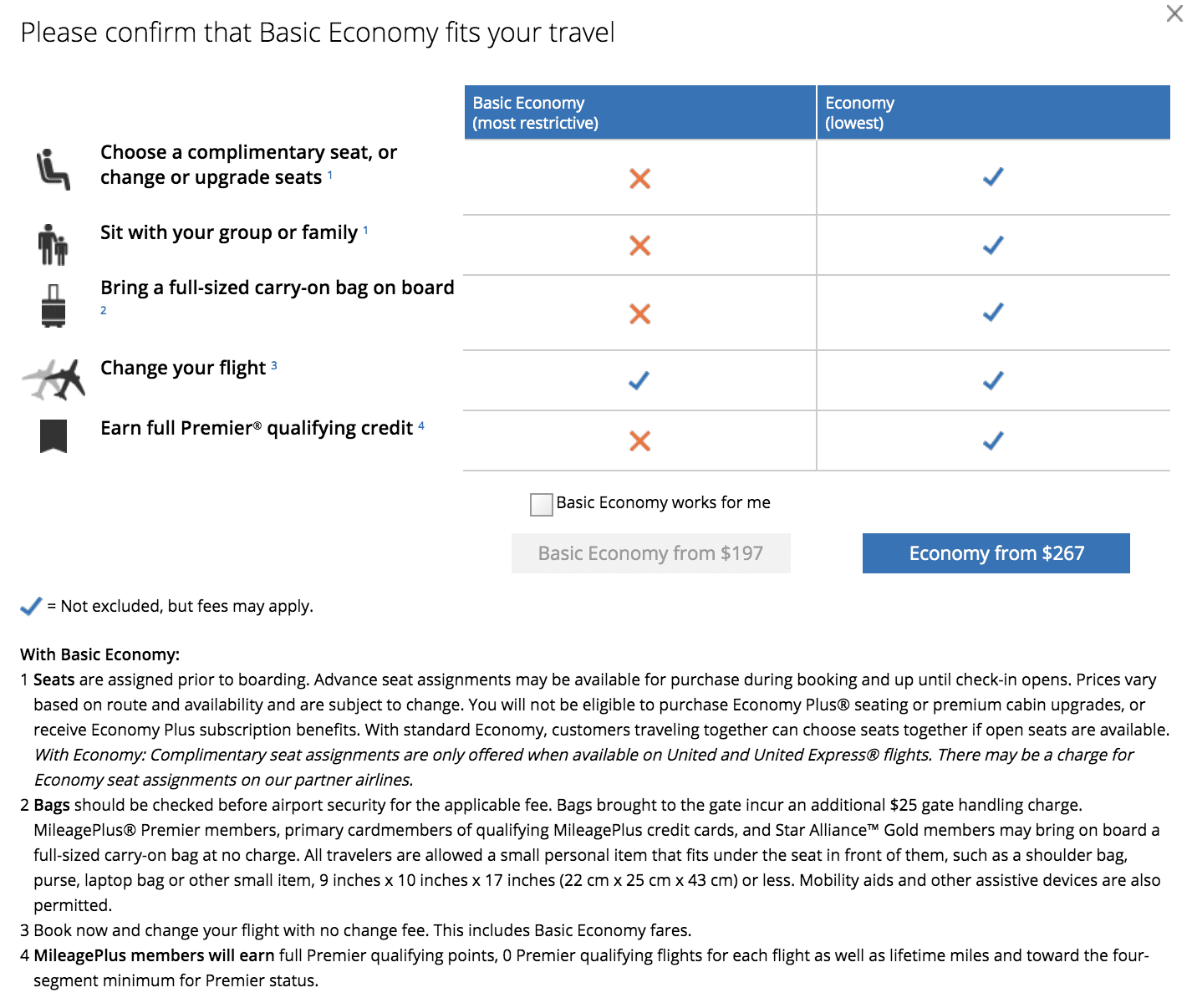 That's the big secret with these fares: They're not actually cheaper, and airlines don't actually want you to buy them. They're a proven moneymaker – it's why nearly every major U.S. airline (except Southwest) has started selling them.
Read more: Basic Economy Fares Aren't Actually Cheaper
It's all about the upsell. Airlines typically charge an extra $70 to avoid basic economy, though those upgrade rates have become unpredictable lately amid the coronavirus pandemic.
United already has the most punitive basic economy fares among major U.S. carriers, thanks largely to a ban on bringing even a carry-on bag onboard and a policy that stops you from checking in online.
The allure of free change and cancellation is just another way United can differentiate between its cheapest fares and the more expensive ones. "Want to be able to change your ticket free? Pay us more."
In short, it's not exactly a carrot for consumers sick of paying big fees. It's more of a stick, meant to convince them to pay up for a more-inclusive standard economy fare.
Bottom Line
Is this good news? Absolutely. Change fees are a royal pain, and asking travelers to continue paying $200 just to change flights while a pandemic is upending travel was unsustainable. Other airlines will almost certainly follow United's lead.
But as with almost everything in the airline world, there's more to this change than meets the eye. While United is cutting some consumers a break, it's also using a goodwill gesture to make more money – just on a different fee.