Delta Air Lines restored free change and cancellation to its basic economy fares late last month – at least for travel through the end of the year. And that was a drastic change: After giving all travelers more flexibility throughout much of the pandemic, airlines ended the free change free-for-all as travel rebounded in the spring.
Now, United is taking a page out of Delta's book. Live and Let's Fly was the first to notice that the Chicago-based airline is once again giving free change and cancellation to United basic economy fares booked for travel through the end of the year. Here's a look at what that means for United:
Basic economy fares on United booked by Dec. 31, 2021 for a trip scheduled through the end of the year can once again be changed or canceled for free.
Canceling a United basic economy ticket will get a voucher valid for 12 months from the date the ticket was initially booked.
All standard economy fares and higher on United (including international travel originating in North America) can be changed without fees or canceled for a flight credit.
It's the latest sign that unease about the rise of COVID-19 cases fueled by fast-spreading variants is taking its toll on travel. Bookings have started to slow down and flight cancellations are ramping up, as Southwest Airlines warned this week. Giving flyers more flexibility no matter what kind of ticket they book gives travelers more comfort to book tickets while relieving pressure on airline call centers.
But as always, there's a catch with United. While you can change a basic economy fare with United without paying hefty fees, you'll be on the hook to pay the difference if you switch to a more expensive flight. That's normal.
Here's what's not normal: It appears that if you change your United basic economy fare to a cheaper flight, United won't give you the difference. In the fine print of United's policy, the airline states (emphasis ours): "If the new flight is priced lower, the customer may change without paying a change fee, and standard fare tickets may be given residual value in the form of a future flight credit."

Buy a United standard economy flight for $250 and eventually switch to a $150 flight, and you'd get a $100 flight credit to use later. But if you bought the same tickets in United basic economy and switched to a cheaper flight, it seems United won't give you that voucher at all. That's not the case with Delta.
United did not immediately respond to a request for comment on this policy. If true, travelers with a United basic economy ticket who need to change their plans would be better off canceling their flights outright for a voucher for the full value of their fare.
It wouldn't be the first time United has tried to pocket fare differences from unaware travelers. United had a similar policy in place for all fares when the pandemic first hit in early 2020.
Overall, this is a good change that should give United flyers more options and ease to change their plans in the months ahead. But it's another reminder of just how restrictive United's basic economy truly is.
All basic economy fares on U.S. airlines come with restrictions like no free seat selection, but none go farther than United. Flyers on the cheapest United fares can't even bring a carry-on bag on the plane – and they can't check in online, either. That's why United was the clear loser in our battle of basic economy a few years back.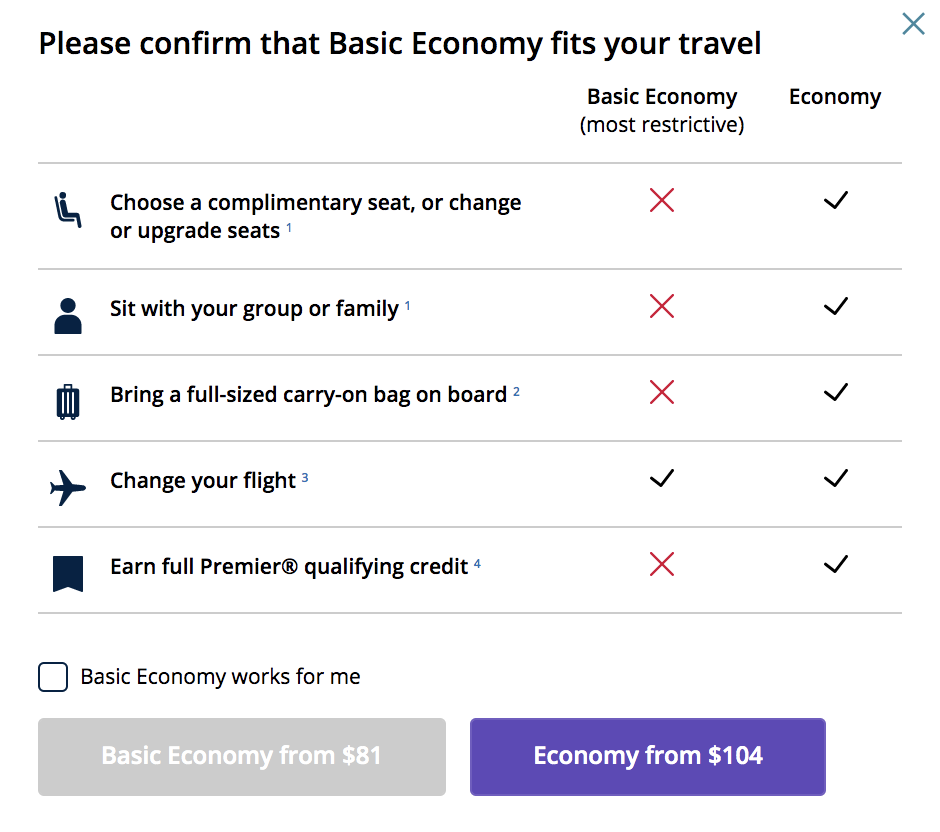 American Airlines hasn't yet followed suit and given basic economy flyers flexibility to change their flights through the end of 2021. But with its two top competitors out in front, it's likely only a matter of time before the airline matches.

Bottom Line
No matter how you slice it, this is good news for travelers with a United basic economy fare on the books. You can change your flight booked through the end of the year or cancel it for a voucher.
But watch out for United's tricks. If you switch to a cheaper flight next year, United may try to pocket the difference. In that case, you'd be better of canceling outright and getting a voucher to use when you're ready to rebook.