In June of 2017, United rolled out their Basic Economy fares nationwide. These fares don't include overhead bin space, seat selection, or earn elite credit towards status. They are terrible fares, which have now replaced your normal economy fare, which included carry-on (for the same price). Last week, United rolled these dreaded fares out on both transatlantic and Latin American routes, though the transatlantic fares won't be nearly as bad.
United Airlines Basic Economy Fares to Latin America
No carry-on bag
Seat selection and upgrades are not available
Flight changes and refunds are not allowed
Will not earn elite credit
United Airlines Basic Economy Fares to Europe
Does not include free checked luggage
Flight changes and refunds are not allowed
Includes advanced seat assignment
Includes standard carry-on bag & one personal item
Will earn regular elite credit
United started offering the basic economy fare for customers to have more "choice". The reality is the new basic economy fares are now the same price as the old economy fares which included carry-on. The whole basic economy concept is just a way to squeeze more money out of passengers. You now have to pay additional fees for what used to be included with a regular economy ticket.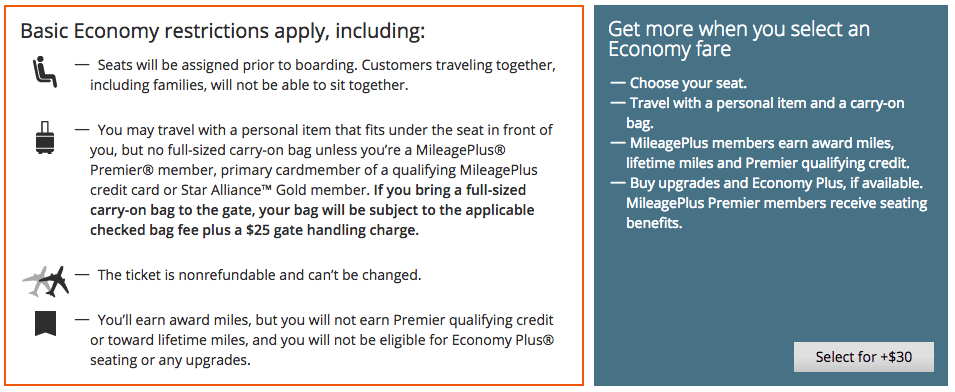 The Google Flights Baggage Filter
In April of 2018, Google Flights rolled out a filter to remove Basic Economy fares from your domestic airfare searches. This is a great new tool that helps remove United Basic Economy fares. It will still include Delta and American Airlines Basic Economy fares as they include a carry on bag with the fare.
Where this gets tricky is international airfare. At this time, Google Flights does not have the baggage filter feature available for international flights. This means you will need to make sure you know what your fare includes on international routes, especially on United as their Basic Economy ticket includes different things depending on the destination.
Thrifty Tip #1: See our guide on how to use Google Flights to find cheap flights.
Thrifty Tip #2: Our Thrifty Traveler Premium deals will always be transparent on what the sale fares do and do not include. Make sure to read our guide on How Thrifty Traveler Premium Works.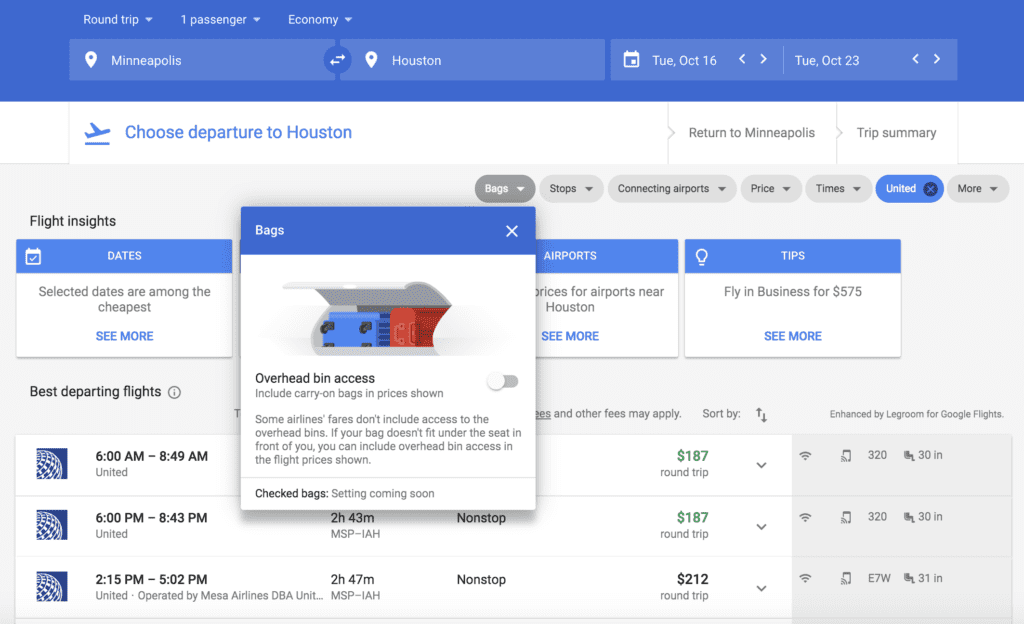 Our Analysis
United expanding their Basic Economy fares to more routes seems like a questionable decision in its current state. Delta has always offered a free carry on bag with their Basic Economy fares & American Airlines just announced that they are adding a carry on bag back to their Basic Economy fares starting on September 5th.
This means United is now the only one of the three legacy domestic carriers that does not offer a free carry on bag with their Basic Economy fare (with the exception of transatlantic airfare). I can't imagine a situation where anybody would choose to fly United Basic Economy over Delta or American assuming the option for all three was available.
We have noticed the impact of these new United international Basic Economy fares mostly on routes to both Mexico and the Carribean. One example of this is Cancun, Mexico. This is a highly competitive route from many US destinations and United has been undercutting this with their Basic Economy fare.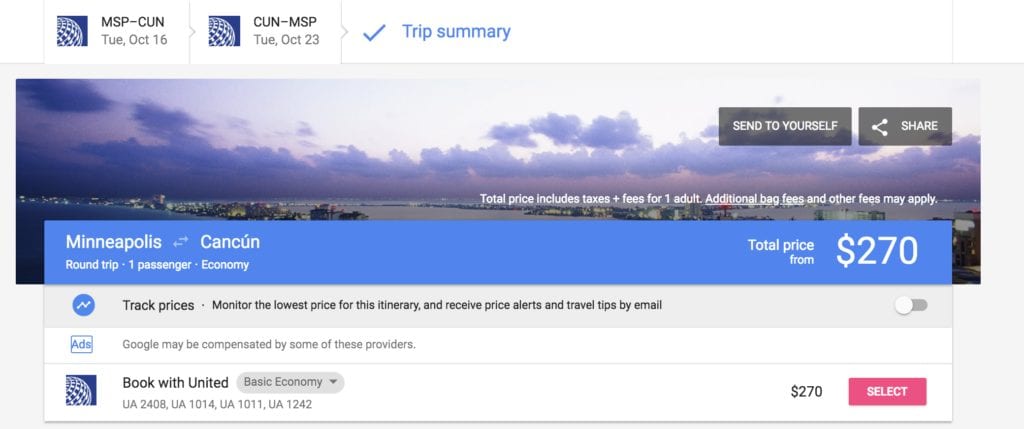 Bottom Line
By continuing to ban carry-ons on basic economy fares for both domestic and Latin American international fares, United stands to lose business. There's simply no reason to choose a United basic economy fare when American or Delta, with far more generous policies, are an option.
It will be interesting to see how United handles the news of American adding a carry on bag into their Basic Economy fares. Making your customer experience worse rarely ends well for companies of any size.
Lead photo courtesy of United Airlines