Amid its transformation to a true budget airline, Minnesota-based Sun Country Airlines is overhauling its rewards program. And it's actually not all bad news. Some changes are even improvements.
Sun Country made the announcement Friday that it is replacing its UFly program with a new version called simply Sun Country Rewards. The very first changes take effect tomorrow, Nov. 3.
On its face, Sun Country is replacing UFly with a simpler way to redeem miles. And those miles will become more valuable, even for flyers with an existing stash of UFly miles. But on the downside, Sun Country miles will be harder to earn. And the airline is doing away with the novel and popular points pooling feature – at least for now. 
Read on for everything you need to know about the changes.
An Easier and More Valuable Way to Use Miles
Sun Country currently has a slightly confusing setup that determines how many miles you'll need to book a flight. It varies by season. During off-peak seasons, each mile was worth roughly 0.9 cents toward travel. In peak travel times like holidays, that sunk to roughly 0.7 cents each.
But with this new program, every mile is worth 1 cent toward your airfare, no matter when you want to use them. If you've got 30,000 Sun Country miles, you can book a $300 flight. Done.
You can also combine as many – or as few – miles as you'd like with cash toward an airfare purchase.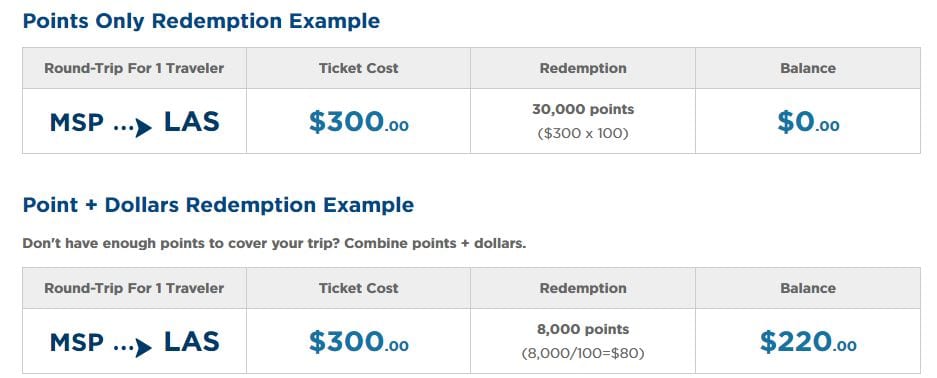 And better yet, whatever points are currently in your UFly account will transfer to the new program on a 1:1 basis. They'll get more valuable overnight.
For example, say you have 50,000 Sun Country UFly miles. Today, you could get between $350 to as much as $450 in flights, depending on your dates. Starting Saturday, those are worth a flat $500 no matter when you travel.
That's a big improvement. And that in itself is shocking, considering low-cost carriers aren't known for their lucrative frequent flyer programs. Heck, even major domestic airlines are constantly cutting the value of their miles.
To underscore that, Chief Marketing Officer Brian Davis said the value of the airline's outstanding miles will grow from $34 million to $44 million.
Plus, we love the simplicity of redeeming miles under the new system. Sun Country is approaching this just like Capital One and other popular, user-friend travel rewards currencies. "We will have the easiest points to use anywhere in the industry. Zero gimmicks, zero hurdles," Davis said.
Harder to Earn
There's no way to spin this one: Sun Country miles will be much harder to earn. The airline currently offers 10 UFly miles per $1 on all tickets booked directly through SunCountry.com. Starting Saturday, that will drop to just 2 Sun Country miles per dollar.
That's an enormous drop. Starting Jan. 3, cardholders of the Sun Country Visa Signature card can get an extra 3 miles per dollar, for a total of 5 miles per dollar on Sun Country purchases. Still, it's a significant downgrade. And until those credit card changes take place, it's a steep drop.
That's one of several changes in the works for Sun Country's co-branded credit card (more on that later). Luckily, Davis said the airline has no plans of decreasing that card's current 30,000-point signup bonus.
Points Pooling is Ending…For Now
Sun Country has allowed up to 10 UFly members to combine their points into a common pool, free of charge. It's one of the most generous pooling structures we're aware of in the airline industry.

No more, as Sun Country is ending this feature on Jan. 3. Any outstanding pools will be removed on that date, and leftover points will be automatically shifted back to their original owners. No new pools can be created starting Saturday. If you're part of one of these pools, you have until Dec. 30 to book a flight with those miles.
However, Davis suggested this may not be a permanent change. He said the airline is working on a replacement system that limits points pools to families, perhaps capping the number of adults and children that are allowed to join.
With no restrictions on who can contribute to a pool, the current setup was ripe for fraud and abuse, he said.
"It's just a matter of having the system in place to allow us to do it. That's on our development radar," Davis said, adding that he hopes to do so in the next six months.
More Changes Coming to Credit Cards
Other changes are on the way for Sun Country's co-branded credit card. While cardholders currently get a free checked bag but no discounts on seat assignments, they'll soon get 50 percent discounts on both. That applies to all members traveling in your reservation. Crunch the numbers and you'll find that's likely to be a downgrade.
On the upside, cardholders will get 2 miles per dollar spent at grocery stores and gas stations. That's a bonus category that doesn't currently exist with the card. They'll also get priority boarding, a free in-flight drink, and pay no foreign transaction fees when using the card. All of these changes take effect Jan. 3.
So long as you're actively using the card, your Sun Country miles will never expire. That's not a substantial perk, as Sun Country members have three years to use miles upon issue until they expire.
Bottom Line
Sun Country's reputation has taken a hit as it transforms into a low-cost carrier. It's installing slim seats and reducing legroom, removing first class and tacking on fees. Abandoning hundreds of passengers in Mexico last winter didn't help either.
So while we expected the worst with this rewards program, it's actually … not that bad. The extra value and easy redemption structure are great and better than any low-cost airline that we're aware of. But it's about to get much harder for Sun Country flyers to earn those miles.
Lead Photo Credit: Chris Lundberg – Flickr